11 Winter Team Building Activities to Boost Employee Morale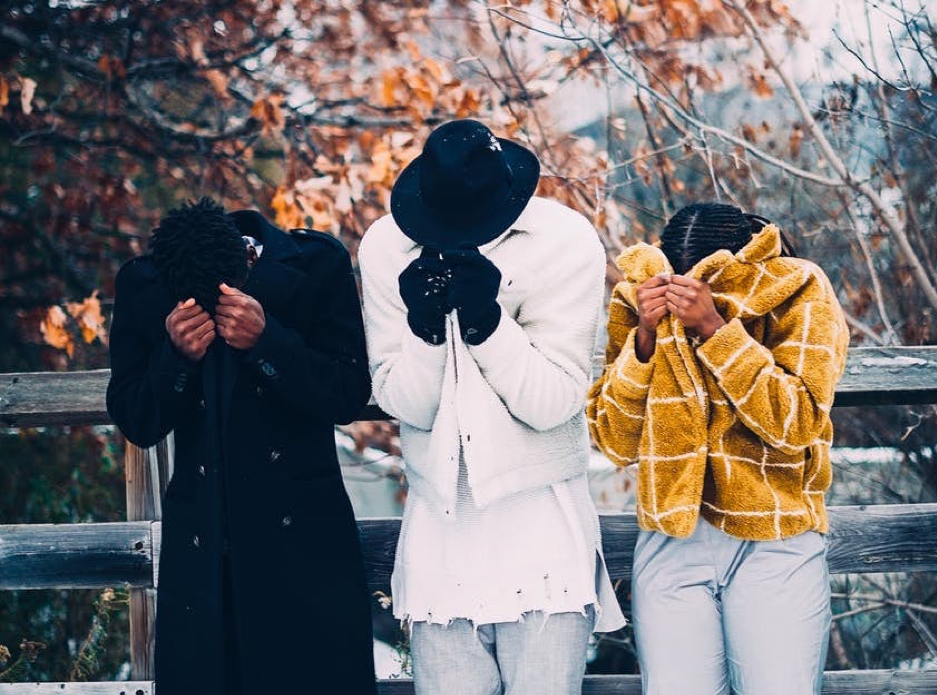 Between the overwhelming number of holidays and the cooler temperatures, the winter season can be tough on employee morale. Here are 11 of the best team building activities to help your group climb out of the New-Year slump.
If you've noticed that employee morale is traditionally lower around the winter months, it may be time to help your group shake things up. Winter team building activities can offer employees the chance to get away from their workstations and re-energize during a time of year that causes a lot of people to feel burnt out.  
---
In this article, you'll learn about 11 team building activities that can help boost employee morale during the winter season, including: 
---

There are two major reasons why your team may be feeling mentally exhausted and unengaged at work around this time of year. They are:
So. Many.

 Holidays

.

 

– 

From Thanksgiving to Hanukkah, Christmas, and New Year's,

 there are 

an overwhelming number 

of celebrations and events that take place leading up to and during the winter season. Simply put, it's a busy, tiring time of year.


 

Post-Vacation Blues

– 

Outback recently shared

 that the holidays are usually followed by a period of mental fatigue, with 64% of people saying that they feel affected by holiday depression, according to the National Alliance on Mental Illness.
With team building activities, you can help your employees take their minds off the daily grind, infuse some energy into their workday, and counteract the effects of a winter slump! Check out the top options for this time of year that our team recommends for corporate groups. 
---

5 Exciting Team Building Activities to Do During the Winter
Our team has rounded up the most popular winter activities for business groups who are experiencing low employee morale. Check them out below!
1. Donate to Charity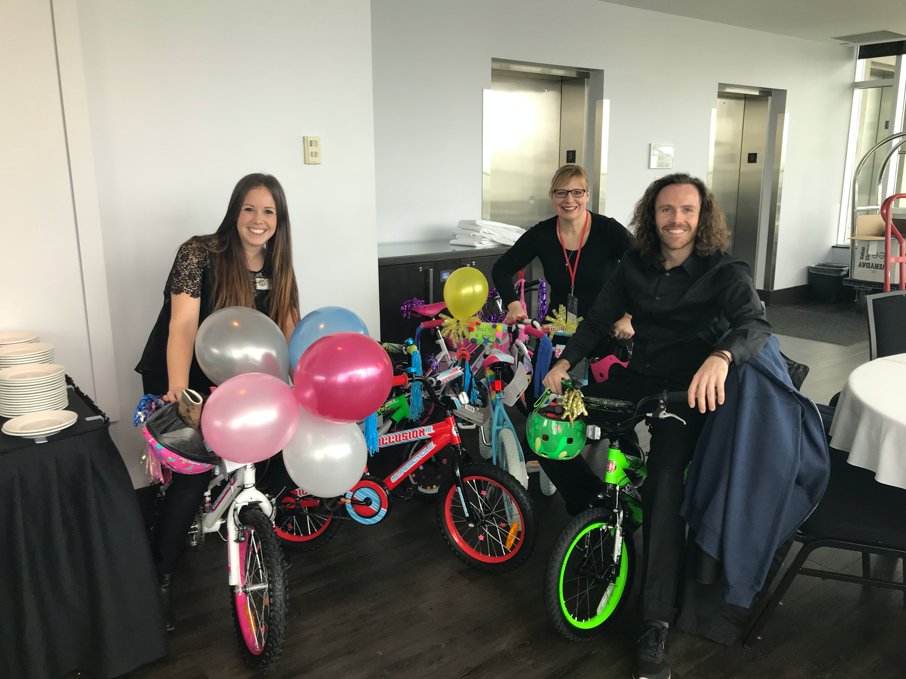 Nothing makes people feel all warm and fuzzy quite like giving back to those in need. In fact, TIME reported that a study by Nature Communications suggests that simply making a promise to do generous things could be a way to make people feel happier.
Charitable group activities are no exception. They can offer employees a great opportunity to take a beat and re-evaluate what's truly important to them.
There are lots of different ways that you and your team can choose to give back. However, here are a couple of our favorites:
2. Run a Fitness Class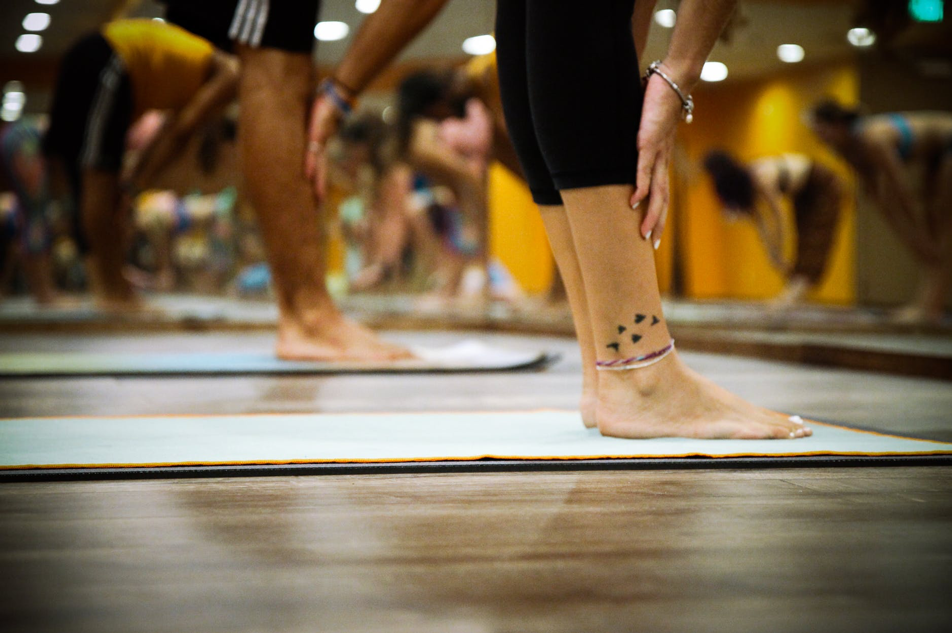 According to WebMD, individuals who are inactive could up their energy levels by 20% and lower feelings of fatigue by a whopping 65% just by exercising consistently.
So, running a fitness class could be the easy answer to improving your team's morale and overall energy! Start by sourcing volunteers from your office who are passionate about exercise and ask them to lead a lunch-time class for your colleagues.
To increase participation numbers, try polling your group with a tool like SurveyMonkey ahead of time to see what types of fitness are most popular among employees. From there, you can offer a rotating schedule of different options, such as:
Yoga
Aerobics
Dance
Pilates
Meditation
3. Be on Your Own Game Show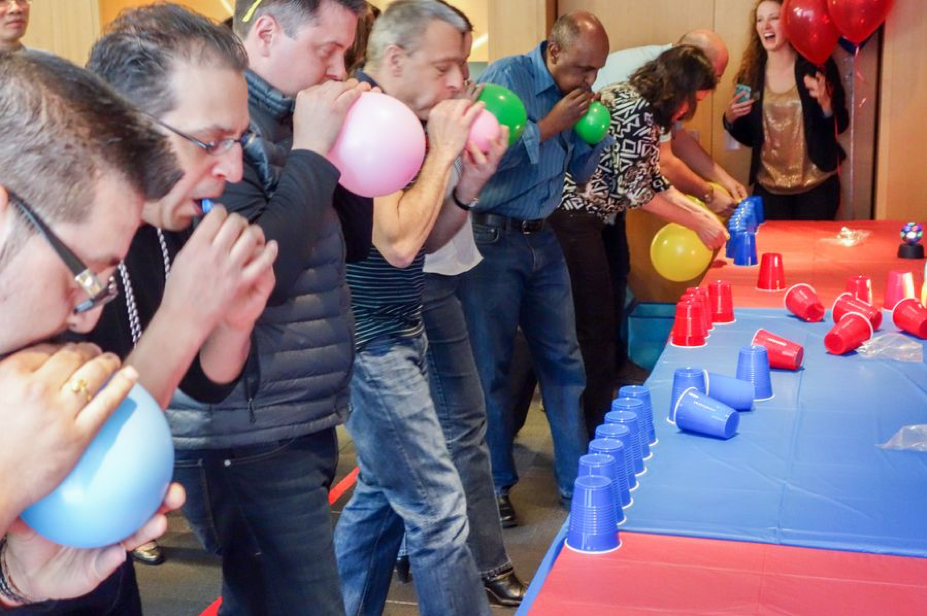 There is quite possibly no better way to infuse pure energy into a group setting than by participating in a wacky version of your favorite game show!
Simply gather your team and let the laughter and fun begin with your choice of an activity like:
Game Show Extravaganza – In this over-the-top competition, teams tackle photo and trivia challenges that cover everything from pop culture to politics.


Minute to Win It – In competing groups, take on 60-second challenges as you battle your colleagues to become the reigning champs.


Family Feud – Visit MSN Games to play a free online version of this popular show with your coworkers, and don't forget to cheer on your team with an exclamation of: "Good answer!"
To make the event even more memorable and exciting, ask employees to dress up for the occasion just like on television game shows like The Price Is Right!
4. Head to a Rec Center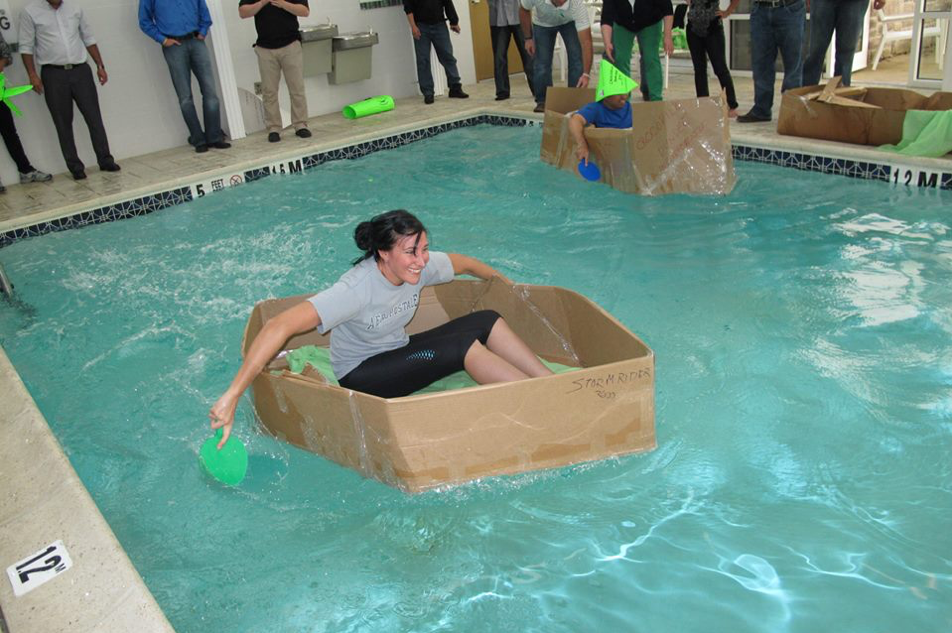 If your group would benefit from taking a little trip out of the office, why not make your way to your local recreation center? These community facilities usually offer a range of activities for groups, from drop-in classes, to pools, and ice rinks!
Here are a few different ideas on how you and your team can make the most of your nearby rec center:
Make a Splash – Meet at the pool for a general swim or book out the space for a team building activity like Cardboard Boat Building Challenge.


Get on the Ice – You and your group can go skating, organize a pick-up hockey game, or take part in a curling match.


Book a Court – Depending on what facilities your local rec center has available, you and your team can play basketball, tennis, or even squash!
5. Do an Escape Room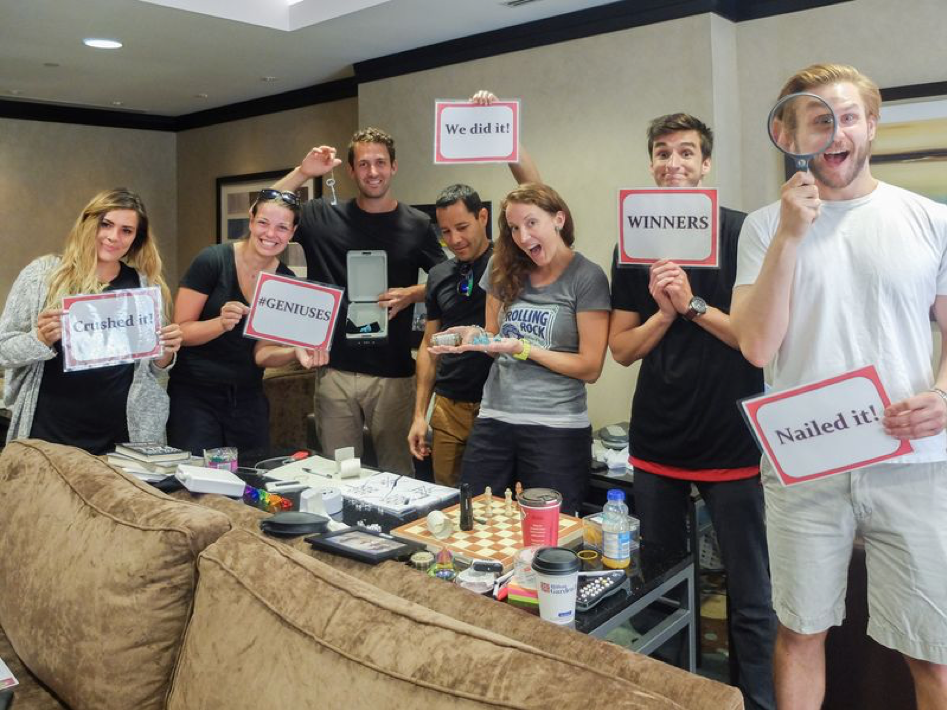 Due to growing popularity over the past few years, there's likely an escape room venue or two close to your office space. But if you don't feel like leaving the comfort of your building, you can always try one of our Corporate Escape Rooms.
Our team brings this activity right to your office or meeting space and sets everything up in a location of your choice. You and your group can choose from one of two different escape room themes, including:
Jewel Heist – You'll have to think on your feet if you want to uncover the hidden clues and catch the jewel thief before time runs out!


The Mummy's Curse – See if your team has what it takes to uncover the secrets of Ancient Egypt, retrieve the talisman, and lift the mummy's curse!
6. Hit the Slopes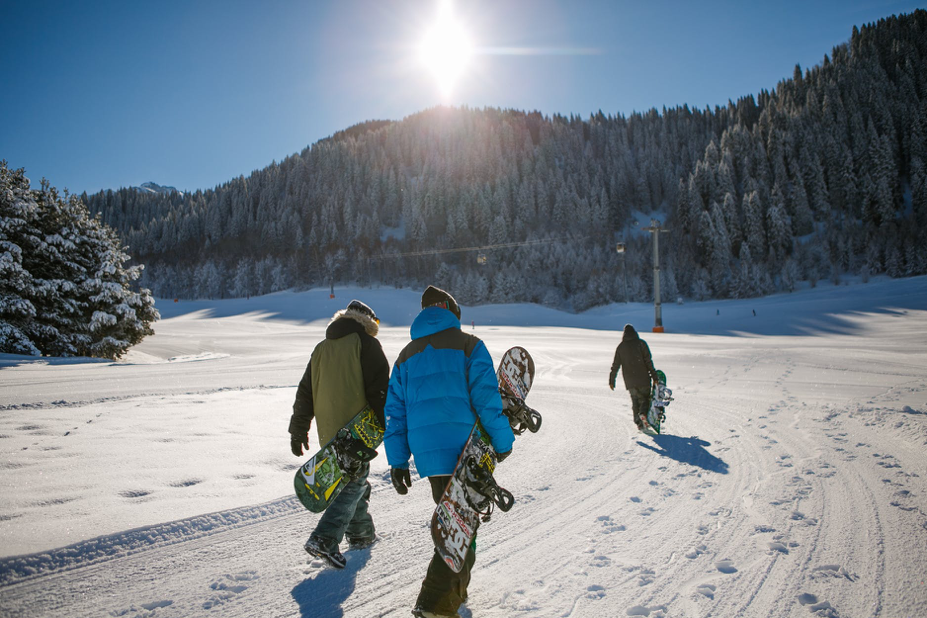 This activity obviously won't work for all locations. But for those of you close to mountains, why not head uphill with your team to get some fresh air?
Many winter snow sports make for great outdoor group activities. You and your team could try:
Skiing and snowboarding
Tobogganing
Snowmobiling
Cross-country skiing
Snowshoeing
For those of you located in a warmer climate, you can still make use of any nearby elevation by heading out for a group walk or hike through the wilderness.
7. Go on a Scavenger Hunt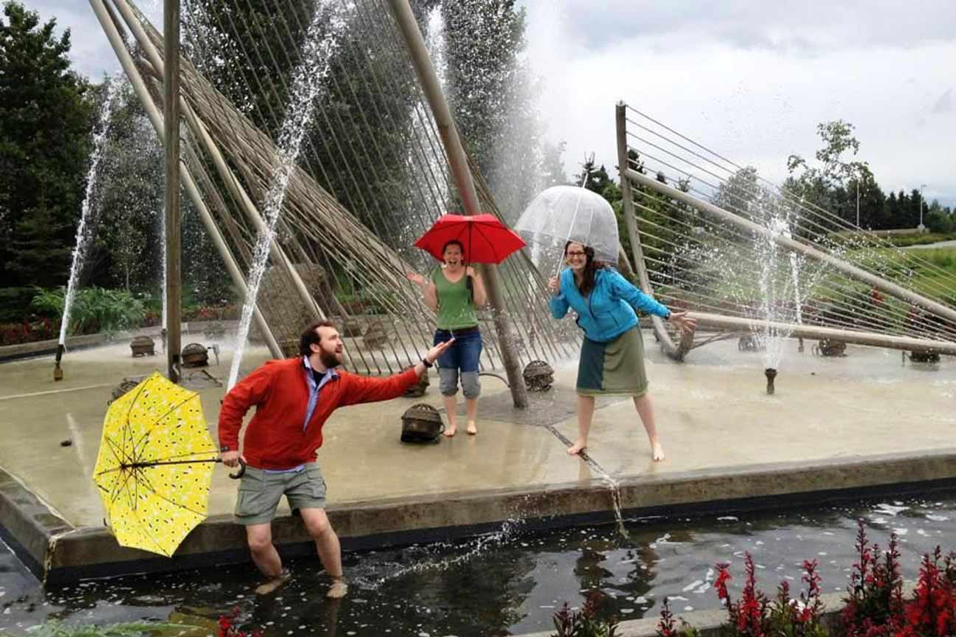 Ramp up the energy in your office with a fun and exciting scavenger hunt! Here are a few different ways you can offer one to your group:
Getting to Know You – Embark on a social scavenger hunt that can help you and your group break the ice and learn more about your colleagues.


Create Your Own – Make a course by hiding items and clues around your office. Then split into teams, hand out your scavenger hunt list, and send employees on their way!


Wild Goose Chase – If you'd prefer to head outdoors for your scavenger hunt, you can explore your city like never before with this app-based smartphone activity.
8. Build Something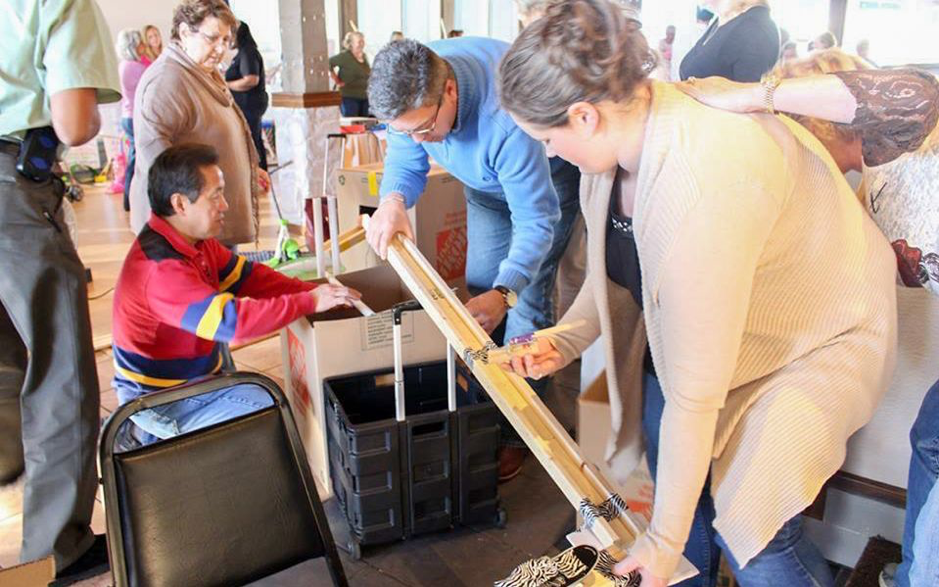 Everyone knows the old saying about idle hands – so try engaging your team with an activity where the goal is to create something from scratch.
You can choose to build something just for fun, or you can task your team with putting together items that your office needs. For example:
Bridge Builders – Collaborate with your colleague to design and build different segments of a bridge. At the end, see if the sections come together to create a free-standing structure!


Domino Effect Challenge – Is your group able to put their heads together to create and set in motion a gigantic "chain-reaction" machine?


Office Furniture – Turn a need for desks, chairs, or shelving units into a collaborative team building experience. Get everyone to work together or make it into a competition!
9. Sing Karaoke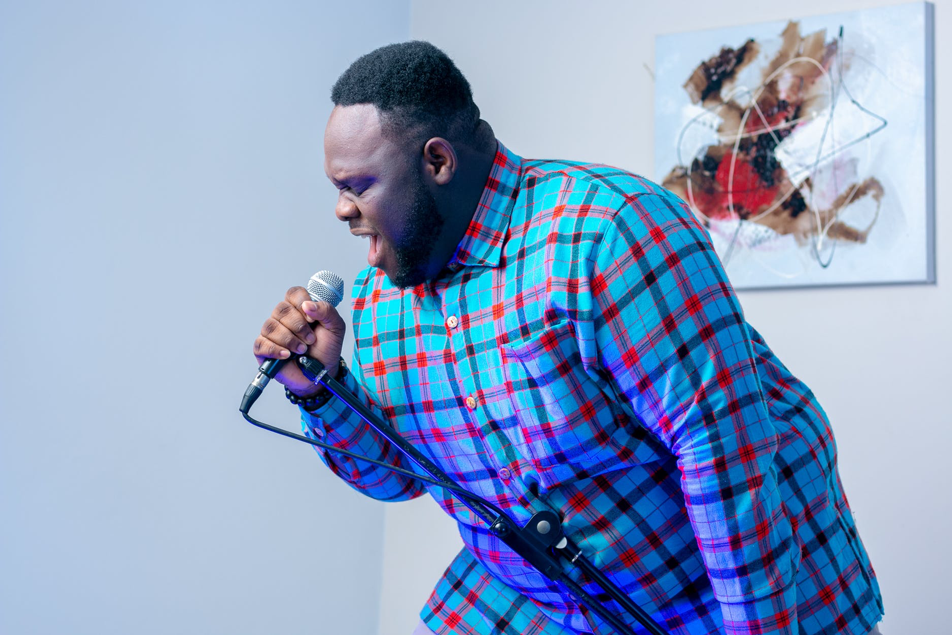 Let out your inner diva with a good, old-fashion karaoke event! This activity can help employees let off some steam, while having a ton of fun.
Ask your team to form groups and sing together to make it a more collaborative experience. Or, better yet, partner people up yourself to arrange unexpected duets and encourage bonding between people who may not work together that often.
You can head to any karaoke venue in your city or try using an online app, such as KaraFun, if you'd prefer to keep the singing at your office.
10. Host a Trivia Event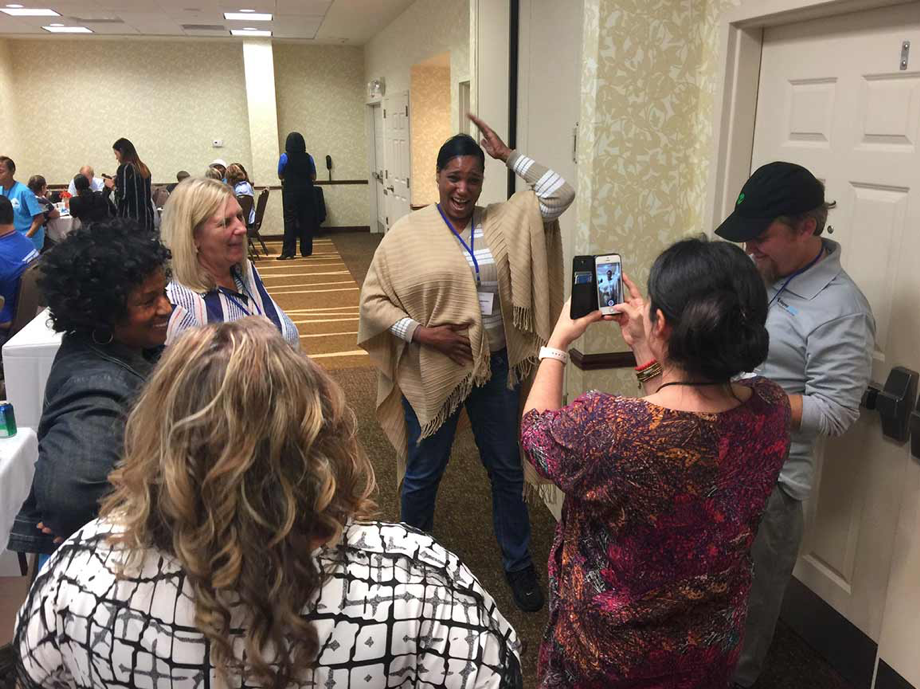 Many local restaurants and bars offer weekly trivia nights. Hosting your own, however, gives you a lot more flexibility on the location, time, and date of your event. This means that you can do it at the office, instead of off-site, or over lunch, rather than during the evening.
Here are a couple of our favorite trivia-based activities that you could add to your event:
Team Pursuit – Break out into groups and play to your coworkers' strengths as you take on four types of challenges, ranging from mental, physical, skill, and mystery.


Code Break – In this activity, teams compete to see who can solve the most puzzles, riddles, and trivia questions before time runs out!


Trivial Pursuit – The classic trivia board game is a great option for groups who want to show off their individual knowledge.
11. Get an Adrenaline Rush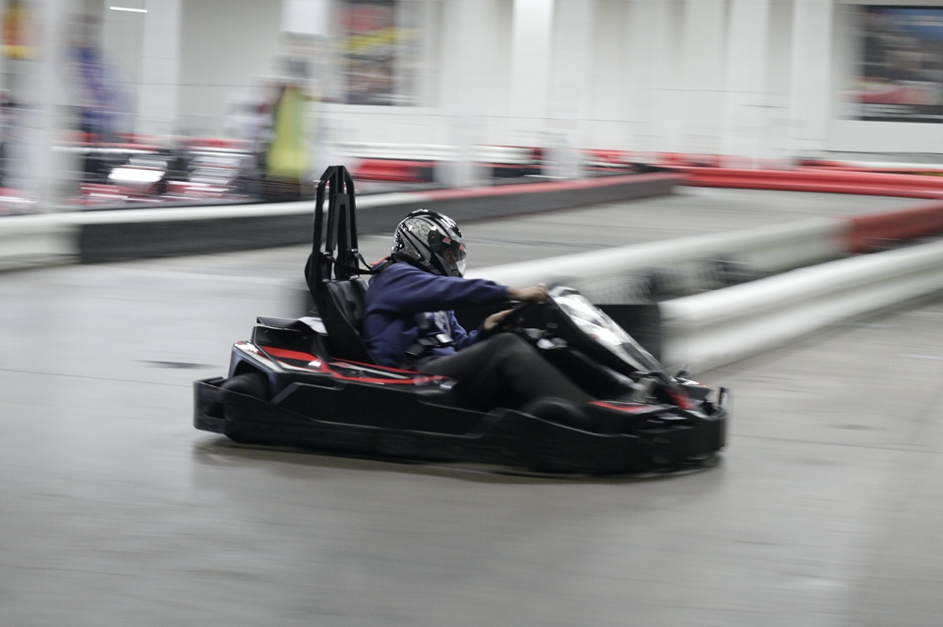 One way to jolt your team out of their winter slump is with an activity that can help them get a shot of adrenaline. According to Psychology Today, an adrenaline rush helps people feel alive and can be sourced by doing something scary or out of your comfort zone.
While we don't encourage you to take your group on a dangerous outing, you can try ramping up the excitement factor with a thrilling activity, such as:
Go kart racing
Bungee jumping
Laser tag
For more group activity ideas that you can do during the colder months, check out our ONLINE GUIDE: Top 50 Indoor Team Building Activities.
The winter season can be a tough time for employee morale, but with the right team building activity, you can help your group find their groove again. Try donating to charity, group exercise classes, a game show activity, heading to a rec center, doing an escape room, hitting the slopes, going on a scavenger hunt, building something, singing karaoke, hosting a trivia night, or getting a hit of adrenaline to help shake things up at your office.
Have you and your group participated in any winter team building activities? Let us know what you did and how it went in the comments below. 
---

Learn More About Team Building Activities for Your Group
For more information about winter team building activities that can help boost employee morale this season, reach out to our Employee Engagement Consultants.
Subscribe To Our Newsletter
And Stay Updated