19 Winter Team Building Activities to Boost Employee Morale
Between the overwhelming number of holidays, the cooler temperatures, and the reduced amount of sunlight, the winter season can be tough on employee morale. Here are 19 of the best winter team building activities to help your group climb out of their seasonal slump.
Updated on October 10, 2023
If you've noticed that employee morale is traditionally lower around the winter months, it may be time to help your group shake things up.
In many regions, the cold weather, darker days, and shorter hours of sunlight can negatively influence your team's motivation and productivity.
So, it's wise to get proactive about engaging in activities that help them break out of their seasonal slump and keep their spirits high.
Winter team building activities can offer employees the chance to get away from their workstations and re-energize during a time of year that causes a lot of people to feel burnt out.  
And whether you work together in the office or remotely, there are a ton of great winter team building options available to help boost your workgroup's morale.
We've rounded up 19 ideas you'll love.
There are two major reasons why your team may be feeling mentally exhausted and unengaged at work around this time of year. They are:
So. Many. Holidays. – From Thanksgiving to Hanukkah, Christmas, and New Year's, there are an overwhelming number of celebrations and events that take place leading up to and during the winter season. Simply put, it's a busy, tiring time of year.

Post-Vacation Blues – Outback recently shared that the holidays are usually followed by a period of mental fatigue, with 64% of people saying that they feel affected by holiday depression, according to the National Alliance on Mental Illness.
With team building activities, you can help your employees take their minds off the daily grind, infuse some energy into their workday, and counteract the effects of a winter slump! Check out the top options for this time of year that our team recommends for corporate groups.
14 Exciting In-Person Winter Team Building Activities
Our team has rounded up the most popular winter activities for business groups that are experiencing low employee morale. Check them out below!
1. Donate to Charity
Nothing makes people feel all warm and fuzzy quite like giving back to those in need. In fact, TIME reported that a study by Nature Communications suggests that simply making a promise to do generous things could be a way to make people feel happier.
Charitable group activities are no exception. They can offer employees a great opportunity to take a beat and re-evaluate what's truly important to them.
There are lots of different ways that you and your team can choose to give back. Here are a few ideas.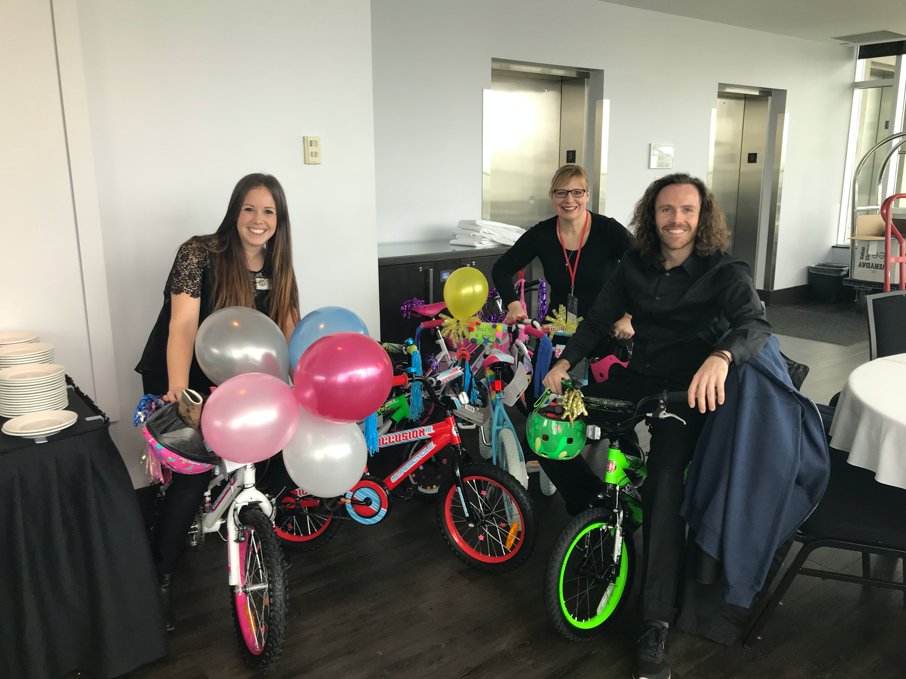 In teams, build and decorate children's bicycles before presenting them to your colleagues. After the activity, donate all of the bikes to a charity of your choice.
Complete challenges in teams to earn school supplies, and use those items to assemble the ultimate backpack donations.   
Volunteer in Your Community
From assembling care packages to helping out at a local shelter or food bank, there are lots of ways to give back with your group. Read 15 Creative Volunteer Ideas to Help Your Team Make a Difference for more inspiration.
Split up into groups to build, test, and donate fully functioning wheelchairs to individuals in need. 
2. Do a Fitness Class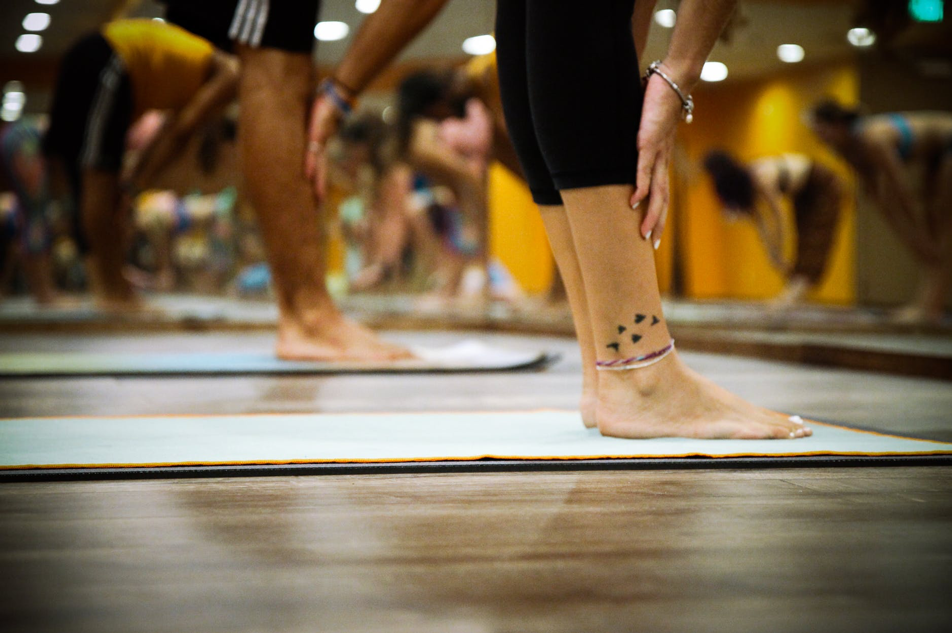 According to WebMD, individuals who are inactive could up their energy levels by 20% and lower feelings of fatigue by a whopping 65% just by exercising consistently.
So, running a fitness class could be the easy answer to improving your team's morale and overall energy! Start by sourcing volunteers from your office who are passionate about exercise and ask them to lead a lunch-time class for your colleagues.
To increase participation numbers, try polling your group with a tool like SurveyMonkey ahead of time to see what types of fitness are most popular among employees. From there, you can offer a rotating schedule of different options, such as:
Yoga
Aerobics
Dance
Pilates
Meditation
3. Be on Your Own Game Show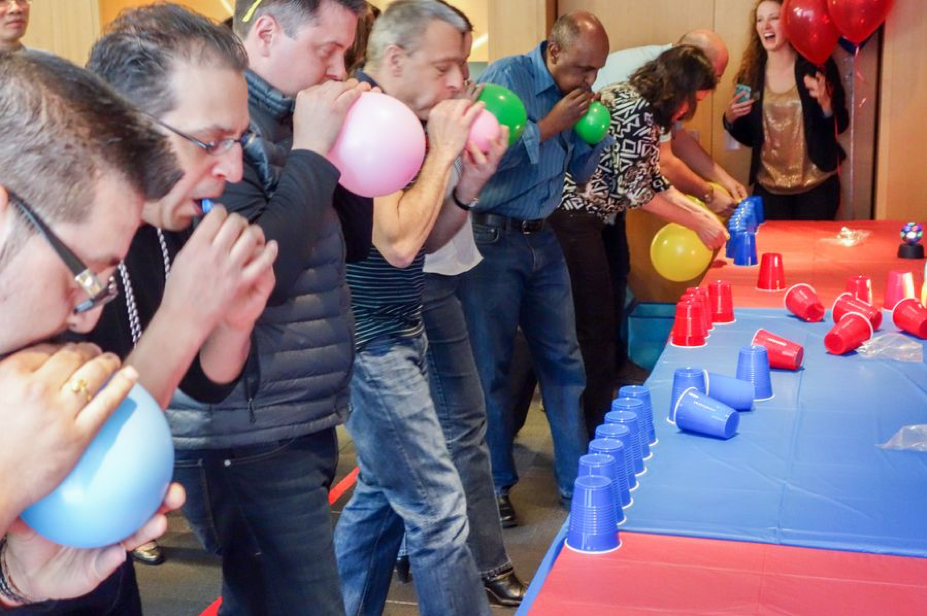 There is quite possibly no better way to infuse pure energy into a group setting than by participating in a wacky version of your favorite game show!
Simply gather your team and let the laughter and fun begin with your choice of activity. Here are a few of our favorites.
In this over-the-top competition, teams tackle photo and trivia challenges that cover everything from pop culture to politics.
In competing groups, take on 60-second challenges as you battle your colleagues to become the reigning champs.
Family Feud
Visit MSN Games to play a free online version of this popular show with your coworkers, and don't forget to cheer on your team with an exclamation of: "Good answer!"
To make the event even more memorable and exciting, ask employees to dress up for the occasion just like on television game shows like The Price Is Right!
4. Head to a Rec Center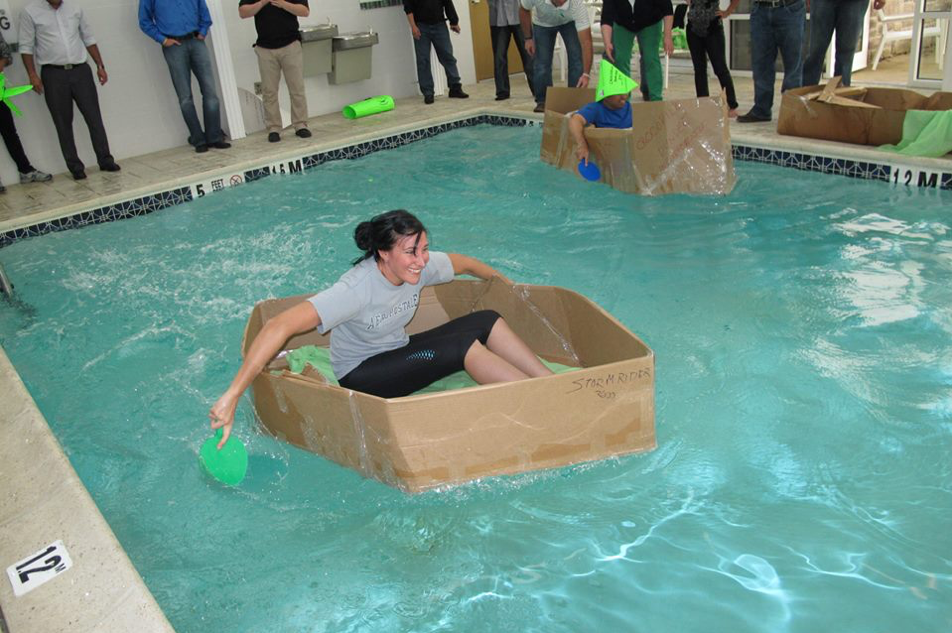 If your group would benefit from taking a little trip out of the office, why not make your way to your local recreation center? These community facilities usually offer a range of activities for groups, from drop-in classes, to pools, and ice rinks!
Here are a few different ideas on how you and your team can make the most of your nearby rec center.
Make a Splash
Meet at the pool for a general swim or book out the space for a team building activity like Cardboard Boat Building Challenge.
Get on the Ice
You and your group can go skating, organize a pick-up hockey game, or take part in a curling match.
Book a Court
Depending on what facilities your local rec center has available, you and your team can play basketball, tennis, or even squash!
5. Do an Escape Room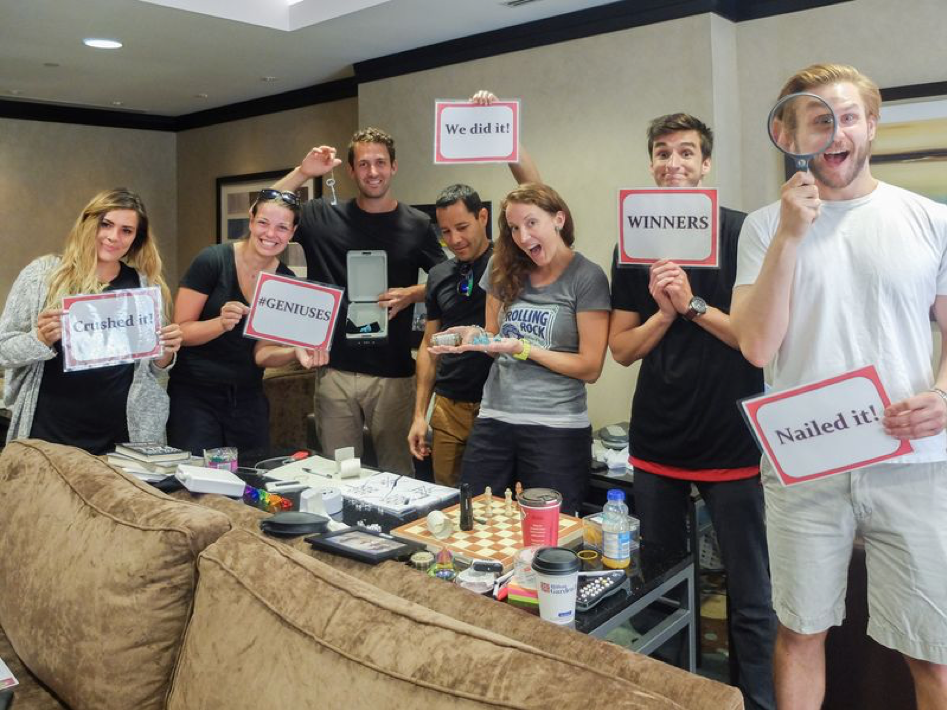 Due to growing popularity over the past few years, there's likely an escape room venue or two close to your office space. But if you don't feel like leaving the comfort of your building, you can always try one of our Corporate Escape Rooms.
Our team brings this activity right to your office or meeting space and sets everything up in a location of your choice. You and your group can choose from one of two different escape room themes, including:
Jewel Heist
You'll have to think on your feet if you want to uncover the hidden clues and catch the jewel thief before time runs out!
The Mummy's Curse
See if your team has what it takes to uncover the secrets of Ancient Egypt, retrieve the talisman, and lift the mummy's curse!
And if your group works remotely, you can check out our comprehensive list of the best free and paid virtual escape rooms for some amazing options your team will love.
6. Hit the Slopes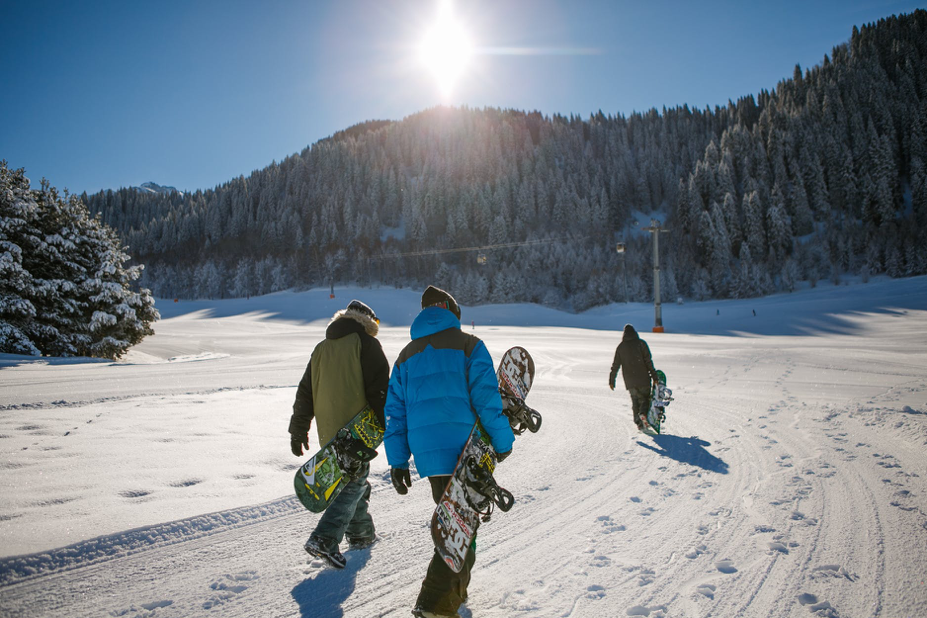 This activity obviously won't work for all locations. But for those of you close to mountains, why not head uphill with your team to get some fresh air?
Many winter snow sports make for great outdoor group activities. You and your team could try:
Skiing and snowboarding
Tobogganing
Snowmobiling
Cross-country skiing
Snowshoeing
For those of you located in a warmer climate, you can still make use of any nearby elevation by heading out for a group walk or hike through the wilderness.
7. Go on a Scavenger Hunt
Ramp up the energy in your office with a fun and exciting scavenger hunt team building activity! Here are a few different ways you can offer one to your group.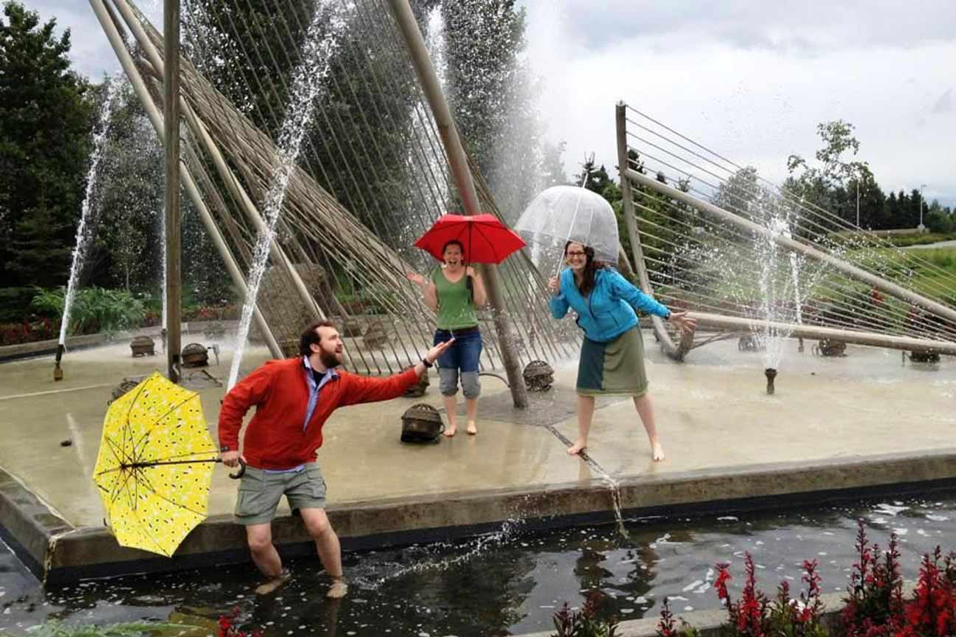 If you'd prefer to head outdoors for your scavenger hunt, you can explore your city like never before with this app-based smartphone activity.
Embark on the ultimate scavenger hunt with your colleagues in City Chase! Explore your city like never before and compete to complete city-themed challenges around your neck of the woods.
Based on the popular reality TV show, this scavenger hunt is interactive and high-energy. Your team will need to work together in order to solve clues, complete challenges, and unlock destinations as they race from place to place in pursuit of the finish line.
If you've got a team that likes to spread joy in the community, then this is the right corporate scavenger hunt for you. Every challenge in this activity is focused on doing good for others and making people smile. While every team competes and collects points for completing challenges, the best part of this activity is that everyone truly wins in the end.
Create Your Own
Make a course by hiding items and clues around your office. Then split into teams, hand out your scavenger hunt list, and send employees on their way!
If you'd like to learn more about these fun and high-energy activities, you might like our article about the what, why, and how of team building scavenger hunts.
8. Build Something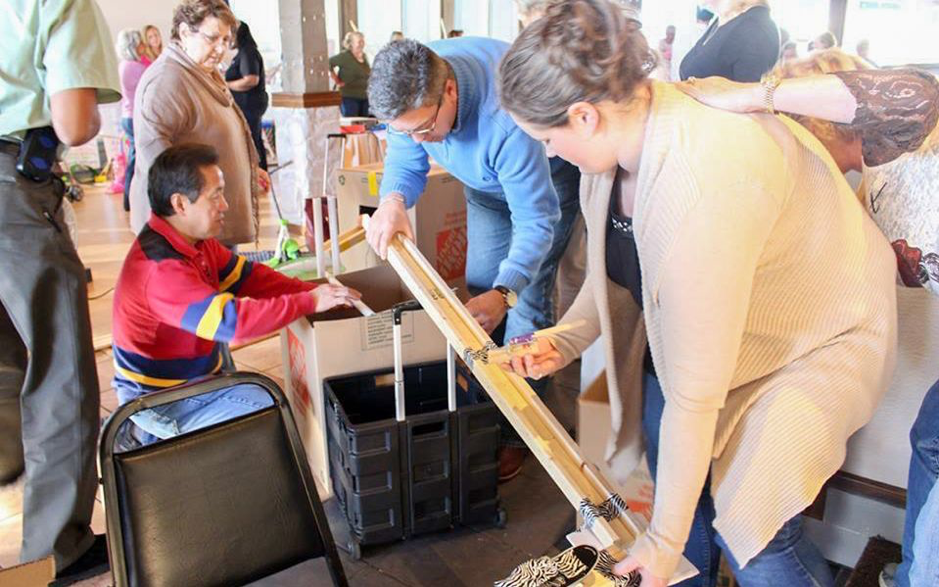 Everyone knows the old saying about idle hands – so try engaging your team with an activity where the goal is to create something from scratch.
You can choose to build something just for fun, or you can task your team with putting together items that your office needs. Here are a few things that we'd recommend.
Collaborate with your colleague to design and build different segments of a bridge. At the end, see if the sections come together to create a free-standing structure!
Is your group able to put their heads together to create and set in motion a gigantic "chain-reaction" machine?
Office Furniture
Turn a need for desks, chairs, or shelving units into a collaborative team building experience. Get everyone to work together or make it into a competition!
9. Sing Karaoke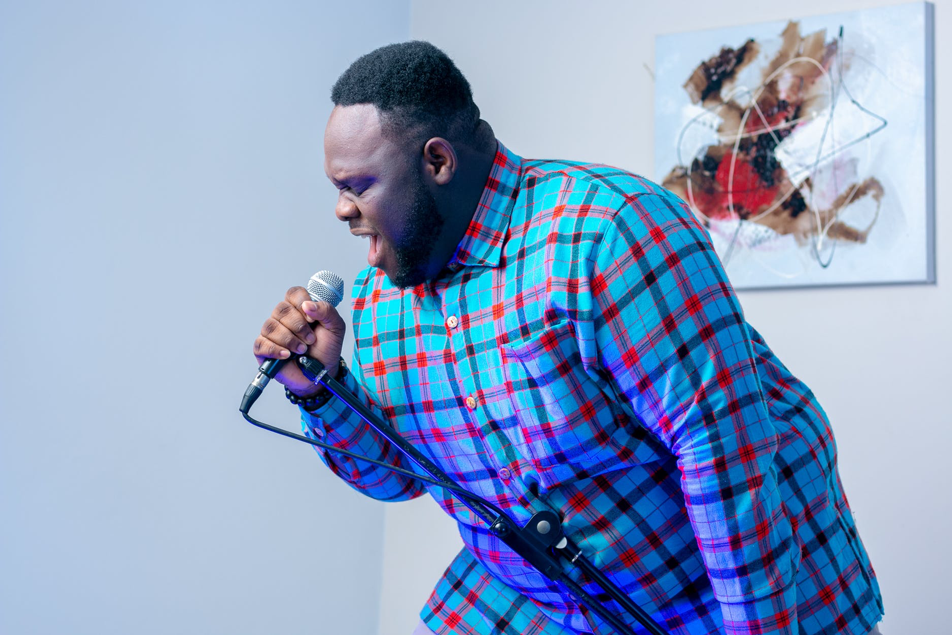 Let out your inner diva with a good old-fashioned karaoke event! This activity can help employees let off some steam while having a ton of fun in the process. 
Ask your team to form groups and sing together to make it a more collaborative experience. Or, better yet, partner people up yourself to arrange unexpected duets and encourage bonding between people who may not work together that often.
You can head to any karaoke venue in your city or try using an online app, such as KaraFun, if you'd prefer to keep the singing at your office.
10. Host a Trivia Event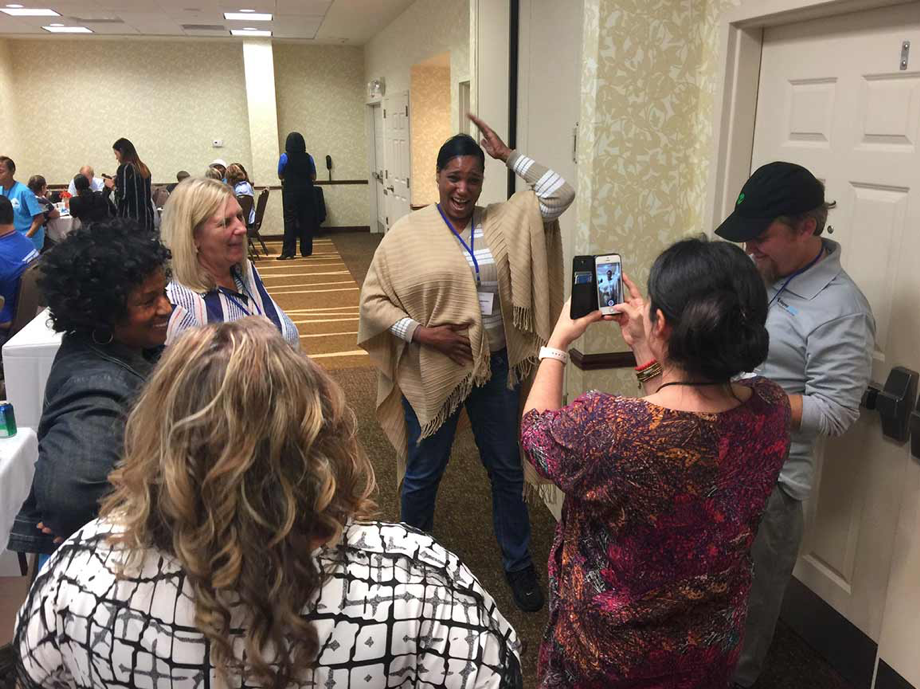 Many local restaurants and bars offer weekly trivia nights. Hosting your own, however, gives you a lot more flexibility on the location, time, and date of your event. This means that you can do it at the office, instead of off-site, or over lunch, rather than during the evening.
Here are a couple of our favorite trivia-based activities that you could add to your event:
Break out into groups and play to your coworkers' strengths as you take on four types of challenges, ranging from mental, physical, skill, and mystery.
In this activity, teams compete to see who can solve the most puzzles, riddles, and trivia questions before time runs out!
Trivial Pursuit
The classic trivia board game is a great option for groups who want to show off their individual knowledge. 
If you're trying to find fun and unique ways to keep your team engaged on an ongoing basis, Water Cooler Trivia is a great way to do it. Water Cooler Trivia integrates into your email, Slack, or Microsoft Teams channels and automatically sends trivia quizzes directly to your team members on a weekly basis. You can choose the trivia schedule and categories, and Water Cooler Trivia will write the questions, automate their distribution, and grade the results for you.
Looking for even more amazing virtual trivia activities? Check out our list of 13 incredible virtual trivia games for work teams.
11. Get an Adrenaline Rush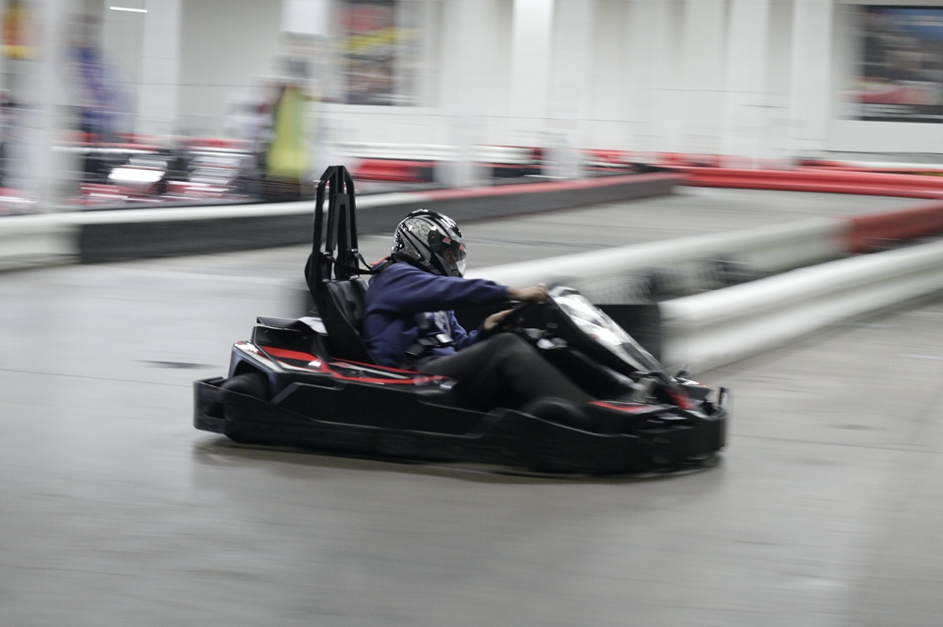 One way to jolt your team out of their winter slump is with an activity that can help them get a shot of adrenaline. According to Psychology Today, an adrenaline rush helps people feel alive and can be sourced by doing something scary or out of your comfort zone.
While we don't encourage you to take your group on a dangerous outing, you can try ramping up the excitement factor with a thrilling activity, such as:
Go kart racing
Bungee jumping
Laser tag
For more group activity ideas that you can do during the colder months, check out our list of the top indoor team building activities.
12. Host a Happy Hour
When the winter months are taking their toll on everyone, sometimes there's nothing better than just getting your team together in a social setting for an unforgettable happy hour.
It doesn't have to be complicated or ultra-involved: just grab some snacks, mix up some cocktails, and let everyone have fun and socialize together.
13. Host a Lunch and Learn
Learning something new is a great way to stimulate the minds of your team members during the long winter months. So, consider hosting a lunch and learn where your team can have a bite to eat and acquire a new skill at the same time.
The best way to pick a lunch and learn is by focusing on an outcome you'd like to achieve, including:
Picking up new professional soft skills
Just having fun
Learning helpful new life skills
Building company expertise and knowledge
If you'd like some specific topics you can use for your next lunch and learn, we've created a comprehensive list of 24 amazing lunch and learn topic ideas your team will love.
14. Host a Fun Holiday Party
While the winter can sometimes get you down, there's one element of the season that's always joyful: celebrating the holidays. So, why not host an incredible holiday party for your colleagues?
If you work together in person, you have tons of great holiday party options, such as the following two.
Two Truths and a Lie: Holiday Gift Edition
There's a good chance you've heard of the game Two Truths and a Lie. But if not, the premise is pretty simple: each person on your team will be tasked with coming up with three facts. Two of them will be true, and one will be a lie.
Then, the rest of your group will need to decide which ones are which – and you might be surprised by the answers! A surefire recipe for hilarity, you can put a holiday twist on the traditional Two Truths and a Lie game by making it focused on the weirdest, wackiest, funniest, and most outside-the-box holiday gifts you colleagues have ever received.
Host a Holiday Trivia Game
Another great way to level up your holiday party is with some holiday trivia. The key here is to make sure you cover off questions from a wide range of holiday traditions, and don't be afraid to throw in some pop culture references and historical facts.
Feeling stumped on holiday trivia questions? Don't worry. This list from UsefulTrivia.com has a ton.
And if your team works remotely, you 've also got a ton of great options available. We've listed a few of our favorites below.
Festive Talent Show
Want to get to know your teammates like never before? Then host a virtual festive talent show. Each person on your team will be tasked with picking a secret talent that pertains to the season and showing it off to the group. This could be anything from wrapping a gift really fast to memorizing every word to a certain holiday song. 
5 Virtual Winter Team Building Activities for Remote Groups
The winter blues can hit remote employees extra hard. So, even if your team works in a hybrid or fully remote capacity, you can still find ways to help keep them engaged from a distance.
1. Virtual Ugly Sweater Party  
Arguably among the most classic holiday traditions, ugly sweater parties give attendees a chance to have some fun, use their creativity, and enjoy a good laugh. Encourage your team to find—or make—their best possible ugly holiday sweater. You'd be surprised just how creative people get—we've even seen sweaters with lights and mistletoe on them! 
2. Take Your Trivia Party Online
Trivia games can be done from virtually anywhere, and that makes them ideal winter team building activities for remote groups.
Here are a few you can try.
Get together with your team and take a trip to "Hamish McDuff's" virtual pub. This hilarious Scottish pub owner is the legendary host of a trivia game that is perfect for your team's virtual happy hour fun!
Step into the Outback Time Machine and take a trip through time, from pre-pandemic 21st century through the decades all the way to the 60's. This exciting, fast-paced virtual trivia game, packed with nostalgia and good vibes, is guaranteed to produce big laughs, friendly competition, and maybe even some chair dancing. 
Does your team have what it takes to win the Virtual Trivia Championship? In this virtual trivia team building activity, your colleagues will break into teams and turn the competition level up to ten as you challenge your wits, test your knowledge, and work your way through a list of trivia questions ranging from cities to movies, songs, objects, and even a round of Jeopardy-style challenges.   
3. Host a Virtual Charity Event
Doing some good in the world doesn't have to be in an in-person activity. You can take your goodwill online and help your team give back to those in need from wherever they're located.
Team up with your colleagues for a Virtual Do-Good Games to do some good in the world and give back to those in need, all while having a blast. This is a morale-boosting virtual team building activity that transforms friendly competition into charitable donations. 
4. Go On a Virtual Vacation
You don't need vacation days to feel like you're on vacation to an exotic destination with your team. You can partake in a travel-themed virtual team building activity instead.
If you've got a team full of colleagues who love traveling and learning about new places, this is the perfect budget-friendly team building activity for your group.
Virtual European Adventure is all about connecting with your colleagues, testing your wits together, socializing, and collaborating through high-energy rounds of European-themed trivia.
In this activity, your group will break out into teams. Then, you'll take part in a warm-up social mixer followed by three rounds of trivia, a Jeopardy-style lightning round using cellphone buzzers, and a European travel conversation to finish it all off. For each trivia challenge answered correctly, your team will earn points. The team with the most points at the end of the activity will be crowned the Virtual European Adventure Champions!
After more than a year of lockdowns, we're all in desperate need of a vacation. Luckily, Captain Furling has room for you and your colleagues on his virtually chartered yacht. Come aboard and channel your "inner Cancun" for a tropical online team building adventure. Together, you and your travel companions will compete with their knowledge of travel destinations, vacation-themed movies, summer pop hits, and even a cabana-wear contest. 
5. Get in the Holiday Spirit
One of the best things the winter brings is a whole ton of holiday fun. So, why not gather your remote or hybrid team with a team building activity intended to get them in the festive spirit?
What's better than spending a winter day hunkered down in a warm alpine chalet with a hot drink? Doing it while socializing with your remote team, having fun as a group, and channeling your competitive spirit!
With Virtual Winter Jeoparty Social, your team will get out of the snow and step into your own cozy ski cabin to take part in a virtual Jeopardy-style game show infused with an ultra-social twist.
In this activity, your group will break out into teams and compete through multiple rounds of winter-themed Jeopardy-inspired virtual trivia questions, winning (or losing!) points for each. Between each round, you'll take part in a unique social mixer challenge and wager a little (or a lot!) in a round of Final Jeoparty.
Embark on an adventure with your colleagues as you step into the Outback Time Machine and take a trip back through holiday pop culture history.
This fun, fast-paced holiday-themed virtual team building activity is packed with nostalgia and features challenges focused on familiar holiday favorites, from trivia about movies, songs, toys, and TV shows to rounds of charades and more.
Your virtual game show host will get your group warmed up with a couple of "table-hopper rounds" (also known as breakout room mixers) and split you into teams. Within minutes, your home office will be transformed into a winter wonderland game show stage with your own live dedicated host and buzzers.
The holiday season is all about coming together and celebrating! So, in Frost's Virtual Holiday Trivia, you and your team will be invited to join the Frosts in the lounge of their brand-new ice hotel. While you're there, you'll compete through three rounds of holiday and winter-themed trivia questions, earning points for each one answered correctly. But the fun doesn't stop there! You'll also become better acquainted with your colleagues as you take part in a round of Frost's Icebreaker Questions. 
Celebrate All Kinds of Holidays
It's important to remember that there are many different holidays celebrated by people all around the world. So, try not to focus just on one single holiday. Instead, celebrate them all.
You can do this by have each of your virtual holiday party guests share something about the holidays they celebrate. You can ask people to talk a little about what that holiday means to them, how they celebrate, and even some favorite holiday traditions or memories they might have.
Virtual Secret Santa 
Think Secret Santa's only for in-person events? Think again. It can easily be done in a virtual format. You'll just need to adjust your approach a bit.
Here's how to do it:
Pick one person to manage the process: It's smart to have one single person oversee managing your Secret Santa, just to keep things simple.

Set a budget per person: This can be anything, but we recommend $25 per person. You may also want to either provide a postage stipend or include it in this budget.

Get everyone's wish list: You'll need to get a wish for everyone on your team. It's easiest to do this with broad categories, like food and snacks, office items, or books. Check the next point for the best way to do this.

Draw Secret Santa partners: Next, you need to pick Secret Santa partners. We recommend using a tool like Elfster which will help you gather the wish list and then pick partners, all in one place.
If you're not sure what to get as gifts for your colleagues, check out our list of corporate holiday gift ideas for employees and clients.
As the holidays get underway, sometimes all you and your colleagues want to do is celebrate the season and spend quality time together. And with Elf's Virtual Merry Mingler, that's exactly what you'll do. 
Set in a venue in Santa's North Pole village, this virtual holiday team building activity is made up of a series of social mixer activities that are all about sharing a laugh, creating some positive festive energy, and letting teammates enjoy each other's company—regardless of the geographical distance between them.
If you and your team love a high-energy activity, then Virtual Holiday Hijinks is perfect for you. 
This festive holiday-themed virtual team building activity is a perfect addition to any office holiday party. It's all about working collaboratively to tackle a variety of physical, cerebral, and skills-based challenges, such as:
Cookie Conundrum – Luke made 42 holiday cookies. He brought half of them to his office. He ate one third of the cookies that were left. Then he gave 8 cookies to his neighbor. He left the rest of the cookies out for Santa. How many cookies did Santa get?  

Elf Yourself – Each team member needs to create the most unique gift you can using only the items available to you. Snap a photo of everyone showcasing their gifts.  

Junk Yard Jingle – Record a 5-second video of a teammate creating the beat to a holiday song using objects found around your house or office. Be sure to practice getting your notes right as the instrumental version has to be in tune!  
Each team will compete to complete as many challenges as possible, earning points along the way. Whichever has the most points when time runs out will be crowned the Virtual Holiday Hijinks Champions!
Looking for a way to ring in the holiday season with your team while exercising communication and collaboration skills, having a lot of laughs, and creating bonds with your colleagues? 
Then Yuletide Showdown is the perfect activity for you.  
In this fast-paced and high-energy team building activity, you and your colleagues will race the clock, competing to unlock six different challenge categories: Sounds of Christmas, Holiday Trivia, Holiday Characters, Holiday Pictionary, Festive Scavenger Hunt, and Holiday-Style Who-Dun-It.   
Then, you'll need to strategically complete challenges, keeping a close eye on the real-time leaderboard and staying one step ahead of the competition.  
If you're unsure of how to plan an epic holiday party, we created an article jam-packed with virtual holiday party ideas for work as well as some tips for how to make it happen. And if you and your colleagues are into giving gifts, you also won't want to miss our list of 26 corporate holiday gift ideas for employees and clients.
The winter season can be a tough time for employee morale, but with the right team building activity, you can help your group find their groove again. Try donating to charity, group exercise classes, a game show activity, heading to a rec center, doing an escape room, hitting the slopes, going on a scavenger hunt, building something, singing karaoke, hosting a trivia night, or getting a hit of adrenaline to help shake things up at your office.
---

Learn More About Team Building Activities for Your Group
For more information about winter team building activities that can help boost employee morale this season, reach out to our Employee Engagement Consultants.
Subscribe To Our Newsletter
And Stay Updated