15 Incredible Virtual Trivia Games for Work Teams
As it turns out, trivia isn't just fun. It's good for your mind! So, we've compiled our favorite virtual trivia games to play with your colleagues.
Updated: December 6, 2021
Here's an incredible fact: trivia knowledge isn't actually trivial. In fact, science has proven that knowing obscure things is good for our mental health.
Don't believe us? We'll explain.
Experts say that playing trivia games can provide a dopamine rush much like gambling except without the negative effects or risks. And it's all because we get a thrill out of providing correct answers to questions about lesser-known facts. Beyond that, it's also a great way to connect with people and have fun, making it the perfect team building pastime to play with your colleagues.
With all of that said, we'll admit we get a bit of a dopamine rush ourselves by sharing these incredible virtual trivia activities for workgroups.
---
---
Get together with your team and take a trip to "Hamish McDuff's" virtual pub. This hilarious Scottish pub owner is the legendary host of a trivia game that is perfect for your team's virtual happy hour fun!
Hamish will host two rounds of virtual pub trivia, featuring four themed categories of your choice. With 20 category options to choose from, you'll be sure to find the perfect themes for your remote team – from Are You Smarter Than a 5th Grader to Sports, Food & Drink, or even Celebrity Real Estate.
With pub soundscapes, visual surprises, and warm-hearted humor, Hamish McDuff makes your guests feel like they just had a memorable happy hour with friends in a real pub, like the good ol' days.
This virtual pub trivia game is guaranteed to produce plenty of laughs and lift team "spirits." It might even include a few special surprises.
If you're trying to find fun and unique ways to keep your team engaged on an ongoing basis, Water Cooler Trivia is a great way to do it. Water Cooler Trivia integrates into your email, Slack, or Microsoft Teams channels and automatically sends trivia quizzes directly to your team members on a weekly basis. You can choose the trivia schedule and categories, and Water Cooler Trivia will write the questions, automate their distribution, and grade the results for you.
3. DIY Trivia
If you're looking to simply host your own virtual trivia game, you might want to check out our list of 270 trivia questions and answers for workgroups, which includes:
Question: What was the first feature-length animated movie ever released?
Answer: Snow White and the Seven Dwarfs
Question: In which winter sport are the terms "stale fish" and "mule kick" used?
Answer: Snowboarding
Question: How did lone assassin George Elser attempt to assassinate Adolf Hitler in 1939?
Answer: A time bomb
Question: Which planet is closest in size to Earth?
Answer: Venus
You'll find 267 other questions falling into categories including:
66 Entertainment Trivia Questions and Answers
23 Sports Trivia Questions and Answers
33 Geography Trivia Questions and Answers
22 Politics Trivia Questions and Answers and Answers
21 History Trivia Questions and Answers
25 Food Trivia Questions and Answers
20 Science, Space, and Technology Trivia Questions and Answers
20 Nature Trivia Questions and Answers
20 Holiday Trivia Questions and Answers
20 Health Trivia Questions and Answers
And with these questions, your virtual trivia party will be a hit with your colleagues.
Step into the Outback Time Machine and take a trip through time, from pre-pandemic 21st century through the decades all the way to the 60's.
This exciting, fast-paced virtual trivia game, packed with nostalgia and good vibes, is guaranteed to produce big laughs, friendly competition, and maybe even some chair-dancing.
Your virtual game show host will warm up guests with a couple of "table hopper rounds" (breakout room mixers) and split you out into teams. Within minutes, your home office will be transformed into a game show stage with your very own game show buzzers!
Houseparty is a face-to-face social networking app that gained a ton of popularity last year. And, although this group video chat platform may seem like just another FaceTime or Skype, Houseparty comes with some unique social features – namely virtual trivia games! 
With Houseparty's virtual trivia options, you can choose from 18 different decks that cover a range of topics that test your coworkers' trivia knowledge! 
Remember that amazing trivia game show, Who Wants to Be a Millionaire? Well, here's some exciting news: it's now available as a free virtual trivia game that allows up to 15 people to play at once.
Here's how it works: your colleagues will work their way through a series of 15 questions that escalate in difficulty.
If you're in a small group, you can all take turns playing while the others watch. Or you can play it as a team game, where each team decides on the answers together.
After more than a year of lockdowns, we're all in desperate need of a vacation. Luckily, Captain Furling has room for you and your colleagues on his virtually chartered yacht. Come aboard and channel your "inner Cancun" for a tropical online team building adventure.
Captain Furling's chartered yacht welcomes online guests aboard his luxury vessel and quickly takes them out of their homes to a gorgeous beach in Cancun.
With ocean soundscapes and delightful vacation destination footage, your travel companions will compete with their knowledge ofc travel destinations, vacation-themed movies, summer pop hits and even a cabana-wear contest. Your yacht captain gives guests a playfully immersive experience for a virtual team vacation from your workday that your colleagues truly deserve.
8. Heads Up!
OK, we'll admit, this isn't exactly trivia in the traditional sense. But Heads Up! does combine trivia with charades. And you can make it into a virtual trivia game by simply logging onto Zoom with your colleagues.
Here's how it works: divide your group into teams. Each player will need to download Heads Up! onto their device from the app store.
Pro tip: before each player's turn, make sure to have them hide their own video from themselves so they can't see the answer on their own screen (here's how to do that).
During the game, one player holds the device to their head while the other participants shout out clues to help the first player guess what the word on the device is. With a variety of topics to choose from, including celebrities, movies, and accents, Heads Up! is sure to get your team hyped at the next game night.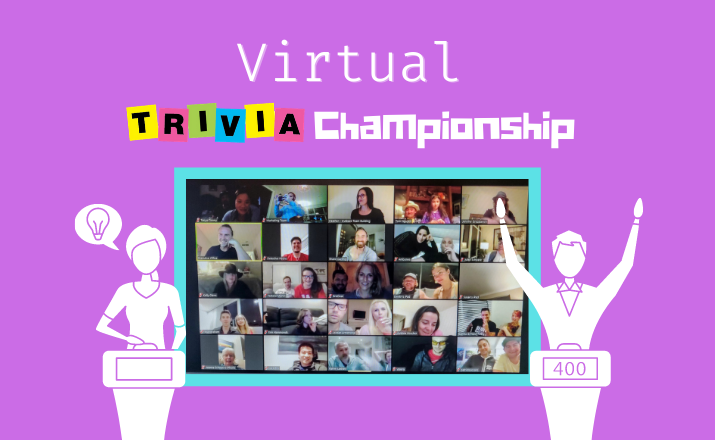 Does your team have what it takes to win the Virtual Trivia Championship? In this virtual trivia team building activity, your colleagues will break into teams and turn the competition level up to ten as you challenge your wits, test your knowledge, and work your way through a list of trivia questions ranging from cities to movies, songs, objects, and even a round of Jeopardy-style challenges.
If you love the TV show Jeopardy, then you're going to get a kick out of this! With Online Jeopardy, you can choose from a ton of virtual trivia games to play with your colleagues, including playing real Jeopardy episodes.
There are also a number of other games you can play, including Infinite Final Jeopardy that takes you through clues from the last 30 years of the show as well as app-based versions you can play with multiple people.
When it comes to party games, Jackbox Games makes a ton of different party games created for meetings, Zoom calls, and more. This includes everything from drawing and writing-based games to virtual trivia games like its classic You Don't Know Jack which features "snarky," risqué, and hilarious questions.
Looking to have fun and learn with your colleagues at the same time? Then you'll love Kahoot! This game-based learning platform makes it easy to create, share, and play learning games or trivia quizzes in minutes.
Kahoot! even has a business-focused version tailored to energize employees, inspire them to learn and get in the flow of work.
The holiday season is all about coming together and celebrating! So, in Frost's Virtual Holiday Trivia, you and your team will be invited to join the Frosts in the lounge of their brand-new ice hotel.
While you're there, you'll compete through three rounds of holiday and winter-themed trivia questions, earning points for each one answered correctly. But the fun doesn't stop there! You'll also become better acquainted with your colleagues as you take part in a round of Frost's Icebreaker Questions.
One thing's for sure. St. Patrick's Day brings out the Irish in all of our hearts, no matter where we are in the world! So, this year, gather your remote team and celebrate Celtic culture with St. Patrick's Day Virtual Happy Hour, an immersive, interactive, and highly engaging virtual experience hosted by a professional actor. Together, you'll face a series of Celtic-themed challenges, including a buzzin' Irish trivia game, a Famous Irish Faces challenge, an Irish-themed "Would You Rather" conversation game, and even a few Irish pub song-based memory challenges.
If your remote team is eager to socialize, have some fun as a group, and channel their competitive spirit, we've got just the thing for you! With Virtual Jeoparty Social, you and your colleagues will step into your very own virtual Jeopardy-style game show—equipped with a buzzer button, a professional actor as your host, and an immersive game show platform! Best of all, this game has been infused with an ultra-social twist: players will take part in a unique social mixer challenge between each round.
Remember: trivia isn't just fun, it's good for your mental health as well! So, you can help boost your team's morale and their mental wellbeing all with one fun game.
Are you and your team fanatics for trivia? If so, let us know your favorite and most obscure trivia facts in the comments section below.
---
Learn More About Our New Virtual Trivia Team Building Activities
If you've got questions about any of our new virtual trivia team building games, reach out to an Employee Engagement Consultant. 
---
Subscribe To Our Newsletter
And Stay Updated