Don't See What You're Looking For?
All of our events are fully customizable to ensure that we meet the unique needs and desires of your group. To get started, Get In Touch with one of our team members.
Request A Quote
What Clients Are Saying:
Thank you for providing our team with this amazing event and charity opportunity.
From the very first conversation, each person on your team exhibited professionalism. They each provided all information requested, explained the event in detail, arrived on time, and exceeded expectations on event day. Thank you for providing our team with this amazing event and charity opportunity.
Verizon | Baltimore, MD | Bridge Builders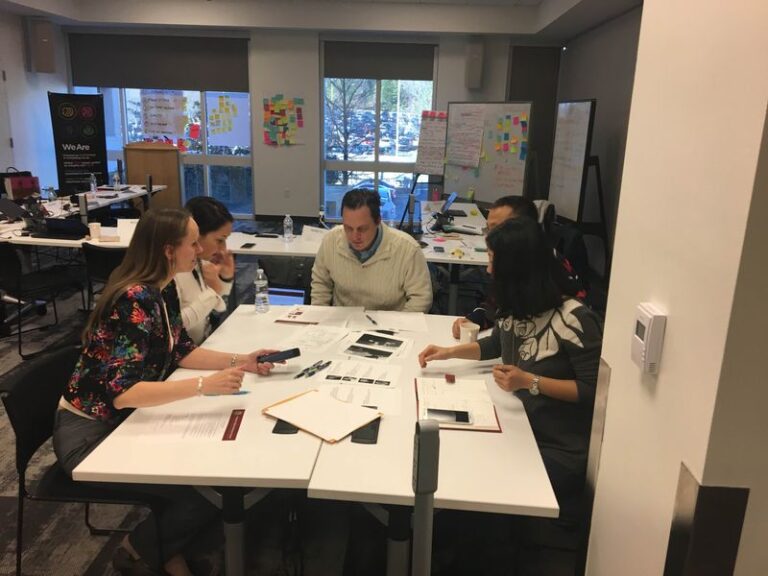 Downloading the app and instructions was simple
The event offered great flexibility as to where it could be done. Downloading the app and instructions was simple. Our Employee Engagement Consultant was helpful in answering questions prior to the start of our event. 10/10!
Philips | Massachusetts | Clue Murder Mystery
I think it will have a lasting impact on our group
I received nothing but positive feedback. There was lots of laughter and positive comments when discussing the actual event later that day. They're still talking about it, and I think it will have a lasting impact on our group. Lots of great pictures of the teams and some of the fun challenges they had to try and complete. All in all, I think it was a successful event.
Cargill | Kansas City, MO
Very fun & engaging
The event coordinator was absolutely incredible. She was beyond flexible and accommodating with all of our requests, and the execution was flawless. She was an amazing emcee, her team was phenomenal, and I would work with her again on absolutely any event that needed a positive, energetic, fun activity. Very fun, engaging, energetic. 10/10
Microsoft
The group had fun!!
Everyone enjoyed the team building activity, Minute To Win It. It was recommended to me by your team, so I had some guidance as to how it would play out. The planning was already done, and the group had fun!! 10/10!
Cargill | Minute to Win It
What is Indoor Team Building?
Indoor team building activities are games, icebreakers, or events that take place entirely indoors. While a lot of event planners may think you need to go outside to have fun with a team building event, there are plenty of creative and entertaining team building activities that you can try with your staff without leaving your meeting room, office, or hotel venue.
Of course, you'll want to choose the right type of team building exercise for your group. Here at Outback Team Building & Training, we offer a wide range of unique indoor activities that include:
Our indoor team building activities bring people together with fun photo challenges, creative thinking exercises and, in some cases, giving back to the community. Challenge your team to grow with one of our many fun offerings. Need a custom designed group activity? We can do that too! Keep in mind that all of our indoor team building activities are scalable for groups of any size and can be taken to whichever location you are holding your event.
Top Three Reasons to Run an Indoor Team Building Activity
Customers regularly rate our indoor team building activities "10/10" because of…
Ease: Our many indoor team building activities can be run as a part of your meeting, conference, or retreat. We will provide you with everything you need and make the activity as easy as possible for you. Let our experts take the stress out of team building.
Weather: You never know what the weather is going to look like. Whatever is happening outdoors, your event will run smoothly with an indoor activity. Ensure that your event goes off without a hitch by running an activity in the comfort of the indoors.
Accessibility: Not everyone wants to go on a physical adventure. By running an indoor activity, everyone can participate and work together. Team building doesn't have to be overly physical and our indoor activities are just as effective and fun as the outdoor ones.
How Do You Know Which Type of Indoor Team Building Activity Is Right for Your Group?
It all depends on what your goal is for your event. Are you trying to energize your team after a long day of meetings? Are you looking for a creative challenge that will test how well your colleagues work together? Depending on your goals, our Employee Engagement Consultants may recommend a different indoor activity to suit your needs. To learn more, reach out for your free consultation today.
Benefits of Indoor Team Building for Employees
Indoor team building activities can give you all the same benefits of outdoor team building, but without having to leave your office or meeting space! This means you won't need to worry about booking a separate venue for your event, arranging transportation for employees, or other complex logistics that come with going off-site. You can relax and focus on what matters: helping your coworkers have fun as they build bonds and develop deeper working relationships.
Here are the three top benefits of indoor team building activities for employees:
Boost Teamwork – Bring your group closer together with indoor icebreakers, activities, and exercises that are designed by team building professionals. Your group will get a chance to rely on each other in new ways, learn more about their colleagues' strengths, and practice how well they collaborate under pressure.
Practice Communication – Most teams think they have great communication skills, but the results can often be surprising when you put that theory to the test! Indoor team building activities are a great opportunity to see how well your coworkers actually are able to speak and listen to one another, without getting frustrated by sudden complications or changes in the activity.
Have Fun Together – The number one goal of any indoor team building activity should be to just have fun! By having a great time together, staff at your organization are more likely to enjoy their work and think more highly of their colleagues.
Why Are Indoor Team Building Activities Popular?
Indoor team building activities are popular because they are fast, easy, and don't require nice weather to be a success. Our event planning experts will walk you through the entire process, come to your office or meeting location, and set up everything for you on event day.
Traditionally, some people might shy away from indoor team building for because they think it will be less fun and exciting for employees. When you bring in an event coordinator from Outback Team Building & Training though, that couldn't be farther from the truth! Our staff will come into your office or meeting space and completely transform the environment into a unique and memorable experience for your coworkers. With the right props and challenges, your workplace atmosphere will look and feel completely different!
How do we do it? Take two of our most popular indoor team building activities for example: Minute To Win it and CI: The Crime Investigators. In Minute to Win It, our event coordinators will bring in music, decorations, and challenges to boost the energy of your group and get them amped up for an exciting competition. In CI: The Crime Investigators, our event coordinators will set up realistic looking crime scenes and provide your team with equipment, so they really feel like police detectives. No matter which indoor activity you choose, you can relax knowing that it will be engaging and exciting for employees.
How Do You Plan an Indoor Team Building Activity?
When it comes to planning for an indoor team building activity, there is no such thing as being over-prepared. To set yourself up for success here are four items to consider:
Start Planning Early – The more time you give yourself upfront, the easier planning will be. If you have a last-minute request, don't worry! Our team is used to working with fast lead times, and we have a wide variety of solutions available on short notice.
Think Logistics – You'll want to make sure everyone knows exactly who is coming, where the event is taking place, and when the event will start and finish. Our team are logistic experts and are available to support you at every stage of the planning process.
Set the Mood – Excitement can be contagious. Set the tone for team building in the days leading up to the activity. It's all about good internal communications, which is something you want to carefully plan out ahead of time and be strategic about.
Expect the Unexpected – Your number of participants might change, or you might have less time than you expect. Whatever happens, our team will be there to support you leading up to the event, on the day, and at any point thereafter.
Where Can You Do Indoor Team Building Activities?
There are many different types of venues for indoor events, ranging from hotels to restaurants. The best space is always the one that fits your team's size and needs.
Office Meeting Rooms – You can run an indoor team building activity right in your office meeting room! This can be a great surprise for employees because everyone will be in their usual place of business right up until the interactive activity begins. If you choose a hosted team building activity, our event coordinators will come in and set up the space, so it has everything you need for the fun and exciting challenges. If you choose one of our self-hosted budget team building activities, then you can try an indoor activity using the help of the Outback Team Building smartphone app.
Hotel Venues – Hotel venues tend to be one of the most convenient indoor event spaces. Most hotels are centrally located, and attendees coming from out-of-town don't need to get lost trying to navigate an unfamiliar city. Depending on the hotel, there are different sized spaces to accommodate many medium to large group sizes. The Hilton Boston Logan Airport hotel, for example, has meeting rooms over 5,000 square feet that can comfortably fit over 400 people.
Many of these spaces also come equipped with extra features, for additional costs. Venue staff can make video projectors and sound systems available to help execute the presentations at your event. These features also make it the perfect setting for a team building activity with multimedia.
Conferences & Convention Centers – If you have a large group, conference and convention centers offer one of the best solutions for your indoor event. These venues are ideal because they are for large meetings, events, and conferences. Conference and convention centers host events most days of the year, so you can be confident they will offer a trustworthy solution for your group.
These spaces tend to be blank slates, so if you have the resources you can design them completely for your event. Tables, chairs, lights, and other multimedia can be put together to match whatever the theme of your event happens to be.
For big conferences, a perfect way to the break the ice is with Getting to Know You. It's a social scavenger hunt that breaks down barriers and helps your group learn more about one another. The activity gets participants to match clues on their smartphones to people in the room.
Private Venues – Get creative with your event by booking a private venue. Typical event spaces can feel just like that: typical. A thousand events have happened there, and a thousand more will. But private venues offer a more personal experience that can feel more unique. Think outside the box with banquet halls, grand estates, country clubs, vintage halls, charter yachts, and ballrooms.
Private venues can be booked exclusively for your indoor team building event, guaranteeing no other customers or events will be going on at that time. Everything is set up with your event in mind, and all the staff will be there to serve your group. The privacy and elevated service make private venues a great option for team building or celebratory events.
How Do You Pick the Right Venue for an Indoor Team Building Activity?
There are certain things you need to look for when picking the right indoor venue. Here are some tips to help you make the right choice for your next team building or corporate event.
To find the right indoor venue for your event, start by asking your colleagues and event service providers for recommendations. If a venue looks like it could be a good fit, you should do a site-visit and make sure to ask the following questions:
Size – Is the room large enough to comfortably fit your group?
Lighting – Are there enough lights in the room? Do they get bright or dim enough for indoor team building exercises?
Noise Levels – Is it a loud environment? Check the surrounding rooms for noisiness that may distract from your event.
Parking – Is there a lot nearby for attendees to park? What is the cost?
Accessibility – Is the venue easy to access and navigate to? Will you be able to display directional signs on the day of the event?
Internet – Is there high-speed wireless access?
Audio Equipment – Are there microphones? Is there a sound system? Do the volume levels get loud enough?
Video Equipment – Is there a projector or screen available for video presentations?
Display Boards – Are there poster or whiteboards and markers available for demonstrations?
Other Amenities – It's important to know what amenities you will need for your team building activity. Team Pursuit works best if there is high-speed wireless Internet access in the room, while something like Minute to Win It doesn't require any special amenities.
If your event lasts more than a few hours or stretches over lunch, attendee engagement may begin to slip. When picking an indoor venue for your corporate event, you should also consider catering options. Can you bring food and drinks into the venue space? Are there refrigerators available for storage? Is there a kitchen on-site? What is available on the menu? Can you do a taste sample?
What Are the Best Indoor Team Building Activities?
The best indoor team building activities are the ones that sound the most exciting to you and your group. That being said, here are five of the most popular indoor team building activities for customers at Outback Team Building & Training:
Get the team building help you need today!
Our Employee Engagement Consultants are happy to discuss your specific needs and assist you in choosing the best activity for your upcoming event.