In-person & Virtual Team Building in Massachusetts
Choose from more than 60 Massachusetts-based team building, training, and consulting options, recommended by over 14,000 corporate groups.
Recommended by Organizations in Massachusetts, Such As:
What Does Your Team Need?
Team Building in Massachusetts Made Easy!
Are you planning a team building activity or training program in Massachusetts? You don't need to settle for something basic – you can do something fun, unexpected, and local.
When you partner with our team, you can also find effective and engaging training and consulting programs in Massachusetts to meet your group's needs.
Check out the top recommended activities and programs for popular locations and venues in Massachusetts.
What Clients Are Saying: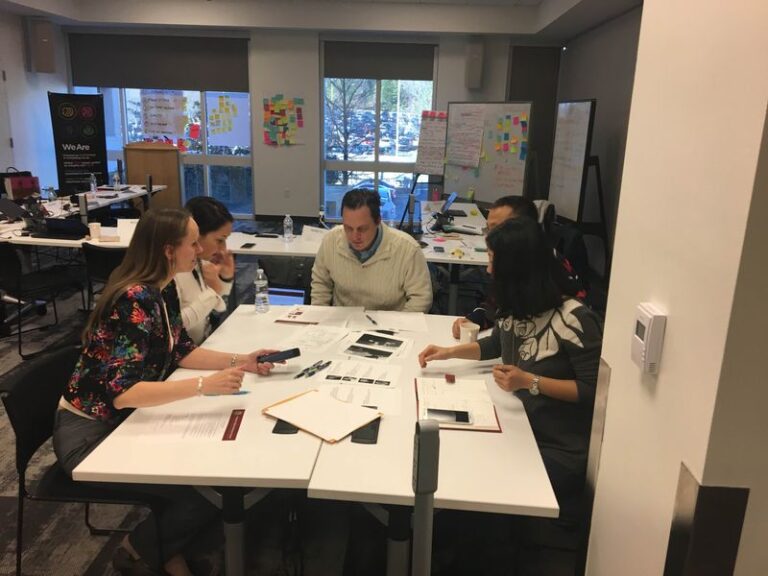 Downloading the app and instructions was simple
The event offered great flexibility as to where it could be done. Downloading the app and instructions was simple. Our Employee Engagement Consultant was helpful in answering questions prior to the start of our event. 10/10!
Philips | Clue Murder Mystery
Blew our expectations out of the water
This event blew all of our expectations out of the water. Each member of the Outback team was amazing, and showed such passion and excitement for what they do! We had a fantastic time and I would recommend this event to everyone!! Thank you all for everything you did to ensure that we had the greatest time! Your team is amazing! 10/10!
Globoforce | School Supply Scramble
A great way to see the city and get to know each other
It was really fun. We got to walk all through Boston. It was really well put together and I had a lot of fun doing the different activities and I got to know a lot of people in my company that I didn't know before. It was a great way to see Boston and get teams together so that they could get to know each other and do some team building. I would highly recommend this as a team building activity in a corporate setting.
Sovos | The Amazing Chase
A great day of training, interaction, and fun for the staff
I thank you and your crew for delivering a great day of training, interaction, and fun for the staff at the Operational Services Division yesterday. The fact that the majority of the attendees knew about the early release from work, but stayed until the end of the event says to me that they truly enjoyed the training.
Government of Massachusetts | Custom Training
Seamless from beginning to end
Our entire group had an amazing time, and many said it was the BEST team building event we have ever done. The staff from Outback was great to work with, and the experience was seamless from beginning to end.10/10!
Digital Prospectors
It was a great team building exercise
My team had so much fun doing this Random Acts of Kindness scavenger hunt. It was a great team building exercise, the teams really got into trying to outdo one another. And we enjoyed doing nice things for people we didn't know! The Outback team was very easy to work with. 10/10!
Hologic | Random Acts of Kindness
We had a great time today. What I liked was all the camaraderie and all of the team building we did. Everybody had a really, really great time.
Fresenius Kabi | Minute to Win It
Top Team Building Activities for Popular Massachusetts Locations:
Team building activities are designed to keep your employees entertained, engaged, and motivated. They can be used to improve employee engagement and morale, or add a fun element to staff retreats.
Domino Effect Challenge
Recommended Location: Sheraton Springfield Monarch Place Hotel,Springfield
Located in Springfield's Metro Center, the city's original colonial settlement, Sheraton Springfield Monarch Place Hotel offers a central location for corporate events. Steps from the Connecticut River and the Springfield Museums, this venue would be a great place to do an indoor team building activity,such as Domino Effect Challenge, before heading out to explore the city.
View Activity
Corporate Castaways
Recommended Location: Green Hill Park, Worcester
The large open spaces at Green Hill Park in Worcester are perfect for an exciting outdoor activity like Corporate Castaways. For example, you can gather your group around the grassy area near Green Hill Pond and the Barnyard Zoo for the chance to turn your teammates into tribemates with Survivor-inspired challenges and activities.
View Activity
Wild Goose Chase
Recommended Location: Downtown, Boston
Ready to explore Boston's downtown core with your team in a completely new and unique way? With an outdoor scavenger hunt, such as Wild Goose Chase, you and your group can make your way around city landmarks like the Boston Tea Party Ships & Museum and the Old State House as you complete photo and video challenges.
View Activity
Other Team Building Activities in Massachusetts:
With six different types of activities to choose from, you can find a solution that fits the needs of your group.
Top Training & Development Programs for Popular Massachusetts Locations:
Employee training and development programs can be a great way to help your team strengthen bonds and sharpen their skills.
Creating Mission, Vision, and Values
Recommended Location: The Westin Waltham Boston, Waltham
The Westin Waltham Boston is located in the northern end of the city of Waltham, near the Yankee Division Highway and the Cambridge Reservoir. Gather your team here and you can choose from 16 different meeting spaces for a hands-on experiential learning program, such as Creating Mission, Vision and Values.
View Program
Practical Time Management
Recommended Location: Kimpton Hotel Marlowe, Cambridge
Overlooking the Charles River and Lechmere Canal Park in Cambridge, the Kimpton Hotel Marlowe provides over 8,700 square feet of meeting rooms. Event spaces in this hotel can be adjusted to meet the needs of almost any corporate gathering, and would work well for a half-day skill development program like Practical Time Management.
View Program
Conflict Resolution
Recommended Location: Sturbridge Host Hotel & Conference Center, Sturbridge
If your group is looking to get away from the office for a training and development program, look no further than Sturbridge Host Hotel & Conference Center. Offering a tranquil lakeside setting on the shores of Cedar Pond, this hotel offers over 35,000 square feet of flexible event space, in which you and your team can tackle a Conflict Resolution session, or any other training program.
View Program
Top Coaching & Consulting Solutions for Popular Massachusetts Locations:
While team building activities can give your group a boost of energy and improve relationships, they may not offer long-term results for deep-rooted workplace issues. Coaching and consulting can help your group develop sustainable solutions.
Leadership Team Cohesion Consulting
Recommended Location: Concord's Colonial Inn, Concord
The Concord's Colonial Inn is not your typical modern-day hotel conference center. Rather, the meeting spaces at this inn – one of the oldest in America – can provide you with charming rooms perfect for smaller groups. Here, executives can work with a professional business consultant during a program like Leadership Team Cohesion Consulting.
View Solution
Change Management Consulting
Recommended Location: Wylie Inn and Conference Center, Beverly
Meet with your leadership team at the Wylie Inn and Conference Center for any coaching or consulting session. Here, you and your group can tackle major shifts in your organization with a program like Change Management Consulting. After the session, take advantage of this location's proximity to beautiful landmarks, such as Beverly Cove and Curtis Point.
View Solution
Unique Challenges Consulting
Recommended Location: Harbor Light Inn, Marblehead
Just a few blocks from Marblehead Harbor, you'll find the Harbor Light Inn. With quick access to town attractions, such as Fort Sewall, the water, and a variety of restaurants, this hotel is the perfect setting for a small coaching and consulting session, such as Unique Challenges Consulting.
View Solution
Why Choose Outback for Your Event in Massachusetts:
Recommended
Our activities and programs have been rated '10/10' by corporate groups including Coca-Cola, Intel and Microsoft.
Flexible
Choose from over 60 flexible team building, training, and consulting options to fit your budget, group size, time frame, and location.
Fast
Find what you need fast. Speak with someone right away and receive a custom proposal before your deadline.
Featured Customer Case Studies:
Find out how customers like you have found a solution for a variety of events by partnering with our team.
Need Help Choosing an Activity or Program for Your Corporate Group?
Fill out a simple form
to speak with a team building expert
Receive expert advice
on the activities best-suited for your group
Build a stronger team
with the solution of your choice in Massachusetts