In-person & Virtual Team Building in New Brunswick
Choose from more than 60 New Brunswick-based team building, training, and consulting options, recommended by over 14,000 corporate groups.
Recommended by Organizations in New Brunswick, Such As:
What Does Your Team Need?
Team Building in New Brunswick Made Easy!
Are you planning a team building activity or training program in New Brunswick? You don't need to settle for something basic – you can do something fun, unexpected, and local.
When you partner with our team, you can also find effective and engaging training and consulting programs in New Brunswick to meet your group's needs.
Check out the top recommended activities and programs for popular locations and venues in New Brunswick.
What Clients Are Saying:
The feedback was nothing short of fantastic
Your team was professional throughout the entire engagement, and promoted a positive experience for our participants. The feedback from all who participated was nothing short of fantastic. Thank you!
Deloitte | The Amazing Chase
Client Feedback Highlights
Various clients express why they love working with Outback Team Building & Training.
Various Clients
Fun, competitive, physical, creative, and environmentally friendly
We were looking for a team buliding acitivty that had specific elements: fun, competitive, physical, creative and enviromentally friendly and we found we were able to have all those things it in this activity.
The Co-operators
Highly engaging, interactive, and positive
Phenomenal participant feedback and engagement. The Random Acts of Kindness event was highly engaging, interactive, and positive. 10/10!
ExxonMobil | Random Acts of Kindness
The app worked great
The Team Pursuit activity went well! The app worked great and the leaderboard was fun to watch!
Sodexo | Team Pursuit
Really easy to organize
Everybody had fun with the Team Pursuit activity! It was really easy to organize too.
Grant Thornton LLP | Team Pursuit
Top Team Building Activities for Popular New Brunswick Locations:
Team building activities are designed to keep your employees entertained, engaged, and motivated. They can be used to improve employee engagement and morale, or add a fun element to staff retreats.
Minute to Win It
Recommended Location: Wolastoq Park, Saint John
Do you want to make some noise with your next team building activity? Minute to Win It is an adrenaline-pumping and cheer-inducing activity that will make your team feel like they're on a TV game show. Try this activity right in your Saint John office, or at a nearby location like Wolastoq Park.
View Activity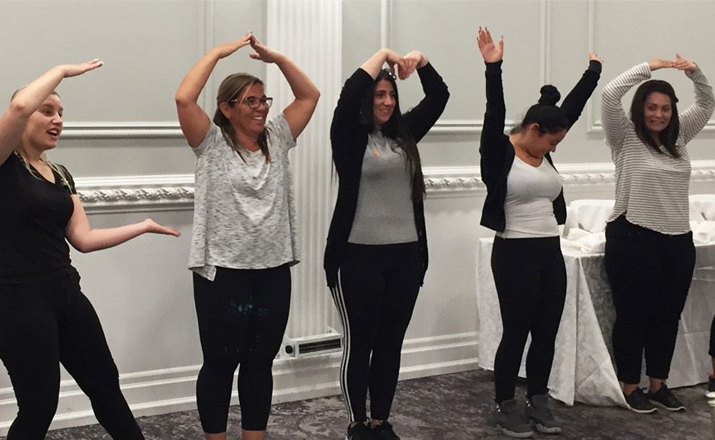 Team Pursuit
Recommended Location: Fairfield Inn and Suites, Moncton
Team Pursuit is available at the Fairfield Inn and Suites in Moncton, or any other indoor venue in New Brunswick. This engaging activity has teams go head-to-head in a competition that challenges their brains, brawns, and collaboration skills. Think of it as the ultimate game of Cranium, Jeopardy, and Trivial Pursuit…all rolled into one!
View Activity
Other Team Building Activities in New Brunswick:
With six different types of activities to choose from, you can find a solution that fits the needs of your group.
Top Training & Development Programs for Popular New Brunswick Locations:
Employee training and development programs can be a great way to help your team strengthen bonds and sharpen their skills.
Impactful Presentation Skills
Recommended Location: Riverside Resort & Conference Centre, French Village
Nestled on the shores of The St. John River, the Riverside Resort & Conference Centre combines a woodland retreat with sophisticated amenities. It offers over 2,900 square feet of flexible meeting spaces, suitable for a half-day training program like Impactful Presentation Skills, where teams learn tactics for improving their public speaking skills.
View Program
Accelerated Selling
Recommended Location: Rodd Miramichi River Conference Centre, Miramichi
Rodd Miramichi River Conference Centre is a unique venue, inspired by the Maritimes and Atlantic Canada. The meeting space windows open up to the river, and the nautical-themed decorations are authentically east coast. Plan a stay with your sales team, and you can double-down on training and development with a session like Accelerated Selling.
View Program
Top Coaching & Consulting Solutions for Popular New Brunswick Locations:
While team building activities can give your group a boost of energy and improve relationships, they may not offer long-term results for deep-rooted workplace issues. Coaching and consulting can help your group develop sustainable solutions.
Strategic Focus Consulting
Recommended Location: Rossmount Inn, Saint Andrews
Your management retreat can be productive, comfortable, and affordable at the Rossmount Inn. This venue offers informal meeting spaces for small groups of up to 18 people, and no distractions for when you want to get down to business. Try a Strategic Focus Consulting session here, and you can work with a professional management coach to make dramatic positive changes to your organization and operations.
View Solution
Unique Challenges Consulting
Recommended Location: Crowne Plaza Moncton Downtown, Moncton
Located near the Moncton Train Station, the Crowne Plaza Moncton Downtown goes above and beyond other hotels in New Brunswick by offering over 14,000 square feet of event space. Gather your company executives here for a Unique Challenges Consulting program, and you'll have access to state-of-the-art audio-visual equipment to enhance your session.
View Solution
Change Management Consulting
Recommended Location: Florenceville Motor Inn, Florenceville-Bristol
Our management consultations and team coaching programs are available anywhere in New Brunswick, even in small towns like Florenceville-Bristol. All you need is access to a venue, such as the Florenceville Motor Inn, and Outback can set up a Change Management Consulting program for your group. This can be an opportunity to get an edge on your competition, and take your business to the next level!
View Solution
Why Choose Outback for Your Event in New Brunswick:
Recommended
Our activities and programs have been rated '10/10' by corporate groups including Coca-Cola, Intel and Microsoft.
Flexible
Choose from over 60 flexible team building, training, and consulting options to fit your budget, group size, time frame, and location.
Fast
Find what you need fast. Speak with someone right away and receive a custom proposal before your deadline.
Featured Customer Case Studies:
Find out how customers like you have found a solution for a variety of events by partnering with our team.
Need Help Choosing an Activity or Program for Your Corporate Group?
Fill out a simple form
to speak with a team building expert
Receive expert advice
on the activities best-suited for your group
Build a stronger team
with the solution of your choice in New Brunswick