16 Meaningful Ways to Celebrate The International Day of Charity with Your Team
The International Day of Charity takes place each year on September 5th. If you're looking for ways to give back with your team, we've got you covered.
The International Day of Charity was established by the United Nations in 2012 with the objective of sensitizing and mobilizing people, NGOs, and stakeholders all around the world to help others through volunteer and philanthropic activities.
The date of September 5th was chosen in order to commemorate the anniversary of the passing away of Mother Teresa of Calcutta, who received the Nobel Peace Prize in 1979 "for work undertaken in the struggle to overcome poverty and distress, which also constitute a threat to peace."
The day serves to recognize and appreciate charity's role in alleviating humanitarian crises and human suffering within and among nations, as well as to encourage charitable donations and voluntary activities.
So, how can you and your colleagues take part in a meaningful way? Read on to find out.
16 Ways to Celebrate International Day of Charity at Work
There are a ton of ways in which your organization can celebrate The International Day of Charity on September 5th. Whether you have a large budget, a small budget, or no budget at all, with a little bit of creativity, you and your colleagues can make a big impact.
Here are 16 things you could do this year.
1. Host a Volunteer Day
The great thing about volunteering is that it doesn't necessarily require a financial investment. Donating some of your team's time to support a local cause can be a powerful way to help others.
Here are a few ideas to consider.
Volunteer Somewhere Local
No matter where your team is located, there are likely a ton of unique volunteer opportunities that you can't find anywhere else. Use a service like VolunteerMatch to discover new ways you can give back in your area, and to learn about all the different causes you can support.
Once you decide how your group is going to help out, you can try giving employees extra time off to volunteer or set aside a few hours for everyone to head out of the office. The efforts will be worth your while because employees will have the opportunity to bond as they give back.
Organize a Public Space Cleanup
For teams who are passionate about the environment, a great way to give back is to organize a public space cleanup in your city. The idea here is that your group can gather at a nearby park, forest, road, or beach to remove the litter and trash they find on the ground. This can be a great way to reduce pollution, enhance your sense of community, and help your neighborhood feel more welcoming and safe.
You can either organize your own private event, join a neighborhood cleanup team that is already operating in your city, or "adopt" a public space to keep clean for a longer period of time. And if you want to make it more fun for employees, you can also offer prizes and rewards for the employees who collect the most garbage!
If you're interested in even more opportunities, check out our list of 20+ creative volunteer ideas for work teams.
Class is in session with this philanthropic team building activity where your team will be tested by a variety of education-themed teamwork challenges, share a special bonding experience, and support local children in need by competing to fill backpacks with school supplies and donating them to charity.
3. Charity Match
Each member of your team may have different passions and causes they'd like to support. So, rather than trying to find one single cause or organization that everyone can agree on, you can help make The International Day of Charity a more personalized experience for your team members by matching their individual donations to a charity of their choice.
This can be donations solely from the employee or through their own individual fundraising efforts.
You can add a few stipulations to this, such as requiring your employees to secure approval in advance on the charity they'd like to support and adding a donation matching cap.
Want a way to give back while helping your team hone valuable business skills at the same time? Then you'll love this.
With Charity Bike Buildathon, your workgroup will split into teams to build, decorate, and put together an advertising campaign for children's bicycles.
After each group has presented their bike, you get to donate them all to a charity of your choice!
5. Offer Your Services to a Local Charity
This is another great way to give back to charity, even if your organization doesn't have cash available to donate.
If your company offers services that could be used to support a charitable initiative, non-profit, or a cause, consider offering to take on projects or offer support free of charge.
Doing so will help get your team involved in a hands-on way and will help make them feel even more connected to your business and its values.
This also helps reinforce their sense of purpose in their work, in turn making them feel even more connected to your company.
Feel like getting out and spreading some kindness? We recommend it! Doing good in the world is good for you. In fact, it actually builds team morale. Random Acts of Kindness fuses the scavenger hunt concept with a philanthropic twist. This team building activity gets teams racing against one another to try and complete as many good deeds as possible before time runs out. 
7. Host a Charity Drive
For teams that like to get hands-on, consider hosting a fundraiser and donating the proceeds to a charity of your team's choice.
Here are a few of our favorite ideas.
Bake Sales
Your team can channel your inner chefs and prepare homemade treats like cookies, cakes, and brownies that you can sell to family and friends.
Car Washes
Host a car wash with your team and donate the funds to charity. You can do this in your building's parking lot or at a local park.
Food Drives
Collect non-perishable food items to aid those experiencing food insecurity. In order to ensure your collected items will be accepted by charities, it's best to prioritize things like canned goods, pasta, rice, and other shelf-stable items.
Toy Drives
Much like a food drive, a toy drive is all about gathering new, unwrapped toys that can be donated to underprivileged children. This is a great way to bring a little joy into the lives of kids.
Clothing Drives
You can consider hosting a clothing drive to collect gently used clothing, shoes, and accessories that can be donated to those in need. Make sure they're in wearable condition—you don't want to be donating things that can't be used.
If your team has higher-value clothing or accessories they don't want or need anymore, you could also think about doing a consignment-style sale of these items and donating the proceeds to a charity of your choice.
Doing good deeds has been scientifically proven to reduce stress and make people feel better.
Our Wheelchairs for Charity activity fuses philanthropy with real-world learning outcomes to help participants give back while sharpening their business skills. Together, teams will build and test fully functional wheelchairs before donating them to those in need.
This exercise is great for helping your team members increase their empathy while enhancing their communication and collaboration skills.
9. Create an Awareness Campaign
Does your company have a large presence or reach? If so, you can use company platforms like your social media, website, or email newsletter to raise awareness about local causes or charities.
Rather than simply rolling out promotional materials, it's wise to connect with the charity you'd like to support in order to get their approval, get aligned on the messaging you'll communicate on their behalf, and understand how best to help them based on their specific needs.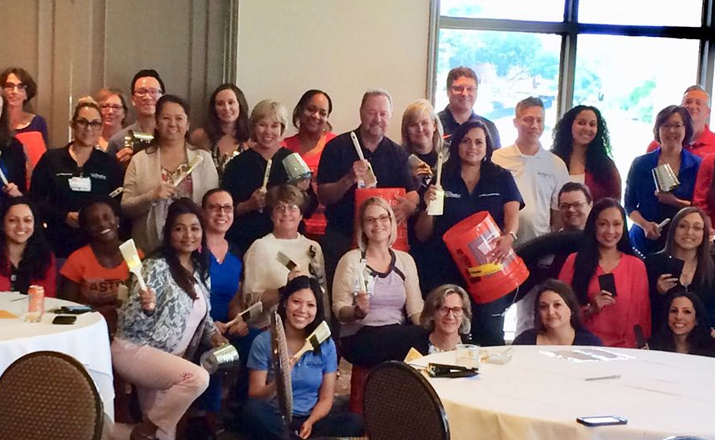 Using tools, parts, and hardware, your group will need to collaborate in order to create musical harmony. Together you'll collect household items, rehearse, and put on your very own concert before donating everything to charity.
12. Recognize Individual or Team Efforts
While this idea is more internally focused, you can consider acknowledging and celebrating employees and teams that regularly engage in charitable activities—whether it's on The International Day of Charity or all throughout the year.
This is a great way to foster a culture of giving within your company and to show your appreciation for everything your people do to give back independently.
13. Help the Homeless in Your Community
According to Global Homelessness Statistics, there are over three million people living without a home in North America today. This is something that a lot of people turn a blind eye to but is also an important cause that your team can have a direct impact on by volunteering.
Partner with a local food bank or homeless shelter to see how you can help the homeless in your neighborhood. Whether you assist with their fundraising efforts, prepare food and drinks for their mealtimes, or bring in donations via another type of charitable initiative, every little bit you do can go a long way.
Support and celebrate our troops in this activity which is all about giving back military personnel serving abroad by completing challenges in order to earn items that you'll use to build military care packages. 
15. Host a Charity Challenge
You can infuse an element of personal challenge into your International Day of Charity initiatives by hosting things like fun runs or bike rides.
With this concept, your team can fundraise independently, and your organization can choose to contribute by matching the donations raised by your team or contributing dollars for every mile covered.
Pro tip: Contrary to what Michael Scott says in The Office, it's unwise to carbo-load with fettuccine alfredo prior to completing your challenge!
16. Put a Charitable Spin on Any Team Building Activity
Whether it's on The International Day of Charity or at any other point throughout the year, your team can put a charitable spin on any team building activity with Outback. We recognize the value of helping organizations make a difference, and that's why every one of our team building activities can be amplified with a charitable care kit component.
The International Day of Giving is coming up on September 5, and it's a great opportunity for your organization and your employees to rally together to support a good cause.
Is your company planning any philanthropic initiatives for The International Day of Charity this year? If so, what will they be? Let us know in the comments section!
Learn about philanthropic team building activities your organization can host for The International Day of Charity.  
If you've got questions about philanthropic team building activities, reach out to an Employee Engagement Consultant.  
Subscribe To Our Newsletter
And Stay Updated