Everything You Need to Know About Planning the Ultimate Company Retreat
Updated: August 15, 2022
Your company retreat should be just as exciting for employees as it is useful for your business. Check out this online guide to get free planning tips, ideas you can add to your agenda, and strategies to make the most of your team building experience.
To make things easy, you can choose whether you want to read the guide below or download it in a free all-in-one PDF. The downloadable version also includes a bonus icebreaker game and recommended destinations for your next retreat. Check it out by clicking the button below.
---
---
Introduction to Company Retreats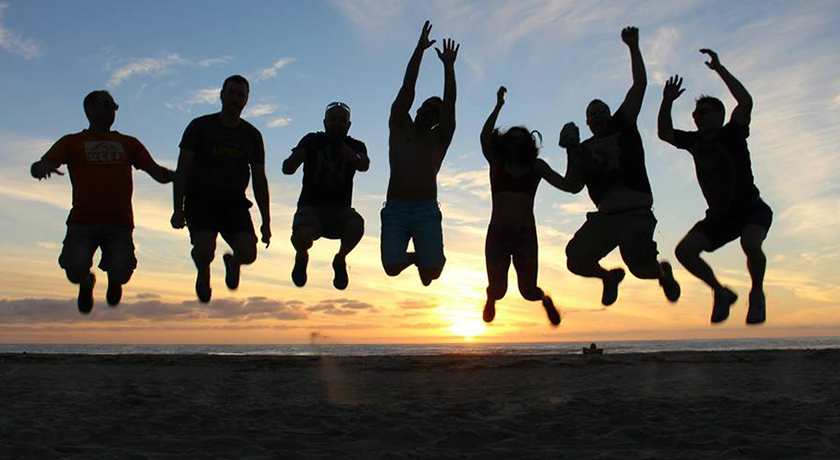 What Is a Company Retreat?
A company retreat is a work event where employees leave the office and meet up somewhere new to regroup, recharge, and discuss what's happening in their business. There are many different types of company retreats, including…
Team Building Retreats – Getting out of the office can be a great opportunity for building stronger employee relationships. These types of retreats usually have one main goal: to help everyone get to know each other better.


Corporate and Business Retreats – A business retreat is similar to a team building retreat, but usually with more of a focus on sharing the corporate vision, practicing new skills, and making sure teams are aligned.


Executive, Leadership, and Management Retreats – While most retreats include everyone on the team, executive retreats are reserved for just the company leaders. The focus here is on strategic planning and high-level business discussions.
Why Plan a Company Retreat?
A company retreat can motivate employees, engage staff, address organizational problems, and help you set goals for the year ahead.
Around the office, it can be so easy to get caught up in your day-to-day tasks and responsibilities that you lose sight of your team, collective purpose, and vision for the future. But a company retreat can be a breath of fresh air for you and your colleagues. It can give everyone the opportunity to get away from their usual work spaces, come together as a group, and strategize about big-picture challenges and opportunities.
In fact, a properly-planned company retreat can be transformative for both your team and your business.
If you'd like to learn more about what Outback Team Building & Training can do to help make your company retreat more successful, give our team a call at 1-800-565-8735, or visit our website to get your free consultation.
The Benefits of a Retreat for Your Business
While some people think retreats are a sign of corporate excess, the truth is that a well-organized and planned retreat can be beneficial for your long-term business goals. Nowadays, more large and small businesses are taking their employees on retreats as a way to:
Attract and Retain Talent
Depending on where you travel to for your company retreat, employees may consider it a perk or the type of experience they can't get somewhere else. This can be a great selling point for new recruits considering working for your company!
Initiate Team Building and Training
During regular business hours, it can be challenging to find the time for things like team building and training sessions. But these things can boost employee engagement and help you build a more positive workplace culture.
Set New Company-Wide Goals
Retreats are useful because your entire team will be in the same place at the same time. You can use this as an opportunity to announce upcoming goals, changes to your mission, or other important changes happening in your business.
Reflect and Celebrate the Year Prior
Did you know that over 79% of people quit their jobs because they don't feel appreciated at work? A company retreat can be a great way to show employees how much you value them by celebrating their accomplishments.
Open Dialogues Between Departments
In large organizations, it can be easy for departments to operate independently. But when everyone comes together for a company retreat, you can ensure that the channels of communication between departments are open.
Strategize and Plan for the Year Ahead
Stepping away from your regular work roles can also enable your colleagues to think about the "big picture" and start planning for the year ahead. You can use your retreat as a time to brainstorm new ideas, hone best practices, and get prepared for what is to come.
7 Things You Should Do When Planning Your Company Retreat
#1. Set Goals for Your Retreat
Before you start planning your company retreat, you need to do one very important thing: write down why you're doing it.
A company retreat can mean many different things to many different people. Clearly defining your goal for the retreat can help you make sure that everyone attending is on the same page.
Some common goals for company retreats include:
Celebrating last year's achievements
Creating trust between colleagues
Building your workplace culture
Strategizing for the year ahead
You may have one big goal for your retreat or several smaller goals you want to achieve. Decide as a group what's most important to you, write it down, and share it with your leadership team to get their buy-in. This will be important down the line when you're making decisions on where to go, what to include in the agenda, and how much budget you can allocate towards the event.
#2. Share Responsibilities
Planning a company retreat is more work than most people realize, so you'll want to share responsibilities with other members of your team.
Not every company has a full-time meeting planner who can take on the task of organizing an entire retreat by themselves. Here at Outback Team Building & Training, the leadership team shares the responsibilities of preparing for our annual business retreat.
You'll find that once you divide up some of the tasks, organizing for your retreat will become a lot more manageable.
For example, you could have different people in charge of…
Transportation logistics
Venue and accommodations
Meals and snacks
Team building activities
Business sessions
#3. Poll Your Colleagues
Get a sense of what your colleagues would like to do at your company retreat by sending out an advance poll to the office. This can help you get a sense of what employees would enjoy and what they expect to accomplish at the retreat.
Use this poll to get opinions on…
Venues and locations they're interested in
The time of the year they would prefer for a retreat
Types of team building they enjoy (E.g. indoor, outdoor, charitable, social icebreakers)
Training topics they would like covered
Any other open-ended ideas they might have
By giving your colleagues a say, you'll be able to make the experience is more inclusive and enjoyable for everyone.
#4. Create a Budget
Company retreats can vary in price, depending on the number of people attending, the location, and your agenda. According to Business.com, the average overnight retreat costs between $300 and $350 per person per day, which includes recreational activities, food, and lodging.
Talk to your leadership team to determine the amount of money available for the company retreat. Try to keep your budget realistic, but leave a little wiggle room for unexpected expenses.
Items you may want to budget for include:
Transportation and parking
Venue bookings
Activity providers
Food and beverage
Insurance
Your budget will help you determine what is possible for your retreat, and which ideas you may need to scale back on.
#5. Find the Right Venue
One of the most important decisions you need to make is the type of venue you would like to host your company retreat.
Remote vs. Urban Settings – Remote settings are great for changing up the pace of the office, bringing everyone together so they're all in one place, and exploring wilderness with your team. Urban settings, on the other hand, often have more local activities and attractions available in the area and are more accessible.


Nearby vs. Far Locations – Nearby locations are great logistically-speaking but can run the risk of feeling "too close to home." Far locations can give you a better sense of a "retreat," but add extra travel time for employees. You'll need to find the right balance for your group, goals, and budget.
For more ideas on where to host your next retreat, be sure to check out our article: The Top 20 Destinations in North America for Company Retreats.
#6. Choose the Right Time
It's almost impossible to find a time of the year that works for everyone. Scheduling may be a challenge for coworkers who have busy calendars or important roles within your company.
If you have key stakeholders who need to be at the retreat, you'll want to ensure that those individuals are free before you commit to a day and time. If you're going to a destination for your retreat, you'll also want to look into what times of the year are more affordable for the location you're visiting.
Here at Outback Team Building & Training, we time our annual retreat during our slowest season for sales. We also give employees plenty of work breaks throughout each day, so they can maintain our customer service levels during the retreat.
#7. Fine Tune Logistics
Use this checklist to help you plan the logistics of your company retreat and prevent any details from falling through the cracks.
| | | |
| --- | --- | --- |
| | LOGISTICS | CHECKLIST |
| Χ | TRANSPORT | How will everyone get to the venue? What transportation needs to be arranged? |
| | FOOD & DRINKS | Will everyone eat together for meals? Or will you provide per diem? What types of snacks and drinks will be available? |
| | LIABILITY WAIVERS | Will participants need to sign any waivers? For example, if you're doing anything that might involve risk of injury. |
| | ACCOMMODATIONS | Will participants be staying at an off-site location overnight? Will it need to be somewhere central? |
| | WHAT TO BRING | What do participants need to know in advance? For example, should they bring clothing for wet weather? |
| | SPECIAL CIRCUMSTANCES | What arrangements are needed for employees with disabilities or injuries? |
How to Balance Your Retreat Agenda with the Right Sessions to Ensure It's Effective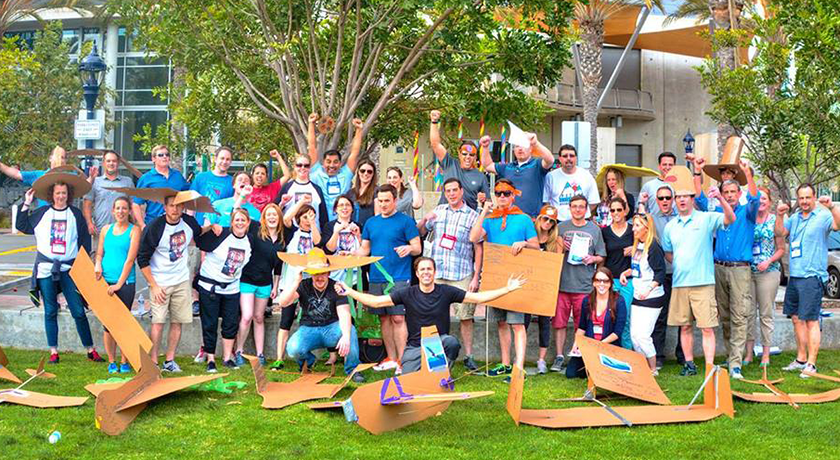 What Makes a Great Agenda?
The best company retreats have a varied agenda, with lots of different types of business sessions and activities planned for employees.
What Should You Actually Do at Your Company Retreat?
To answer this question, you'll want to refer back to your original goals for the retreat, and come up with a schedule that best helps your group meet them.
After years of experimentation, our team has discovered that the best retreat agendas usually combine:
Business sessions
Free time
Business Sessions
Just because you're away from the office doesn't mean you can't get some serious work done at your company retreat.
Some popular business sessions can include:
State of the Nation Address – Kick things off by having a company leader give a general update on the status of the business and their vision for the future.


Product Launches – Get employees excited about new and upcoming customer products by unveiling and demoing them for the first time.


Interdepartmental Meetings – Encourage communication by having sessions where different departments get to meet and talk through some of their challenges with each other.


New Company Initiatives – This is a great opportunity to launch new employee engagement and workplace culture programs.
Team Building Activities
You can also use your company retreat as an opportunity to bond and build closer relationships with your team using team building activities.
An up-and-coming actress has been found dead in her hotel room the morning after an awards show. Now, you and your team need to channel your inner detectives as you review the evidence, assess potential suspects, and determine the method, motive, and murderer in the crime.
If you love to get out into the great outdoors, explore, and have fun, then you're going to love this.
One of our most popular events, Wild Goose Chase, is a scavenger hunt team building activity that will get you outside to explore and tackle photo and video challenges with your friends. 
Each challenge will be worth a certain amount of points. And for each challenge you complete, you'll get to watch where you stand against other teams on a real-time leaderboard.
You might bump up against challenges like:
Take the Stage: Search for a stage (or similar) and record a 5-second video of your team performing a popular song on stage 


If By Land or by Sea: In water or on land, in a slip or in a moat. Take a photo of your whole team standing in a boat or on a bridge above water 


Every Day I'm Jugglin': Find a friend from another team who can juggle 3 or more objects and record a 5-second video of them in action 


You've Got Balls: Snap a photo with at least three different types of sports balls in it, somewhere outside in a public place such as a sports field or playground 
Believe us when we say that this can get a little competitive!
With Jeoparty Social, your team will get to step into their very own Jeopardy-style game show experience – equipped with a buzzer, a professional actor as your host, and an immersive game show platform. Between each round of Jeopardy, your team will participate in social mixer challenges.
Get ready to test your trivia knowledge, hit that buzzer as fast as you can, stack up points for your team before time runs out, and wager a little bit (or a lot) in a round of Final Jeoparty to wrap it all up.
This activity is also available in a virtual format for remote teams.
You've probably never heard of a man named Neil Davidson. But your group will need to come together to solve the mystery of his murder by analyzing clues, resolving challenges, and figuring out who had the means, motive, and opportunity to commit a deadly crime.
This activity will challenge you and your group to approach problems analytically, read between the lines, and use critical thinking in order to identify a suspect and deliver justice.
This activity is also available in a virtual format for remote teams.
Split into teams to build, decorate, and put together an advertising campaign for children's bicycles. After each group has presented their bike, you get to donate them all to a charity of your choice!
And if you have remote employees joining in, you can also enlist virtual team building activities so that they can partake in the fun.
Training and Development
With everyone together, your company retreat is the perfect time to learn new skills and practice them with your colleagues.
Develop the self-awareness of your group with a skill development session, that doubles as a team bonding exercise.
Help your coworkers make better use of their time with an interactive training workshop.
Practice better communication skills with a hands-on experiential learning program.
Everyone in your organization has the opportunity to think and act like a leader. Uncover your team's hidden leadership skills with a half-day training session.
Free Time
One of the biggest mistakes you can make when planning your company retreat is not giving employees enough free time between sessions. If this is your first year planning a company retreat, it can be tempting to pack the schedule full with different things going on all the time.
But sometimes, less is more.
Not only is free time a great opportunity for employees to catch up on some work, it can also encourage more socializing, and help people avoid feeling "burned out."
A good rule of thumb: for every hour of business sessions at your company retreat, you should have at least a half an hour of free time.
So, if you have a three-hour business session in the afternoon, you might want to offer a minimum of 45-minute breaks, before and afterward.
Tips and Tricks We've Learned from Over a Decade of Planning Retreats at Outback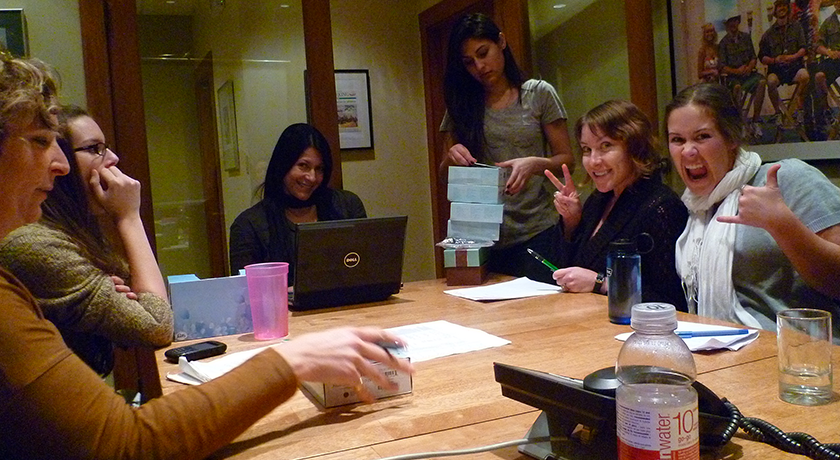 Our History with Retreats
Not only have our Employee Engagement Consultants helped hundreds of other businesses plan successful company retreats, Outback Team Building & Training also participates in our very own "Summit" retreat each and every year.
The first year, it started out simple: we brought our small team to a ski cabin out in the middle of nowhere for some impromptu "team building." Looking back, it was a bit spontaneous and unfocused…But everyone also knew that it was the beginning of something special.
Over the years, we learned a lot about how to make our annual company retreat more useful and effective.
Now, "Summit" has transformed into the cornerstone of our business calendar. Employees look forward to it all year long as a time to learn, share, bond, and strategize.
Why Outback Plans a Yearly Retreat
There's no doubt that planning a company retreat can be a lot of work…But if you get it right, then you will see the benefits.
Here at Outback Team Building & Training, we have invested more and more resources into our annual retreat every year over the last decade.
The year-over-year results?
Employee engagement levels have risen
Productivity has gone up
Employees have enhanced their skills
Teams alignment has increased
10 Things We've Learned Over 10 Years Planning Company Retreats
Over the last decade, our team has discovered a lot of best practices for company retreats using trial and error. You can help your coworkers form stronger relationships with each other by putting into practice some of these simple tips at your next company retreat:
Set up a Common Room
Whenever there's a break or free time in the agenda, let everyone know they are welcome to gather in a common space. In the evenings, you may also want to designate a "social room," if appropriate for your work culture, with additional snacks and drinks for employees to partake in. These common areas can be a great opportunity for genuine "after-hours" team building and socializing.
Randomize Seating
Left to their own devices, most employees will opt to sit with the people who they are already closest with. Make an announcement at the start of the retreat that employees should try to sit with new people and different coworkers each day. Encourage your leadership team to start this trend by having them consciously sit with new and different people whenever possible throughout the retreat.
Share Meals
Whenever possible, try to eat together as a group. A lot of natural team bonding can happen while you're sharing food, and colleagues often discover new things about each other over the course of a meal.
Use the Talents of Your Team
What hidden talents does your team have and how can you put them to work to make your retreat special? For example, when event organizers realized that one of our employees moonlights in a rock band, we had them bring in their guitar to perform during one of the sessions. These types of moments are what make your retreat memorable and help everyone get to know each other better.
Go Green
You can use a service like Lineupr to make your retreat schedule easily accessible for everyone using their smartphones. What's great about Lineupr is that it's not an app, it's simply a URL that employees can access anywhere they have Internet access. This can help make sure that everyone knows where they have to be, and exactly when they need to be there!
Explore the Area
One of the worst things you can do is plan a business retreat in an exciting location like Las Vegas, but then do nothing but stay in the hotel for 90% of the trip! Make the most of your destination by trying an outdoor team building activity, doing some sightseeing, or trying different things around the city.
Mix Things Up
If you plan a company retreat with your team every year, it can get stale going to the same place and doing the same things. Try experimenting with new venues, destinations, activities, training programs, and guest speakers.
Don't Plan Too Much
In the early years, one of the biggest mistakes our event organizers made was packing the agenda too full. Most people can only stay focused on any given task for about an hour at a time, so you'll want to make sure you leave a lot of breathing room for employees to take breaks, mingle, and relax.
Encourage Partying, But Be Responsible
This may depend on the work culture you have, and the employees who will be attending your retreat. But a bit of light social drinking can be a great team bonding experience for employees who want to stay out a bit later in the evenings. Just make sure you warn them that there will be consequences if they miss a session or act unprofessional!
Keep Some Surprises
Don't give away exactly what will be happening during every session at your retreat. Keep employees on their toes by leaving some spots purposely ambiguous. This can be a great way to get teams talking, and excited about what's to come!
Annotated Outback Team Building & Training Sample Retreat Agenda
Want to see what a company retreat agenda actually looks like? Check out this real-life example our leadership team used at a recent Outback Team Building & Training "Summit" retreat.
DAY ONE
12:00PM – Arrive at the Hotel
This year, Outback Team Building & Training employees traveled to Victoria, BC for our annual company retreat. The leadership team decided on this destination a few months before the retreat itself, giving event organizers more than enough time to find great accommodations for our team at the Parkside Hotel & Spa.
1:00PM – Work Break
Even though our team is away from the office and participating in sessions throughout the week, we still want to maintain our high levels of customer communication and support. That's why event organizers built in several work breaks every day of the week. Employees can use this time to catch up on emails, phone calls, and other responsibilities they might have.
2:00PM – State of the Nation
Every year, Murray Seward, CEO of Outback Team Building & Training, kicks things off with a "State of the Nation" presentation. This is his opportunity to share with everyone the purpose of the company retreat, recap the highlights of the past year, and explain his vision for the future.
4:00PM – Colleague Connections – Session #1
To encourage everyone to get to know each other better, we always plan some sort of ongoing team building activity that will get people mingling throughout the week. One great way to do this is with icebreaker questions.
They can include:
How many cups of coffee, tea, or beverage-of-choice do you have each morning? 
Do you have any pets as in-house colleagues? 
Do you have houseplants in your office?  
What's your go-to remote work outfit? 
What's your proudest professional achievement?
What is one work skill that you think everyone should have?
What are you most looking forward to doing when you retire?
What book did you read that changed your life the most? 
If you could see one movie again for the first time, what would it be and why? 
You have your own late-night talk show. Who do you invite as your first guest? 
What would the title of your autobiography be? 
What was your favorite band ten years ago? 
If you could only listen to one song for the rest of your life, what would it be? 
If you could only watch one movie for the rest of your life, what would it be? 
What's the greatest TV show ever made? 
What's the worst TV show ever made? 
If you were forced to participate in a flash dance, what song would you perform to and why? 
What's your favorite plant? 
If you had to be transformed into one household item, what would it be and why? 
If you could bring back any fashion trend what would it be? 
If you could get rid of any current trend, what would it be and why? 
What's one frequently used word that you can't stand? 
What was the first thing you thought about when you woke up this morning?  
Want even more ideas? Check out these 300+ team building icebreaker questions for work.
6:30PM – Dinner / Games Night
Dinners out are a great opportunity for socializing and impromptu team building. For our first meal out on this retreat, we decided to head to a local restaurant called the Sticky Wicket Pub. This location was great not just because it had delicious food, but also because there were lots of dart boards, pool tables, and other games available.
DAY TWO
7:00AM – Breakfast
While we often plan to have our dinners together, our team finds it easier to let employees figure out their own breakfasts and lunches on the retreat. Before heading out on the work trip, everyone is given a $100 per diem to cover the cost of three breakfasts and three lunches.
8:30AM – Work Break
9:30AM – Colleague Connections – Session #2
10:00AM – Get "Perked" Up
One thing you'll notice as you go through the agenda is that different sessions are run by different members of our team. This particular session, "Get 'Perked' Up," was run by Sarah Stevens, Human Resources Generalist. It was a general update and refresher on our workplace perks and benefits, and some HR updates leading into the next year.
10:30AM – Generating Energy
Next up, we had a session that was designed to build the energy of our group. This one is kind of hard to describe… Let's just say that it had to do with the power of "mind over matter," the importance of building momentum, and included a live musical performance by our sales team.
11:00AM – Customer Advice Calls
In this session, our team listened to a series of phone calls with key customers about what our business could be doing better. Note how this is a much more business-focused session – event organizers try to balance the more "fun" sessions with these practical ones.
12:00PM – Summit Group Photo + Lunch Break
How often is your entire team available at the same time? Here at Outback Team Building & Training, our company retreat is a rare opportunity for everyone to be able to get together and take a group photo.
1:00PM – Work Break
2:00PM – Colleague Connections – Session #3
2:30PM – Charity Team Building Activity
Of course, we wouldn't be much of a team building company if we didn't include a team building activity on the agenda! This year, we tried out a new charity team building activity called "Art Attack," where teams complete creative challenges in order to design, decorate, and donate gift boxes for charity. Keep an eye out for this activity to launch officially some time in 2019!
6:30PM – Team Dinners
To finish off day two, every department planned their own separate dinners to help them bond and connect as a team. While the marketing, events, and support teams all decided to use their budgets to try fancy restaurants in the area, our sales team decided to mix things up this year by ordering pizza, renting out a gym, and playing a game of dodgeball!
DAY THREE
7:00AM – Breakfast
8:30AM – Work Break
9:30AM – Colleague Connections – Session #4
10:00AM – Key Note Speaker
Bringing in an outside speaker can be a great way to motivate your team. This year, our team brought in Vic Lindal, a professional speaker, and internationally acclaimed coach. Vic spent some time with our group discussing his life philosophies, the power of visualization, and why he thinks "bucket lists" are a waste of time.
11:30AM – Lunch Break
12:30PM – Work Break
1:30 – Training Session: Clear Communication
Company retreats are a great opportunity for group training and development. Lyndon Friesen, Skill Development Facilitator, led this session on Clear Communication. More than just a traditional training seminar, this was an interactive program that had our teams practicing their elevator pitches, discussing how they "filter" their thoughts, and developing their personal brands for communication.
4:30PM – Colleague Connections – Session #5
6:30PM – Annual Outback Team Building & Training Oscars
For the final evening, everyone puts on their best evening wear to participate in the annual Outback Team Building & Training Oscars. These are awards that our team hands out every year to deserving employees in serious and silly categories like, "Best New Employee," "Best Director," and "Best Dressed." Throughout the night, employees perform skits, give heartfelt speeches, and celebrate together.
DAY FOUR
7:00AM – Breakfast
8:00AM – Hotel Check Out
And that's a wrap! By day four, our team is usually exhausted from all of the learning, bonding, and celebrations that happened throughout the company retreat. But the good feelings and positive vibes will continue throughout the office for months to come.
Practical Steps You Can Take to Follow-Up on Your Retreat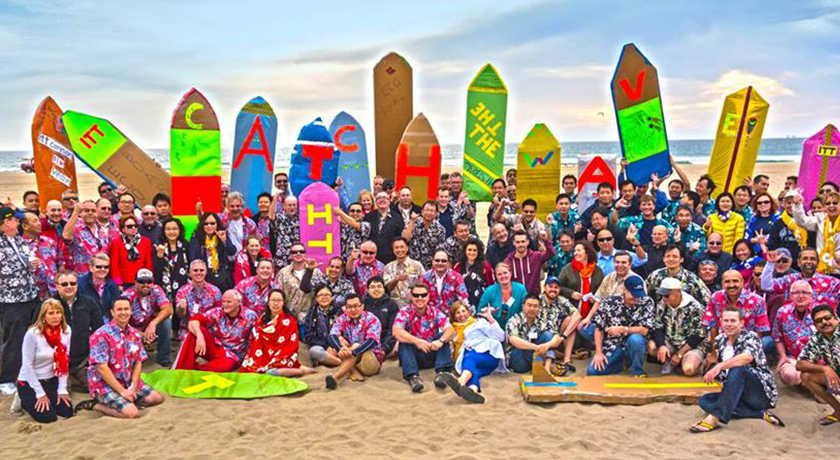 Soliciting Feedback
After your company retreat is over, you will want to poll employees about what they found most useful and exciting about the experience.
Try sending out a poll with the following questions:
What was your favorite session?
What was your least favorite session?
Which session did you find the most useful?
Which session did you find the most fun?
How would you rate the venue?
How would you rate the accommodations?
How would you rate the meals?
Using this data, you'll be able to highlight the successes of the retreat, get a sense of what connected with employees, and refine your agenda to plan an even better retreat next time!
Five Other Things to Do After Your Company Retreat Is Over
#1. Track Engagement
The month after your retreat is over, you'll want to pay particularly close attention to your employee engagement levels. Here at Outback Team Building & Training, we almost always notice a rise in engagement in the period following our company retreat.
#2. Collect Notes from Sessions
While employees should be taking their own notes during important business sessions, you can make sure nobody misses anything by compiling everything afterward in one place. Try adding all of your notes to one folder that is accessible to everyone, including slide presentations and other relevant documents.
#3. Share Photos & Videos of Staff
One of the easiest ways to keep the positive feelings going is to share all of the photos and videos you took during the retreat. These can be great keepsakes for the team and can help to remind everyone about all of the amazing shared experiences they had with each other.
#4. Write a Summary Report
Once the dust settles, you'll want to create a report highlighting the results of your business retreat. In this report, you can share the data from the feedback poll you sent earlier, any actionable items that came out of the sessions during the retreat, and improvements you noticed in employee engagement.
#5. Start Planning for Next Year
Planning one company retreat is a great start, but for best results you should try to plan an experience like this at least once a year with your team.
---

Need Help Planning Your Company Retreat?
You can download a PDF version of Everything You Need to Know About Planning the Ultimate Company Retreat, or get in touch with our Employee Engagement Consultants for more team building, training, and consulting ideas you can try on your retreat.
Subscribe To Our Newsletter
And Stay Updated