In-Person & Virtual Team Building in Victoria
Choose from more than 60 Victoria-based team building, training, and consulting options, recommended by over 14,000 corporate groups.
Recommended by Organizations in Victoria, Such As:
What Does Your Team Need?
Team Building in Victoria British Columbia, Made Easy!
Are you planning a team building activity or training program in the city of Victoria? You don't need to settle for something basic – you can do something fun, unexpected, and local.
When you partner with our team, you can also find effective and engaging training and consulting programs in Victoria to meet your group's needs.
Check out the top recommended activities and programs for popular locations and venues in Victoria.
What Clients Are Saying:
Very flexible, accommodating, and responsive
We had an amazing experience and we were well-taken care of through the entire process. The Outback Team Building & Training staff was well-received and very flexible and accommodating, as well as responsive.
Scotiabank
I've heard nothing but positive feedback
The Corporate Castaways team building event in Victoria was a great success, even the weather was great!! The tribes really got into it with the banners, costumes and face painting. I've heard nothing but positive feedback, how much everyone enjoyed it, and how the challenges really made them think and work together as a team. Bottom line -- a ton of FUN!!
Telus | Corporate Castaways
This event was a terrific success!
Our Amazing Chase in Victoria was absolutely a total success. Thank you for all your help on this project Dave! Steve and his team were just fabulous, very professional and terrific to work with. We were thrilled, our client was thrilled and this event was an all around great professional experience. We are happy to work with Outback Team Building & Training in the future! Once again, Great Job and this event was a terrific success! Thanks so much!
MacGillvary & Associates | The Amazing Chase
Client Feedback Highlights
Various clients express why they love working with Outback Team Building & Training.
Various Clients
10 out of 10
Everything was done in a timely and professional manner. I really appreciated you guys taking the lead to connect with our venue when I was out of the office and unavailable. 10/10!
BC Public Service Agency
Top Team Building Activities for Popular Victoria Locations:
Team building activities are designed to keep your employees entertained, engaged, and motivated. They can be used to improve employee engagement and morale, or add a fun element to staff retreats.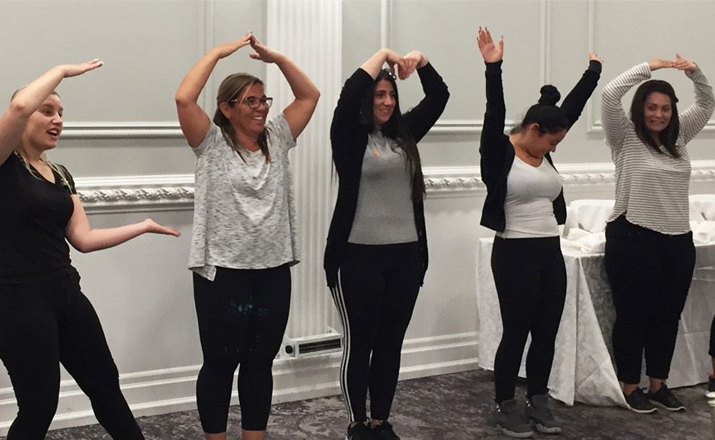 Team Pursuit
Recommended Location: Victoria Marriot Inner Harbour
Located by The Maritime Museum of British Columbia, the Victoria Marriot Inner Harbour is a convenient and modern facility that's perfect for business meetings of any kind. Take advantage of the Pacific Ballroom at this venue, and you can incorporate an indoor activity like Team Pursuit without needing to travel anywhere else.
View Activity
Eagle Glider Construction Challenge
Recommended Location: Beacon Hill Park
South of downtown Victoria is Beacon Hill Park, an elegant 200-acre grassy area well-known for its landscaped gardens and abundance of peacocks. Try the Eagle Glider Construction Challenge here with your team, and you can compete to see who builds the best airplane out of simple household materials. Once everyone is done, you can launch your creations by the Mile Zero Monument and see which one flies the farthest!
View Activity
The Amazing Chase
Recommended Location: Downtown Victoria
From Victoria's Chinatown to the Fairmont Empress, Downtown Victoria is full of interesting sights and hidden gems for your team to discover. Get to know the city better with The Amazing Chase, an adventurous team building activity that is like no other. Your group will race through the streets as they complete interactive challenges and try to arrive first at the finish line.
View Activity
Other Team Building Activities in Victoria:
With six different types of activities to choose from, you can find a solution that fits the needs of your group.
Top Training & Development Programs for Popular Victoria Locations:
Employee training and development programs can be a great way to help your team strengthen bonds and sharpen their skills.
The Power of Negotiation
Recommended Location: Sooke Harbour House
If you're looking for a venue with a true "west coast" vibe, look no further than the Sooke Harbour House. This upscale resort is located on Whiffin Spit, less than an hour away from downtown Victoria. It would be a great spot for a company retreat, or a half-day training session on a topic like The Power of Negotiation.
View Program
Effective Meetings
Recommended Location: Delta Hotels Victoria Ocean Pointe Resort
If you'd rather stay closer to the city, the Delta Hotels Victoria Ocean Pointe Resort is ideally located on the inner harbour waterfront. With over 10 breakout rooms and over 14,000 square feet of total event space, this would be a luxurious spot for a skill development session like Effective Meetings.
View Program
Authentic Leadership
Recommended Location: Victoria Event Centre
The Victoria Event Centre is a non-profit multipurpose venue that can be rented out for corporate events. Located just off Douglas Street, this huge space would be perfect for an experiential learning program like Authentic Leadership. Your team will be able to move around and interact as they take on different challenges designed to help develop their skills.
View Program
Top Coaching & Consulting Solutions for Popular Victoria Locations:
While team building activities can give your group a boost of energy and improve relationships, they may not offer long-term results for deep-rooted workplace issues. Coaching and consulting can help your group develop sustainable solutions.
Unique Challenges Consulting
Recommended Location: Huntingdon Manor Hotel
Huntingdon Manor Hotel is an English-style country mansion with contemporary comforts located right in the heart of downtown Victoria. This would be an ideal location for a Unique Challenges Consulting program, in which you can tackle specific osbtacles your business is facing with the help of a professional coach.
View Solution
Leadership Team Cohesion Consulting
Recommended Location: Hotel Grand Pacific
Almost anyone can become a great leader with the right mindset and attitude. Leadership Team Cohesion Consulting is a program designed to help senior business directors and managers become more accountable, inspirational, and aligned. You can try this session at the Hotel Grand Pacific, or anywhere else in the city of Victoria.
View Solution
Strategic Focus Consulting
Recommended Location: Inn at Laurel Point
Located halfway between Fisherman's Wharf and the Fairmont Empress is the Inn at Laurel Point. Head on up to the top floor and you'll find the Rogers Suite, a small conference room offering a 180-degree view of Victoria's inner and outer harbours. Bring your management team here for a Strategic Focus Consulting session, and you can work with a consultant to enhance the way your business operates.
View Solution
Why Choose Outback for Your Event in Victoria:
Recommended
Our activities and programs have been rated '10/10' by corporate groups including Coca-Cola, Intel and Microsoft.
Flexible
Choose from over 60 flexible team building, training, and consulting options to fit your budget, group size, time frame, and location.
Fast
Find what you need fast. Speak with someone right away and receive a custom proposal before your deadline.
Featured Customer Case Studies:
Find out how customers like you have found a solution for a variety of events by partnering with our team.
Need Help Choosing an Activity or Program for Your Corporate Group?
Fill out a simple form
to speak with a team building expert
Receive expert advice
on the activities best-suited for your group
Build a stronger team
with the solution of your choice in Victoria