The 12 Best Company Culture Podcasts for Business Leaders and People Managers in 2023
These company culture podcasts let you tap into expert insights and advice, uncover new ideas, and discover new people management strategies you can implement at your company.
In the modern business world, company culture is widely viewed as one of the most essential ingredients for building and maintaining a thriving business—so much so that 94% of entrepreneurs and 88% of job seekers say that a healthy culture at work is vital for success.
But there's no one-size-fits-all formula for building a strong company culture. Doing so involves consistently evaluating and adapting your strategies and approaches. And by listening to new perspectives, opening your mind to innovative ideas, hearing from other business leaders and people managers, and consistently making a commitment to ongoing learning, you can stay at the forefront of modern people management best practices and implement them within your organization.
So, we've rounded up 12 of the best company culture podcasts for business leaders and people managers that you can listen to wherever and whenever is convenient for you.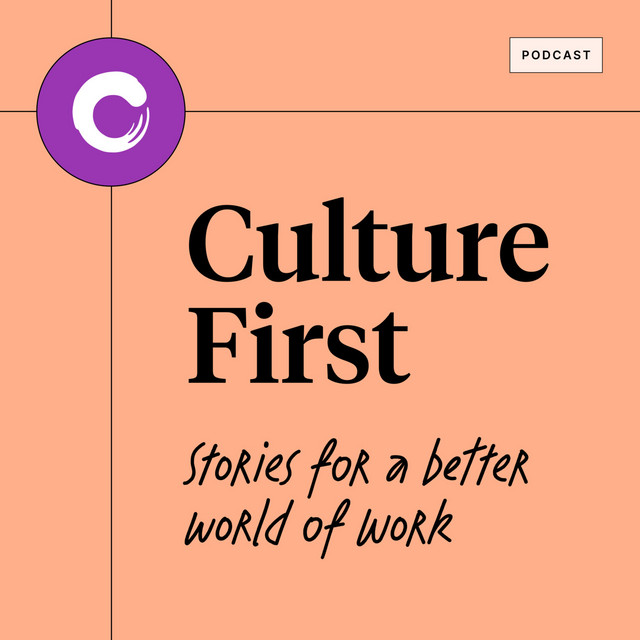 Hosted by: Damon Klotz, Lead Talent and Analyst Relations, Culture Amp
What it's all about: How does work culture shape human behavior and experience and how do humans create culture? From uncomfortable truths to heart-to-heart conversations, the Culture First Podcast uncovers what it really takes to build a better world of work.
We all aspire to rise above the day-to-day commotion and bring more humanity into our work lives. Damon Klotz has dedicated his career to understanding how we find meaning in our work and spends his days trying to better the experience humans have within organizations.
Join him as he explores journeys of trials and triumphs with the people who put culture first- despite all the things that get in the way.
The Culture First Podcast distills the wisdom of People & Culture experts into insightful stories for the modern leader.
Who it's ideal for: Business leaders and people managers looking to supercharge their company culture through key learnings from real-world professionals.
Our favorite episode: Simon Sinek on the power of putting culture first
Hosted by: Ron Lovett, founder of Source Security
What it's all about: Ron Lovett founded Source Security, a national firm that grew to more than 3,500 staff. So, it's safe to say he has some incredible insights to share about maintaining company culture in a scaling business. The Scaling Culture podcast chronicles Ron's conversations with thought leaders who share their experiences with building incredible high-performing cultures.
Who it's ideal for: Leaders of growing organizations looking to maintain their company culture while rapidly adding new members to their teams.
Our favorite episode: Uber: Listening to Employees, Collaborating in Hybrid Workplaces and Meeting Hygiene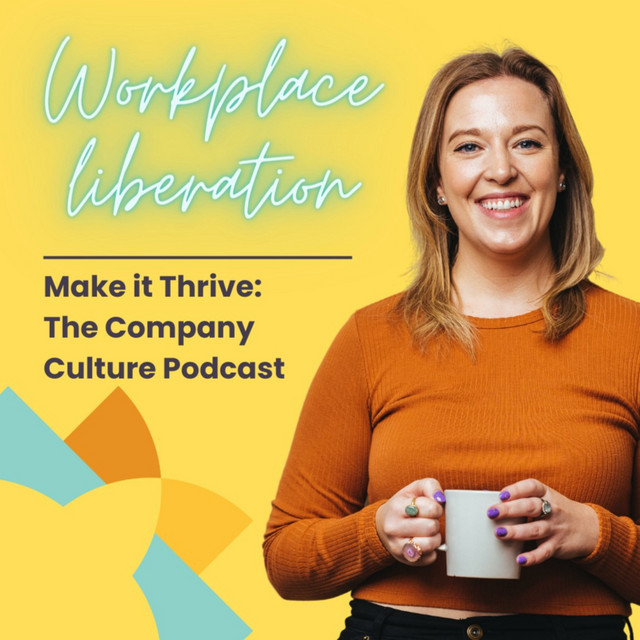 Hosted by: Lizzie Benton, Culture Coach and Founder of Liberty Mind
What it's all about: In this podcast, host Lizzie Benton focuses on teaching you how to create a unique, purpose-driven company culture. She speaks with founders, people experts, and individuals about the impact of company culture and how to ensure yours thrives.
Who it's ideal for: People managers and business leaders looking to establish and maintain a strong company culture within their organizations.
Our favorite episode: Patterns in progressive organizations, complexity and new ways of working with Mark Eddleston  
Hosted by: Dharmesh Shah, Co-Founder of Hubspot
What it's all about: In 2019, HubSpot launched Culture Happens, a podcast mini-series focused on the future of work and why creating an inclusive company culture matters. With rich discussions around building psychological safety, allyship, remote work, and more, Culture Happens sparked important conversations about the future of work. The podcast ran for two seasons, but its episodes still offer relevant insights about company culture.
Who it's ideal for: Business leaders looking to solidify their company's culture through innovative insights and progressive methods.
Our favorite episode: How Modern Health is Destigmatizing Mental Health and Well-Being at Work
Hosted by: David J. Friedman, best-selling author of Culture by Design
What it's all about: Most leaders know that a strong culture is a foundation for building a great organization, but great cultures don't just happen on their own. Rather, they're designed and built systematically, brick by brick. Each week, David J. Friedman speaks with extraordinary leaders from all walks of life, and they share their biggest successes, failures, and lessons learned on their culture journeys.
Who it's ideal for: Anyone seeking insights on building a high-performing culture.
Our favorite episode: Episode 9: Anson Dorrance, Part 1 and Part 2: David interviews Anson Dorrance, the legendary head coach of the Women's Soccer Team at the University of North Carolina. Throughout his 45 seasons as head coach of the Tar Heels, Anson has led his team to over 1,000 wins including 21 NCAA Championships and 22 ACC Tournament championships.
Hosted by: Mike Van Dervort, Robin Schooling, Dwane La and Crystal Miller
What it's all about: DriveThruHR is a captivating, easy-to-digest, and occasionally irreverent discourse that covers topics relevant to HR professionals. Broken out into 30-minute episodes, this podcast covers topics ranging from HR technology to recruiting, talent management, leadership, organization culture, and strategic HR.
Who it's ideal for: HR professionals and people managers looking to stay on the cutting edge of their field in order to build stronger and more effective people-driven organizations.
Our favorite episode: Catching Up with the Evil HR Lady and Her Minions
Hosted by: Jaime Klein, CEO of Inspire Human Resources
What it's all about: In this podcast, Jaime Klein gets raw insights and real-world experience from HR and business leaders shaping the new world of work. Through panel discussions and 1:1 interviews, you'll hear from executives of Fortune 500 companies, high-growth CPOs, thought leaders, and HR mavens on the topics keeping us all up at night.
Who it's ideal for: HR leaders looking to learn from some of the best and brightest in their field.
Our favorite episode: AI in HR: Risks + Opportunities for Today + Tomorrow
Hosted by: Robert Glazer, Founder and Chairman of Acceleration Partners
What it's all about: Virtually all of the business leaders who make headlines today do so because of their company performance. Yet, the people and the culture of a company is at least as important as its performance. Rethink Culture is rooted in the belief that it's time that we shine the spotlight on the leaders who are rethinking workplace culture and are putting people and culture at the forefront.
Who it's ideal for: Business leaders who understand the value of company culture and believe in the power of building a people-first organization.
Our favorite episode: Creating a safe space for employees by getting rid of the micromanager within (featuring serial entrepreneur Dillon Jearey)
Hosted by: Becca Maynard
What it's all about: Featuring guests with diverse backgrounds, the People Managing People podcast strives to inspire people leaders, managers, and HR professionals, with topics that include the future of work, employee engagement, retention, leadership development, workplace culture, and productivity.
Who it's ideal for: Business leaders and HR pros interested in learning about how to build a better company culture using insights from best-selling authors, culture innovators, and thought leaders.
Our favorite episode: The Importance of a Learning Culture (and How to Establish One) with Rachel Glick, Director of Consulting & Team Enablement at LifeLabs Learning
Hosted by: Adam Grant, Organizational Psychologist
What it's all about: You spend a quarter of your life at work. You should enjoy it! In this podcast created by TED, Adam Grant takes you inside the minds of some of the world's most unusual professionals to discover the keys to a better work life. From learning how to love your rivals to harnessing the power of frustration, one thing's for sure: you'll never see your job the same way again.
Who it's ideal for: Unlike many company culture-focused podcasts that appeal to business leaders and HR pros, the WorkLife podcast is a great resource for individual employees looking to get more from their work life and intentionally contribute to an even stronger culture in their companies.
Our favorite episode: Jim Gaffigan on How Comedy Leaves an Aftertaste
Hosted by: Daren and Elisa Martin
What it's all about: Only 16% of executives say their company culture is where it needs to be. The Global Company Culture Podcast is here to unite both leaders and employees in a movement to drive meaningful change by increasing employee engagement.
Who it's ideal for: Company leaders who feel their workplace culture is lacking, recognize the need to improve it, and are seeking new and innovative ways to do so.
Our favorite episode: Inspiring Purpose-Driven Leaders with Dave Clare
Hosted by: Business psychologist Leanne Elliott and business owner Al Elliott
What it's all about: Want to create an enviable workplace culture where people and businesses thrive? You'll find actionable insights in Truth, Lies, and Workplace Culture—a top-20-rated podcast. With a unique blend of theory and practice, this dynamic duo simplifies the science of people to help business owners and leaders uncover the truth about finding, keeping, and motivating great people. Joined by some of the business world's most respected and relevant voices, each episode delivers actionable insights and practical steps to create toxic-free workplaces that prioritize employee well-being and enable sustainable growth.
Who it's ideal for: Seasoned leaders or those who are just starting out and want to build a thriving workplace.
Our favorite episode: The Human-Centric Revolution: How Putting People First Fuels Business Growth
By listening to a variety of ideas, insights, experts, and topics, you can keep a finger on the pulse of the latest and greatest developments, philosophies, and strategies in the world of company culture and people management. And these 12 podcasts offer a well-rounded selection for business leaders, people managers, and employees.
Are there any company culture podcasts you love that didn't make our list? If so, let us know in the comments section below!
---

Learn about team building activities and group skills training sessions to help you build a stronger company culture.  
If you've got questions about team building and group skills training, reach out to an Employee Engagement Consultant.  
Subscribe To Our Newsletter
And Stay Updated