ONLINE GUIDE: The HR Guide to Recruitment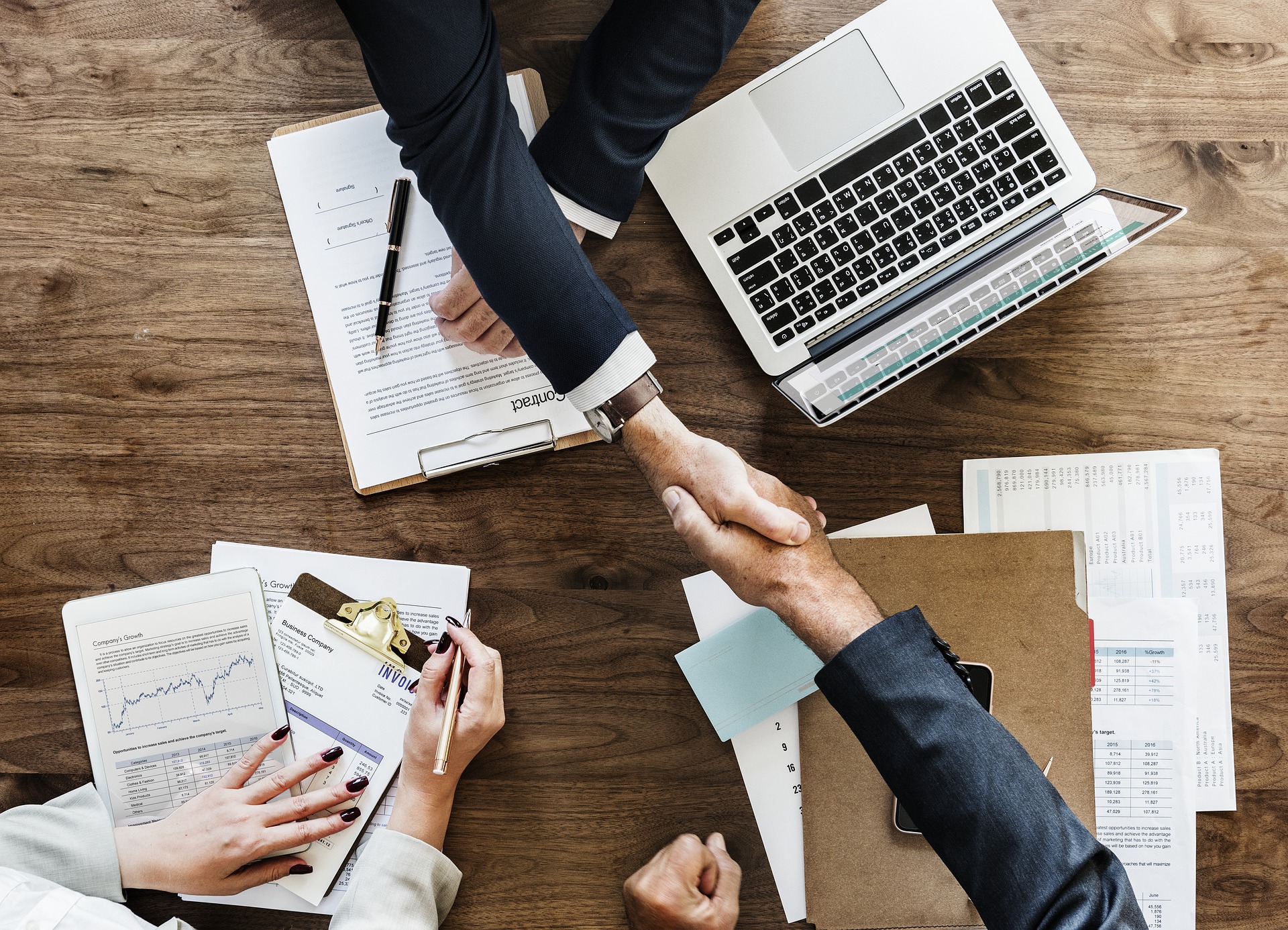 Hiring the right people is essential to the overall function and well-being of a business. Check out this online guide for tips and best practices to help you navigate through the recruitment process.
You can read the guide below or download it for free in an all-in-one PDF. The downloadable version also includes the top trends in recruitment for 2019 and a breakdown of our podcast interview with LinkedIn. Check it out by clicking the button below.
---

Table of Contents
---

Introduction
The Art of Hiring the Right Employees for Your Company
The word "recruitment" can be a scary one. After all, it carries a lot of weight and responsibility for the Human Resources department: hiring the right people is essential to the overall function, success, and well-being of a business. And, of course, it's not simply about hiring — HR has to pick employees who, at once, represent company core values, fit within the culture, and, of course, are great at the job that they're brought on to do. The selection process is a complex one and there are different approaches you can take to maximize effectiveness in different departments. So, how can you make sure that you're finding and choosing the best candidates? Keep reading to learn recruitment tips and best practices to help you navigate through the nuanced world of recruitment.

---

Part One: The Search
Crafting the Perfect Job Posting
Five Factors to Think About When Advertising an Open Position
A job posting is the crucial first step in finding the right candidate for a position, and the way that you describe the job plays a huge factor in turning a passive job seeker into an active applicant. A study conducted by Jobvite shows that 60% of applicants abandon online job applications that are overly complicated. So, how do you craft a perfect job posting that's well-written, not too complex, and attracts the right kind of candidate? Try to keep these five points in mind:
1. Be Clear
The job description should be specific and honest. Don't waste opportunity by trying to be funny, cute, or vague. Be totally explicit about things like role expectations and responsibilities, compensation, location, work/life balance, and health benefits. And, be upfront about details that might be a deal breaker for a candidate like specific work hours, travel, or anything that could be life-impacting. If your posting is too vague, you'll likely have to waste time with applicants who don't fully understand what the position is, aren't qualified for it, or who simply aren't what you're looking for. And vice versa — your company may not be what the applicant is searching for, either. Also, be especially clear on what the title is — if you're looking for a Marketing Director, don't advertise for a "Marketing Ninja." Avoid trying to sound creative and cool, and instead go for crystal clear.
2. Be Concise
Succinctly summarize what the position is all about and try to be compelling at the same time. A posting that's either too long or too short will do you a disservice – research by Appcast found that 500-600 words hit the just-right mark, providing enough detail to be thorough, without going on and on unnecessarily.
3. Know Your Audience
Define who your target candidate is and, then, speak their language. Write the post in a way that will entice your audience. A job posting for a social media coordinator, for example, will be crafted differently than one for an engineer. Also, you can optimize your hunt by including relevant keywords, especially in your job posting title — those keywords will be what candidates will most likely be searching for and will be the first thing they see when results come up.
4. Tell Your Story
The job posting is also a chance to showcase your company's unique personality, so try to paint a realistic picture of your organization and what it's like to work there. Include things like how long you've been in business for, impressive and interesting clients you've had, awards you've won, and what the work culture is like. Tone of voice is a good way to achieve this. So is video: not only can you physically showcase your company and its culture, but recent data collected by Lighthouse Research & Advisory shows that video can make a candidate 46% more likely to consider the job and 30% more likely to apply. After all, recruitment is a two-way street – you need to impress potential hires as much as they need to impress you.
5. Find Inspiration In Others
It's always worth it to look at what like-minded companies are doing, and that rings true for job postings, too. In particular, referencing other job postings (whether they're in the same industry as you or not) can provide some really great creative inspiration for crafting your posting – and help yours stand out above the rest. For example, finding commonalities across multiple points can be an indicator of something that you might want to include in your post to attract that particular audience. You might also take note of a specific way a compelling post is structured; or the tone, if it's relative to what the role you're looking to fill.
---

3 Examples of Great Job Postings
Listings that Have the Formula Down to a Science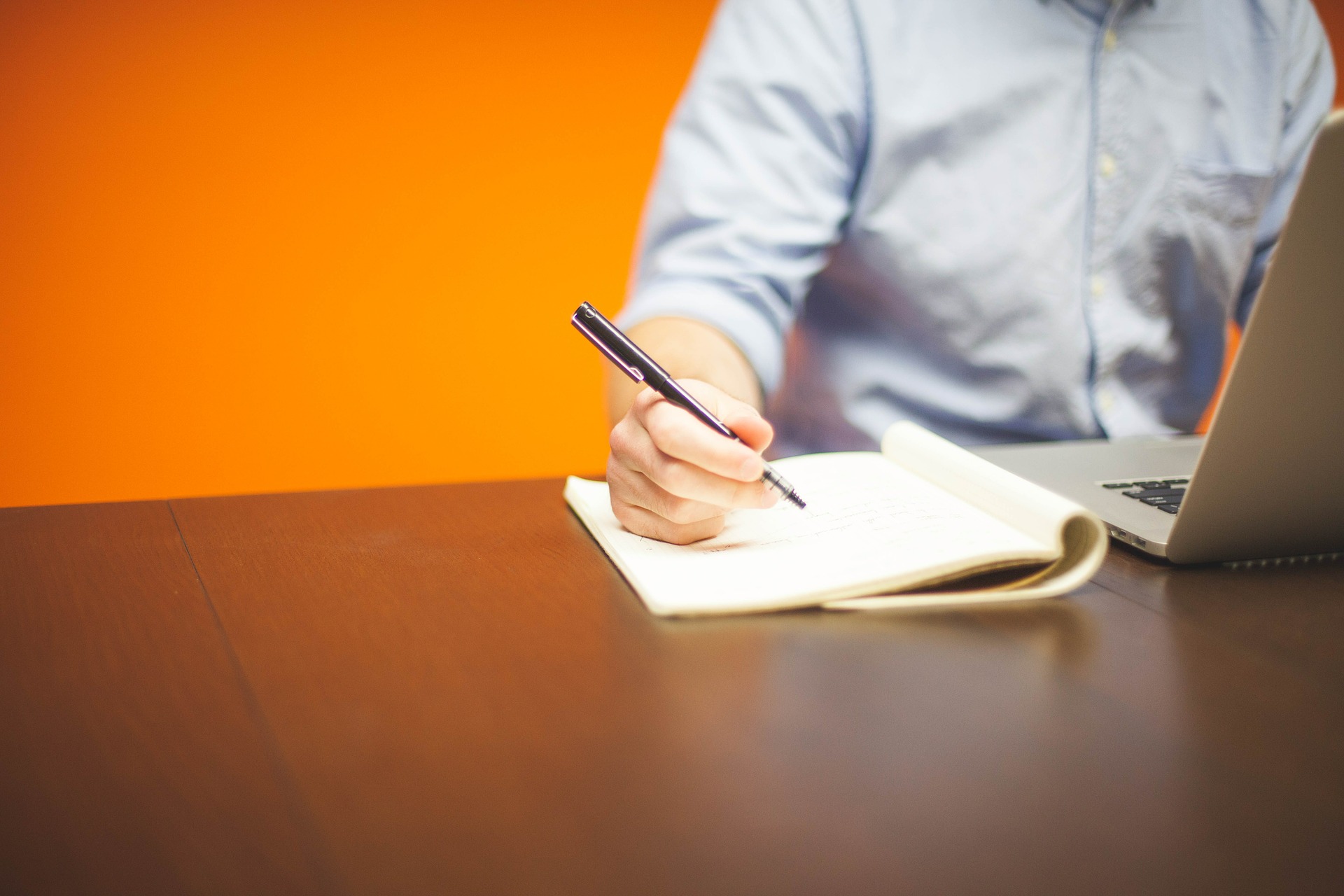 The following three job postings each advertise for very different types of roles, but have the same important things in common from structure to characteristics. Keep reading to find out what each company did best in their posting.
Pinterest: Brand Designer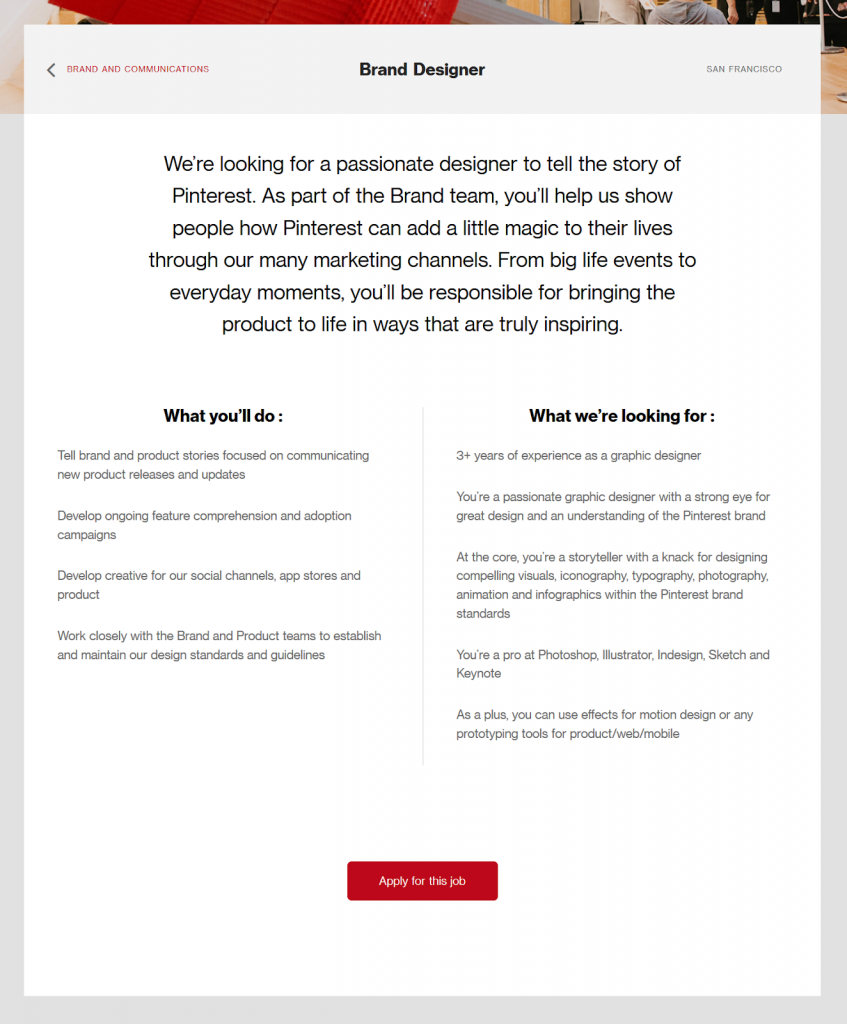 This job posting from Pinterest is short and sweet. The social network clearly states exactly who they want and what the candidate's responsibilities would be, in just a few words.
Engine: Copywriter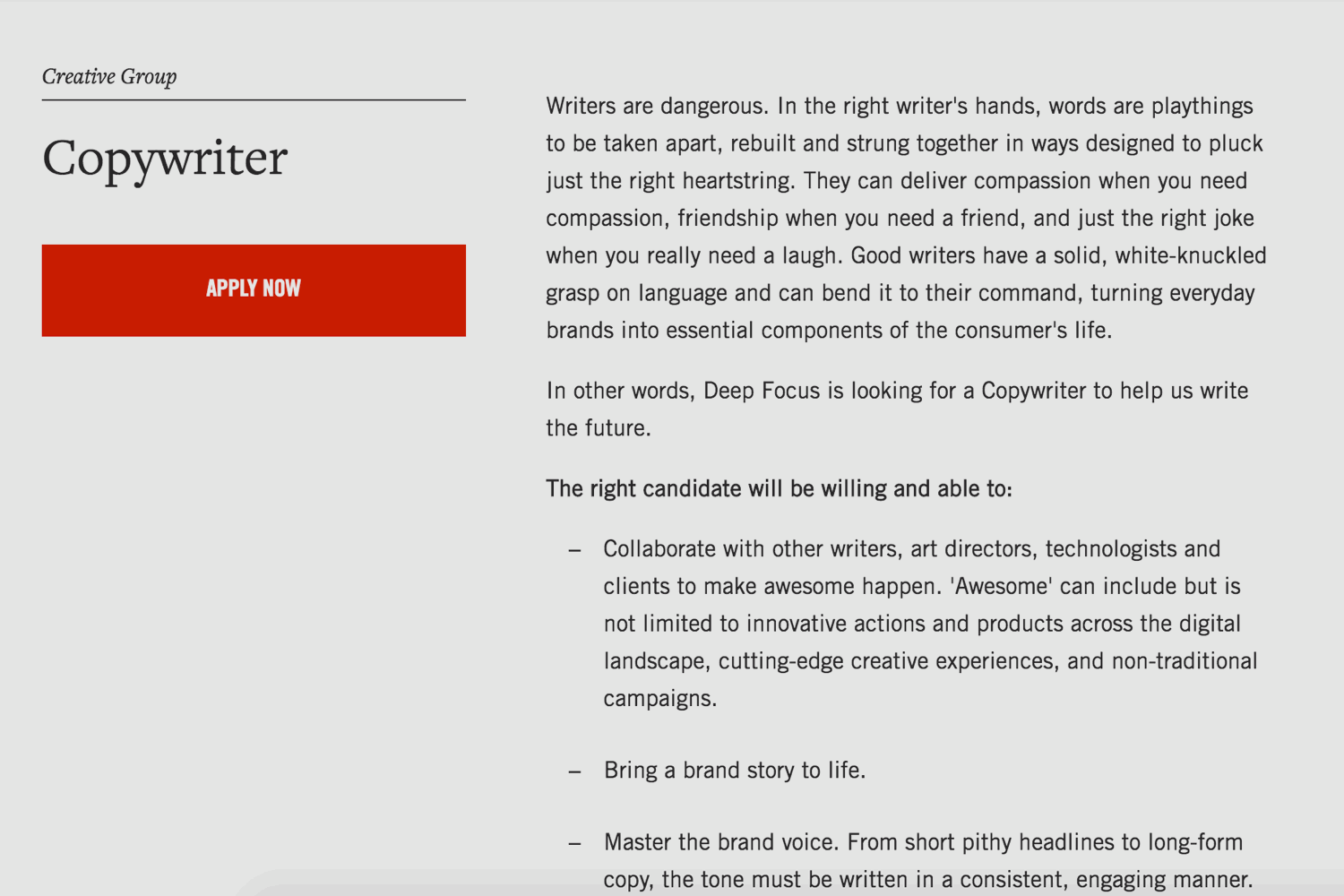 In their job posting, Engine has a long, descriptive introductory paragraph – which totally appeals to a writer. Here, the marketing agency has perfectly targeted their audience.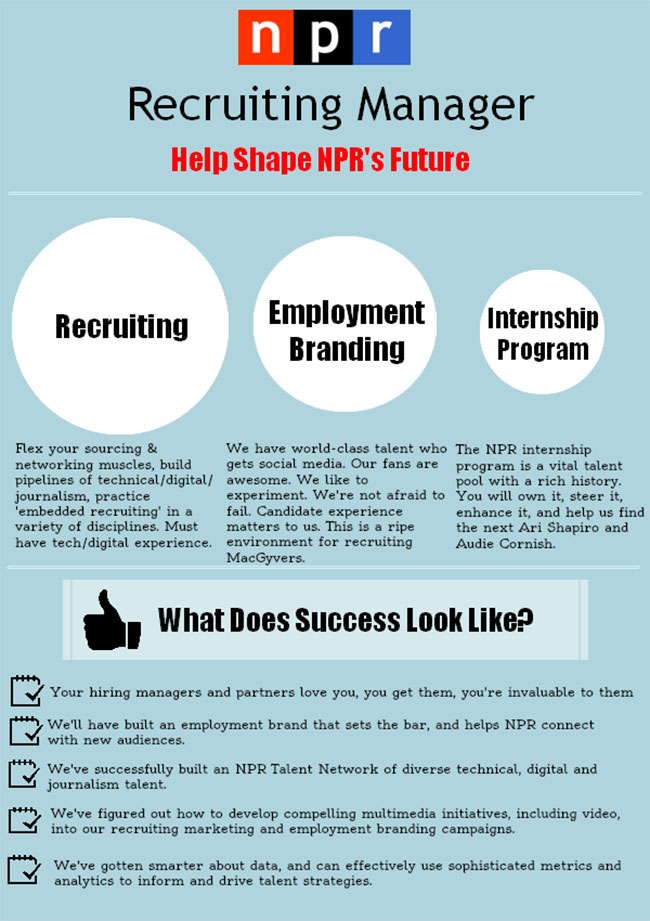 NPR: Recruiting Manager
Eye-catching and easy to navigate, the layout of this job posting represents the brand personality of news outlet NPR well.
---

The Best Platforms for Recruiting Great Candidates
Not All Job Boards are Created Equally – Choose the Right One for Your Business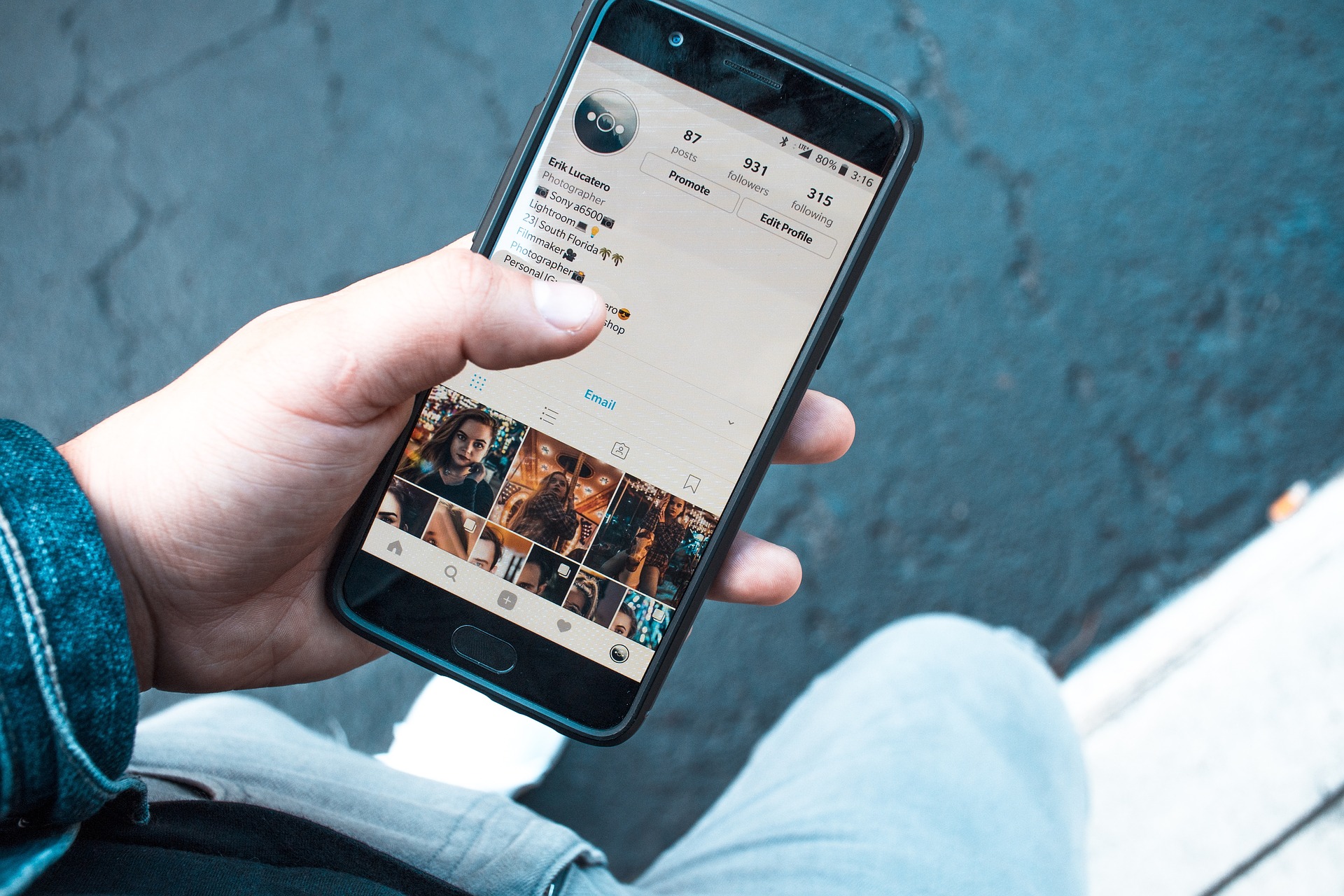 Where is the best place to look for top candidates? With so many platforms out there, it can be hard to narrow down which are the most practical, easiest to use, and provide enough of a network reach. Some platforms may also be better to use for certain departments or sectors, as well. So, how can you determine which is the best one to advertise for the positions you want to fill and the employee you want to find? Here, we break down our top picks:
Online Job Listing Boards
Indeed, Glassdoor, Monster, Craigslist. Of course, it goes without saying that, as a recruiter, you'll be posting your job listing on these online boards. But they're worth mentioning, because they are a foundational resource for HR professionals – they are a go-to for a reason.
A platform like ZipRecruiter, in particular, is important because it will give your posting more exposure by sharing it over a wide variety of job boards. Plus, the ability to sponsor a posting (promoting it so that it remains high in search results) is extremely valuable.
Additionally, Glassdoor can be an equally great resource for your company as much as it is for candidates, in terms of transparency. It's in a company's best interest to stay on top of their presence – a negative profile could be off-putting for a potential top candidate.
Social Networking
There is no question that social media has drastically changed the way that we communicate. As such, it makes sense that channels like Facebook, Twitter, and Instagram are great places to advertise jobs, showcase your company culture and core values, and scout out top talent. A study by MarketingSherpa found that 58% of consumers use social media to follow brands. Additionally, another study from Society for Human Resource Management showed that 84% of organizations use social media for recruiting purposes. Social networking is an especially useful method for HR professionals who are trying to be more proactive in recruitment, because they can approach and communicate with candidates directly or tap into a favorable candidate's social network.
LinkedIn is a particularly fantastic resource. The powerful professional social networking platform combines job listings, referrals, and an extensive network in just about any industry you can imagine. Through it, recruiters can:
Extend their network reach
Easily screen applicants and view resumes in depth
See the candidate's recommendations and testimonials from previous colleagues or managers
Further narrow down their search for candidates by using specific profile keywords and cross-referencing different requirements with qualifications
Applicants can easily apply to a job with just the touch of a button, which is one less barrier to entry for them. You can also see how many candidates have applied for a job, which is a great way for recruiters to gauge how engaging and popular a job posting is from a competitive research standpoint.
Networking at Events
In-person networking can be great for recruitment because it connects you with a huge range of people. It gives HR a chance to get feelers out there and get to know potential candidates in a more relaxed and conversational way. Plus, it can connect you with other professionals, leaders, and help you stay on top of trends. Events like trade shows and recruitment fairs are great networking opportunities. As for tips on recruiting at these kinds of events? Do your research beforehand and make sure that you make the most of your time at the event — check the website for the event schedule, pick your sessions strategically, and study up on any attendees you really want to connect with.
Your Company Website
Your own website is an excellent resource for recruitment. It can attract job seekers to your organization, showcase your business' strengths, and even give potential candidates a good idea of what it's like to work at your company. You can list current job openings and receive applications directly, if your site is set up for it. Think of it as a first-impression tool for candidates. And keep aesthetic in mind — a site that's well-designed, with easy and simple navigation, is key.
Print Ads
Print isn't dead! In fact, depending on your target audience and the job, ads in newspapers and magazines can still be great options for recruiters. According to a study by MarketingSherpa, when asked which advertising channels they trust most, 82% of respondents said print ads in newspapers and magazines. The thing is, the ubiquity of digital media has given print media new power. Just think about how special it is to get a written letter as opposed to an email. Print holds a certain distinction — there is literal weight to your presence, as well as longevity. So, how can you make sure your print job postings are effective? Mainly, try to keep copy to a minimum. You only have a few seconds to capture the reader's attention, so make sure you have an eye-catching headline and clean visuals that tell a clear story about your company and what kind of position you're looking to fill.
---

How to Weed Out Applicants Early On
Three Ways to Dodge the Bullet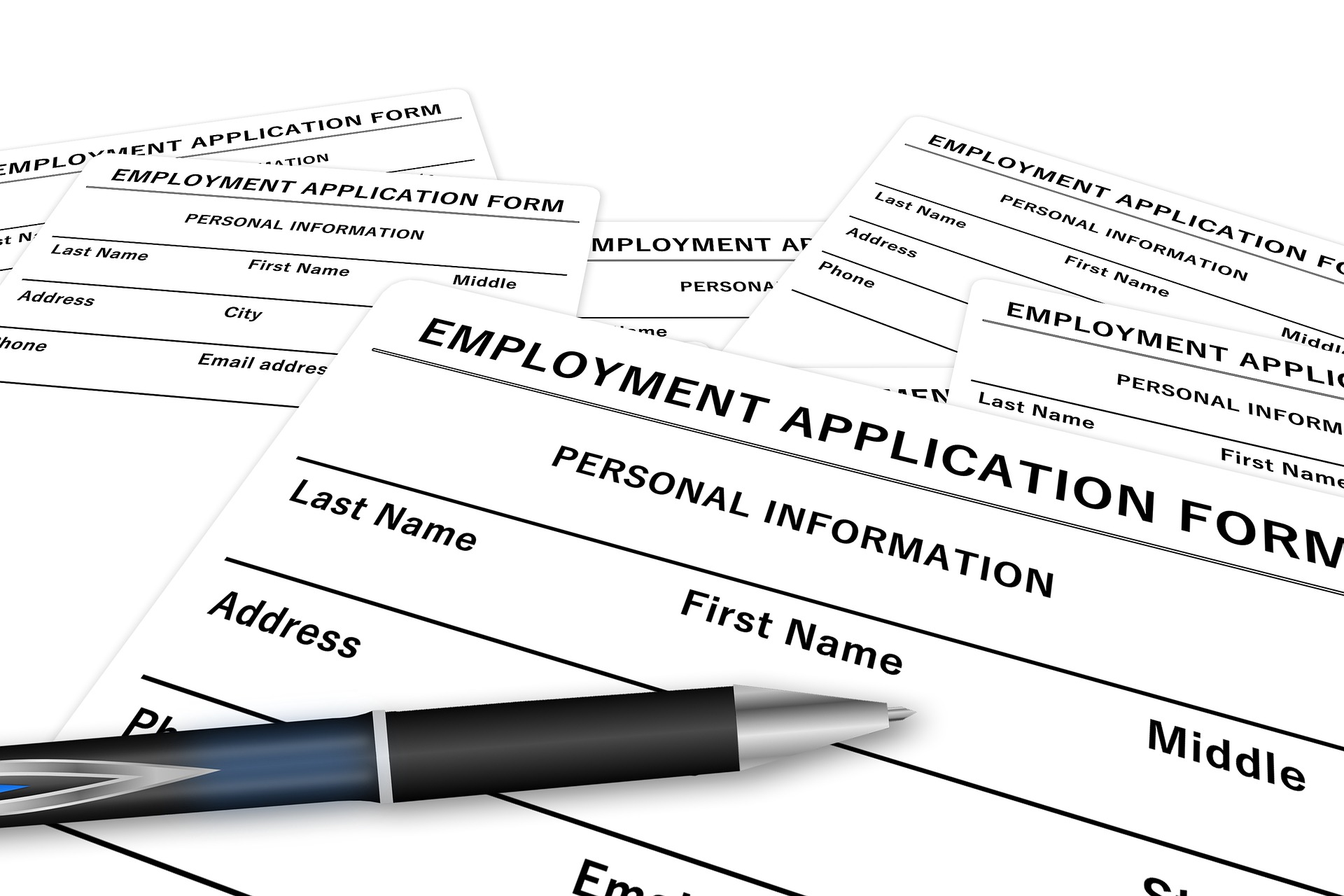 How can you effectively steer clear of unsuitable applicants so that you can focus on those worth interviewing? Here are three ways you can avoid wasting time with the wrong candidates:
Don't Wait Until You're Desperate
If you're rushing the hiring process, you're going to increase your chances of hiring the wrong person. If you can, try to start looking for candidates well before you actually need them. By taking the time to find the right candidate instead of scrambling to quickly replace an employee you've lost, you're significantly decreasing your chances of hiring the wrong person. Be proactive in your planning and give yourself a certain amount of time to find a pool of good candidates.
Pay Attention to the Cover Letter
Watch out for cookie-cutter cover letters. A dead giveaway is if the applicant mentions the wrong company name or doesn't speak directly to any of the skills you mentioned in your job posting. A personalized cover letter demonstrates that the candidate isn't doing a mass resume drop — and is actually taking time and putting care into their application to your organization. Look for clear and professional language, brevity, and genuine enthusiasm.
Look at Social Media
Transparency is important for both the recruiter and the applicant. Don't be afraid to scope out a candidate's social media profiles – in today's digital day and age, candidates should be well aware that recruiters are going to be looking them up. Accounts should be professional or private, with nothing on there that could make them or your company look bad by association. Also, in the same way, keep an eye out for the candidate's email address. A handle like cute_bae_xoxo@gmail.com, for example, is definitely a red flag!
---

Part Two: The Interview Process
First Impressions – How Important Are They?
The Validity of What You Think When Your Candidate Walks Through the Door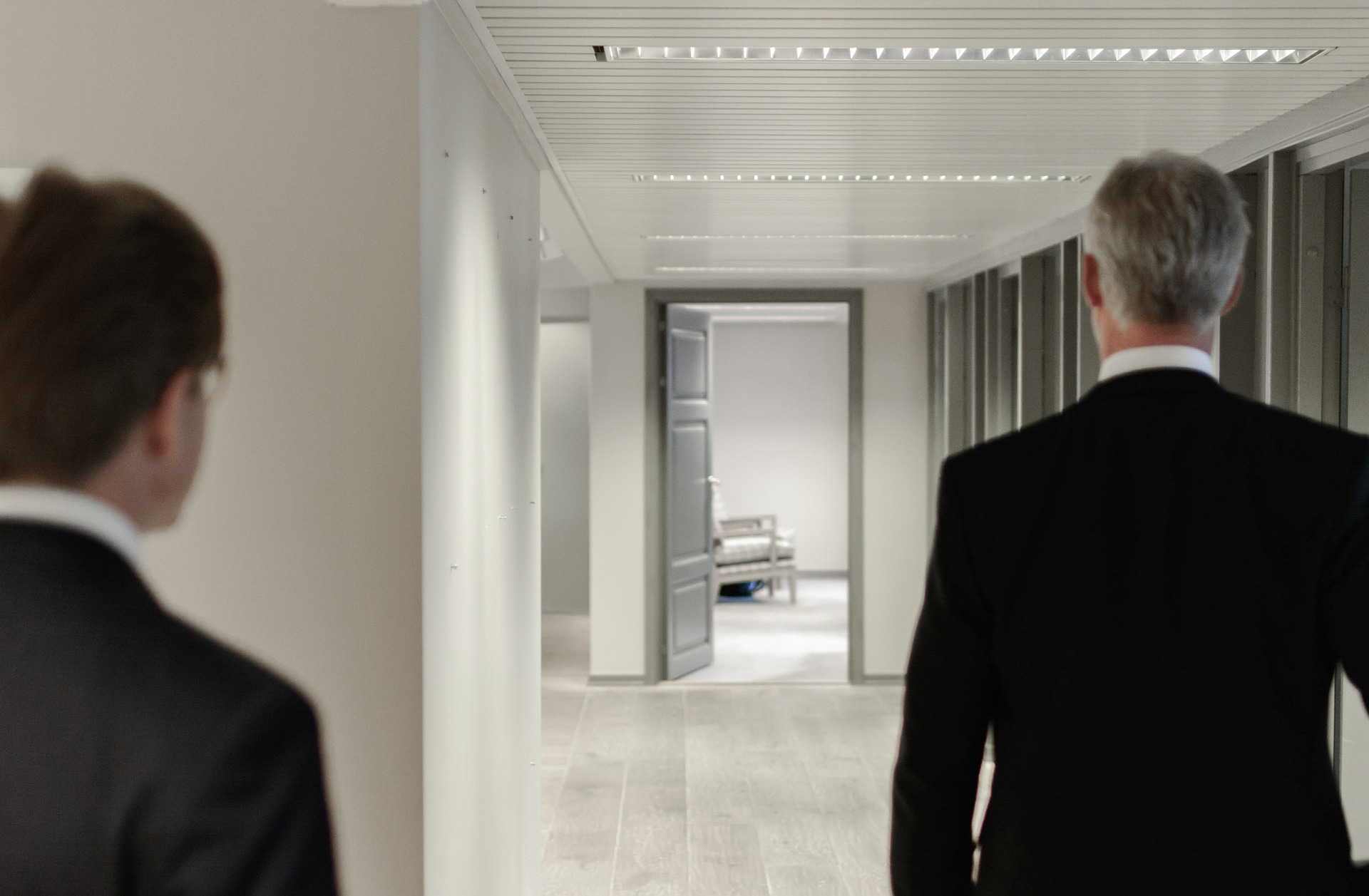 We've always been told to not judge a book by its cover — but how does that come into play at a job interview where the candidate is being, well, judged? As soon as they walk in, you've likely already made immediate judgments on things like whether the potential hire seems confident, tired, or nervous, and have a general sense how the interview will proceed.
But should you trust your first impression?
Sometimes these judgments can be an expression of our unconscious bias. Whether we like somebody as a person is different from whether they'll be good at their job. Of course, in roles like sales, general likability is certainly important. But, a candidate who may seem ditzy at first could be the best accountant you've ever met. This is the thing with biases: sometimes they can be unfair.
A recent study by MarketWired found that first impressions can often be self-fulfilling prophecies: if you start off with a positive impression of somebody, you're more likely to give off positive nonverbal cues. The candidate will pick up on that and respond. In the same way, negative feelings also reinforce themselves. If you go in with a bad impression of somebody, you're more likely to behave accordingly, causing the candidate to do the same.
And what about the impression you're making? First impressions go both ways — and the one that you make as a potential employer might matter even more in the long run. According to another study by MarketWired, 80% of candidates would take one job over another based on the connections formed during the interview process.
Try to approach interviews like a controlled experiment. Ask the same set of questions to each candidate – with room to dig into certain avenues – so that you have common criteria to compare against. A debrief with any colleagues who sat in on the interview can be a helpful and fair way to discuss pros and cons, too. And, if you feel a bad impression coming on, try your best to give the candidate the benefit of the doubt. Your positive behavior can bring out the best in them and even may allow them to change your initial impression.
---

5 Interview Questions to Ask Your Candidates
Questions That Can Help You Determine Who's Right for the Job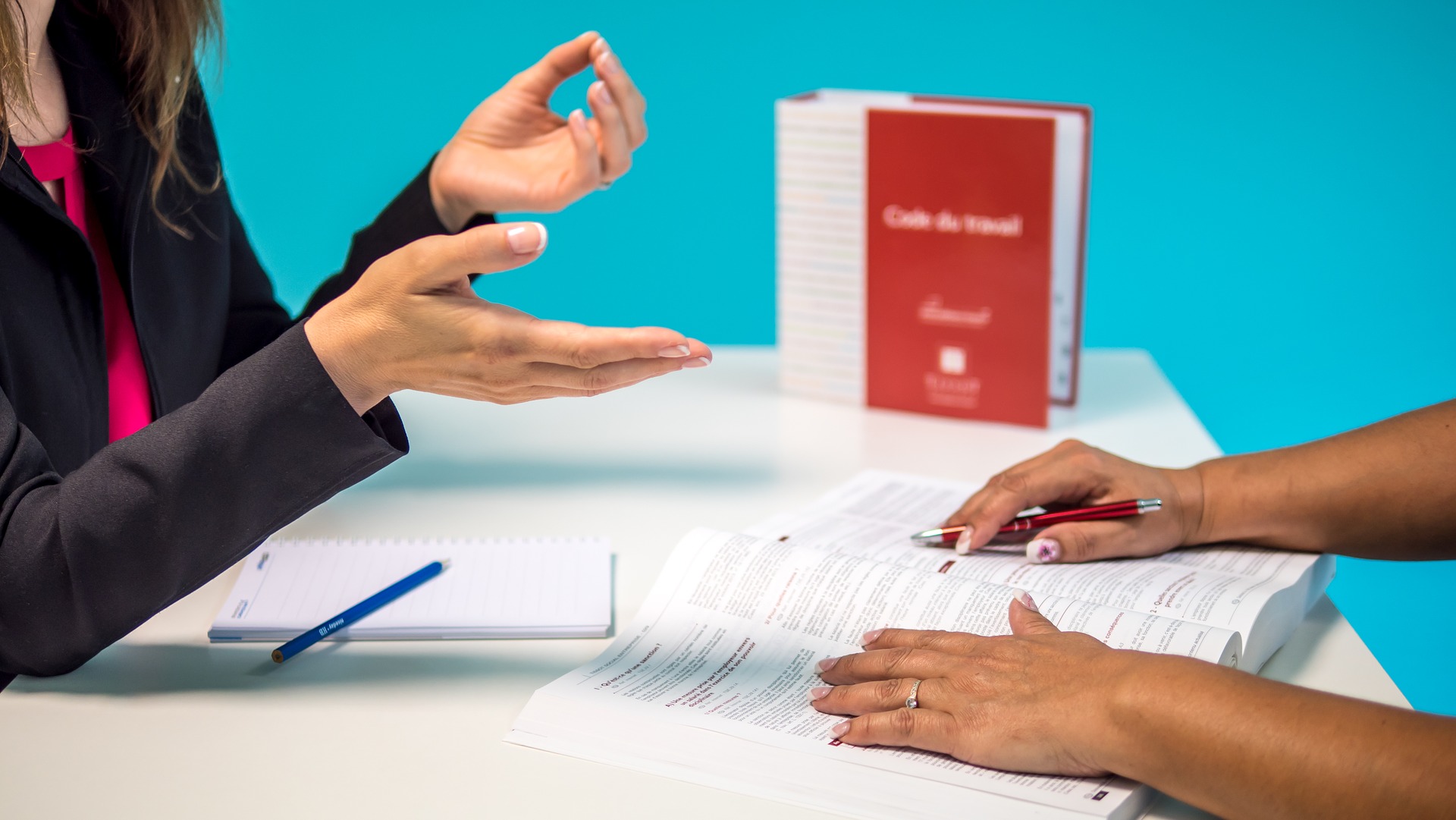 Interviewing candidates is a nuanced process that goes far beyond probing skills and abilities. Recruiters have to find someone who not only will be great at their role, but fit in with the work culture and add value to the company. Asking the right questions is essential when determining who is the best fit for the job. Try to keep them open-ended, which requires the candidate to tell you a story. When it comes to conflict/resolution questions, look for the candidate to provide context, explain what they did to fix the problem, and share the lessons they learned.
The interview is an exploratory process – here are five effective foundational questions to help you get started. And, just to note: Outback Team Building & Training utilizes Topgrading, a hiring methodology created by Bradford Smart, which uses questions like these and more.
1. "What are your hobbies?"
A question like this puts the candidate at ease and is a good "getting to know you" starting off point. There are lots of different ways to examine the answer that a candidate gives you to this seemingly simple question. For example, if they enjoy playing sports, ask them how they can apply the concept of teamwork to their new role. If you have an ideal response, know what that is before going in.
2. "Tell me about your greatest professional achievement."
This question can give you some insight into your candidate's personal values, while allowing them to share some of their proudest moments with you. Mentioning how others helped them succeed can also demonstrate a collaborative work ethic.
3. "What was the biggest obstacle you had to overcome in your last role?"
Everyone faces certain challenges in both their personal and professional lives. What's most important in this case is how you overcame each hurdle. What did the candidate learn from this experience? How would they deal with this obstacle if it were to happen again? This can shed light onto their problem-solving skills.
4. "What is your biggest strength?"
Candidates so often get asked what their weaknesses are. As such, they usually predict being asked this question in a job interview and prepare an answer in advance. On the other hand, when candidates are asked about their strengths, it allows them to paint their skills in a positive light. Look for an authentic and self-aware answer, with a credible example to back it up. The answer a candidate gives can highlight what added value they can bring to the role.
5. "Tell me about a time when you got it all wrong."
This question allows you to see how honest your candidate is. No one is perfect, and a dishonest answer should be major red flag for any recruiter. If a candidate admits to making a mistake, ask them what they've learned from that experience. Admitting to a mistake also shows that they take responsibility for their actions. You want to find someone who's open to feedback and looking to improve.
---

Red Flags to Watch for When Interviewing a Candidate
Three Things That Make You Go "Hmmm"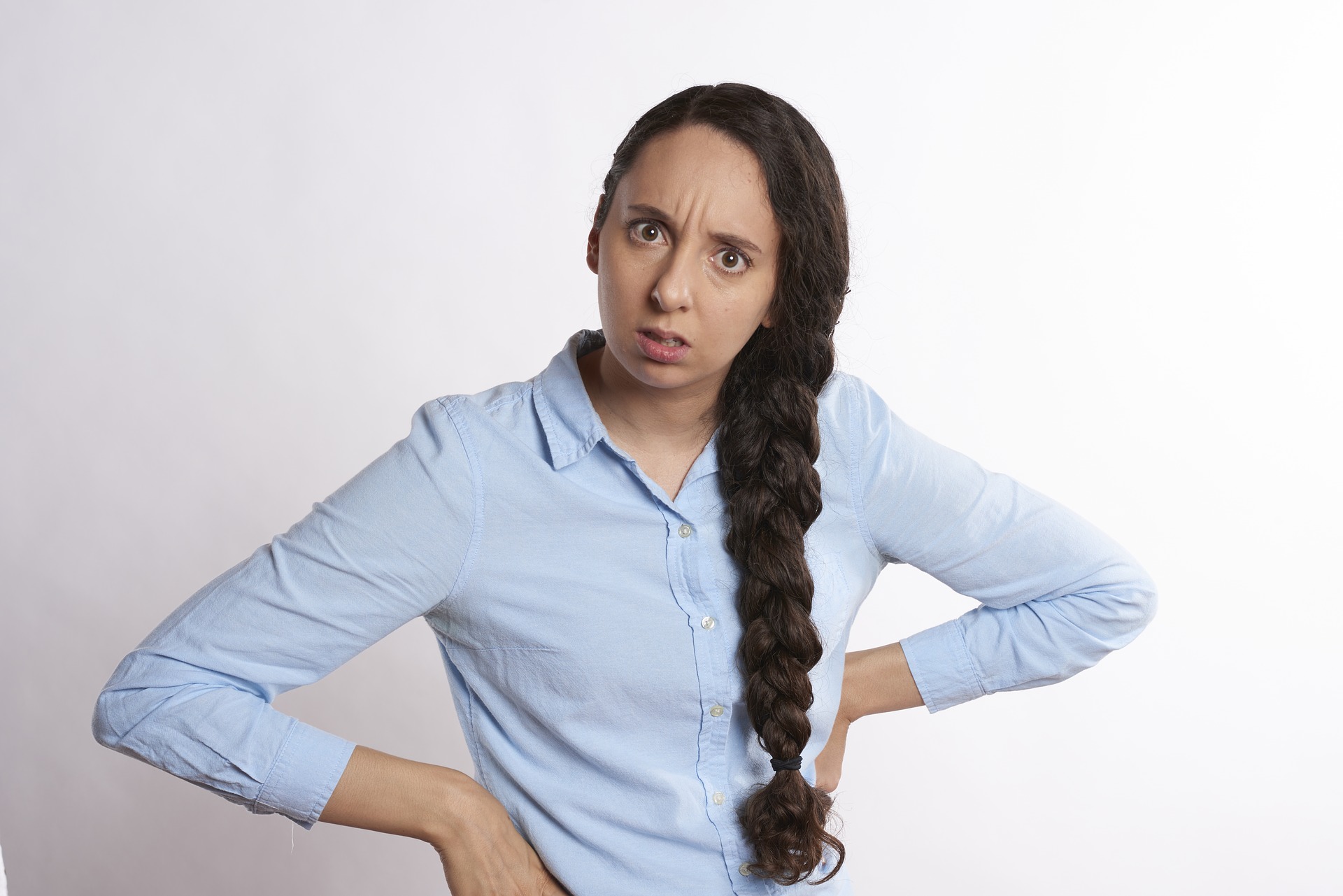 Hiring the wrong person can cost a company and employees and managers time and money. Quite literally – in fact, this calculator allows you to plug in a job type and see how much a bad hire can actually cost you. To save yourself the headache, pay attention to the three following red flags during the interview to help you determine whether the potential candidate will be a good fit for your company or not.
Gossip About Former Employers
Of course, candidates aren't expected to like all of their previous employers, managers, or colleagues. But if they're speaking negatively about them during a job interview, it just shows that the candidate is unprofessional and has a bad attitude. It can also demonstrate that they're conflict-driven and not collaborative, neither of which are good.
Candidates Who are Money-Driven
When recruiters are looking for a candidate who fits in with their company's core values, one who is only concerned with what their salary will be is a big red flag. An employee that's interested more in benefits than work probably doesn't really care about the actual work they have to do. The best hires understand that to get to the good stuff, you need to put the work in first.
Not Doing Any Research
This is a big one. When a prospective candidate comes into a job interview with no knowledge of what your company actually does, it shows that they simply don't care enough to put the time and effort into knowing more about your business — or preparing themselves for the position, for that matter. If they want to work with you, they should already have a good understanding of what the company is all about.
---

3 Signs You've Found the Right Candidate
Are They the One?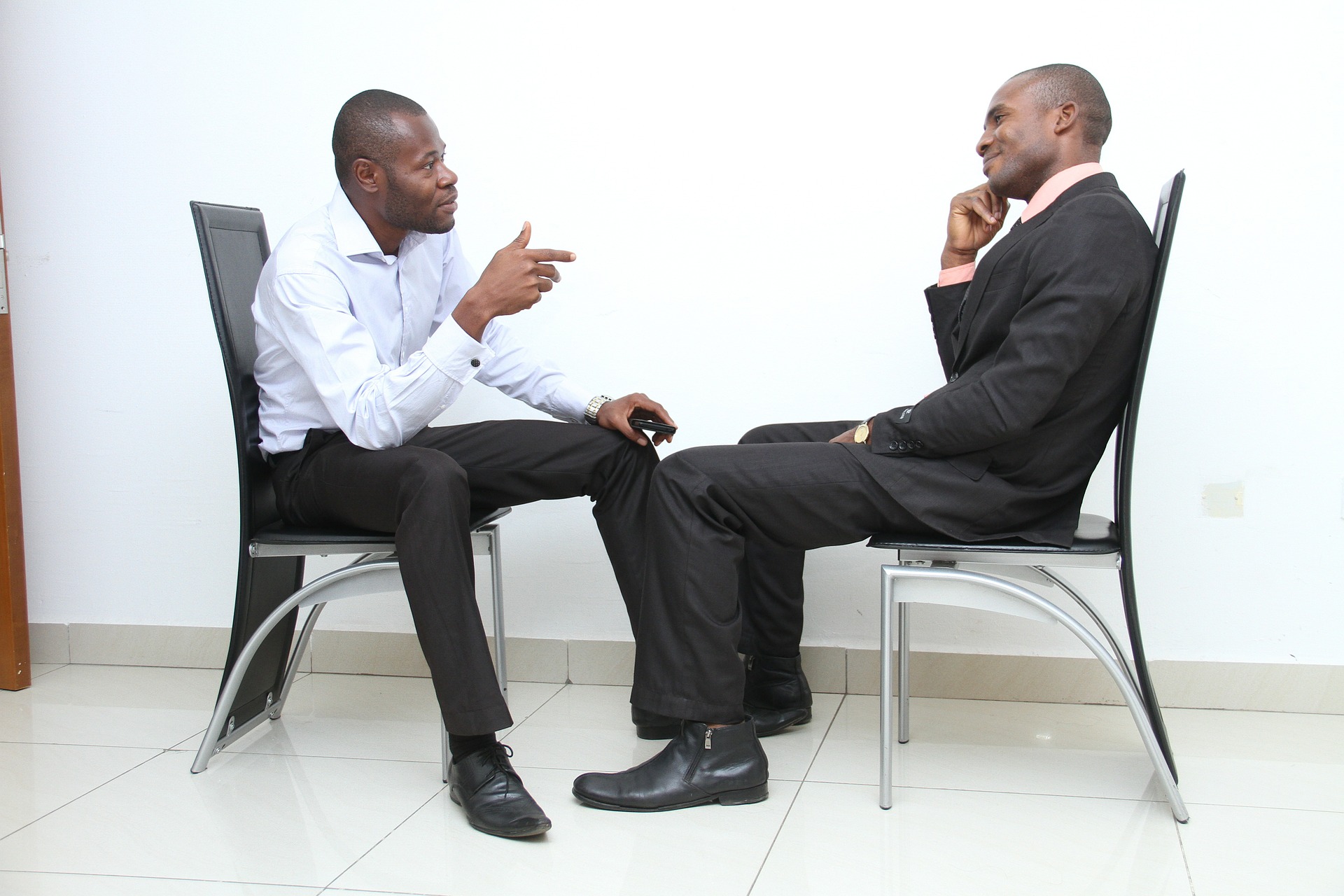 They're confident, have lots of experience, and a skillset that'll get the job done. But are they "the One?" When it comes to finding the right candidate, there's more to it than meets the eye. As a recruiter, you've got to look a little deeper. Because, at the end of the day, you never know on either side. In an interview, both recruiter and candidate are getting to know each other and assessing if it's a good fit. And it's the recruiter's responsibility to be upfront about everything, so that there are no surprises, and that new hires can come into the job knowing that it's what they expected. Here are three signs to look for during the interview that will help you make the best choice for your company:
1. They Come with Ideas and Questions
A candidate who comes to a job interview with an idea of what they would do in the role shows that they'll take initiative to contribute to the company and that they understand the work. And, when they ask good questions about the role and the company, it demonstrates a real and authentic interest, and that they're listening, retaining, processing the information that you're giving them.
2. They're Honest
There is truly no "perfect candidate" and the right one will own up to their flaws. A candidate who is willing to admit their weaknesses shows both honesty and self-awareness. Being able to talk about how they've learned from their mistakes is critical.
3. They're Highly Recommended
While a good candidate can describe their achievements, a great candidate will come with endorsements and testimonials. Look for glowing LinkedIn recommendations that can help you screen the applicant. And let them know that you'll be checking their references – this holds the candidate accountable to that whatever they say in the interview.
---

Part Three: The Choice
Why References Are So Important
The Background on Background Checks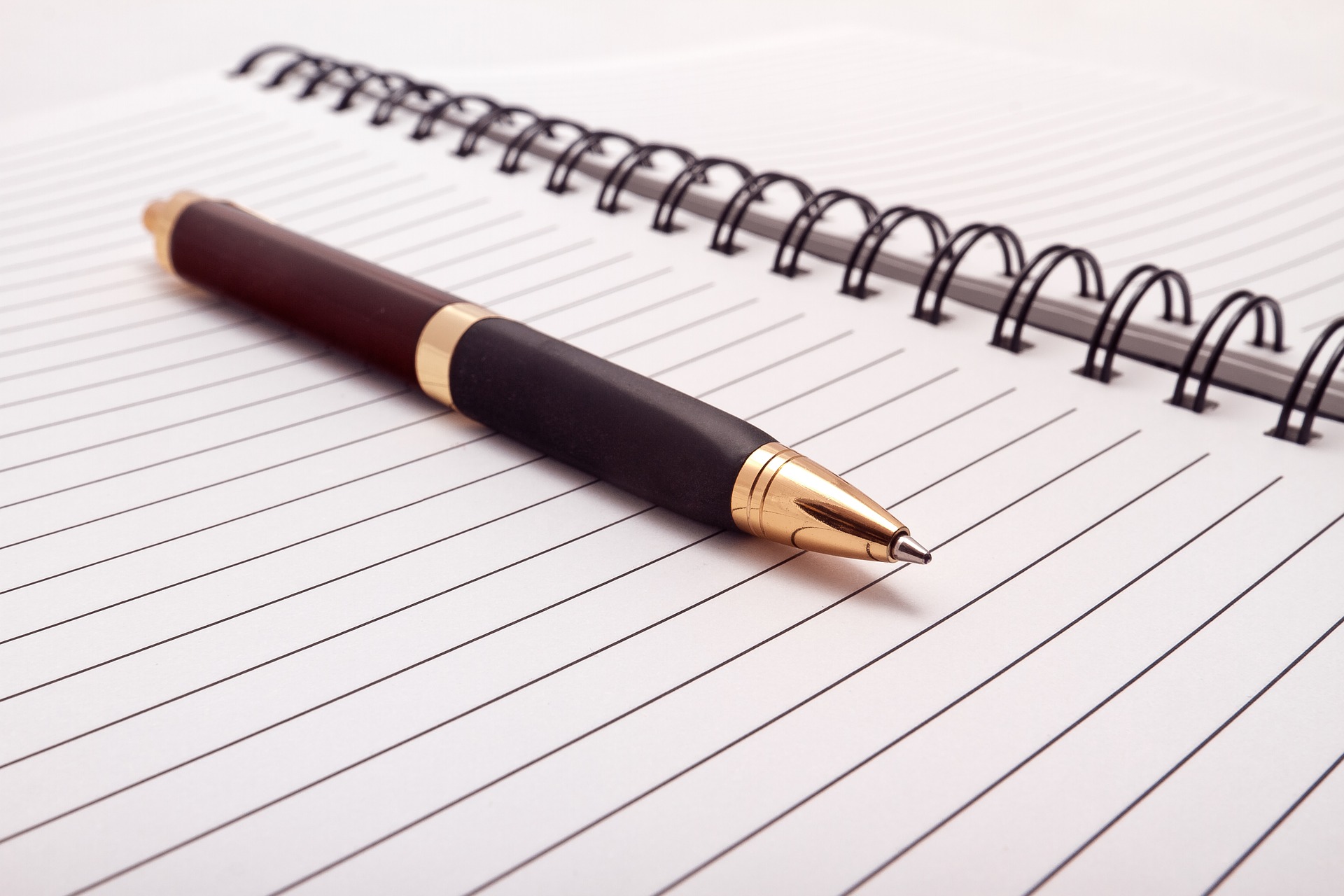 As we all know as HR professionals, reference checks are an important step to validate a candidate's strengths and experiences, to learn the best ways to onboard and manage the person, and to simply get a good overall picture of who they are.
They can also be the best indicators of what future performance will be like, as well as attitude, behavior, and other personality traits. Be particular and ask for three managers or supervisors – the validity is higher than speaking to a colleague who was more of a 'pal.'
Structure your questions around the competencies required for the position to assess the candidate's compatibility for it. Try to listen for word choice and tone when the reference describes the candidate. Certain tones, long pauses, or hesitations, vague answers, or lack of detail could indicate you've hit a sensitive subject.
At the same time, listen for over-enthusiastic references without enough back up the praise. This might not be a true representation of the candidate. If that does happen, just request some brief examples if possible.
---

10 Questions to Ask When Checking References
Not Sure What to Ask? We're Here to Help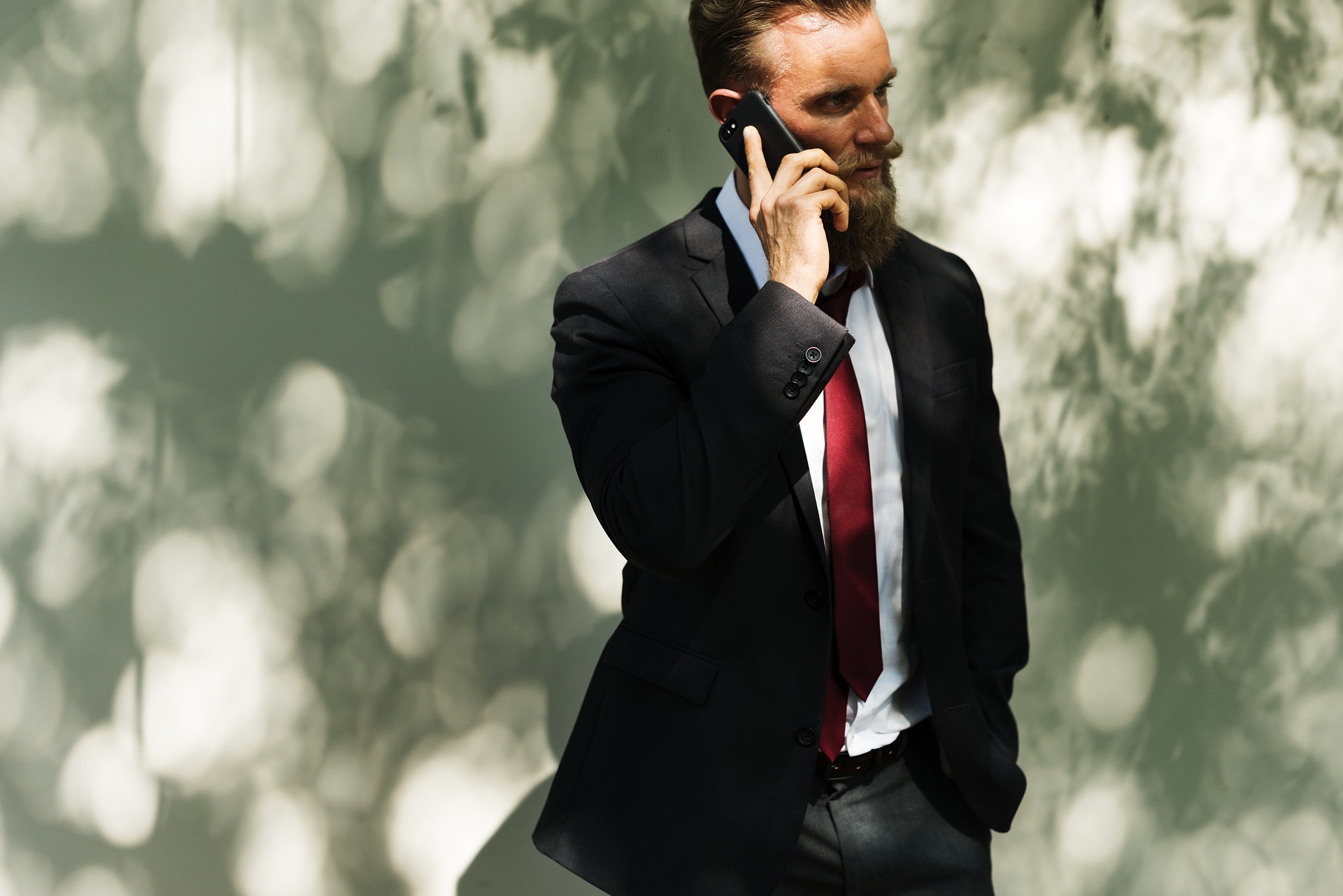 Generally, you want to ask your candidate's reference questions that are introductory, assess skill, and determine fit. When evaluating their answers, pay to the tone of their delivery. Are they hesitant? Are they genuinely excited? If an employee was really amazing, most references will likely be excited to recommend them. Also, try to ask questions that are skill-set specific. If it's a tech role, for example, ask the reference to tell you about the candidate's competency in a certain area. Here are 10 good general questions to help you get started:
If you had the opportunity, would you re-hire this candidate?
Tell me what it's like to work with the candidate.
What advice can you give me to successfully manage the candidate?
What are the candidate's biggest strengths and weaknesses?
How did the candidate handle feedback or constructive criticism?
What was the candidate's biggest accomplishment while working for your company?
How would you describe the candidate's reliability and dependability?
Are there any skills would you have liked to see the candidate develop to reach their full potential?
How did the candidate get along with other managers and colleagues?
Would you recommend this candidate?
---

How to Choose Between Two Strong Candidates
Three Ways to Solve the Ultimate Recruitment Conundrum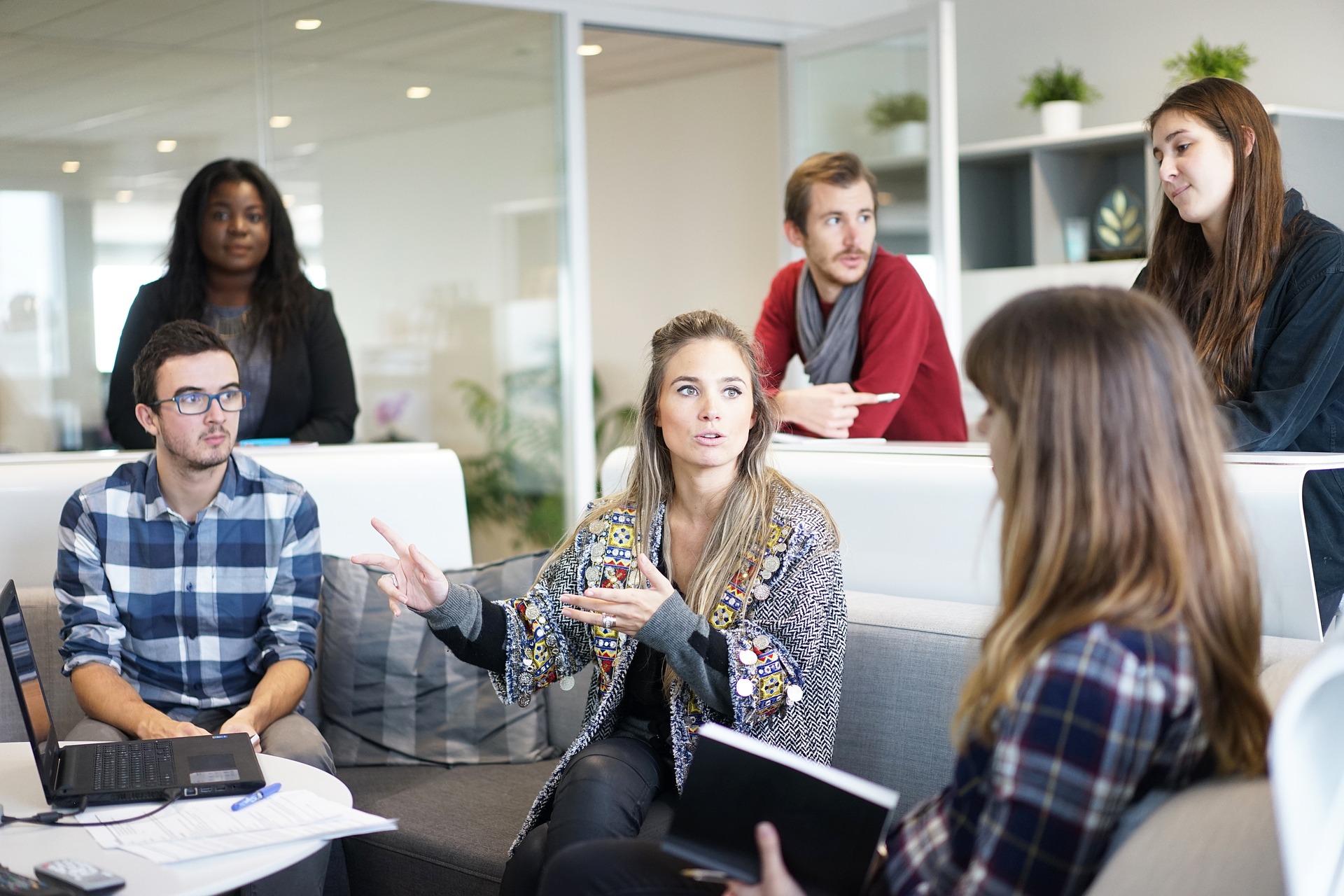 What happens when you have two amazing candidates contending for the same position? It's not the worst dilemma a recruiter can have, but it's not an easy one, either. And the longer you wait to make your decision, the greater risk you take of losing one or the other to someone else. So, how to you make the right choice? Keep these three points in mind:
Think Long-Term
Look a bit further beyond the requirements for the role the candidate is applying for. Could they grow at your company over time? Does one candidate have more potential as a leader than the other? In terms of longevity, would one candidate become disengaged after a short time? Try to see whose expectations for growth and development are in alignment with the company's expectations.
Corporate Culture Fit
This is an important point that too many employers don't always consider. Will one candidate fit in the company's work environment more than the other one would? Would they thrive? One way you could gauge this is to introduce potential hires to your team before officially extending an offer. Getting your colleagues opinion on this can be valuable – introduce or involve other team members to the candidate in the interview process.
Assess Enthusiasm
Reflecting back on your interviews with the candidates, who seems more engaged in the whole process? Who asked more insightful questions? Who followed up after the interview more quickly? And, finally, what is your gut feeling about who seemed to want the job the most and who you think is the right fit? Thinking about these things can help you identify the more interested candidate.
---

3 Things to Keep in Mind When Making a Job Offer
How to Make an Offer They Won't Want to Refuse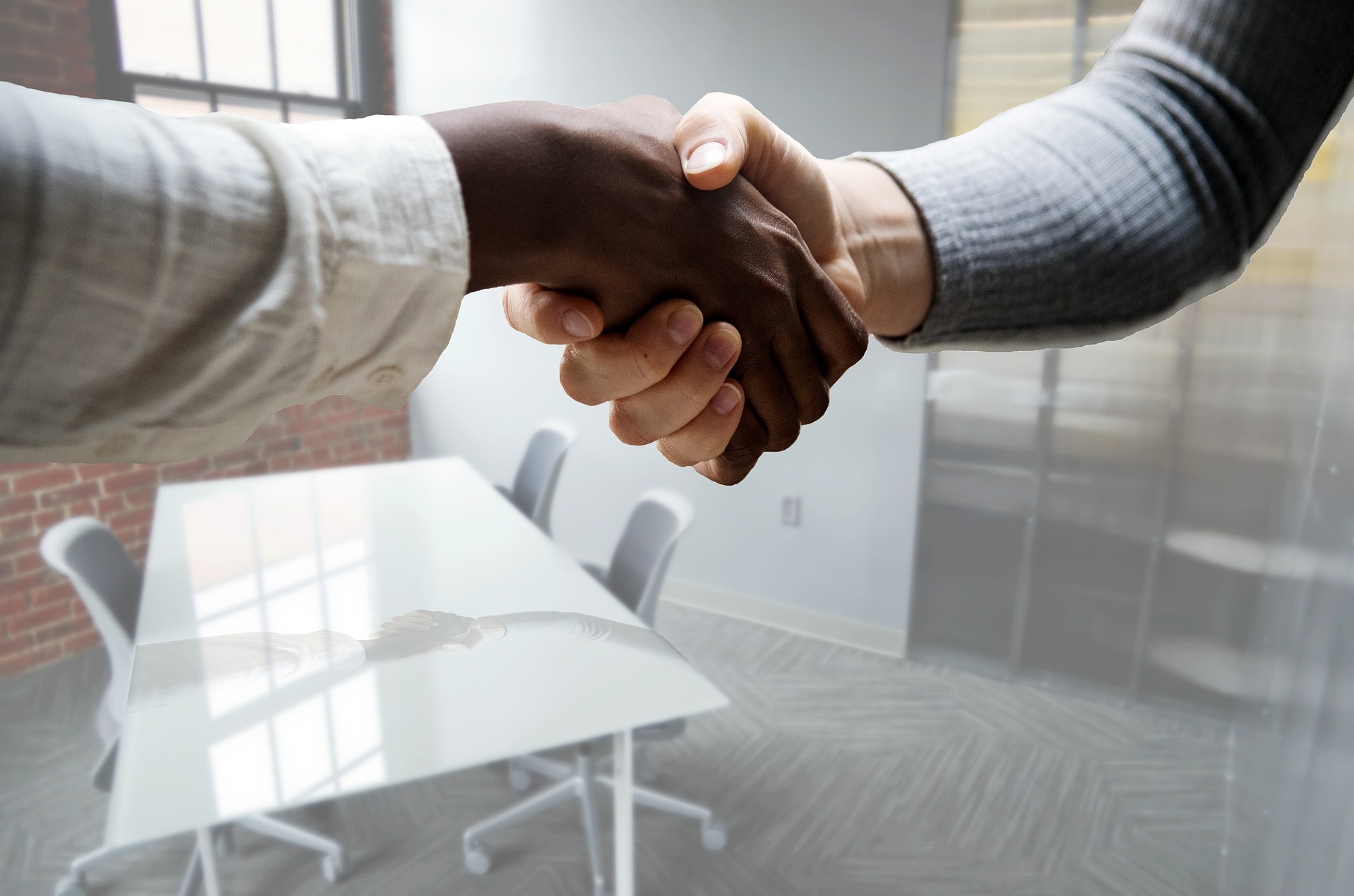 You found the right candidate for the job! Now what? There are a few things to keep in mind if you want to make sure that your offer is followed by an acceptance. You need to be prepared to entice top talent, otherwise you can lose them to another company. Keep these three points in mind to keep your offer at the top of their list:
Put It in Writing
If possible, extend the offer in person. But if you're going to do it over the phone, call in with all the information in front of you so that you're prepared to answer all questions the candidate may have, from who they're reporting to, to total compensation and benefits, to any scheduling details. Be sure to enter with full transparency, so that there are no surprises.
Act Fast
Don't take too long to make an offer! Research by the MRINetwork Recruiter Sentiment Study found that 47% of declined offers were due to candidates accepting other jobs. Making an offer quickly shows that you want to have this person join your company. It also shows that you respect the candidate's time. Not extending an offer fast enough can give off the impression that you either aren't interested or can't make up your mind – and can cause you to lose the candidate to someone else.
Competitive Compensation
Do some research and find out what the average starting salary for the specific position is. Companies should participate in salary surveys to get recent unbiased market data that's not self-reported. And, as always, it's critical that you are totally transparent about your benefits and compensation value – things, like extra vacation time and flexible working arrangements, that you're going to provide instead of salary.
---

Part Four: Additional Resources
Additional Resources for HR
The Best Podcasts, Blogs, and Books on Recruitment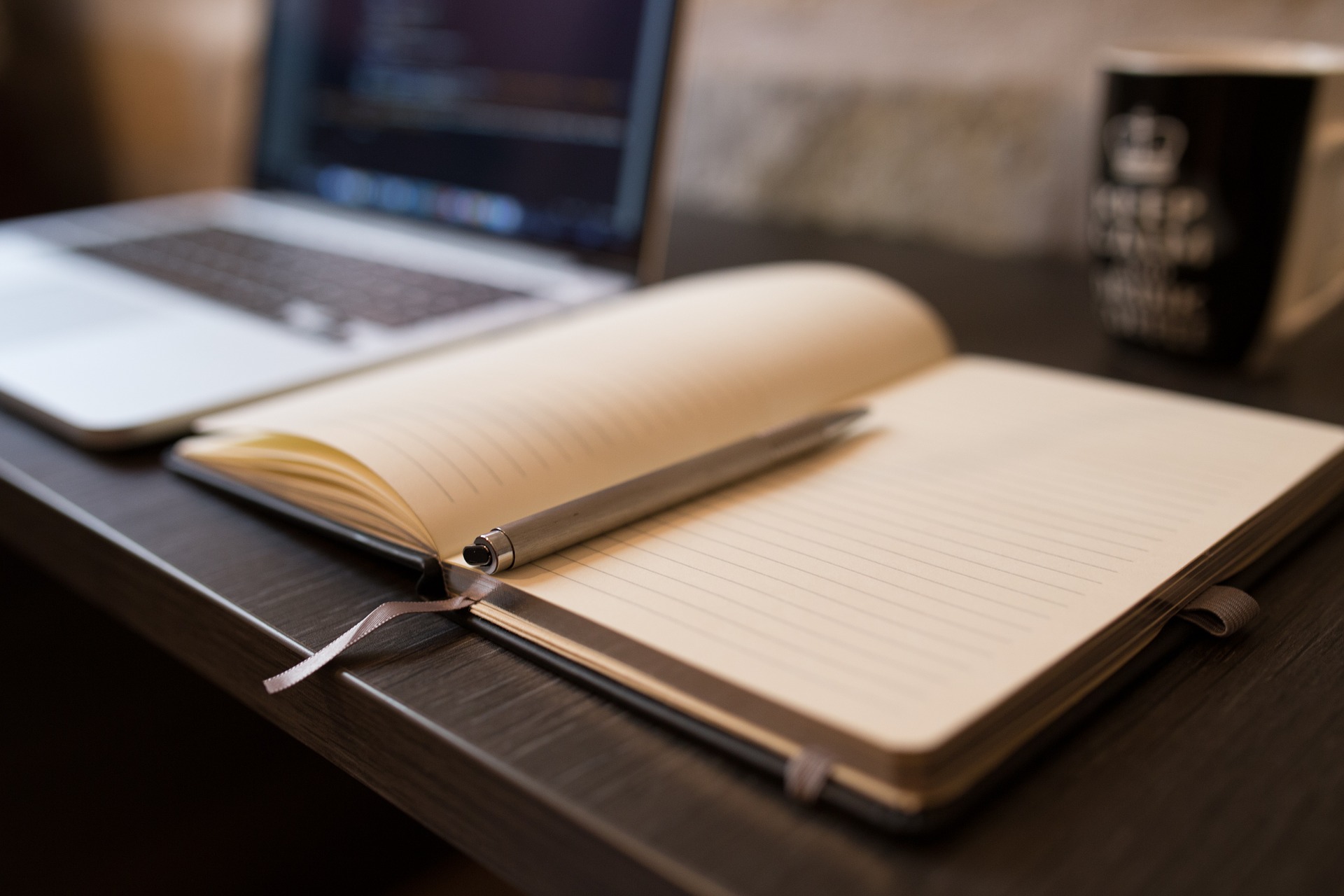 As an HR professional, you're at the helm of developing and managing your company's culture. That means maintaining benefits and payroll, diffusing conflict, engaging in training and development, and, of course, recruiting new hires. Your role is at the very core of a company's success. With so much responsibility, especially when it comes to recruitment, you need to make sure you stay ahead of the curve. Resources like podcasts, blogs, and books are fantastic ways to help you keep up with trends and best practices. Here are our favorite picks:
Podcasts
Focused on the topic of recruitment, Hiring On All Cylinders features weekly insights from professionals who fill their organizations with top talent.
HR Happy Hour is the longest running HR podcast. Hosted by industry veteran Steve Boese, the show explores all things human resources-related, from management and leadership to workforce technology.
Outback Talks, Outback's very own monthly audio resource for HR and business professionals, features interviews with experts from companies like LinkedIn and Wildbit to bring you tips and expert advice on a variety of topics.
Blogs
The site compiles the best content for HR professionals from a wide variety of sources and industry thought leaders. It's a great place to see what's currently trending and what people are talking about right now.
Operating since 2009, this blog is an excellent resource to understand the trends, competitive practices, and opportunities for improvement in HR. Topics include learning and development, talent acquisition, employee engagement, and more.
This publication provides opinion, analysis, news, reviews, and podcast interviews focused on the most relevant issues facing those involved in the world HR.
Books
"The Best Team Wins: Build Your Business Through Predictive Hiring" by Adam Robinson
Adam Robinson is the CEO and co-founder of Hireology, podcast host of The Best Team Wins Podcast, columnist for Inc., and a top keynote speaker on recruiting. His book structurally takes you through each step of the recruiting process, including putting together a winning job offer.
"Hiring for Attitude" by Mark Murphy
Mark Murphy is a New York Times bestselling author. In his book, he builds the case that bad hires are usually a result of the lack of the right attitudes – not skills. He explains how to select high performers that will fit and excel in your unique culture.
"Topgrading: How Leading Companies Win by Hiring, Coaching, and Keeping the Best People" by Bradford D. Smart
A hiring concept utilized by companies including Outback Team Building & Training, Topgrading can raise a business' competitive advantage by boosting their successful hiring rate to 90% or better. This book outlines Bradford Smart's methods, which can be used for any size company, and how to find, manage, and coach A players.
---

Need Further Advice About Recruitment?
You can download a PDF version of The HR Guide to Recruitment or get in touch with our team for more tips on employee engagement.
Subscribe To Our Newsletter
And Stay Updated