4 Things to Keep in Mind When Planning a Team Building Event for a Large Group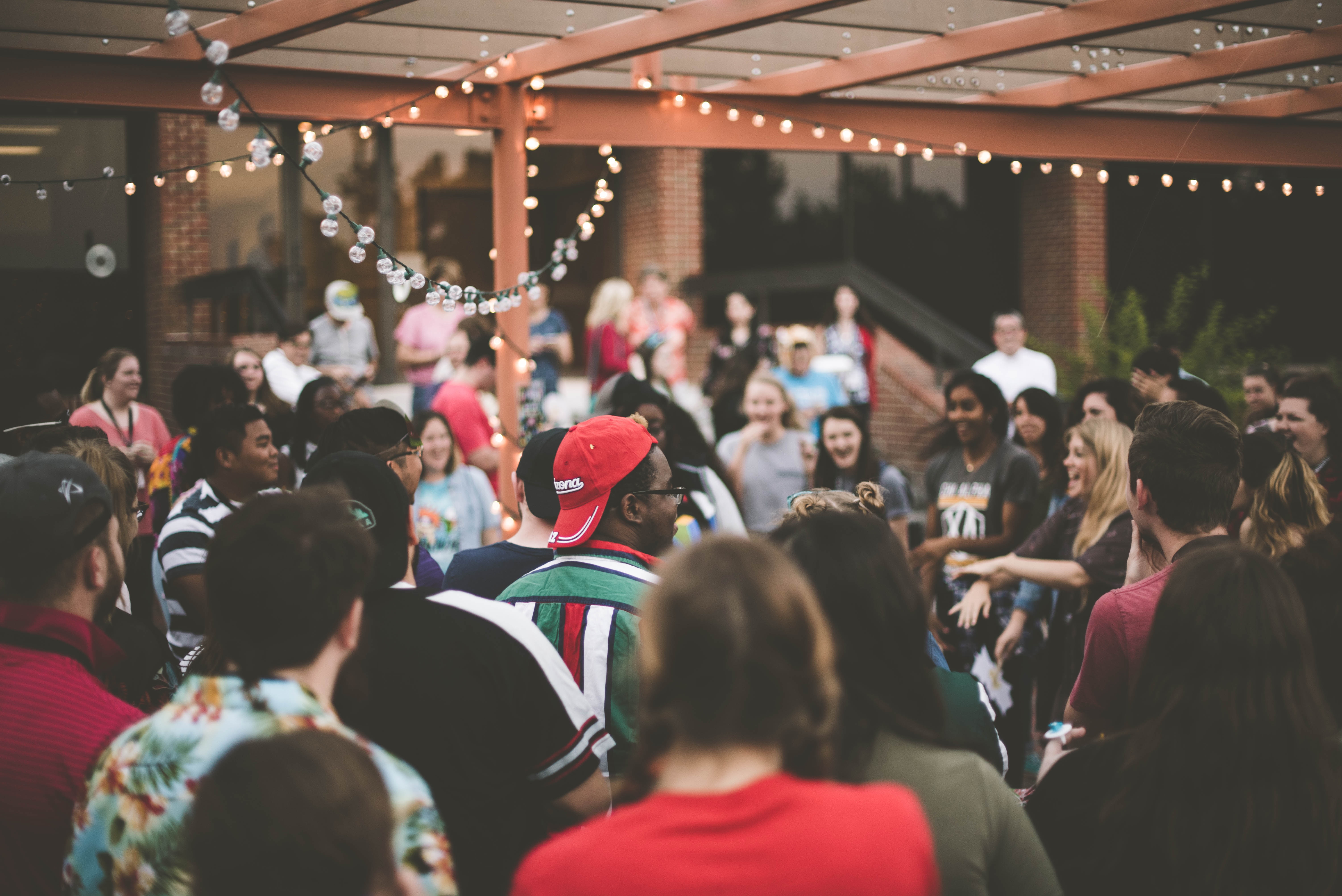 Planning a great team building event can be challenging 

at the best of times

, let alone when you 

have to

 worry about all the logistics and complications of hosting an event for a large group. 

 

 

 

 

 
When it comes to planning an awesome team building event, the process can be a stressful one – especially if you're not an experienced event planner. Between finding the right activity, going through the process of coordinating it all, and finally seeing through a successful execution, it can be a daunting addition to all of your day-to-day job tasks.
And this stress is amplified tenfold when you're trying to put together a corporate team building activity for a large group. How can you find an event that will make a positive impact on so many people? Where will you ever be able to get that many people together at once? If you feel overwhelmed thinking about it, you're not alone.
But don't worry. Hosting an amazing team building activity for a large group can be done well and with minimal stress. Here's how.     
---

Leave Yourself Enough Time
Time is one of the biggest inhibitors that will work against you when planning an outstanding corporate team building activity for a large group. The more time you can afford yourself, the easier it will be to make sure you've crossed your T's and dotted your I's.
At Outback Team Building & Training, our team of event planning experts typically recommends getting your planning underway between four and six weeks ahead of your scheduled event date for groups of up to 100 people. For groups any larger than that, we recommend you start planning between four and six months ahead.
However, the reality is that it's not always possible to plan with that much lead time. That's why we live by the brand promise of being fast so that we can help our customers put on a great corporate team building activity – even in a time crunch.
---

Define Your Goals and Budget
When it comes to successful team building activities for large groups, there are two components that should be clearly defined from the outset – your goals and your budget.
Clear Goals for the Activity: Understanding what you're hoping to get out of your team building activity will go a long way in making sure it's both fun and effective. To help you get clarity on your goals, follow the "five W's" – who; what; where; why; and when. For example, this could be: 



Who: Our entire 120-person Research and Development department
What: A unique and collaborative outdoor team building activity 
Where: Denver, Colorado
Why: To help stimulate creativity, teamwork, and outside-the-box thinking
When: September
When you put that all together, you get a clearly defined objective for your event: to stimulate creativity, teamwork, and outside-the-box thinking amongst your 120-person R&D department with a unique and collaborative activity this September in Denver, Colorado.
And with this in mind, you can start to really narrow in on the best possible team building activity for your large group.
Detailed Budget Parameters: Once you've got an understanding of what you're hoping to achieve with your team building activity, it's time to take a hard look at your budget so that you can equip yourself with a realistic idea of what's feasible. The good news is that great team building activities don't necessarily have to break the bank. At Outback Team Building & Training, we offer a huge array of activity options and price points to suit any need, starting from as low as $11 per person up to about $400 per person. So, whether you're looking for a self-hosted team building activity, a fully-facilitated team building event, or anything in between, we can coordinate a solution that will work perfectly for you.
When you start building your budget, you'll want to include line items like:
Your venue
Food and beverage needs
Transportation and parking expenses
Insurance
Prizes, if you'd like to reward the winning team
It's also safe to leave yourself a small contingency fund, in case of any unexpected expenses. As is the case with planning any event, you'll want to keep a thorough and detailed budget tracker. If you're looking for a great template, you can find one in our free online guide: The Ultimate Guide to Team Building.
---

Find the Right Corporate Team Building Activity for Your Large Group 
With large groups comes diversity in personalities, preferences, passions, and physicality levels. That can make it extremely difficult to plan a team building event that will resonate with everyone in attendance.
But great team building activities are designed to be inclusive of everyone. And at Outback Team Building & Training, we craft all of our programs so that they offer something which will appeal to each member of your team and any size group. For a comprehensive look at how to plan a team building activity that will be a hit with everyone on your team, check out our Online Guide: How Team Building Can Work for Every Type of Personality, Ability, and Group Dynamic.
Here are five team building activities that are perfect for large groups:
---

Source the Right Venue and Consider the Logistics 
Once you've decided on the type of event you're interested in, the next step is to find the right venue and start sorting out the logistics. There's a lot to consider, but it doesn't have to be stressful. As you start coordinating your event, you'll want to focus on some key items. Here are five big ones.
1. Finding a Great Venue – Your venue is an integral component of your event so it's important that you choose wisely. There are some key considerations you need to keep in mind when it comes time to pick a place to host your team building event:
Venue Type and Size – The type of team building activity you choose will, of course, dictate the type of venue you need. If you're doing an outdoor activity like Picnic Party Games, you'll need to find a sizable outdoor space. This could be a park, a hotel courtyard, or even a starting point from which to head out into the city. For all the details you need to plan an outdoor event, check out our Comprehensive Checklist: 25 Key Considerations for Outdoor Team Building Events.  And if you're looking to do an indoor team building event for a large group, you'll want to check out things like hotels with banquet spaces, conference centers, or even your office if you've got enough space. We dive deep into everything you need to know about indoor venues in our blog post, How to Pick the Perfect Venue for Your Indoor Team Building Activity.  


Availability – Venues book up fast, especially in peak seasons. We recommend that you start your venue search as soon as possible – ideally, four to six months ahead of time. If you find yourself bumping up against a challenge with timing and availability, don't worry. Outback Team Building & Training can bring many of our programs, such as CI: The Crime Investigators or our Corporate Escape Rooms, right to your office. 


Cost – Venues can often be one of the biggest expenses you'll have to cover in your budget, so make sure you've set aside a good amount to be safe. When you're researching venues and costs, make sure you ask if there are any minimum spends involved. Depending on the venue, you will sometimes be required to meet a minimum food and beverage expenditure, which can also put a dent in your budget.


Location, Accessibility, and Parking – If you're not facilitating group transportation to the event, you'll need to consider whether your attendees will require parking. If so, make sure you find a venue that has on-site parking. Alternatively, look for a place that is in close proximity to public transit. If you have guests flying in from out of town to attend, you might also want to find a venue that's close to hotels or the local airport. It's also important to ensure the one you choose is accessible for those with disabilities or injuries. Most venues will be, but it's always wise to confirm ahead of time. 


Amenities and Extras – Think about what you need for your event, whether it's A/V, catering, or rentals like tables and chairs. Ask if the venue you're investigating offers these things in-house. If so, you can often enjoy economies of scale by having the venue take care of it all for you.
If you're looking for a great tool to help make your venue search easier, you can try services like EventUp to track down potential venues in your desired area based on a wide variety of criteria. And if you're hosting a corporate retreat and are in search of some inspiration on where to go, have a read through our article: The Top 20 Destinations in North America for Company Retreats. 
2. Your Transportation Needs – When it comes to big groups, transportation is a big consideration. How will you get all of your guests out there? A few common methods are:
Asking for volunteer drivers then assigning carpool groups
Hiring a service in your area that provides transportation services for large groups
Public transit
Facilitating taxis or Uber rides
Whichever method you choose, make sure you've set aside budget to get people to your event. Generally, it's a great idea to include transportation back to the office if the event will end within business hours. For full-day events where guests will head directly home afterwards, you can decide whether or not you want to provide transportation back following the event (we generally recommend this when possible). Whatever mode of transportation you decide on, make sure you've budgeted for this in when looking at your holistic event costs.
3. Developing a Day Agenda – When it comes to team building activities, people generally like to know what they're going to be up to for the day. Developing an agenda for the day can help provide clarity on the event and get your team excited.
This should include everything employees can expect to have happen from the time they arrive to the time they depart, including different event components and activities, meal breaks, and locations or meeting points. We recommend sharing this document well in advance so that everybody's on the same page and has time to prepare accordingly.
If you're looking for a team build event agenda template, you can find one in our free resource, The Ultimate Guide to Team Building.
4. Have a Back Up Plan for Outdoor Events – When you're planning an outdoor team building activity, it's always wise to have a backup plan in case of weather or unforeseen circumstances. At Outback Team Building & Training, we offer our Peace of Mind Plan on all outdoor activities so that, if the weather takes a turn for the worst on event day, you can substitute your outdoor activity for one of our indoor activities – free of cost.
---

Learn More About Team Building Activities for Large Groups
For more information about team building activities that would be a great fit for your large group, just reach out to our Employee Engagement Consultants.
Subscribe To Our Newsletter
And Stay Updated