In-person & Virtual Team Building in Connecticut
Choose from more than 60 Connecticut-based team building, training, and consulting options, recommended by over 14,000 corporate groups.
Recommended by Organizations in Connecticut, Such As:
What Does Your Team Need?
Team Building in Connecticut Made Easy!
Are you planning a team building activity or training program in Connecticut? You don't need to settle for something basic – you can do something fun, unexpected, and local.
When you partner with our team, you can also find effective and engaging training and consulting programs in Connecticut to meet your group's needs.
Check out the top recommended activities and programs for popular locations and venues in Connecticut.
What Clients Are Saying:
The team tailored the curriculum to match the requirements from our team
The Employee Engagement Consultant was very helpful during the booking process and in setting up multiple touch-points along the way. The team was responsive to our needs and tailored the curriculum to better match the requirements from our team. Service was great.
Nielsen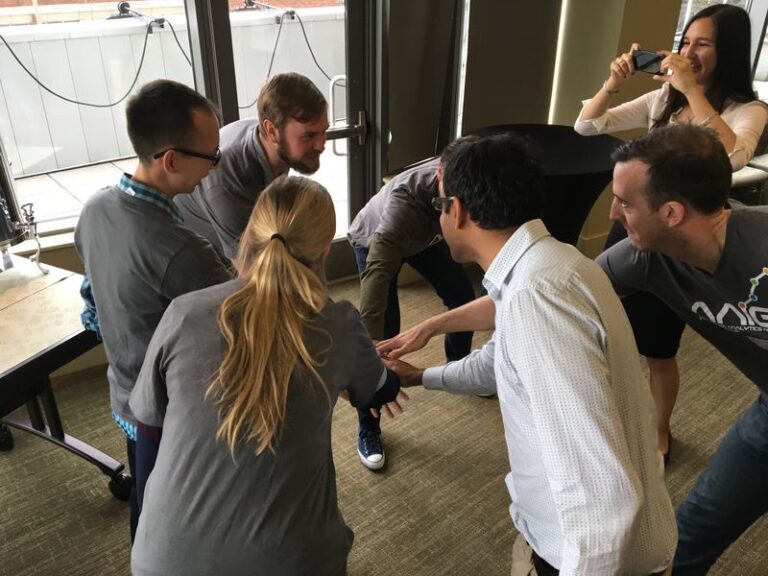 It was fun, interactive, and involved a ton of team work!
Indeed.com
Had a good time working through all the clues
We were all engaged in the activity and had a good time working through all the clues to come to a solution. Thank you!
Weatherby & Associates | Clue Murder Mystery
Your team was easy to work with
The groups absolutely enjoyed the challenges and had a lot of fun. It really brought everyone together and gave us some great photos and memories. Your team was easy to work with. 10/10!
Lincoln Financial Group
The most fun they have had team building
Our management team all agreed that this was the most fun they have had team building. The app was easy to use, and the ability to see the leaderboard kept everyone motivated and competitive. The support team was ready to help and they were very accommodating too!10/10!
NBT-Mang Insurance Agency
Client Feedback Highlights
Various clients express why they love working with Outback Team Building & Training.
Various Clients
Top Team Building Activities for Popular Connecticut Locations:
Team building activities are designed to keep your employees entertained, engaged, and motivated. They can be used to improve employee engagement and morale, or add a fun element to staff retreats.
Clue Murder Mystery
Recommended Location: Gray Conference Center, West Hartford
Located on the spacious suburban campus of the University of Hartford, the Gray Conference Center is only 10 minutes away from downtown Hartford. This spot would be a great venue for your corporate meetings while you're in town, and an ideal location for an indoor team building activity like Clue Murder Mystery.
View Activity
Wild Goose Chase
Recommended Location: Norwich
Get outdoors and explore any city in Connecticut with Wild Goose Chase, a team building scavenger hunt. In Norwich, for example, groups can use their smartphones to complete challenges outside of popular locations like the American Wharf Marina, Howard T. Brown Memorial Park, St. Patrick Cathedral, and the Chelsea Botanical Gardens.
View Activity
Wheelchairs for Charity
Recommended Location: Hartford
Did you know there are over 20 million people in North America who use a wheelchair every single day? You can help out the disabled individuals in Hartford, Connecticut with Wheelchairs for Charity, a philanthropic team building activity. This charity challenge will have your group building and racing wheelchairs as part of an exciting indoor competition. At the end of the activity, your group will donate all the wheelchairs to a local organization, such as the NEAT Center at Oak Hill.
View Activity
Other Team Building Activities in Connecticut:
With six different types of activities to choose from, you can find a solution that fits the needs of your group.
Top Training & Development Programs for Popular Connecticut Locations:
Employee training and development programs can be a great way to help your team strengthen bonds and sharpen their skills.
Creating Mission, Vision, and Values
Recommended Location: Amsterdam Hotel, Stamford
It can be a big challenge to get employees to truly buy into your company goals. But with the Creating Mission, Vision And Values training program, you can help get everyone at your company excited about these crucial guiding principles. This experiential learning program is available all across Connecticut, in meeting venues like the Amsterdam Hotel in Stamford, Connecticut.
View Program
Confident Decision Making
Recommended Location: The Farmington Inn, Farmington Valley
Located in Farmington Valley, this quaint venue would be an ideal spot for a training session like Confident Decision Making. Here, employees can learn how to prioritize quickly and make better decisions back at the office. As an added bonus, you can also use the hotel's conferencing capabilities to livestream the session for your remote employees.
View Program
Active Employee Engagement
Recommended Location: New Haven Hotel, New Haven
Learn how to better engage your team members with the half-day training program, Active Employee Engagement. You can try this skill development workshop at any indoor venue in Connecticut. The New Haven Hotel, for example, comes with two executive boardrooms where you could work with a facilitator.
View Program
Top Coaching & Consulting Solutions for Popular Connecticut Locations:
While team building activities can give your group a boost of energy and improve relationships, they may not offer long-term results for deep-rooted workplace issues. Coaching and consulting can help your group develop sustainable solutions.
Unique Challenges Consulting
Recommended Location: Water's Edge Resort & Spa, Westbrook
Located in Westbrook, Connecticut, the Water's Edge Resort & Spa provides a perfect shoreline destination for executive retreats. From providing on-site meals and refreshment breaks, to setting up your audio-visual equipment, the hotel staff can help with any of your meeting requirements. Make the most of your time at this venue with a Unique Challenges Consulting session, and get to the heart of your workplace culture challenges.
View Solution
Change Management Consulting
Recommended Location: Saybrook Point Inn & Spa, Old Saybrook
Do you want to bring in a leadership coach to help your team overcome a unique business challenge? With Change Management Consulting, our leadership coaches will come to any meeting facility or venue in Connecticut, including the Saybrook Point Inn & Spa, to help your executives become more aligned.
View Solution
Leadership Team Cohesion Consulting
Recommended Location: Avon Old Farms Hotel, Avon
Meetings at Avon Old Farms Hotel are anything but business as usual. This venue has five boardrooms that combine modern elegance with rustic charm to provide groups with a wholly original atmosphere. Here, your group can learn how to hone their management skills with a Leadership Team Cohesion Consulting program.
View Solution
Why Choose Outback for Your Event in Connecticut:
Recommended
Our activities and programs have been rated '10/10' by corporate groups including Coca-Cola, Intel and Microsoft.
Flexible
Choose from over 60 flexible team building, training, and consulting options to fit your budget, group size, time frame, and location.
Fast
Find what you need fast. Speak with someone right away and receive a custom proposal before your deadline.
Featured Customer Case Studies:
Find out how customers like you have found a solution for a variety of events by partnering with our team.
Need Help Choosing an Activity or Program for Your Corporate Group?
Fill out a simple form
to speak with a team building expert
Receive expert advice
on the activities best-suited for your group
Build a stronger team
with the solution of your choice in Connecticut