Corporate Escape Rooms
Try one of our "escape room" experiences designed especially for corporate groups.
Activity Level: LOW
Group Size: 10 – 500
Event Duration: 1 – 2 HOURS
Best Venue: INDOOR
Team Size: 3 – 15
Seasonal: YEAR-ROUND
Corporate Escape Rooms is recommended by organizations, such as:
What Are Corporate Escape Rooms?
Corporate Escape Rooms are indoor activities available anywhere in North America, any time, and for any group size. Your team will be challenged to uncover hidden clues and solve a series of puzzles that require collaboration, creative problem solving, and thinking outside the box.
Two Escape Room Themes to Choose From: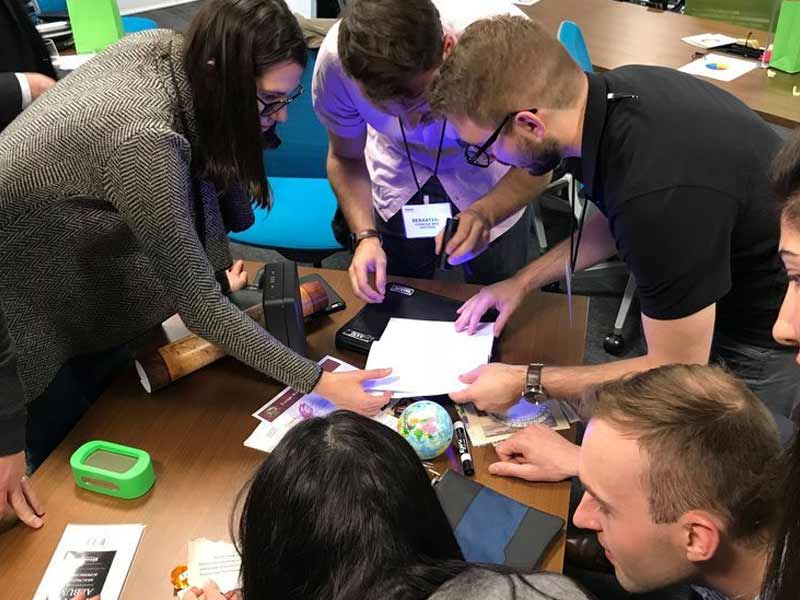 Jewel Heist
Who will be the first to find the stolen jewels? In order to crack the case, your team will need to quickly uncover the hidden clues and then solve a series of brain teasers that require collaboration, creative problem solving, and thinking outside the box.
The Mummy's Curse *NEW*
Uncover the secrets of Ancient Egypt to retrieve the talisman and lift the mummy's curse! Using mysterious items provided, your team will be challenged to strategize, problem solve, and communicate as you solve a series of puzzles… before time runs out.
Here's How It Works…
1
Our team will come to you, and transform any indoor space into an escape room experience
2
Once time starts, your team will need to search the room for hidden puzzles and clues
3
Work together to solve all the challenges before the time runs out!
The Perfect Activity for Groups Who Are:
Brainy
Always up to play a game of Cranium or tackle a Sudoku puzzle, your team loves a good brain teaser. They enjoy challenging themselves mentally, especially as a group.
Social
Mixing up departments and personalities is no problem for your group. Colleagues enjoy working with each other, and they aren't afraid to laugh at themselves.
Collaborative
Your team is looking for an activity where you can all work together, help each other out, and practice your collaboration skills.
What's Included with Your Corporate Escape Rooms:
Materials
All hidden clues, items, and props

All puzzles, ciphers, and lockboxes

All accessories and decorations
Hosting
On-site hosts to run your event

All set up and tear down

Awards ceremony to end your event
Customer Support
Pre-event telephone communication

Full-service event-day package

Post-event follow-up and support
$6,495 minimum investment
Also Available for Remote Teams!
Looking to keep your remote team engaged, connected, and social while working from home?
Check out our virtual escape room game designed specifically for remote teams!

Available for remote teams of up to 1,000+ individuals.
Want to Learn More About Corporate Escape Rooms?
Fill out a simple form
to speak with a team building expert
Receive a free quote
and detailed proposal about your event
Get ready
for your own personal escape room experience