In-Person & Virtual Team Building in Yukon
Choose from more than 60 Yukon-based team building, training, and consulting options, recommended by over 14,000 corporate groups.
Recommended by Organizations in Yukon, Such As:
What Does Your Team Need?
Team Building in Yukon Yukon, Made Easy!
Are you planning a team building activity or training program in the city of Yukon? You don't need to settle for something basic – you can do something fun, unexpected, and local.
When you partner with our team, you can also find effective and engaging training and consulting programs in Yukon to meet your group's needs.
Check out the top recommended activities and programs for popular locations and venues in Yukon.
What Clients Are Saying:
Client Feedback Highlights
Various clients express why they love working with Outback Team Building & Training.
Various Clients
Great communication from beginning to end
Your team was great to work with. Great communication from beginning to end – well-organized and, even though we had an unexpected time crunch, our facilitator was able to improvise and speed things up to accommodate our request. Thank you for such a fun event!
SC Johnson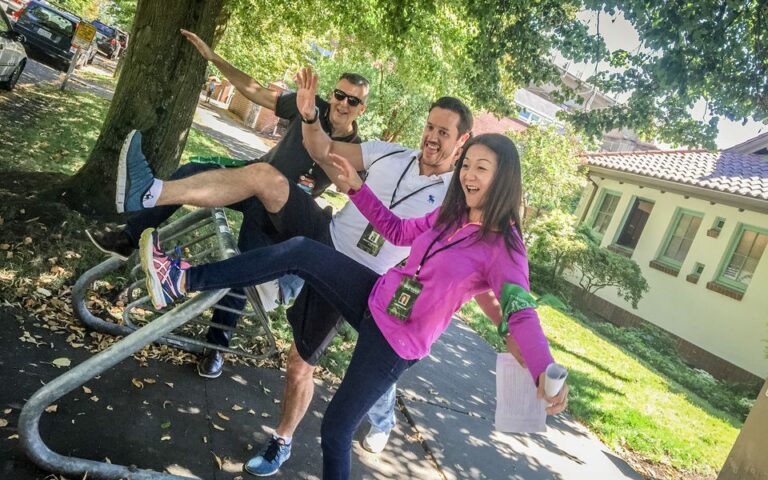 Fantastic fun, lots of laughs, and great team building
Feedback from the entire group was that the event was fantastic fun, lots of laughs, and great team building. Everyone would highly recommend it. All of my contacts at Outback Team Building & Training were excellent, timely, and fun to deal with.
Sleep Country Canada | Wild Goose Chase
How can you not have benefit?
Corporate Castaways was definitely of benefit and value. When a group of individuals gain respect for the strengths of their team members and understand their weaknesses and learn to work with them, how can you not have benefit? Thanks so much for bringing the event together; you are professionals all the way!
Global TV | Corporate Castaways
Top Team Building Activities for Popular Yukon Locations:
Team building activities are designed to keep your employees entertained, engaged, and motivated. They can be used to improve employee engagement and morale, or add a fun element to staff retreats.
Domino Effect Challenge
Recommended Location: Westmark Conference Center, Whitehorse
Nestled along Miles Canyon and the Yukon River is the Westmark Conference Center, a modern meeting facility that would be perfect for hosting your next indoor event. The space here totals over 7,000 square feet, which is perfect for large-scale team building activities like Domino Effect Challenge. In this event, groups will have to work together to create one giant interconnected machine.
View Activity
Corporate Castaways
Recommended Location: Mountain View Golf Club, Whitehorse
Yukon's premier golfing destination, the Mountainview Golf Club is world-renowned for its stunning views and alpine landscapes. Here, your group can take over part of the course for a Corporate Castaways activity and put your teamwork to the test. This is a great chance to exercise your mental and physical capabilities in a battle to become the ultimate team building champions.
View Activity
Urban Fear Factor
Recommended Location: Downtown, Whitehorse
From the S.S. Klondike to the North End Gallery, there is a ton to see and do with your team in the capital of Yukon territory. Explore everything that Whitehorse has to offer with a smartphone scavenger hunt like Urban Fear Factor, where groups see who can complete the most photo and video challenges before time runs out. It's a great way to see the city, from Wood Street all the way down to Lewes Boulevard.
View Activity
Other Team Building Activities in Yukon:
With six different types of activities to choose from, you can find a solution that fits the needs of your group.
Top Training & Development Programs for Popular Yukon Locations:
Employee training and development programs can be a great way to help your team strengthen bonds and sharpen their skills.
Productive Feedback and Performance Reviews
Recommended Location: Edgewater Hotel, Whitehorse
Are you looking for a training and development session in Whitehorse? Outback Team Building & Training offers more than 15 half-day skill development programs in the Yukon, including Productive Feedback & Performance Reviews. Our facilitators will come to wherever your team is meeting, including venues like the Edgewater Hotel's Windsor Boardroom.
View Program
Coaching Fundamentals
Recommended Location: Canada's Best Value Inn-Downtown Hotel, Dawson City
Book your next corporate training event at Canada's Best Value Inn-Downtown Hotel in Dawson City, and your team will surely be impressed by the venue. The hotel's main building contains a fine dining room, lounge, and meeting room facility that would be perfect for a skill development session like Coaching Fundamentals.
View Program
Conflict Resolution
Recommended Location: Canada Games Centre, Whitehorse
The Canada Games Centre is located at the north end of the Valleyview neighbourhood, which makes it easily accessible for teams staying in Whitehorse. This community and recreation centre has several multi-purpose rooms which you could rent out for an experiential learning program like Conflict Resolution. Your team will be able to improve their selling techniques in a session that is tailored for your business.
View Program
Top Coaching & Consulting Solutions for Popular Yukon Locations:
While team building activities can give your group a boost of energy and improve relationships, they may not offer long-term results for deep-rooted workplace issues. Coaching and consulting can help your group develop sustainable solutions.
Unique Challenges Consulting
Recommended Location: St. Elias Convention Centre, Haines Junction
The St. Elias Convention Centre offers a convenient meeting facility against the backdrop of Mt. Martha Black, right on the edge of the Kluane National Park & Reserve. The rooms at this venue range in size from 340 to 4,000 square feet, but for a smaller session like Unique Challenges Consulting you might want to try the EMO Room, which can seat up to 20 people.
View Solution
Change Management Consulting
Recommended Location: Northern Lights Centre, Watson Lake
Right on the border between Yukon territory and British Columbia is Watson Lake, a small town that is home to the famous Sign Post Forest. And in the middle of Watson Lake is the Northern Lights Centre, a unique facility built to feature the amazing phenomena known as "aurora borealis." During the day, you can try a Change Team Coaching session here with your team, and then watch as the night sky lights up with spectacular colours.
View Solution
Leadership Team Cohesion Consulting
Recommended Location: Palace Grand Theatre, Dawson City
The Palace Grand Theatre is a historical landmark in Dawson City that harkens back to a simpler time. The main theatre area of this venue will transport you back in time to the early days of the gold rush, and is sure to inspire your team's creativity. You can also take advantage of a smaller on-site boardroom for a Leadership Team Cohesion Consulting session with your team.
View Solution
Why Choose Outback for Your Event in Yukon:
Recommended
Our activities and programs have been rated '10/10' by corporate groups including Coca-Cola, Intel and Microsoft.
Flexible
Choose from over 60 flexible team building, training, and consulting options to fit your budget, group size, time frame, and location.
Fast
Find what you need fast. Speak with someone right away and receive a custom proposal before your deadline.
Featured Customer Case Studies:
Find out how customers like you have found a solution for a variety of events by partnering with our team.
Need Help Choosing an Activity or Program for Your Corporate Group?
Fill out a simple form
to speak with a team building expert
Receive expert advice
on the activities best-suited for your group
Build a stronger team
with the solution of your choice in Yukon