In-Person & Virtual Team Building in Saskatoon
Choose from more than 60 Saskatoon-based team building, training, and consulting options, recommended by over 14,000 corporate groups.
Recommended by Organizations in Saskatoon, Such As:
What Does Your Team Need?
Team Building in Saskatoon Saskatchewan, Made Easy!
Are you planning a team building activity or training program in the city of Saskatoon? You don't need to settle for something basic – you can do something fun, unexpected, and local.
When you partner with our team, you can also find effective and engaging training and consulting programs in Saskatoon to meet your group's needs.
Check out the top recommended activities and programs for popular locations and venues in Saskatoon.
What Clients Are Saying: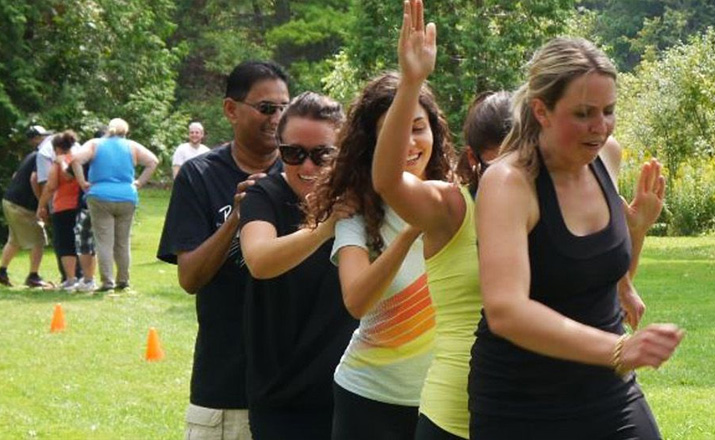 It matched our objectives really well!
The facilitator did a great job! He represented your company in a very professional manner and kept the group of 36 engaged. It was a very strong activity that was fun and brought the group together! We had a lot of comments about it being a fun and well organized event…and it matched our objectives exceptionally well!
Agrium | Picnic Party Games
It went off without a hitch
The Amazing Chase event in Saskatoon was very popular and everyone enjoyed it immensely. The super competitive ones raced off while others enjoyed the few hours outside and engaged in the station events. The team building aspect was there, and that was the highlight and added the most value. Everyone had a good time and it went off without a hitch.
BASF | The Amazing Chase
Client Feedback Highlights
Various clients express why they love working with Outback Team Building & Training.
Various Clients
Great team building enjoyed by all
The event had fun challenges that got everyone involved and outside of their comfort zones. It was great team building enjoyed by all, and we had a blast! Very prompt service – you organized everything within a couple of days.10/10!
Bourgault Industries
We couldn't have had a better experience!
This group was professional, organized, and fun to be around. We couldn't have had a better experience!
Prairie Wealth Management
Top Team Building Activities for Popular Saskatoon Locations:
Team building activities are designed to keep your employees entertained, engaged, and motivated. They can be used to improve employee engagement and morale, or add a fun element to staff retreats.
Corporate Castaways
Recommended Location: Kiwanis Park
Have you ever wondered what it would be like if your team was on the TV show Survivor? With Corporate Castaways you can find out how your colleagues perform in a wilderness competition, complete with all sorts of mental and physical challenges. Try this outdoor activity at Kiwanis Park, a beautiful Saskatoon location overlooking the South Saskatchewan River.
View Activity
Charity Bike Buildathon
Recommended Location: Saskatoon Inn & Conference Centre
With an indoor team building activity, you can have a fun and exciting group experience without leaving your office or meeting location. The Saskatoon Inn & Conference Centre would be the perfect place for this type of event,such as the Charity Bike Buildathon, with 18 separate conference rooms that could host your group.
View Activity
Other Team Building Activities in Saskatoon:
With six different types of activities to choose from, you can find a solution that fits the needs of your group.
Top Training & Development Programs for Popular Saskatoon Locations:
Employee training and development programs can be a great way to help your team strengthen bonds and sharpen their skills.
Clear Communication
Recommended Location: Radisson Hotel Saskatoon
How confidently can your team communicate? With a half-day training program on Clear Communication, employees can learn useful tips and techniques for sharing their ideas and opinions without being misunderstood. Try this session at a venue like the Radisson Hotel Saskatoon, and you'll be able to enjoy over 16,000 square feet of event space.
View Program
Accelerated Selling
Recommended Location: Ramada Saskatoon
Ramada Saskatoon is conveniently located only a few minutes away from John G Diefenbaker International Airport, which is great if you have team members coming from out of town. Plan an Accelerated Selling skill development session here, and you can enhance the way your sales team interacts with customers.
View Program
Custom Training
Recommended Location: O'Brians Event Centre
The O'Brians Event Centre has a unique combination of amenities that set it apart from any other facility in Saskatoon. Well-known as a concert venue, this is a huge space that can fit up to 1,000 people for a Custom Training program. Bring in a facilitator to address your specific business challenges, and explore new ways of learning with experiential exercises and hands-on opportunities.
View Program
Top Coaching & Consulting Solutions for Popular Saskatoon Locations:
While team building activities can give your group a boost of energy and improve relationships, they may not offer long-term results for deep-rooted workplace issues. Coaching and consulting can help your group develop sustainable solutions.
Strategic Focus Consulting
Recommended Location: Sheraton Cavalier Saskatoon Hotel
This hotel is located on the riverbank in downtown Saskatoon, and includes multiple boardrooms with panoramics view of the city. Bring your leadership team here for a Strategic Focus Consulting session, or any other type of management consultation, and get expert advice on your business plans for the future.
View Solution
Unique Challenges Consulting
Recommended Location: Wanuskewin Heritage Park
Wanuskewin Heritage Park offers one of the most unique and culturally significant venues in the city of Saskatoon. For a Unique Challenges Consulting session here, you might want to book The Awi Room. It's perfect for small meetings, and includes a full wall of floor-to-ceiling windows along with an attached outdoor patio.
View Solution
Change Management Consulting
Recommended Location: Park Town Hotel
The Park Town Hotel is located in the heart of downtown Saskatoon, right next to the Ukranian Museum of Canada. Here, you'll find everything you could possible need for a Change Management Consulting session, including audio-visual equipment, flipcharts, and conference phones for attendees who are dialing in.
View Solution
Why Choose Outback for Your Event in Saskatoon:
Recommended
Our activities and programs have been rated '10/10' by corporate groups including Coca-Cola, Intel and Microsoft.
Flexible
Choose from over 60 flexible team building, training, and consulting options to fit your budget, group size, time frame, and location.
Fast
Find what you need fast. Speak with someone right away and receive a custom proposal before your deadline.
Featured Customer Case Studies:
Find out how customers like you have found a solution for a variety of events by partnering with our team.
Need Help Choosing an Activity or Program for Your Corporate Group?
Fill out a simple form
to speak with a team building expert
Receive expert advice
on the activities best-suited for your group
Build a stronger team
with the solution of your choice in Saskatoon