15 Leadership Retreat Activities to Try in 2023
When you're picking leadership retreat activities, each one should be strategically selected to meet a specific goal. In this article, you'll learn about 15 leadership retreat activity ideas you can try and the outcomes each one will provide.
Leadership retreats are vital to the success of your organization, and the right leadership retreat activities can make the difference between a good event and a great one.
With thoughtful planning, your leadership retreat will help to:
Grow the leaders of your company to future-proof your business
Equip your leaders with the skills they need to lead strong teams and support a successful organization
Facilitate connection, collaboration, and communication between team leads and departments
Create alignment on your company's purpose, mission, vision, and values
The key to success?
Setting specific goals for your event and then strategically selecting leadership retreat activities that will bring them to fruition.
Feeling unsure where to start? Fear not.
Below, you'll find an extensive list of leadership retreat activity ideas alongside the skills and goals they'll focus on so that you can ensure your event creates a valuable and long-lasting impact.
Picking Leadership Retreat Activities: 12 Key Skills and Outcomes to Focus On
When you're deciding on leadership retreat activities, nothing should be selected at random. Your leadership team's time is incredibly valuable. So, it's important to make sure you're filling your retreat schedule with activities that will benefit them.
That's why every leadership retreat activity you choose should be picked with a specific outcome in mind.
This can include:
Problem-solving
Personal and professional wellness
Team building
Leadership skill-building
Conflict resolution
Organizational transformation
Company culture and growth
Employee engagement
Trust-building
New technology
Strategic planning
Brainstorming
Each organization will have its own unique set of goals to achieve or skills that its leadership team could benefit from practicing.
So, before picking your leadership retreat activities, spend some time getting introspective about what you'd like to get out of your retreat. Set goals for what you'd like your team to take away from their time together. From there, you can reverse-engineer those goals to choose the right leadership retreat activities.
15 Leadership Retreat Activities to Try in 2023
Now that you've determined what you want to achieve, it's time to start picking leadership retreat activities for your event.
Here are 15 options to consider—as well as the types of skills they'll help develop and the goals they'll help achieve.
1. Play Some Icebreakers
Skills practiced: Trust building, company culture and growth
For most leadership teams, their connections are strictly professional. That's no surprise considering they're primarily interacting in a professional capacity.
But reinforcing your professional bonds with interpersonal relationships is essential to working effectively together. Knowing your colleagues on a human level makes for a more tightly-knit team.
That's why it's wise to chat through some icebreaker questions that will help your leadership team get to know each other better.
These can be funny, unique, debatable, and beyond. Here are a few options to consider:
Do you love working from home or in the office? Is there a balance of both that you like best?
Where do you work most frequently from at home? Your office? Your kitchen table? The backyard? Your bed?
Can you give a tour of your office space?
Be honest, how often do you work from bed?
What does your morning routine look like when working from home?
How many cups of coffee, tea, or beverage-of-choice do you have each morning?
What is one thing on the very top of your bucket list?
If you're not from this city, why did you end up here?
What is your guilty pleasure?
If you could change anything about the way you were raised, what would it be?
What's the craziest thing you have ever done?
If you had a million dollars, what would be the first thing you bought?
What's your favorite thing about your job?
What's something you are really proud of accomplishing?
What's something interesting about your family history?
Have you ever been in a movie, TV show, or play? What was your role?
If you could hang out with any cartoon character, who would you choose and why?
If you could be in any movie, what would it be and what character would you play?
Which actor would you want to play you in the movie about your life?
What book did you read that changed your life the most?
If you could see one movie again for the first time, what would it be and why?
You have your own late-night talk show. Who do you invite as your first guest?
What would the title of your autobiography be?
What is your favorite thing to do locally?
If you could either live where it only snows or the temperature never falls below 100 degrees, which would it be?
If you could live in any country, where would you live?
If you could be any supernatural creature, what would you be and why?
If you were a vegetable, what vegetable would you be and why?
If you had to lose all your memories, which one would want to lose last?
What are your biggest phobias?
If you were left on a deserted island with either your worst enemy or no one, which would you choose? Why?
What would be the most surprising scientific discovery imaginable?
If you could add anyone to Mount Rushmore, who would it be and why?
If someone offered you a million dollars to give up your smartphone forever, would you do it?
What's your cellphone or computer wallpaper?
If you were a superhero what would your superpower be and why?
What's the best piece of advice you have ever been given?
What's the best advice you've ever given?
If you could be guaranteed one thing in life (besides money), what would it be?
Would you rather go for a run or go for a hike?
Would you rather watch a TV show or watch YouTube?
Would you rather be on a survival reality show or dating show?
Would you rather be a detective or a scientist?
Would you rather go to the movie theater or watch a movie from home?
Would you rather live in a remote destination or the heart of a metropolitan city?
Would you rather have telekinesis (the ability to move things with your mind) or telepathy (the ability to read minds)?
Would you rather be forced to sing along or dance to every single song you hear?
Would you rather be in jail for five years or be in a coma for a decade?
Looking for even more icebreaker questions you can tap into for a leadership retreat activity? Check out our list of 400+ team building icebreaker questions.
2. Hire a Guest Speaker
Skills practiced: Specialized skills, new technology
Consider hiring an external speaker as a leadership retreat activity—someone who can offer specialized knowledge and experience on the topics you want to cover. You can also think about having an external person moderate discussions or activities to reduce unintended bias—a realistic possibility when an internal staff member leads.
You can also use external speakers to provide presentations that motivate or otherwise encourage your leadership team. The speaker you choose can vary based on the retreat's theme or the types of skills you want to promote within your team. They may represent experts in your industry or an expert in an area of professional development, such as leadership, creativity, or diversity and inclusion.
Hiring a guest speaker can be a big and challenging job. So, if you're not sure where to start, check out our resource: 10 Considerations for Picking Guest Speakers for Corporate Events.
Skills practiced: Critical thinking, collaboration, communication
Being a leader is fraught with unique and unexpected challenges, and being able to overcome them as a team is critical to the success of your organization.
That's what makes Hollywood Murder Mystery such a valuable team building activity for CEOs and senior executives.
In this activity, a famous actress is found murdered. So, you'll need to put your problem-solving skills to the test as you share theories, collaborate, and think outside the box with your fellow investigators.
Together, you'll review case files and evidence including police reports, coroners' reports, photo evidence, tabloids, interrogations, and phone calls as you determine the motive, method, and murderer and bring justice for the victim.
4. Group Discussions
Skills practiced: Problem-solving, brainstorming, organizational transformation, strategic planning
Focus on taking some time to facilitate a structured conversation where leaders can discuss key issues facing the company, share ideas and experiences, and brainstorm solutions.
This is critically important to understanding each person's perspective and coming up with innovative ideas for how to overcome challenges.
It's also helpful in reducing silos between departments that may not communicate as openly as they could.
5. Goal Setting
Skills practiced: Organizational transformation, company culture and growth, brainstorming
Goal setting is a critical leadership retreat activity because it provides an opportunity to collectively set new internal and external objectives and milestones for your organization with its key players at the table.
You could focus on goals like:
Building stronger relationships and trust among team members
Identifying and addressing communication challenges within the organization
Improving overall team performance and productivity
Setting specific goals and action plans for each department or team within the organization
Each organization will have its own unique set of goals, but discussing them together in a collaborative format can get everyone on the same page and working towards the desired outcome.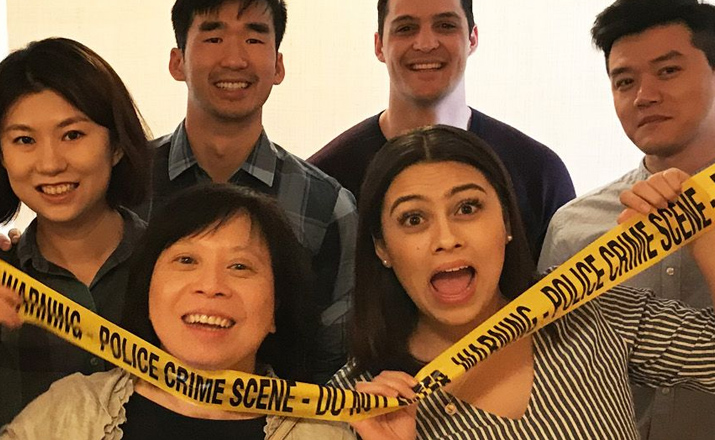 Skills practiced: Problem-solving, critical thinking, communication
Clear communication, critical thinking, and problem-solving skills are among the most critical points of focus for any leadership team.
With a team building activity like CI: The Crime Investigators, you'll need to think analytically and work together to collect evidence, decipher clues, and solve a mysterious and deadly crime.
7. Creative Thinking Sessions
Skills practiced: Innovative thinking, critical thinking, problem-solving, company culture and growth, strategic planning
Creative thinking sessions can be incredibly beneficial as leadership retreat activities. These sessions are designed to:
Foster innovation
Generate new ideas
Help leaders think outside the box
This can include:
Brainstorming: This is a classic creative thinking exercise that can be used to generate new ideas and solutions. Leaders can break into small groups and brainstorm on a specific topic or challenge facing the company. They can share their ideas and build on each other's contributions.
Design Thinking: Design thinking is a structured process for solving problems and developing new ideas. It involves understanding the needs of the end-user, generating ideas, prototyping, and testing. This process can be used to develop new products or services or to improve existing ones.
Innovation Games: You can try out interactive exercises that can be used to generate new ideas and insights. They can include activities such as "what-if" scenarios, "reverse thinking," or "mind mapping." These games can be a fun and engaging way to get leaders thinking creatively.
Role-Playing: This can be used to help leaders think about a problem or challenge from a different perspective. They can take on different roles and try to see the situation from different viewpoints. This can help to uncover new insights and generate new ideas.
Creative Problem Solving: This is a structured approach to problem-solving that involves defining the problem, generating ideas, evaluating alternatives, and implementing solutions. It's a valuable process that can be used to solve complex problems facing the company.
When used as a leadership retreat activity, creative thinking sessions can help leaders to generate new ideas, solve complex problems, think more creatively about the challenges facing the company, and foster a culture of innovation and creativity among their leadership team.
Skills practiced: Collaboration, communication, strategic thinking
Doing good deeds has been scientifically proven to reduce stress and make people feel better. That's why philanthropic team building activities are a big hit among senior executives.
Our Wheelchairs for Charity activity fuses philanthropy with real-world learning outcomes to help participants give back while sharpening their business skills. Together, teams will build and test fully functional wheelchairs before donating them to those in need.
This exercise is great for helping leadership team members increase their empathy while enhancing their communication and collaboration skills.
Skills practiced: Decision-making
Each day, leaders are faced with dozens of decisions, ranging from minor to major. That means the ability to make effective decisions quickly and confidently is of paramount importance.
With the Confident Decision Making training and development program, your leadership team will learn best practices for tackling complex choices, avoiding common decision-making traps, and becoming more accountable.
Skills practiced: Communication
Strong communication skills are vital to the success of any leadership team, but they aren't always intuitive.
With a training and development program like Clear Communication, your senior executives can learn to hone their verbal and written communication skills, interpret and understand non-verbal communication signals, and enhance how they communicate during conflicts and decision-making.
These skills can be seamlessly exercised in a team building activity such as Code Break or Clue Murder Mystery.
Skills practiced: Company culture and growth, communication, trust-building, employee engagement
The most successful teams have one thing in common: a positive team dynamic. In order to create this, it's important for leaders to be able to build a framework for what a successful team looks like, enhance the way their employees work together, and, most importantly, the way they contribute to the team.
With the Positive Team Dynamics training and development program, your leadership team will learn to get aligned, create increased productivity, build trust, collaborate effectively, and take on greater ownership and accountability.
13. Scavenger Hunts
Skills practiced: Teamwork, communication, collaboration
Business leaders spend a lot of time outside of their comfort zones. It's the nature of the roles.
So, company retreat activities don't always have to be about work. Sometimes the best goal is to focus on getting you and your colleagues together and having some fun in an energetic and engaging way.
Scavenger hunts are a great option for this. Here are a few you might like.
In this scavenger hunt activity, your team can get out of the office and explore your city in a whole new way. Together, your team will need to think outside the box, bond as a group, and venture outside into the community in order to complete a series of fun and unique photo and video challenges.
You'll need to tackle a list of challenges, including:
Snap a photo of your team standing next to a large public clock that reads EXACTLY 22 minutes past the hour
Search for a business that is open 24 hours 7 days a week and snap a photo of a team member with the sign showing the business' hours
Snap a photo of a teammate next to a vehicle that has an "antique" or "collectible" license plate
Head to a nearby playground and take a photo of your entire team balanced on a seesaw. Here's the catch: everyone's feet must be off the ground while balanced!
Find a hopscotch course or use a piece of chalk to create your own on a sidewalk. Record a 5-second video of a teammate hopping and completing it
Stage a martial arts battle with another team in a nearby park. Record a 5-second video of both teams facing each other (with plenty of space between you) and doing the famous crane kick
The team with the most points when time runs out will be named the winners!
Neighborhood Scavenger Hunts
Looking for a scavenger hunt idea that helps build a sense of community and create bonds? Send your team out into their neighborhood (or the one surrounding your office) to chat with people and ask for help finding items on the list.
They can look for things like:
A unique building in the neighborhood
Landmarks in the neighborhood
The number of houses in the neighborhood
Visit a veteran who lives in the neighborhood
Specific types of businesses in the neighborhood
With this scavenger hunt idea, make sure your employees inform everyone they talk to that they're on a scavenger hunt and ask if they'd be willing to help. Some people may not want to be involved, and that's their prerogative.
Scavenger Hike
Nothing helps your team to relax and recharge like getting out into nature. So, consider heading out for a day hike or nature walk with your group and doing a scavenger hunt while you're at it.
Before you go, create a list of things your team will have to take photos of. This could include:
Birds
Animal tracks
A tree growing out of a tree trunk
A stream of river
A waterfall
Berries
Wildflowers
A cave
Trail markers
A beautiful view
Fruit on trees
Rock formations
Spiderwebs
Trash or litter you can clean up
Fallen branches or trees
This will vary depending on where you live, but you can tailor your hiking scavenger hunt list to align with your geographical location.
Want even more scavenger hunt ideas? Check out our list of free and paid scavenger hunt team building activities for workgroups.
14. Celebrate Success
Skills practiced: Team building, company culture and growth, employee engagement
As much as it's important to plan ahead, set goals, and practice essential leadership skills, it's equally important to reflect upon and celebrate team successes thus far.
This can be as simple as calling out the hard work and achievements of individual leaders or teams. It can also be as significant as reviewing the company's success throughout the past year and recognizing how individual achievements made it possible.
Celebrating success allows you to reconnect your leadership team with its mission and reinforce its sense of purpose within the organization.
15. Recharge with Wellness
Skills practiced: Personal and professional wellness
Your company's leaders work hard and they deserve a bit of downtime away from the daily stresses and pressures they contend with.
That's why wellness-focused leadership retreat activities can be incredibly valuable for your leadership team and their mental and physical well-being.
You can incorporate things like:
Mindfulness Meditation: This is a simple and effective way to reduce stress and improve mental clarity. A guided meditation session can be led by a trained professional or can be done using an app or audio recording.
Yoga or Stretching: A gentle yoga or stretching session can be a great way to start the day and help participants to loosen up their muscles and improve their flexibility.
Nature Walks or Hikes: Spending time in nature has been shown to have a positive impact on mental health and well-being. A guided nature walk or hike can be a great way to get some fresh air, exercise, and connect with nature.
Massage or Spa Treatments: Professional massage or spa treatments can be a luxurious way to help participants unwind and reduce stress.
Fitness Activities: Group fitness activities, such as a fitness class, boot camp, or team building activities like outdoor challenges or scavenger hunts, can be a fun way to promote physical wellness.
Nutrition Workshops: Learning about healthy eating and nutrition can be an important part of overall wellness. A workshop led by a nutritionist or chef can provide useful tips and advice on healthy eating habits.
Mindfulness and Stress Management Workshops: Workshops on mindfulness, stress management, and other wellness-related topics can provide participants with tools and strategies for improving their overall well-being.
When it comes to wellness-focused leadership team activities, there's one thing that's important to remember: everyone has varying physical abilities and comfort levels, so make sure you're picking something that works for everyone.
Hosting leadership retreats is essential to ensure your team remains engaged and performing at a high level—and, in turn, can confidently and comfortably lead your organization to success.
But when picking leadership retreat activities, be sure to align them with your overall goals for the event in order to ensure that every minute of your retreat is maximized.
Does your organization host leadership retreats for its executive team? If so, what type of leadership activities do you enlist and why? Share your thoughts in the comments section below!
---
Learn why team building is an incredibly valuable leadership retreat activity idea.
If you've got questions about how team building can enhance your leadership retreat, reach out to an Employee Engagement Consultant.
---
Subscribe To Our Newsletter
And Stay Updated