CASE STUDY: How Applebee's Helped Connect More Than 100 Colleagues Who Had Never Met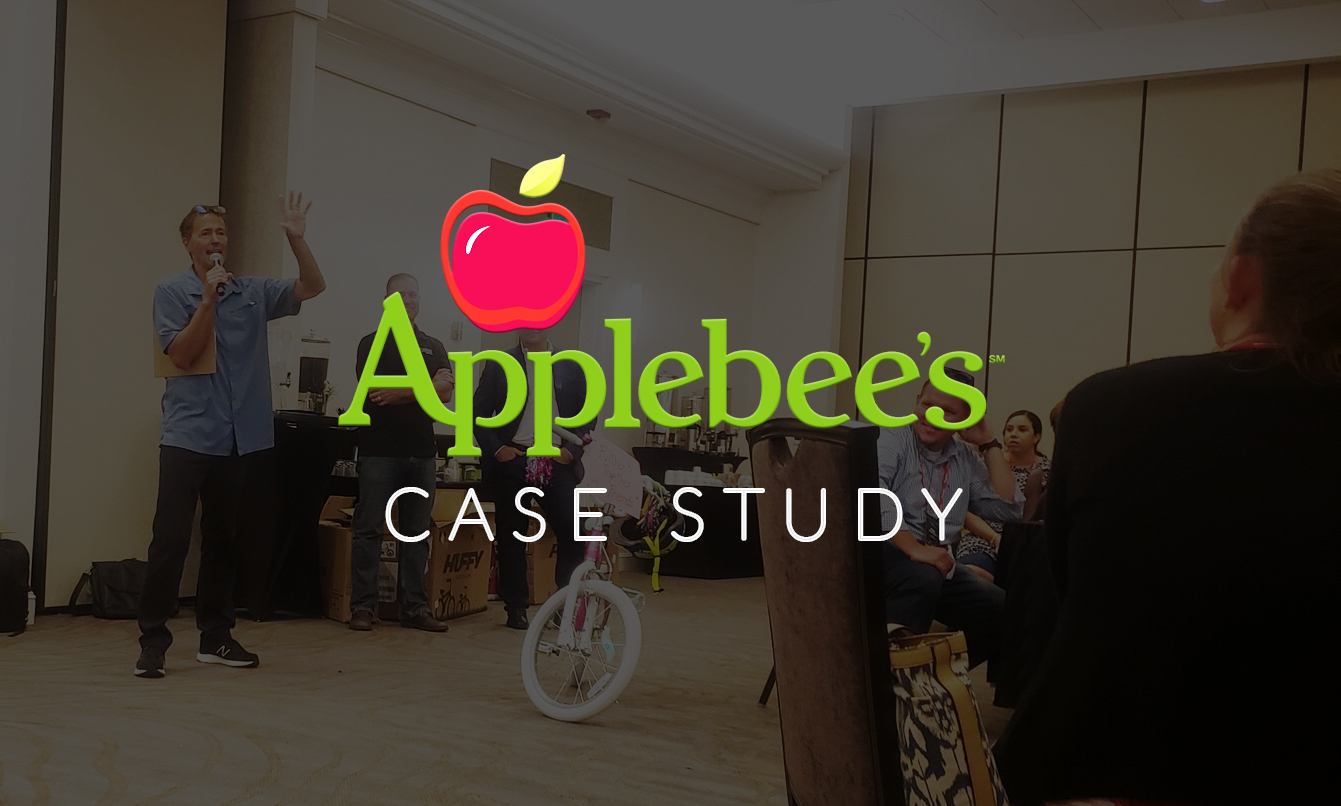 How do you build connections, support learning, and encourage knowledge sharing between 100 team members from across two states who have never met one another? Here's how Applebee's did it.
"I'm a Senior Operations Analyst with a focus on operations performance analysis, budgeting, and performance reporting. I also help support our Corporate Events team in putting together conferences and divisional meetings."

– Carrie Riddile, Senior Analyst, Operations, Applebee's
---

THE CHALLENGE – Help more than 100 Applebee's Team Members – including its General Managers, Area and Regional Directors, Executive Leadership Team, and CEO – gathering for the first time get to know each other and build even stronger connections.
QUICK FACTS:
Help a group of more than 100 Applebee's Team Members who had never all been together in one room get to know each other better
Create an opportunity for networking and fostering connections between General Managers, Regional Directors, Senior Executives, and Support Team Members
---

Applebee's had more than 100 team members, including General Managers from 69 restaurants in North and South Carolina, coming together for the first time in 19 years. The company wanted to use this time to facilitate networking opportunities, align on operations business focuses, celebrate wins, and create an opportunity for the team to build even stronger connections.
"This was the first time in over 19 years that all of our General Managers from our 69 locations were able to come together and attend a larger conference," explains Carrie Riddile, an Applebee's Senior Operations Analyst. "So, we wanted to make sure we offered them the opportunity to create better connections and networking through a fun and energetic team building exercise.
We also just went through an acquisition in December where Applebee's parent company, Dine Brands, acquired our group of restaurants. This event was also a way for us to connect with the leadership team from our new headquarters from Glendale," Carrie continues.
Applebee's corporate operations are spread across a large geographical area, operating regionally in smaller restaurant groupings. This means it can be challenging to help foster strong connections – but it's a task that Carrie knows is extremely important to the success of their business.
"Our division is split into smaller areas containing between five and nine restaurants in a close geographical location," explains Carrie. "And while those areas are separate geographically, it's important that we help build connections, create learning, and share ideas across our entire Division.
We have division-related goals we strive to achieve each year. And in order to do so, it's helpful to share ideas, learnings, and experiences among our larger division instead of operating in isolated groups," she continues.
As she began planning for this conference, Carrie was fully aware it was going to be a massive and important undertaking. The large attendee list was going to include some of the company's key stakeholders.
"We had over a hundred people attend the event," Carrie elaborates. "There were 69 General Managers as well as Area Directors and Regional Directors of Operations. We even welcomed a large support team of Executive Leadership from our headquarters in Glendale, California, which included our company's Chief Executive Officer, Chief Marketing Officer, and Vice President of Human Resources."
While she knew it was critical that she help facilitate networking opportunities and encourage connections between the conference's attendees, Carrie had to determine exactly how to go about doing it.
"We knew we wanted to do something fun, energizing, and philanthropic during our conference," Carrie says. "We were bringing together a bunch of people who hadn't ever been together in one room. And, as you can imagine, when you only have a day and a half together, you need to create connections fairly quickly. So, we knew we wanted to do a team building exercise of some kind."
And although Carrie had put together smaller meetings in the past, it had never been anything of this magnitude.
"This conference was going to include the largest team building event we'd ever done," Carrie admits. "Usually we have regional meetings and smaller director-level meetings that have some cross-functional, smaller group work. But we had never done a multi-hour team building exercise in any of our meetings prior to this one."
To add another level of challenge to her planning process, Carrie had to work with a jam-packed schedule for event day, in a city they'd never had a meeting in.
"This GM conference had a really, really tight agenda," Carrie explains. "But we knew that team building was going to be very important. So, we put that pretty high up the list as far as importance and amount of time we wanted to allocate to it."
That's when Carrie started looking for a company that could help her facilitate a team building event and came across Outback Team Building & Training.
"I wasn't sure where to start so I just Googled 'team building in Hilton Head'," explains Carrie. "Your company came up first and I looked at your website, went through some of the videos and testimonials, and knew that you were probably the perfect fit."
She reached out to our team and was quickly connected with her Employee Engagement Consultant, Melissa Bowen, who helped her get the event planning underway.
---

THE SOLUTION – A Charity Bike Buildathon that would help the team get better acquainted and align perfectly with Applebee's values.
QUICK FACTS:
Enlisted a Charity Bike Buildathon philanthropic team building activity that aligned closely with Applebee's value of giving back to their Communities
Participants got to know each other better while practicing valuable business skills
---

Following Carrie's outreach to Outback Team Building & Training, the process quickly got underway.
"It was all very easy," Carrie says. "I got a call from Melissa within 24 hours, she set me up with some ideas, videos, and information on pricing and event options. She had a quote to me within 48 hours, which was very impressive."
She adds: "The videos were extremely helpful because, while the testimonials were very detailed and organized, just being able to see an actual event helped me understand how it was all going to look and feel. Everybody was extremely responsive. It felt organized and professional, and that helped ease a lot of my stress about the situation."
When Carrie and Melissa first began their discovery conversation, they explored a number of options that might be a great fit for the conference – but quickly identified philanthropic team building activities as a preferred option.
"We were pretty wide open as far as what type of activity we wanted," Carrie admits. "We had never done a team building activity this large and involved before and we didn't want to create preset parameters. I wanted to be open-minded. When I looked through a lot of your testimonials and videos, I noticed you offered a few philanthropic team building activities. The theme of our conference was 'Further Together' and giving back to our communities is very important to us. So, we realized doing a team building exercise where we could all work together to give back to the community would be a huge win. And it looked like fun!"
Understanding they wanted to do a charitable team building activity, Carrie and Melissa quickly narrowed in on the perfect activity – a Charity Bike Buildathon.
"We first looked at Wheelchairs for Charity," says Carrie. "And then we just thought about how most of the philanthropic efforts we focus on each year are geared towards kids. We realized being able to give a child their first bike fit really well with that – and that it's also a pretty powerful moment in a kid's life to be part of."
In addition to aligning with Applebee's company values, Carrie also realized there were tangible business benefits with a Charity Bike Buildathon.
"I really liked the bike event because it could get a large group working collaboratively to build something with their hands to impact the life of a child in a positive way," explains Carrie. "And I loved the sales pitch aspect of it. For our managers, one of their major focuses is to build sales. The more they can get comfortable with up-selling and presenting, the stronger their sales building skills will be. The Charity Bike Buildathon was just a natural fit."
With the team building activity decided on, it was time to lock down the event planning process and get their activity underway.
"The whole process was amazing," says Carrie. "Everybody at Outback knew exactly what they were doing. Your team was very professional, very organized, and well put together. Because we had your team available to facilitate the entire event, I didn't have nearly the level of stress I would have had if we'd had to plan and facilitate it."
And when event day finally came, the Charity Bike Buildathon went off without a hitch.
"The event itself was amazing!" exclaims Carrie. "Our event host, Bradley, really knew what he was doing. He had actually arrived at the venue the day before and walked me through how the process would work. I knew after talking to him that I didn't have to worry about anything. The team building activity was actually the only part of the conference that the planning team wasn't highly involved in, and it was nice to be able to just sit back for a minute and let somebody else run the program. We really appreciated Bradley, his energy, enthusiasm, and organization. He was outstanding; he was very clear in his instructions, he was funny, he kept it very light. It was just really, really well done."
---

THE RESULTS – Applebee's Charity Bike Buildathon hit the mark, helping colleagues get to know each other while developing valuable business skills and allowing the team to give back to a cause near to their hearts.
QUICK FACTS:
"10/10" feedback from the customer
Event guests walked away with valuable connections with their colleagues and ample opportunities for knowledge sharing and communication
---

When the conference was over, Carrie heard great things about the entire experience.
"The feedback that we got was overwhelmingly positive," Carrie shares. "Out of the entire conference, the team building exercise was posted on Facebook the most by our restaurant managers. The overall feedback on the event was that they had a bunch of fun and that they loved getting to develop relationships with their peers and build bikes with them. I didn't hear a single negative or neutral piece of feedback about the event. Everybody loved it."
She happily adds: "I think the most impactful moment of the team building exercise was to be able to give bikes to the kids who came on site. We had about 15 to 20 teams and we ended up building 22 bikes to donate to The Boys and Girls Club of Hilton Head."
And, as she had expected, the business exercises the team participated in as part of their activity were a valuable part of the experience.
"The bike presentations were a really good exercise for our team," Carrie says. "Our President and one of the representatives from The Boys and Girls Club – the charity we chose – acted as the judges for the sales pitches. It was a great way for our team members to build their skills and have fun," she continues.
The Applebee's Teams really went all-out when it came to getting creative for their presentations.
"I saw pictures from the different pitches," Carrie recalls. "There were people who used music, there were people who did skits. It was really a creative way for them to think outside the box. And now they can use those skills to build sales when they head back to their restaurants."
When it was all said and done, Carrie came to notice some subtle – but important – changes among her colleagues.
"I could tell that the conference had a positive impact on people," Carrie says. "I think it gave some added energy to the teams and infused even more positivity, more excitement about our brand. I know some of that can be attributed to the team building exercise."
After her experience with Outback Team Building & Training, Carrie had nothing but positive things to say.
"This was an excellent experience," Carrie shares. "Everybody we talked to at Outback was extremely customer service-oriented, organized and very professional. Our team building activity had the exact impact that we wanted to give to our team."
---

Looking for Employee Engagement Solutions to Help Your Team Build an Even Stronger Rapport?
Learn more about team building, training and development, and coaching and consulting solutions available for your organization.
Subscribe To Our Newsletter
And Stay Updated