14 Charitable Team Building Activities for Workgroups
Doing good for others makes you feel good, and employees expect volunteer opportunities from the organizations they work for. With charitable team building activities, you and your workgroup can give back to those in need while gaining all of the personal and professional benefits that come with doing so.
There's no doubt about it: doing good deeds and giving back to others is a great thing for everyone, and charitable team building activities are the perfect way to do it.
In a study by Jorge Moll and colleagues at the National Institute of Health, researchers found that when people give to charities, it activates regions of the brain associated with pleasure, social connection, and trust, creating a "warm glow" effect.
And in our increasingly socially conscious society, this desire to help others transcends beyond our personal lives and has even taken on professional implications:
93% of employees who volunteer through their company report being happy with their employer
54% of those who are proud of their company's contributions to society are engaged at work
So, if you're looking for ways that to engage your team, support them in their desires to do some good, and give back as an organization, check out these 14 charitable team building ideas for workgroups.
City, Park, or Beach Clean-Up
You can do some good in the world without it costing your company a dime—all it takes is some time and a little team spirit.
Consider heading out into your community—whether to a city, park, or beach—and doing a cleanup.
Pick up trash, collect recycling, and spend the day tidying up the local public amenities that everyone enjoys.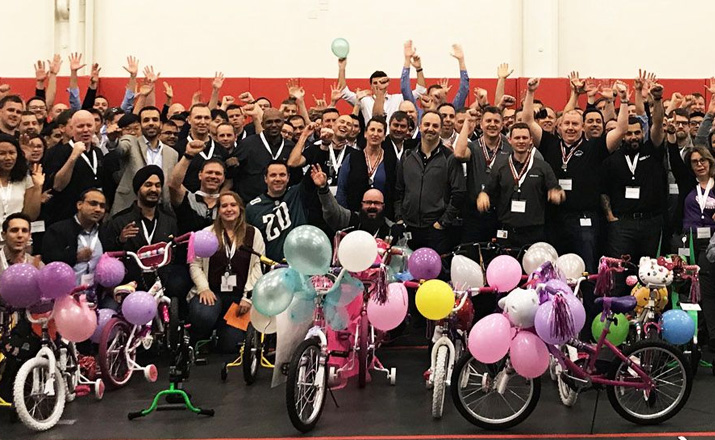 Want a way to give back while helping your team hone valuable business skills at the same time? Then you'll love this.
With Charity Bike Buildathon, your workgroup will split into teams to build, decorate, and put together an advertising campaign for children's bicycles.
After each group has presented their bike, you get to donate them all to a charity of your choice!
Philanthropy isn't always about donating money or goods. Sometimes, it can just be about spreading some cheer and goodwill.
Random Acts of Kindness fuses the scavenger hunt concept with a philanthropic twist. This team building activity gets teams racing against one another to try and complete as many good deeds as possible before time runs out.
Host a Food or Toy Drive
As an organization, you've got a ton of connections—and so do your employees. If you're up for a bigger project, hosting a food or toy drive can be a great way to make a difference for those in need.
It's not a complicated process to put one together, it just requires a little bit of planning.
Here's how to approach it:
Choose a Charity: Decide on a food bank or charity you'd like to support, then contact them to inquire about what they need. It's also wise to ask if there's anything they can't accept.
Decide on Your Location: You can choose to host a one-day drive where everything brings their donations to a specific location, or you can set up multiple collection points and accept donations on certain days over an extended period of time.
Promote your food drive: Make sure to get the word out there about your drive. You can do this using email and social media, printing flyers, and personal outreach.
Collect and Deliver Donations: Once you've collected all of your donations, drop them off to the charity you're supporting.
Thank your donors: Make sure to follow up and thank everyone who contributed! It's often nice to send an overview of the drive, including how many items were donated and who benefitted.
Having your team work together to host the drive is also a valuable exercise in event planning, so your charitable initiative also has a team building and business-benefitting aspect.
Class is in session with this philanthropic activity where your team will be tested by a variety of education-themed teamwork challenges, share a special bonding experience, and support local children in need by competing to fill backpacks with school supplies and donating them to charity.
Volunteer at a School
There's another way that you and your team can make a difference in the lives of the professionals of the future: by volunteering at a school. This can include mentoring students, giving a presentation, or volunteering in a classroom. If this is something that your team would be interested in, reach out to your local school board and inquire about if and whether they need support as well as what your team might be able to do to help.
Host an Office Clothing Donation Day
If you've ever looked in your closet and felt overwhelmed by the volume of clothing you own, you're not alone—there's a good chance your colleagues have felt the same way.
And here's the good news: clearing out some of those unneeded garments can free up some room in your closet while also making a big difference in the lives of others.
Consider hosting a clothing donation day at your office and then donating it all to those in need.
This is especially helpful if you can donate clothes that people can wear to job interviews or at work.
If you want to make an even bigger impact, you can extend the donation invitation to friends and family.
Help Build Homes for Local Families
Looking to make your team's philanthropic efforts even bigger and more impactful? Take on an ambitious volunteer project such as collaborating with Habitat for Humanity to help build homes for local families.
Together with your workgroup, you can get hands-on and literally contribute to building the foundation of a better future for families in need.
Habitat for Humanity builds decent and affordable homes around the world in partnership with families in need of a decent place to live. Habitat homebuyers help build their own homes alongside volunteers and pay an affordable mortgage.
Volunteer at an Animal Shelter
In the United States alone, nearly 6.5 million animals enter shelters each year—but only 3.2 million are adopted.
Not only does this make life hard for the animals who don't find new homes, but it also puts an incredible strain on the staff and resources at the approximately 3,500 shelters across the country.
You and your colleagues can help make a difference in the lives of these animals and the people who care for them by volunteering at your local shelter.
If you're not sure where to start, check out this comprehensive directory of animal shelters in each state The Humane Society of the United States.
With Hardware Harmony, you and your teammates can have fun, make music, and give back to those in need—all at the same time.
Using tools, parts, and hardware, your group will need to collaborate in order to create musical harmony. Together you'll collect household items, rehearse, and put on your very own concert before donating everything to charity.
Make and Donate Blankets
There are an estimated 582,000 people experiencing homelessness in the United States. If you're looking for ways to provide them with support, getting your team together to hand-make and donate blankets is an amazing way to help—especially in states where the winters are harsh.
To do so, you'll need:
Different types and colors of fabrics
Sewing machines
Needles
Threads
Scissors
Measuring tapes
Any additional decorations you might want to add to your blankets
Once you've got your materials assembled, that's where the team building aspect comes in. Break out into teams and task each team with:
Dividing the work of sewing, cutting, and decorating
Set parameters for the size of the blanket each team should aim for
Regroup once everyone's done making their blankets to discuss what they learned from the experience
Since you'll need some space to work, it might be worth taking this team building activity off-site.
Host a Sustainable Living Challenge
Giving back doesn't always require dollars and cents—it can also involve everyone doing their own small part to make a difference in the long term. And sustainability is a perfect place to start.
To start, create a list of simple sustainability initiatives each person can implement into their daily lives. This can include things like:
Setting up a recycling bin
Creating a compost pile
Carpooling to work
Shutting off lights when they don't need them on
Investing in reusable straws and portable cups
Switching over to eco-friendly lightbulbs (at home and in the office)
Drinking tap water rather than buying bottles
Purchasing locally-grown food to cut down on the emissions required to transport groceries
Using reusable bags
Take public transit
The opportunities are virtually endless. Your organization can also provide a small stipend to help employees implement these changes.
In order to get everyone engaged, create a weekly checklist with each sustainability initiative listed. Ask each employee to check off which items they implemented or maintained during that week. Then have the group meet each week to discuss the steps they're taking and what they've learned in doing so.
Host a Sports-Related Fundraiser
Is your team into fitness? Or are there members of your team who would like to focus more on their health and wellness?
If so, consider hosting a goal-oriented, sports-based fundraiser.
For instance, you could plan a 5-kilometer or 10-kilometer run that employees can sign up for if they're interested. Give them some time to prepare and encourage them to take some time out of each work week to train together.
Your employees can raise funds along the way and then donate them to the charity of your group's choice.
Spread Some Joy at a Nursing Home
Loneliness is one of the biggest challenges faced by the elderly. In fact, about 50% of people over the age of 80 report that they're experiencing loneliness.
Nursing homes are essential because these facilities provide basic medical services and supervision to residents. But human interaction is always an added benefit.
By visiting and spending some time with the elderly, you and your team members can brighten residents' days and spread a little joy.
You can do things like:
Lead an exercise class
Wash windows
Help with gardening
Answer the phone at the reception desk
Help with fundraising
Distribute mail
If this is something your team would be interested in, look for local nursing homes in your areas then reach out and see how you might be able to help.
In the modern workforce, employees want to work for organizations that believe in giving back to those in need and provide opportunities to do so. And with these 13 charitable team building activity ideas, you and your colleagues can do some good, make a difference in the lives of others, and enjoy all of the personal and professional benefits that come with doing so.
Does your organization do any charitable team building? If so, let us know what kinds of things you do in the comments section below!
---
Learn about charitable team building activities your workgroup will love.
If you've got questions about you can give back to those in need while building stronger employee engagement, reach out to an Employee Engagement Consultant.
---
Subscribe To Our Newsletter
And Stay Updated