The 27 Best Employee Benefits Packages and Perks for 2021
In today's ultra-competitive employment market, your employee benefits packages and perks can be the difference between keeping great talent and losing it to your competitors. Here's what you need to know.
There's no question about it: 2020 has been an unprecedently challenging year for organizations and employees. Unemployment is high, morale is low, and uncertainty is looming. And looking ahead at 2021, this makes a strong case for finding ways to motivate, incentivize, and appreciate your employees beyond just a paycheck—and employee benefits packages and perks are a great way to do this.
Even under normal circumstances, employee benefits packages play a huge part in where great talent chooses to work. And when you factor in just how beat down employees are feeling this year (a recent survey found that 74% of employees are concerned about at least one aspect of their wellbeing as a result of the virus), it's clear that making sure your employees feel cared for is going to be critical in keeping great people at your organization.
And yet, that same study found 40% of employees say their employer is not currently offering employee benefits programs that help and 69% feel having a wider array of benefits would increase their loyalty to their employer.
The writing is on the wall: if you want to retain and attract great talent in 2021 and beyond, you need to prioritize employee benefits packages and perks.
Here's what you need to know.
---
---
The 27 Best Employee Benefits Packages and Perks for 2021
Since the onset of the COVID-19 pandemic, the world is changing—in some ways, potentially forever. That means you'll need to consider both some tried and true employee benefits packages and perks as well as some new ones that are more reactive to the times.
Here are some ideas.
---
4 Fundamental Employee Benefits Packages and Perks
For organizations looking to get their employee benefits packages and perks kick-started, there are a few fundamental ideas to keep in mind:
---
4 Mental and Physical Wellness-Focused Employee Benefits Packages and Perks
There's a growing trend towards supporting the mental and physical wellbeing of employees. That's why incorporating the following employee benefits packages and perks can be a great call for originations.
---
4 Development-Focused Employee Benefits Packages and Perks
Investing in the development of your employees benefits both the team member and the organization. By offering opportunities for employees to develop their skills and increase their knowledge, you'll show them you care while also making them more valuable to your company.
---
2 Family-Focused Employee Benefits Packages and Perks
For employees with children, juggling work with raising their kids can be a difficult juggling act, making family-focused employee benefits packages and perks a huge plus for your team members.
Childcare Support: With both parents working in the majority of U.S. households, childcare is a need-to-have rather than a nice-to-have. But here's the rub: it can cost upwards of $700 per month and for many families, this can be a devastating financial blow. This is a great opportunity for employers to kick in and help out with childcare costs, in turn making life a lot less stressful for parents.


Parental Leave: The average length of full-paid parental leave in the United States is about four weeks. This is extremely short – in fact, among 41 first-world countries, the United States offers the lowest amount of paid parental leave. This means that, for expecting parents, extended paid parental leave can not only relieve a huge burden, but it can also allow for more time spent with their newborns during a key developmental period.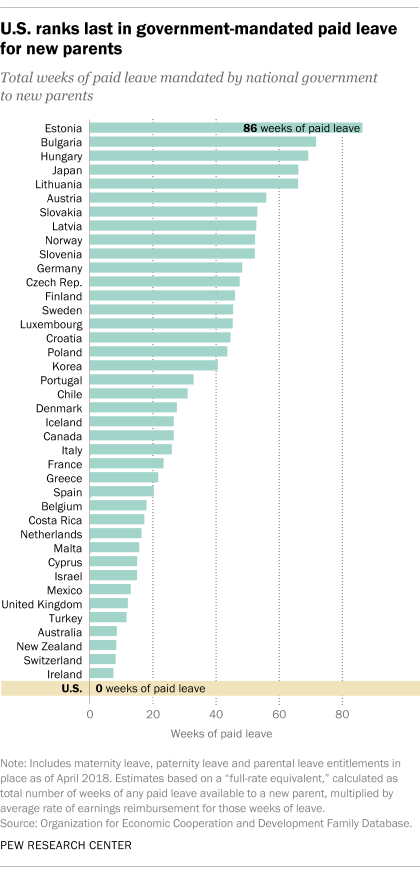 ---
9 Outside-the-Box Employee Benefits Packages and Perks  
If you're looking to adopt some progressive employee benefits packages and perks, these are some ideas that are becoming increasingly popular with organizations across the world.
Unlimited Vacation Time: Many employers are opting to offer unlimited vacation time for their staff. This means that time off is based on getting the job done rather than by allotted vacation days. We would advise that you maintain a stringent performance management system in order to execute this properly. 


Cell Phone Support: Do your employees need a cell phone to do their jobs? If so, consider looking into a corporate plan and giving your employees work phones. This way, you won't be asking them to put business calls and data use towards business-related calls and texts. 


Pet Insurance: There are a lot of pet owners in the U.S. In fact, 67% of American households (or about 85 million families) own a pet. And yet, less than 3 million are insured. This means that tens of millions of families run the risk of being up against massive vet bills in the event that something goes wrong with their pet. If you want to go above and beyond for your pet-owner employees, consider subsidizing pet insurance or seeking opportunities to offer group rates. 


Pet-Friendly Office Space: A small but meaningful perk for many employees is the ability to bring their pets to work. This can also be a benefit for non-pet owners who enjoy quality time with furry friends. Please note, though, that it's extremely important to ensure that having pets in the office won't impact any employees with allergies. And if it might, make sure pets are only in the office on days when allergy-sensitive employees are away from the office or working from home. 


Animal Therapy: As an extension of the previous point, scheduling animal therapy sessions from time-to-time is another way to make sure your workplace has access to the mental health resources it needs. Who doesn't feel better after playing with a puppy for a few minutes? 


Fridays Off: As an extension of paid time off, offering your employees Fridays off—even if it's just during the summer months or once per month—is a great way to keep people motivated and excited. Just like the idea of unlimited vacation time, we'd recommend making this subject to getting the job done and treating it as a privilege, not a right. 


Work-from-Home and Flex Time: The COVID-19 pandemic has made remote employment significantly more common than it was even a year ago. But it's also worked out well for many companies—such as Twitter, Shopify, and many other massive organizations that have chosen to permanently decentralize their operations. Looking ahead, implementing long-term work-from-home or flex time options is a great perk for employees and can also be a cost-saver for organizations. If you're not sure how to implement or manage this, don't worry—we've got you covered with comprehensive resources that can teach you how to transition your team to remote work, tips and tools to equip remote employees for success, and how to keep remote employees engaged.  


No Official Work Hours: The ultimate extension of flex time, implementing a "no official work hours" policy can allow employees to achieve a significantly better work-life balance. The best way to do this would be to base it on getting the job done rather than measuring hours of output and for it to be contingent on being available for scheduled meetings and accessible by phone during "regular" business hours.   


Annual Retreats: If COVID-19 safety protocols allow it, you might want to consider hosting an annual retreat. The great thing about annual retreats is that you even have the opportunity to travel to some incredible corporate retreat destinations to get some quality time with your colleagues in a new and exciting setting.
---
5 Monetary and Material Employee Benefits Packages and Perks
Sometimes, the most valuable employee benefits packages and perks come in the form of monetary compensation or material items.
Recognition, Gifts, and Rewards: After a tough year, it's more important than ever to reinforce your appreciation for your staff and all of their hard work. One great way to do this is to focus on employee recognition, gifts, and rewards. If you'd like to learn more about how to do this, we created a comprehensive Online Guide: Why Employee Recognition Matters and How You Can Provide It.


Retirement Savings Plan Matching: As full pensions continue to become a rarity in the North American work force, more and more employees are contending with the idea of having to fund their own retirement. As an employer, anything you can do to help them get there will go a long way in retaining your people. For example, a tax-advantaged 401(k) plan can be an excellent way to motivate employees to save for retirement. Offering to match contributions up to a certain amount is a big plus in the eyes of workers and can encourage them to stick with your firm.


Student Loan Repayment Assistance: Did you know that 44 million Americans have outstanding student debt totaling more than $1.5 trillion (yes, with a T)? While this is still a hotly contested point in today's politics, employers have an opportunity to help their staff reduce the debt they accrued as a means to get into the workforce. There may come a time when the government helps students and graduates to pay for their education but, in the meantime, it's a great opportunity for organizations to support their staff.


Performance Bonuses: While we did say that employee benefits packages and perks extended beyond just a paycheck, there's still a lot to be said for offering performance bonus for employees who meet or exceed their responsibilities. There are a ton of different types and structures for performance bonuses but the key thing is be clear on the what, why, and how of qualifying for a bonus and communicating it effectively to your team—then seeing it through.


Stock, Stock Options, or Equity: While this may not be applicable for all organizations, it's extremely beneficial to those that can. That's because offering stock options and equity give employees a sense of ownership in the success of the business and bolsters the emotional connection between your team and their work.
As the working world looks to move forward from an extremely difficult year, identifying and rolling out incredible employee benefits packages and perks will be a key driver of your organization's success in retaining and acquiring incredible talent and keeping your people engaged and inspired.

Do you offer any employee benefits packages and perks that we might not have included? If so, drop us a comment in the comments section below and let us know!
---
Learn About How Team Building, Training, and Coaching Solutions Can Be a Great Perk for Your Team
For more information about how your employees can benefit from team building, training, or coaching solutions, reach out to our Employee Engagement Consultants.
---
Subscribe To Our Newsletter
And Stay Updated