24 Spring Team Building Activities to Help Shake Off the Winter Blues [Updated for 2023]
As we finally put winter in our rearview mirrors, organizations have a great opportunity to help get their employees refreshed, re-energized, and excited for warmer weather and long days. And a spring team building activity is the perfect way to do it.
Updated: January 24, 2023
Spring is just around the corner!
And as the weather starts to warm up and the sun starts shining a little longer each day, it's time to start thinking about fun and engaging spring team building activities that you and your colleagues can use to help shake the winter blues.
So, whether your team works together in person or remotely, we've got some spring team building ideas we think you'll love.
---
---
14 Virtual Spring Team Building Activities   
Many employees are working in a remote or hybrid format these days, meaning they don't necessarily see each other in person all that often. But that shouldn't stop you from enjoying a virtual spring team building activity with your colleagues.
Here are 14 virtual team building ideas to consider for your remote workgroup. 
Team building and employee engagement don't always have to be centered around work.  
On the contrary, sometimes the best employee engagement happens in a casual setting where your team can get to know each other better outside of the parameters of their professional roles. 
With that in mind, you can gather as a group using your favorite video conferencing platform, like Zoom or Microsoft Teams, and enjoy some beverages together.
You could even try making fancy cocktails together. If that sounds like something your team might be into, check out this list of 16 spring cocktail recipes!
And if you're looking for even more happy hour ideas, check out these 35 Unbeatable Virtual Happy Hour Games for Workgroups.
It's long since been proven that corporate giving improves company culture. So, providing your team with the opportunity to give back to those in need is a sure way to help shake off those winter blues as spring comes around.
Team up with your colleagues for a Virtual Do-Good Games to do some good in the world and give back to those in need, all while having a blast. This is a morale-boosting virtual team building activity that transforms friendly competition into charitable donations.
The winter Olympics just wrapped up and the summer Olympics are still a few years away.
But you and your team don't have to wait! You can host your own Virtual Office Olympics.
With this virtual spring team building activity, it's a race to the podium for your workgroup who will put their teamwork to the test as they compete to complete a series of Olympic-style challenges and trivia.
Teams will race against the clock to complete challenges and earn the most points. Earning the Gold medal will require Olympian-like collaboration, communication, and competitive-spirit.
4. Participate in Online Fitness Clubs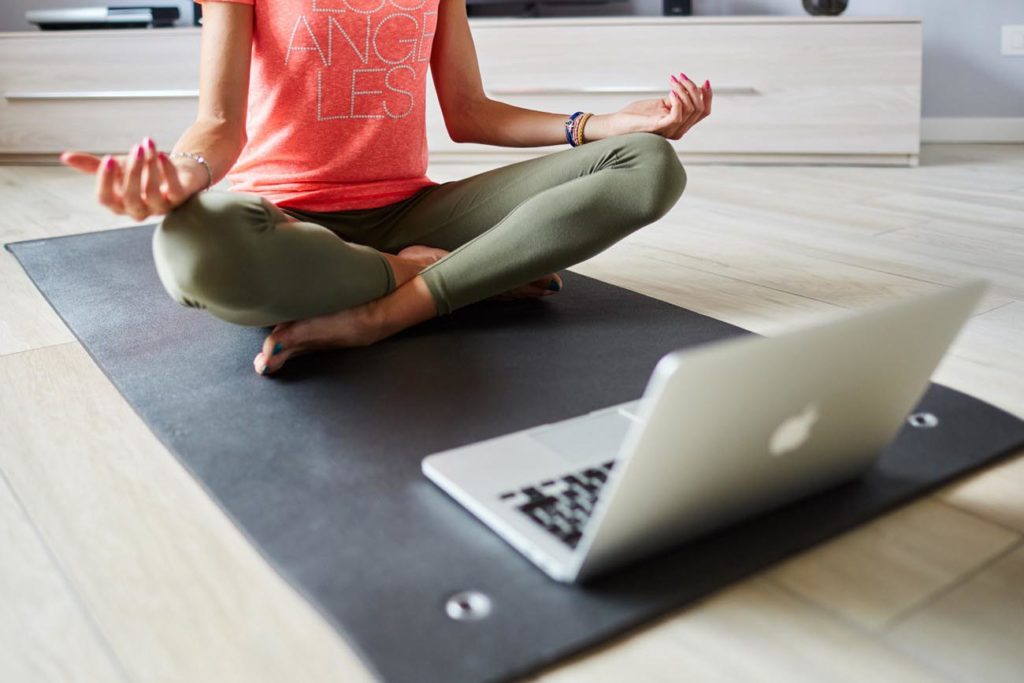 As we emerge from our winter hibernations, there's nothing more refreshing than getting our heart rates up and getting some blood pumping again.
Consider hosting online fitness clubs as a form of virtual spring team building activities. You can make these available to any employees who want to participate.
You can either host them yourself (if you're going this route, check out this list of 9 fun workout games to make your fitness routine more enjoyable) or bring in a professional, such as a yoga instructor or a personal trainer, to help guide your employees through the process.
5. Guess Whose Workspace
With so many employees working from home these days, it can be fun to test how well your colleagues know one another with a game of Guess Whose Workspace.
First, ask each member of your team to snap a photo of a part of their workstation that they feel represents them or their personality.  
After everyone has submitted their picture, host a video meeting. Share your screen and, one by one, have your group guess which item belongs to which team member. This will not only help everyone connect and get to know each other better, but it can also bring some laughter to an otherwise odd work situation. 
6. Put On a Spring Lunch and Learn
Take the momentum and refreshed energy of a new season and channel it into a learning opportunity for your team with a virtual lunch and learn.
When done right, you can host virtual lunch and learns that are equal parts enjoyable and educational and, most importantly, that your employees actually want to attend. 
While the goals, formats, and topics of virtual lunch and learns vary vastly, most offer a number of important high-level benefits, including:  
Strengthening your company culture  
Building team morale 
Promoting individual and team development 
Facilitating a culture of learning and knowledge-sharing 
Breaking down silos 
Providing valuable facetime for remote teams  
Creating awareness and strategies for everyday problems and issues 
Strengthening employee engagement and performance 
If you're wondering, we wrote an article on how to host a successful virtual lunch and learn.
7. Break the Ice in Time for Spring (pun intended)
Warm up those interpersonal bonds with a spring team building activity focused on helping team members get to know each other on a deeper level using icebreaker questions on a video conferencing platform.
If the idea of icebreaker questions conjures up images of a tacky pick-up line at a speed dating session or some cringeworthy "get-to-know-your-colleagues" game, that's completely understandable. But hear us out because the right team building questions and icebreakers can be a fun, engaging, and sometimes hilarious way to get acquainted with your coworkers. 
For inspiration, check out our list of The 300 Best Team Building Icebreaker Questions for Work.
Get together with your team and take a trip to "Hamish McDuff's" virtual pub. This hilarious Scottish pub owner is the legendary host of a trivia game that is perfect for your team's virtual happy hour fun! Hamish will host two rounds of virtual pub trivia, featuring four themed categories of your choice. With 20 category options to choose from, you'll be sure to find the perfect themes for your remote team – from Are You Smarter Than a 5th Grader to Sports, Food & Drink, or even Celebrity Real Estate.
If you're looking for more ideas like this, we also put together a list of 12 incredible virtual trivia games for work teams that you might like.
There's been a robbery! Someone has masterminded a heist to steal a priceless collection of precious jewels, and it's up to you and your team to recover them before time runs out.
Together, you'll need to uncover hidden clues and solve a series of brain-boggling challenges that require collaboration, creative problem-solving, and outside-the-box thinking. But be quick! The clock is ticking before the stolen score is gone forever.
Does your team have what it takes to outsmart the jewel thief?
Does your team have what it takes to win the Virtual Trivia Championship? In this virtual trivia team building activity, your colleagues will break into teams and turn the competition level up to ten as you challenge your wits, test your knowledge, and work your way through a list of trivia questions ranging from cities to movies, songs, objects, and even a round of Jeopardy-style challenges.
On that note, we wrote an article that covers the best free and paid Zoom games to play with colleagues if you're looking for other awesome ideas!
You might also enjoy these 15 Incredible Virtual Trivia Games for Work Teams.
St. Patrick's Day is on March 17! And one thing's for sure: it brings out the Irish in all of our hearts, no matter where we are in the world! So, this year, gather your remote team and celebrate Celtic culture with St. Patrick's Day Virtual Happy Hour, an immersive, interactive, and highly engaging virtual experience hosted by a professional actor. Together, you'll face a series of Celtic-themed challenges, including a buzzin' Irish trivia game, a Famous Irish Faces challenge, an Irish-themed "Would You Rather" conversation game, and even a few Irish pub song-based memory challenges. 
If you've ever wanted to take part in your own Family Feud-style competition, this is your chance! With Virtual Friendly Feud Social, you and your colleagues will break out into teams to compete through survey questions focused on culture and human nature.
And, as an added social element within the game, each round of questions will be followed by a guided social mixer where you'll have the chance to take part in a group discussion and more deeply explore the survey questions from the previous round.
The case is fresh, but here's what we know so far: we've got an up-and-coming actress who's been found dead in her hotel room following last night's awards show. We have several suspects, but we haven't been able to put the crime on any of them for sure yet.
Now, it's up to you and your remote team of virtual detectives to crack the case. Together, you'll review case files and evidence including police reports, coroners' reports, photo evidence, tabloids, interrogations, and phone calls as you determine the motive, method, and murderer and bring justice for the victim.
You'll need to put your problem-solving skills to the test as you share theories, collaborate, and think outside the box with your fellow investigators.
Your remote team has been transported into a pyramid cursed by a restless mummy. Now you must uncover the secrets of Ancient Egypt in order to lift the mummy's curse and return before the portal closes forever.
Your team's problem-solving, collaboration, and communication skills will be put to the test, as they race against the clock (and their peers) to solve the mummy's complex clues and puzzles.
Does your team have what it takes to lift this ancient curse, once and for all?
And if you're looking for even more virtual team building ideas, check out our list of 29 unique activities your group will love.
10 In-Person Spring Team Building Activities
As the pandemic continues to subside, many organizations are starting to bring their employees back to the office.
If you're one of them, you might want to consider hosting in-person spring team building activities.
Here are ten ideas we think you'll love.
1. Orienteering
There's nothing quite like getting lost to help a team come together, solve problems, build bonds, and tackle challenges.
And while you probably don't want to actually get your employees lost, you can simulate it with an orienteering-style spring team building activity.
Split your employees into groups, give them a map, compass, and series of clues to follow, then send them on their way to see if they reach their destination correctly. Have each group start from a different place, but with the same final destination. Traditionally this takes place in areas like forests, but it can work equally well in cities.
2. Host a (Socially Distanced) Picnic
If you're looking for a way to get together in person while still keeping a safe social distance, then you can't go too far wrong with a picnic in an outdoor area.
Find a park, field, or other outdoor space and remember to bring the essentials:
Blankets
Plates
Napkins
Cups
Cutlery
Cutting boards
Chairs
Balls and games
Also make sure to bring lots of snacks, condiments, and refreshments. You might even want to bring a mini portable grill (just make sure to check local fire safety regulations first) for cooking up some hot food.
And if you're looking to bring some extra fun to your picnic, consider a team building activity like Picnic Party Games where your group will split into teams to compete in themed photo and video challenges. For each challenge they complete correctly, they'll earn points. And the team with the most points when time runs out wins!
3. Scavenger Hunt
Scavenger hunts are one of the most popular types of spring team building activities. That's because they're a great excuse to get outside, have some fun, share some laughs, and burn off some energy. And as the weather starts to improve, your team will be thrilled to get out into the great outdoors.
You can either host a scavenger hunt yourself (if you're interested in doing this, check out our resource: The What, Why, and How of Team Building Scavenger Hunts) or you can work with a partner who can help you put them on.
At Outback, we've got our scavenger hunts down to an art.
In this scavenger hunt activity, your team can get out of the office and explore your city in a whole new way. Together, your team will need to think outside the box, bond as a group, and venture outside into the community in order to complete a series of fun and unique photo and video challenges.
Doing good for others has been proven to make people happier, so get your team outside for a charity-focused scavenger hunt. With Random Acts of Kindness, your team will perform good deeds in your community, complete fun challenges, and explore your city. 
Inspired by the popular reality TV show The Amazing Race – on which teams race around the world, with each leg of the competition requiring the groups to solve puzzles, interact with locals, and complete challenges – this interactive scavenger hunt has teams following clues around their city and taking on physical and mental challenges to move on to the next destination. With more teams in play, the stakes are even higher, and the competition is even more fierce.
4. Get Out for a Hike
If you're looking for a way to help your team bond in a non-work environment, consider getting out and going for a hike as a team.
Taking in some beautiful scenery and a breath of fresh air while chatting with your colleagues will be a refreshing change of pace for your group.
And if you're not sure where the best trails are in your area, don't worry. Tools like AllTrails.com can help you find the perfect hiking trail, anywhere in North America.
5. Water Balloon Toss
This classic spring team building activity is perfect for teams who are up for a challenge and aren't afraid of getting soaked.
If the weather is warm enough to allow it, break your team into pairs and give each pair a water balloon.
The goal of the game is to play catch with the water balloon without it breaking. For each successful catch, teams will take one step back from one another.
Whichever team is able to make the most successful catches wins!
Have you been having a hard time getting the idea of getting lost together out of your head since we mentioned it up there?
Then you're going to love Corporate Castaways.
If you've ever wondered how your team would handle being stranded on a deserted island together, then this activity based on the popular TV game show is for you. With Corporate Castaways, your group will split into "tribes" to collaborate and tackle fun physical and mental challenges. Each challenge is worth a unique number of points based on its level of difficulty, so each tribe will need to be strategic in how they complete them.
The team with the most points when time runs out will be crowned Corporate Castaways Champions!  
This hands-on spring team building activity takes you out on the high seas (or the local beach or swimming pool) and balances team building, business lessons, and, of course, fun. Your team will be challenged to build functional floating vessels out of nothing but cardboard and tape. Then, it's time to get in the water and test their handmade boats.
9. Volunteering
Giving back to those in need is incredibly good for team morale. Not only does it help benefit people who need it most, but it also helps lift the spirits of your employees by allowing them to do something good for somebody else.
You can consider crowdsourcing a cause to volunteer for from your team, or you can enlist a partner to help you facilitate a philanthropic team building activity.
The perfect balance of business lessons and philanthropy, Charity Bike Buildathon will bring your team together to collaborate with their colleagues, bond as a group, exercise creativity, put their business sense to work, and give back to their community. In this activity, teams will decorate and assemble bikes to be donated to kids in your community.
Class is in session with this philanthropic activity where your team will be tested by a variety of education-themed teamwork challenges, share a special bonding experience, and support local children in need by competing to fill backpacks with school supplies and donating them to charity.
If you love to get outside as the weather warms up, you're going to love Picnic Party Games. Our recommendation would be to pair this activity up with a BBQ or picnic to make it extra exciting.
In this activity, your group can split up into teams, pairs, or individuals. Together, you'll compete through an array of fun and high-energy challenges, collecting points for each one you complete. You can make this as competitive or as light-hearted as you'd like.
Some of the challenges you might get include:
Balancing Act: Have one teammate lay on the ground, place an uncapped bottle of water on their forehead, and record a 5-second video of them trying to stand up without spilling


Photo Booth: Collect whatever props are available and stage a photo booth beach shoot in the park, then position the image of the beach scene in the shot and snap a creatively posed team photo


Brain Freeze: Record a 5-second video of a teammate getting a brain freeze by drinking a cold bottle of water as quickly as possible


Head Rush: Snap a photo of a teammate doing an unassisted handstand or head stand
This is a great way to take your outdoor time up a notch.
As we finally put winter in our rearview mirrors, organizations have a great opportunity to help get their employees refreshed, re-energized, and excited for warmer weather and long days. And a spring team building activity is the perfect way to do it.
Have you ever hosted a spring team building activity before? If so, what did you do for it? Let us know in the comments section below!
---
Learn More About Spring Team Building Activities
If you've got questions about how the best spring team building activities for your workgroup, reach out to an Employee Engagement Consultant. 
---
Subscribe To Our Newsletter
And Stay Updated