9 Must-Try Small Business Team Building Ideas
As the leader of a small business, ensuring your employees are engaged, inspired, and connected with one another should be a key priority—and that's where these small business team building ideas come into play.
Team building isn't just essential for large organizations. On the contrary, it's equally as important—if not more so—for small businesses. The right small business team building ideas can do wonders for close-knit companies with fewer staff.
Why?
Small business team building ideas help to:
Build stronger connections between employees and teams that often work very closely together
Foster trust throughout the entire small business
Enhance communication and problem-solving skills
Boost engagement and retention
Encourage agility, innovation, and creative thinking that help small businesses thrive
So, if you're considering team building for your small business, we've got a list of amazing activities you can try today.
1. Scavenger Hunt
Why they're great small business team building ideas: Scavenger hunts promote collaboration, communication, and creativity while being adaptable to different budgets and locations.
These high-energy and engaging activities can be done pretty much anywhere, using any items, people, or places.
Here are a few ideas you'll love.
In this scavenger hunt activity, your team can get out of the office and explore your city in a whole new way. Together, your team will need to think outside the box, bond as a group, and venture outside into the community in order to complete a series of fun and unique photo and video challenges.
You'll need to tackle a list of challenges, including:
Snap a photo of your team standing next to a large public clock that reads EXACTLY 22 minutes past the hour
Search for a business that is open 24 hours 7 days a week and snap a photo of a team member with the sign showing the business' hours
Snap a photo of a teammate next to a vehicle that has an "antique" or "collectible" license plate
Head to a nearby playground and take a photo of your entire team balanced on a seesaw. Here's the catch: everyone's feet must be off the ground while balanced!
Find a hopscotch course or use a piece of chalk to create your own on a sidewalk. Record a 5-second video of a teammate hopping and completing it
Stage a martial arts battle with another team in a nearby park. Record a 5-second video of both teams facing each other (with plenty of space between you) and doing the famous crane kick
The team with the most points when time runs out will be named the winners!
Storage Locker Scavenger Hunt
Have you ever watched Storage Wars–the show where people bid on storage lockers and auction off the contents–and thought it would be cool to do on your own?
Even if you haven't, you can take our word for the fact that it looks like fun!
And with a storage locker scavenger hunt, you can do your own iteration of this show (without actually needing a storage locker to root through).
You can ask your team to find things like:
Old computers running on outdated operating systems. If the machines are functional, participants can take a picture of the start menu or a video of a team member using the computer.
Videotapes, cassettes, records, BlueRay movies, MP3 players, and Discmans (or even Walkmans!)
Old cell phones
Old magazines
Vintage clothing
Old photos of family members or friends
Old-school sportswear or gear
Your team can look search for items stored in their homes and share their findings with their colleagues.
Selfie Challenge
Looking for a fun and simple scavenger hunt for your team? Then you'll love the Selfie Challenge scavenger hunt.
The premise is simple: your group just needs to break into teams and head out into the city (or office or any other location you choose!) to take selfies that match a predetermined list.
To make this extra fun, we recommend making it last for a few days—or even a week—so that you can incorporate some really fun and interesting selfies, like:
On top of a mountain
At a zoo
In a bar
With your pets
When you first wake up
In a forest
By a lake
You can also include some quicker and simpler ones, such as:
With your team
By a statue
In a mirror
With a teammate's lookalike
Making a human pyramid
With a stranger
The opportunities are virtually endless for this team building scavenger hunt.
Scavenger Hike
Nothing helps your team to relax and recharge like getting out into nature. So, consider heading out for a day hike or nature walk with your group and doing a scavenger hunt while you're at it.
Before you go, create a list of things your team will have to take photos of. This could include:
Birds
Animal tracks
A tree growing out of a tree trunk
A stream or river
A waterfall
Berries
Wildflowers
A cave
Trail markers
A beautiful view
Fruit on trees
Rock formations
Spiderwebs
Trash or litter you can clean up
Fallen branches or trees
This will vary depending on where you live, but you can tailor your hiking scavenger hunt list to align with your geographical location.
Much like Wild Goose Chase, this scavenger hunt team building activity will have you embark on the ultimate urban adventure with your colleagues.
This entire activity is centered around city-themed challenges that will get you out and enjoying your neck of the woods from a whole new perspective. It's also a great option for teams who are out of town for conferences, annual retreats, or multi-day meetings.
For even more ideas, check out our list of 15+ scavenger hunt team building activities.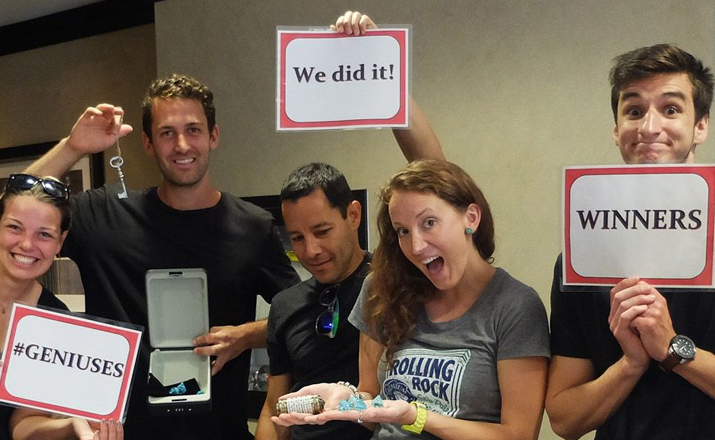 Why they're great small business team building ideas: Escape rooms encourage collaboration, problem-solving, and decision-making, in turn helping your team develop essential business tools in a fun environment.
Escape rooms are immersive small business team building experiences where your colleagues work together to solve puzzles and challenges to escape a themed room within a set time limit.
At Outback, we offer two fun Corporate Escape Rooms for small businesses.
Escape Room: Jewel Heist
Who will be the first to find the stolen jewels? In order to crack the case, your team will need to quickly uncover the hidden clues and then solve a series of brain teasers that require collaboration, creative problem solving, and thinking outside the box.
Escape Room: The Mummy's Curse
Uncover the secrets of Ancient Egypt to retrieve the talisman and lift the mummy's curse! Using mysterious items provided, your team will be challenged to strategize, problem solve, and communicate as you solve a series of puzzles… before time runs out.
3. Do Something Outside
Why it's a great small business team building idea: Outdoor adventures promote teamwork, trust-building, and stress relief, while providing a refreshing change of environment.
If your team has been longing to get out of the office, you can't go wrong with one of these outdoor small business team building ideas.
Split into teams and create a cardboard boat made out of just the materials provided – cardboard and tape. Team members will have to work together to engineer a functional boat that will float and sail across water without sinking. Once teams have finished making their boats, they will create a presentation to explain why their boat is the best, before putting their boats to the test. The final challenge will have teams racing their boats across the water!
Egg Drop
Break your team out into separate groups. Each group will be given a raw egg and supplies to build a protective contraption around the egg. Teams will design their contraptions with one objective in mind – to protect the egg from large falls. Supplies can include things like:
Newspaper
Tape
Pencils
Pipe cleaner
Bubble wrap
Rubber bands
Yarn
Allow teams 20-30 minutes to build their protective contraption. When time runs out, teams will put their contraptions to the test by dropping them all, at the same time, from a high ledge. Ideally, 20-30 feet high. If more than one egg survives the fall, have a tiebreaker by increasing the height until one egg remains!
Beach Volleyball
There's nothing like a little friendly competition out on the court to bring colleagues together. Head to a local beach, set up some nets (most beaches have nets and balls available to rent for a day – or bring your own), split up into teams, and… spike! To make things a little sillier – and a little less competitive – consider using a giant beach volleyball!
Incoming Tide Survival
In this activity, your team is "stranded" on a sandbank and has just 30 minutes before the piranha-filled tide comes in! In order to survive, your team must use ropes and metal or plastic poles to build a structure that holds them all above the ground at once. You don't actually have to time the activity with the flow of the tide, though – that notion is more meant to fit with the fun theme.
Catapult Launchers
Split into teams and, using materials such as popsicle sticks, rubber bands, and milk bottle caps, design and build your own catapult launchers – in 30 minutes or less. Then, line up side-by-side and see which team can launch items like oranges, water balloons, and eggs the furthest!
Perfect in between burgers at a company BBQ, this smartphone activity has teams complete as many goofy photo and video challenges as possible before time runs out. Some examples of challenges you can do in this activity include: 
Catapult Cuisine: Use a utensil to launch a bite-sized food item into another person's mouth from 10 feet away.
Tree Hugger: Snap a photo of someone hugging a tree trunk like a koala bear. Legs and arms must be completely off the ground!
Spoon Relay: Participate in a relay race while balancing a small rock on a spoon.
4. Give Back as a Group
Why it's a great small business team building idea: Volunteering fosters teamwork, empathy, and a sense of purpose, while also enhancing the company's reputation and social responsibility.
Your small business can make a big impact when you get together to do some good in the world. In fact, in our increasingly socially conscious society, giving back has become an essential criterion for employees choosing employers:
93% of employees who volunteer through their company report being happy with their employer
54% of those who are proud of their company's contributions to society are engaged at work
Here are a few charitable small business team building ideas you can try.
City, Park, or Beach Clean-Up
You can do some good in the world without it costing your company a dime—all it takes is some time and a little team spirit.
Consider heading out into your community—whether to a city, park, or beach—and doing a cleanup.
Pick up trash, collect recycling, and spend the day tidying up the local public amenities that everyone enjoys.
Want a way to give back while helping your team hone valuable business skills at the same time? Then you'll love this.
With Charity Bike Buildathon, your workgroup will split into teams to build, decorate, and put together an advertising campaign for children's bicycles.
After each group has presented their bike, you get to donate them all to a charity of your choice!
Philanthropy isn't always about donating money or goods. Sometimes, it can just be about spreading some cheer and goodwill.
Random Acts of Kindness fuses the scavenger hunt concept with a philanthropic twist. This team building activity gets teams racing against one another to try and complete as many good deeds as possible before time runs out.
Host a Food or Toy Drive
As an organization, you've got a ton of connections—and so do your employees. If you're up for a bigger project, hosting a food or toy drive can be a great way to make a difference for those in need.
It's not a complicated process to put one together, it just requires a little bit of planning.
Here's how to approach it:
Choose a Charity: Decide on a food bank or charity you'd like to support, then contact them to inquire about what they need. It's also wise to ask if there's anything they can't accept.
Decide on Your Location: You can choose to host a one-day drive where everything brings their donations to a specific location, or you can set up multiple collection points and accept donations on certain days over an extended period of time.
Promote your food drive: Make sure to get the word out there about your drive. You can do this using email and social media, printing flyers, and personal outreach.
Collect and Deliver Donations: Once you've collected all of your donations, drop them off to the charity you're supporting.
Thank your donors: Make sure to follow up and thank everyone who contributed! It's often nice to send an overview of the drive, including how many items were donated and who benefitted.
Having your team work together to host the drive is also a valuable exercise in event planning, so your charitable initiative also has a team building and business-benefitting aspect.
Class is in session with this philanthropic activity where your team will be tested by a variety of education-themed teamwork challenges, share a special bonding experience, and support local children in need by competing to fill backpacks with school supplies and donating them to charity.
To help you host an impactful charitable small business team building activity, we created a resource with 14+ charitable team building activities for workgroups.
5. Host a Company Lunch and Learn
Why they're perfect small business team building ideas: They provide an informal and interactive setting for employees to learn, share knowledge, and bond over a shared meal, fostering camaraderie and continuous learning within the team.
If your team members—or even you personally—have an adverse reaction when you hear the word "lunch and learn," you're not alone. After all, it can be challenging to get your team to buy into the idea of giving up their lunch break in order to learn new skills.
But if you pick the right lunch and learn topics, they can be a great way to help your employees to learn valuable new skills in an enjoyable format.
You can choose professional topics like:
Time management
Planning and preparedness
Project management
Communication skills
Leadership skills
Or you make your lunch and learn all about learning life skills like:
Healthy eating
Fitness
Financial planning
Mindfulness goal setting
You can also host lunch and learns focused on company expertise, knowledge-sharing, or even just having fun.
Check out our full list of lunch and learn topic ideas here.
6. Host a Company Retreat
Why they're perfect small business team building ideas: Company retreats offer dedicated time away from the usual work environment for team members to bond, collaborate, and strategize, leading to enhanced teamwork and a stronger company culture.
A company retreat can motivate employees, engage staff, address organizational problems, and help you set goals for the year ahead.
Around the office, it can be so easy to get caught up in your day-to-day tasks and responsibilities that you lose sight of your team, collective purpose, and vision for the future.
But a company retreat can be a breath of fresh air for you and your colleagues. It can give everyone the opportunity to get away from their usual workspaces, come together as a group, and strategize about big-picture challenges and opportunities.
In fact, a properly planned company retreat can be transformative for both your team and your business.
Want to learn how to host your own company retreat? Check out our full resource: Everything You Need to Know About Planning the Ultimate Company Retreat.
7. Launch a Team Building Book Club
Why it's a perfect small business team building ideas A book club encourages intellectual growth, sparks conversations, and promotes team bonding through shared learning experiences, while being flexible and easy to implement.
As much as book clubs involve an element of socialization and team building, they can also create positive professional outcomes.
Here are 10 steps for how to make your book club a glowing success for years to come:
Choose a Book: Choose a book that aligns with the interests and goals of your team. Consider books on personal development, leadership, or industry-specific topics.
Establish a Schedule: Determine a reading schedule that allows team members to read the book within a reasonable timeframe, such as a chapter per week or bi-weekly.
Create Discussion Sessions: Set up regular meetings, either in-person or virtually, to discuss the book. Allocate time for open discussions, sharing insights, and relating the book's concepts to the workplace.
Facilitate Engaging Discussions: Prepare discussion questions in advance to stimulate conversation and encourage participants to reflect on the book's key ideas, relevance to their roles, and potential application in the company.
Encourage Participation: Foster an inclusive environment where everyone feels comfortable sharing their thoughts and opinions. Encourage active participation and promote respectful and constructive dialogue among team members.
Provide Resources: Offer supplementary materials like articles, videos, or related resources that complement the book's content and encourage deeper exploration of the topics discussed.
Foster Accountability: Encourage team members to actively participate and come prepared for discussions by setting expectations for attendance and engagement. Consider assigning a discussion leader for each session to facilitate the conversation.
Celebrate Progress: Acknowledge team members' commitment and contributions to the book club by recognizing milestones or achievements, such as completing the book or sharing notable insights.
Apply Book Insights: Encourage participants to identify practical applications of the book's concepts within the workplace and discuss how they can be implemented to improve teamwork, productivity, or other relevant aspects.
Encourage Continual Learning: Consider making the team building book club an ongoing initiative, selecting new books periodically to continue fostering a culture of learning and personal growth within the organization.
7. Play Trivia Games with Your Team
Why trivia is a perfect small business team building idea: They provide a fun and interactive way for employees to engage in friendly competition, showcase their knowledge, and foster team bonding through shared experiences.
Trivia games are a fun and social team activity for workgroups, especially when you've got trivia questions and answers that inspire a lot of laughs, make people rack their brains, and inspire people to draw on each other's knowledge to get them right.
If you want to host your own trivia game, you can choose from our list of 285+ trivia questions and answers, which includes:
Question: In The Matrix, does Neo take the blue pill or the red pill?
Answer: Red
Question: For what movie did Tom Hanks score his first Academy Award nomination?
Answer: Big 
Question: What 1927 musical was the first "talkie"?
Answer: The Jazz Singer 
Question: What's the name of the skyscraper in Die Hard?
Answer: Nakatomi Plaza
Question: What flavor of Pop Tarts does Buddy the Elf use in his spaghetti in Elf? 
Answer: Chocolate
Question: A sporting event is held every year on Memorial Day. What is it?
Answer: Indianapolis 500 
Question: Who has won more tennis grand slam titles, Venus Williams or Serena Williams?
Answer: Serena Williams
Question: What is the name of the fictitious Minor League Baseball team on The Simpsons?
Answer: The Springfield Isotopes
Question: In which winter sport are the terms "stale fish" and "mule kick" used?
Answer: Snowboarding
Question: How many dimples does an average golf ball have?
Answer: 336
Question: What retired basketball player tried out for the Chicago White Sox in 1994?
Answer: Michael Jordan
Question: What's the diameter of a basketball hoop in inches?
Answer: 18 inches
Question: How many federal states does Germany have?
Answer: 16
Question: What is the capital of Denmark?
Answer: Copenhagen
Question: What is the only state in the United States that does not have a flag in a shape with 4 edges?
Answer: Ohio 
Question: How many time zones does China have?
Answer: 1
Or, if you're looking for a more high-energy and engaging trivia game for your team, here are a few your group will enjoy.
Hamish's legendary happy hour trivia features two rounds of trivia questions, featuring four themed categories of your choice. With 20 category options to choose from, you'll be sure to find the perfect themes for your team's happy hour trivia.
With pub soundscapes, visual surprises, and warm-hearted humor, Hamish McDuff makes your guests feel like they just had a memorable happy hour with friends in a real pub, while at work! Sorry, HR!
This pub trivia game experience is guaranteed to produce plenty of laughs and lift team "spirits." It might even include a few special surprises.
If your team is eager to socialize, have some fun as a group, and channel their competitive spirit, we've got just the thing for you! With Jeoparty Social, you and your colleagues will step into your very own virtual Jeopardy-style game show—equipped with a buzzer button, a professional actor as your host, and an immersive game show platform! Best of all, this game has been infused with an ultra-social twist: players will take part in a unique social mixer challenge between each round. 
Step into the Outback Time Machine and take a trip through time, from pre-pandemic 21st century , through the decades, and all the way to the 60's.
This exciting, fast-paced trivia game, packed with nostalgia and good vibes is guaranteed to produce big laughs, friendly competition, and maybe even some chair-dancing.
Your remote game show host will warm up your in-person participants with a couple of "table hopper rounds" and split you out into teams.
Within minutes, your meeting space will be transformed into a game show stage with your very own game show buzzers!
If you've ever wanted to take part in your own Family Feud-style competition, this is your chance! With Friendly Feud Social, you and your colleagues will break out into teams to compete through survey questions focused on culture and human nature.
And, as an added social element within the game, each round of questions will be followed by a guided social mixer where you'll have the chance to take part in a group discussion and more deeply explore the survey questions from the previous round.
8. Tap Into Slack for Small Business Team Building
Why it's perfect for small business team building: It provides a centralized platform for communication, collaboration, and social interactions, fostering a sense of connection, engagement, and teamwork among team members regardless of their physical location.
If there's one thing the pandemic taught us, it's that we really miss social interaction. Whether your team works in the office together or operates remotely, facilitating opportunities for them to chat in a non-work-related way can help create incredibly strong bonds.
If you want to encourage socialization on your team, you can tap into Slack in a number of ways, including:
Dedicated Channels
Create specific channels on Slack for team building activities, such as #team-building or #fun-events, where team members can share ideas, plan activities, and discuss non-work-related topics to foster camaraderie and build connections.
Virtual Watercooler
Set up a designated channel, like #watercooler or #random, where team members can engage in casual conversations, share interesting articles or videos, and create a space for informal interactions that mimic the social aspect of an office environment.
Polls and Surveys
Utilize Slack's polling features or integrate survey tools like Polly or Simple Poll to gather team input on potential team building activities, preferences for virtual events, or ideas for improvement, encouraging active participation and creating a sense of ownership among team members.
Recognition and Appreciation
Establish a channel, such as #kudos or #appreciation, where team members can publicly recognize and appreciate each other's contributions, milestones, or achievements, fostering a positive and supportive team culture.
Virtual Team Building Games
Explore Slack-integrated apps or create custom Slack commands for virtual team building games like trivia, puzzles, or icebreaker questions, providing regular opportunities for team members to engage in friendly competition, collaborate, and have fun together within the Slack workspace.
Slack Donut
Slack Donut is a popular app integration that can be used for team building by randomly pairing team members for virtual coffee or lunch chats.
By setting up Slack Donut, team members are matched with a different colleague each time for a designated period, encouraging connections and fostering relationships outside of immediate work-related interactions.
These informal virtual meetups create opportunities for team members to get to know each other on a personal level, share interests, exchange ideas, and build rapport.
It helps break down communication barriers, promotes cross-functional collaboration, and enhances the overall sense of belonging within the team.
9. Guess the Colleague
Why it's a perfect small business team building game: It helps encourage strong interpersonal bonds by helping your employees find out unique things about one another that they might not have otherwise known.
Your team might work together on a daily basis, but how well do they really know each other? That's what they'll find out when you play Guess the Colleague.
Here's how to play.
Select a game master who collects and reads facts about team members. These questions should concern each team member's behaviors, actions, and particular peculiarities and can include things like:
Guess the coworker who has traveled to more than 10 countries
Guess the coworker who has a pet snake
Guess the coworker who can play a musical instrument
Guess the coworker who has completed a marathon
Guess the coworker who speaks fluent Mandarin
Guess the coworker who is a certified yoga instructor
Guess the coworker who has won a cooking competition
Guess the coworker who has climbed a mountain
Guess the coworker who volunteers at an animal shelter
Guess the coworker who can solve a Rubik's Cube in under a minute
Make sure these facts are tailored to the people in your company. If you want to make the game even more engaging, you can write down every fact on a piece of paper, put them in a hat, and pass them around your team with each person taking a chance to read one aloud.
As the leader of a small business, ensuring your employees are engaged, inspired, and connected with one another should be a key priority—and that's where these small business team building ideas come into play.
No matter whether you have a large budget, a small budget, or no budget at all, you can still do small business team building activities that have a big impact on your workgroup.
Does your company do any small business team building ideas? Let us know in the comments section below!
Learn about how small business team building ideas can have a big impact on your team.
If you've got questions about how team building games can improve employee engagement in your small business, reach out to an Employee Engagement Consultant.  
Subscribe To Our Newsletter
And Stay Updated