14 Mental Health Awareness Month Activities for Employees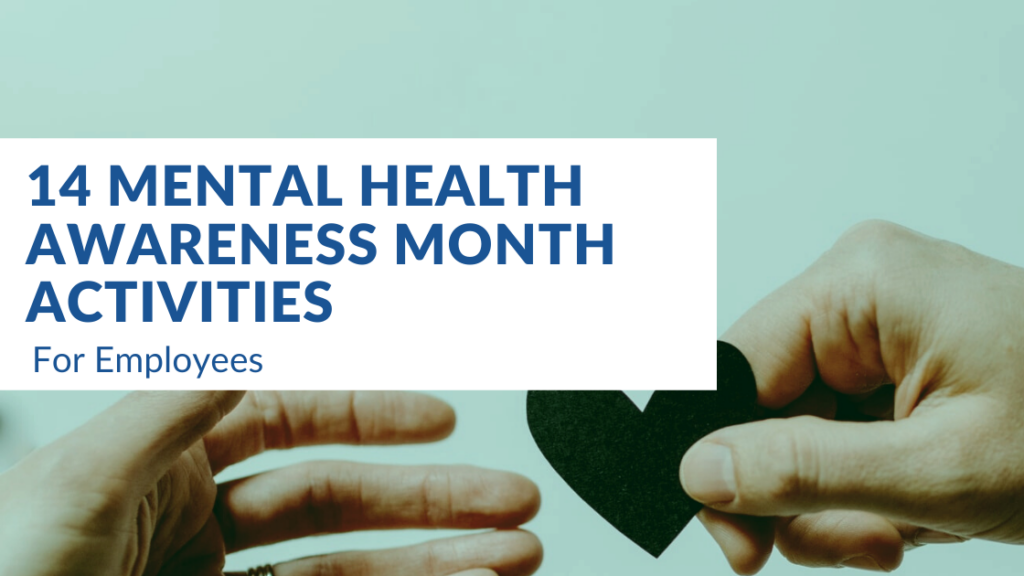 Spread mental health awareness in the workplace, show employees you care for their wellbeing, and boost company culture by holding activities for Mental Health Awareness Month.
As Mental Awareness Month approaches in May, it's a perfect time to highlight that there's something organizations need to pay attention to: 76% of employees now say that mental health benefits are critical when assessing new job opportunities.
Even if your company does not have mental health benefits yet, you can still support your team by holding some of these Mental Health Awareness Month activities for employees.
Creating meaningful experiences and community events this May–and any time of the year–can help employees feel happier and more connected in our increasingly isolated world.
Why Hold Mental Health Awareness Month Activities
The majority of people will experience or be affected by a mental health challenge at some point in their lives. With the pandemic, the war in Ukraine, remote work, and more, mental health struggles show no sign of disappearing on their own.
Talking about mental health in the workplace and holding Mental Health Awareness Month activities are great ways to:
Increase the likelihood that employees will seek support and help
Foster psychological safety at work
Build employee morale
Improve employee engagement
Boost employee happiness
All of these can jumpstart employee productivity and build company culture.
14 Mental Health Awareness Month Activities for Employees
Here are 14 Mental Health Awareness Month activity ideas that in-person and remote teams can try.
1. Encourage Peer-to-Peer Shout-Outs
Positive feedback and recognition can make someone's day. It can also build deeper connections between teammates, building a community where employees feel supported.
Practicing positive feedback regularly can help increase trust, helping employees feel that they can be themselves at work.
Start by encouraging your employees to give each other shout-outs for a job well done on tools like Volley or Slack. Kick it off by sending the first DM and giving someone a shout-out.
Here are some shout-out ideas:
Thanking a coworker for teaching you something or helping you get a project done
Highlighting an accomplishment a teammate has made recently
Recognizing someone for consistent hard work or having a positive attitude
You can also do shout-outs during team or company-wide meetings. If your team is in the office, write down positive feedback on a shared whiteboard in the office.
2. Take a Friday afternoon off
Give employees an extra 4 or 5 hours one Friday afternoon for self-care.
Let them know that this time is for them, not for work. Here is an example of how to communicate this to your team:
"In honor of Mental Health Awareness Month, we are requiring all team members to log off and start their weekend early this Friday at 12 pm ET. Yes, you are required! We encourage you to take time for self-care, whatever this looks like for you. Spend time with family, take a hike, read a book, watch a movie, take a nap… enjoy!"
On Monday, when everyone is back at it, share what you did for self-care on your company Slack channel or during your company meeting.
3. Exercise together
Group exercise is one of the best Mental Health Awareness Month activities because it hits on so many crucial aspects of employee wellbeing:
Physical health. Being physically active can reduce the risk of developing depression by 30%. Even a 20-minute walk can reduce stress and help employees feel better.
Socialization. Exercising with others is an excellent opportunity to build connections.
Being outdoors. Exercising outside has many benefits, including a better mood and a clearer mind. People who vary their scenery throughout the day tend to have more positive mental health.
Emotional and mental wellbeing. Exercising is a great mood-booster and is one of the key aspects of a healthy mind.
If your team can get together in person, take a walk or hike together.
Virtual teams can use apps like StepBet to see who can get the most steps in the month of May.
4. Provide an educational mental health workshop
Everyone can benefit from tips on self-care and stress management. We all deal with stress, so we all need strategies to cope with it.
Bringing in a therapist to talk to your team about mental health and stress management is a great way to show your team you care about their wellbeing. Plus, you can leave it to the experts to educate your team on mental health resources and strategies.
While you're at it, remind your employees of any resources your company provides to support employee mental health, like your mental health program or Employee Assistance Program.
Nivati is a great option that we recommend for supporting employee mental health. They offer 9 avenues for employees to access care live and on-demand: counseling, life coaching, nutrition, exercise, massage, sleep, meditation, and yoga.
At the beginning of Mental Health Awareness Month, email the team explaining what mental health benefits you provide and how employees can sign up.
5. Set up zen spaces in the office
Set aside some office space as a meditation or chill room. Put a chair, some pillows, and maybe a candle or diffuser in there. Give employees permission to go to the zen room and hang out for a while during the workday.
If your team is virtual, encourage employees to take workday breaks and go to their own zen space.
Employees can use these spaces to:
Meditate
Journal
Read
Color or draw
Take a nap
Do yoga or stretch
Call a loved one or friend
6. Group meditation
Meditation is one of the best ways to lower long-term stress, making it one of the most helpful Mental Health Awareness Month activities for the workplace.
Follow along to a 5-minute meditation as a team during a team meeting. You can also have a counselor pop into your meeting and lead the meditation or breathwork practice.
7. Midday self-care time
Let employees take an extended lunch break to take an extra few minutes for self-care.
Over half of employees don't take a lunch break, and 56% of people who do step away from work for lunch only take 30 minutes or less for their break.
An overwhelming 94% of employees feel happier when they take lunch breaks. Lunch is an excellent opportunity to recharge, socialize, walk, and take a breather.
This Mental Health Awareness Month activity looks different for everyone. For some, taking a walk after they eat lunch helps them reset. For others, it may be calling a loved one or chatting with coworkers.
It's essential to set the example as a company leader for this one. Take that extra time during your lunch this Mental Health Awareness Month and see other employees follow suit.
8. Talk to your leadership team about mental health
Company leaders can use Mental Health Awareness Month as an opportunity to revisit mental health initiatives at the company and the effectiveness of current mental health programs.
Here are some main points to highlight to your leadership team:
Companies have a great opportunity to improve the lives of employees and their families by supporting mental health at work.
Supporting mental health at work also improves company culture and can boost retention and recruiting efforts.
Happy employees are also more productive, more engaged, and more creative.
9. Do a team-building activity together
Try playing an in-person or virtual team-building activity on a Friday afternoon. Outback has a number of in-person and virtual activities that are a great fit.
With Virtual Jeoparty Social, you and your colleagues will step into your very own virtual Jeopardy-style game show—equipped with a buzzer button, a professional actor as your host, and an immersive game show platform! Best of all, this game has been infused with an ultra-social twist: players will take part in a unique social mixer challenge between each round.
In this activity, you and your team will take a trip to Hamish McDuff's virtual pub. This hilarious Scottish pub owner is the legendary host of a trivia game with more than 20 category options to choose from, including sports, food and drink, and even celebrity real estate. This virtual pub trivia game is guaranteed to produce plenty of laughs and lift team "spirits." It might even include a few special surprises.
We're all in desperate need of a vacation. After all, downtime is great for our mental well-being. Luckily, Captain Furling has room for you and your colleagues on his virtually chartered yacht. Come aboard and travel to your "inner Cancun" for a tropical online team building adventure.
There's been a robbery! Someone has masterminded a heist to steal a priceless collection of precious jewels, and it's up to you and your team to recover them before time runs out.
In this escape room activity, you and your team will need to uncover hidden clues and solve a series of brain-boggling challenges that require collaboration, creative problem-solving, and outside-the-box thinking. But be quick! The clock is ticking before the stolen score is gone forever.
Nothing's better for getting to know each other than an activity that's all about using unique skills and finding out new things about your colleagues.
In Team Pursuit, your team will need to get their energy levels up in order to tackle a series of mental, physical, skill, and mystery challenges, earning points for each successfully completed challenge.
With Game Show Extravaganza, teams will work collaboratively to answer trivia questions with topics ranging from pop culture to sports, world history, and beyond. Teams will earn points for each correct answer. Whichever team has the most points when time runs out will be named the winner!   
These team activities are great for some laughs and stress relief! Plus, it's a great way to kick off the weekend.
Here are some more virtual team building activities to try out this Mental Health Awareness Month.
10. Give employees a small bonus
Give employees a little "self-care bonus" that they can use to bring some joy into their day. It can be a $5+ gift card or cash.
Here are some ideas of small things to buy for stress management purposes:
Go to a coffee shop and buy your favorite drink
Buy a book on mental health or self-care
Purchase a new game to play with friends
Get a plant for your office space
Tell everyone to share their purchases with the team.
11. Read a book on mental health as a team
Reading together is a great Mental Health Awareness Month activity idea because it exercises the mind and provides opportunities for teammates to connect on a deeper level.
Here are some mental health books to try out:
The Art of Living: Peace and Freedom in the Here and Now by Thich Nhat Hanh
Practicing Mindfulness by Mark Muesse
Cognitive Behavioral Therapy Made Simple: 10 Strategies For Managing Anxiety, Depression, Anger, Panic, And Worry by Seth J. Gillihan
Meet at the end of the month to discuss the book, what you learned, and what your takeaways are.
12. Share what helps you cope with stress
During a team meeting, ask the group: What's your favorite self-care activity?
This could spark other Mental Health Awareness Month activity ideas for your team. Plus, it gives employees a chance to connect, learn a little more about each other, and gain some new self-care ideas.
13. Cook together
This is a great one for teams that live close to each other. Go to a local cooking class and make something great together!
Cooking is one of the best ways to reduce stress. Plus, it is a great team-building activity.
If cooking isn't your team's thing, try going out to dinner instead. You can even invite employees to bring their spouses.
14. Create artwork together
Creating art is another incredible mood booster. Taking a painting class together in person or online can teach employees a new skill and build deeper team bonds.
You can try drawing, doing pottery, or painting.
Caring for employee mental health not only improves lives and helps more people get support – but it can also support company culture and promote employee engagement and team bonds.
If you'd like to learn more about mental health at work, check out our article on supporting the mental health of remote employees.
What other Mental Health Awareness Month activity ideas have you tried with your team? Let us know in the comments!
---
Want to Learn More About Team Building Activities That Can Boost Employee Morale and Support Mental Wellbeing?
For more information about how team building can help support your employees' mental health, reach out to our Employee Engagement Consultants.
---
Author Bio:
Haeli Harris – Lead Clinician, Nivati
Haeli Harris, LMFT is the Lead Clinician at Nivati, where she helps employees and company leaders take care of themselves. She has been practicing as a Marriage and Family Therapist since 2014. Haeli has experience working as a therapist in private practice settings, residential facilities, outpatient treatment care, schools, and telehealth. Haeli is also a yoga instructor and dancer. Check out her LinkedIn profile. 
Subscribe To Our Newsletter
And Stay Updated