CASE STUDY: How Kickstart Seed Fund Engaged 110 CEOs with the Right Team Building Event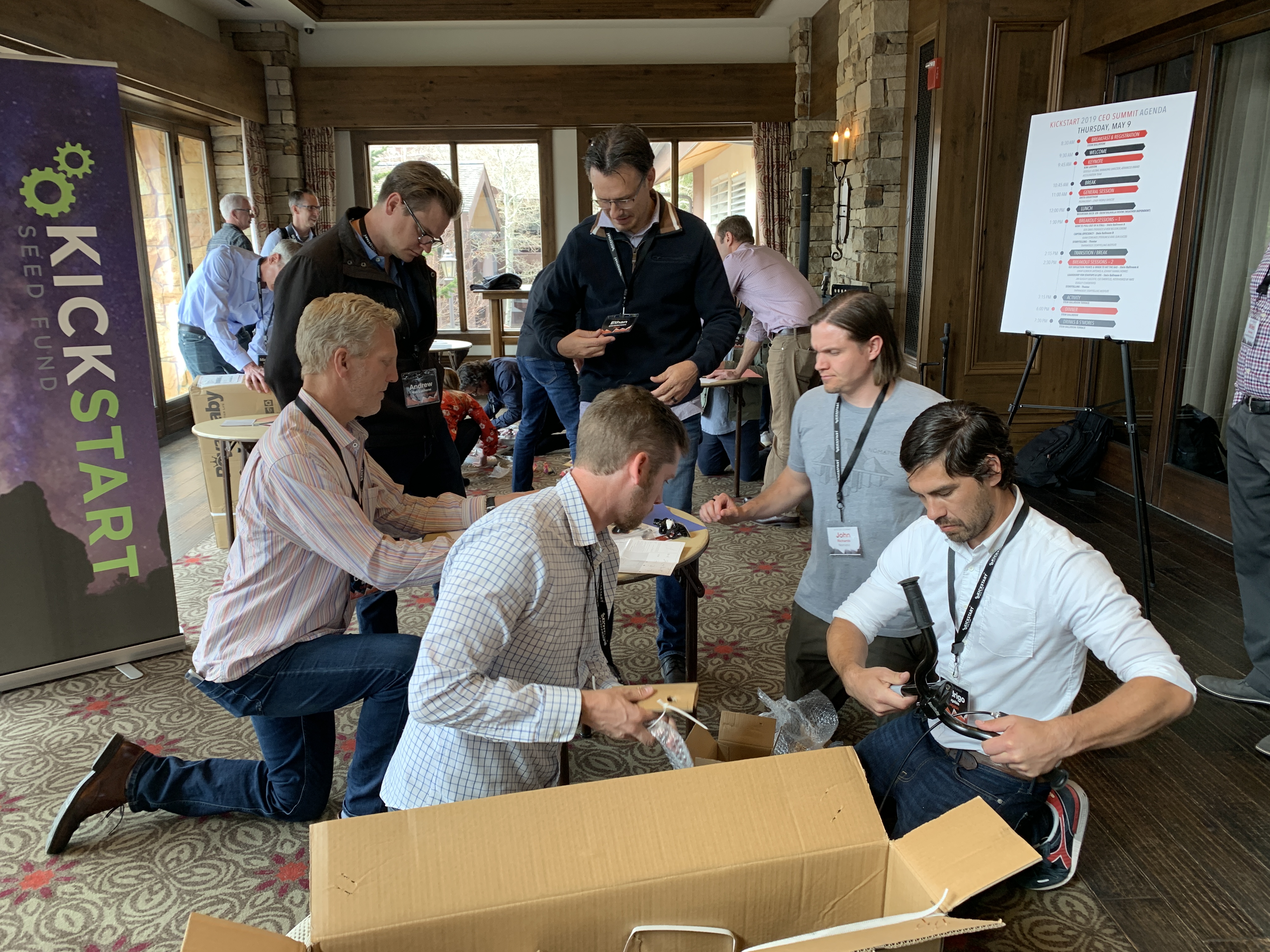 How do you engage a room full of high-level executives at your Annual CEO Summit? Here's how a company in Park City, Utah, was able to engage 110 CEOs with the Charity Bike Buildathon charity team building activity.
After we invest in companies, it's my job to provide them with as much value as we can … so, success to me is that people come to our event and they walk away having had the opportunity to network and make meaningful peer relationships."
– Karen Zelnick, Director of Platform, Kickstart Seed Fund
---

THE CHALLENGE – Ensuring a Summit of 110 CEOs is engaged with an activity that encourages valuable networking
QUICK FACTS:
A group of 110 CEOs and investors were gathering for their Annual CEO Summit
Needed a team building activity that would keep guests engaged while providing an atmosphere that inspired networking and fostering connections

---

Each year at its Annual CEO Summit, Kickstart Seed Fund hosts a gathering of executives and investors from its partner businesses throughout Utah, Arizona, Colorado, and Southern California for a day of networking and developing valuable business relations.
"After we invest in companies, it's my job to provide them with as much value as we can," says Karen Zelnick, Director of Platform. "So, that takes the form of a couple big summits per year, bimonthly tactic meetings with peer networking, and learning and knowledge sharing events.."
But when you're hosting a group of 110 high-level executives, it can be challenging to create an engaging environment that is still conducive to networking and creating new connections. What was needed was an activity that was unique and structured but struck a fine balance between being hands-on and low intensity.
"I think we all get a little bit sick of golf, hiking, or mountain biking, especially in Utah, because it's something we do a lot for these kinds of networking events," says Karen. "I wanted to do something that was going to create a little bit more interaction, be a little bit more fun, and a little more casual while still being engaging enough to get people talking to one another."
But for an added dimension of challenge, the ideal activity needed to resonate with everyone in the room and appeal to differing personality types, fostering interaction, creating connections, and generating bonds between guests by making it feel more natural to get to know one another.
"The event needed to be good for everyone in the room," says Karen. "That included people who were naturally good at this type of networking situation and were able to strike up conversations with people who they don't really know, as well as those who were less comfortable proactively engaging with people they hadn't met yet."
And, following a disappointing experience with a previous team building partner, Karen needed a collaborative activity that would truly help achieve the goal of the Summit.
"We had done a previous team building activity with another company and it was actually kind of a deterrent to do it again," says Karen. "I didn't love the activity, the partner we worked with didn't quite deliver, and the event didn't end up playing out that well … There were a lot of things that I didn't love, so I was actually a little hesitant to do team building again."
But she decided to do some research in hopes of finding a team building partner and an event that might work.
---

THE SOLUTION – A Charity Bike Buildathon that helped break the ice and make networking easy
QUICK FACTS:
Enlisted a Charity Bike Buildathon philanthropic team building event
Participants got together to build bikes, network and connect, and give back to a local children's charity

---

After doing her own independent research to find a team building partner and an event that might work, Karen connected with an Employee Engagement Consultant here at Outback Team Building & Training who helped her decide on the right event for her group's unique needs: Charity Bike Buildathon. In this activity, groups break out into teams to collaboratively build and decorate bicycles to be donated to a local children's charity.
"After feeling hesitant about doing a team building activity, it helped to speak to the staff at Outback," explains Karen. "At first, I was thinking that it was a gamble to work with a new team and do something outside-the-box, but after my call with Outback, I could tell that this was going to be a really efficient, smart team to work with."
As the process got underway, Karen realized that the event was going to be something different and more enjoyable than her past team building experience.
"The activities and their components were well thought out," says Karen. "So, I knew it wouldn't just be a matter of building a bike and saying, 'we'll see how it goes.' I loved the quiz; I loved the safety inspection and the challenges the participants had to do. All the components were so well thought-out that it was great."
And as the Charity Bike Buildathon event got rolling, Karen realized she was in good hands and was going to have a better team building experience this time around.
"As far as working with the Outback team on-site, the highlight of it all was just how easy they made it," says Karen. "They were really great at working with how we wanted to run the event. I really appreciated that they would ask me what my goals are and how I wanted to handle it. They would make recommendations on what would work best and tailor the event the way we wanted, cutting out things that we didn't need, or adding things that we did. They were really great – they would check in and make sure everything was going well. For me, overseeing this event on-site meant getting speakers ready and overseeing dinner prep and checking in on AV and room set-up. So, they were really great at melding in and making it really easy for me."
---

THE RESULTS – An event that allowed participants to connect and network in an engaging and easy-going environment
QUICK FACTS:
"10/10" feedback from the customer
Participants were highly engaged and enjoyed being part of a unique and outside-the-box activity

---

With a unique team building situation such as Kickstart Seed Fund's Annual CEO Summit, measuring success required its own unique gauge.
"Our guests aren't in traditional teams, they're in different companies in different fields," Karen says. "So, it's a little bit different of a type of group than a company that gathers for a team building activity then goes back to the office all together. But we do have a great community of CEOs that are very close together, and it's stuff like this that helps build that."
But what Karen could gauge is what she saw from the event guests as they participated in the Charity Bike Buildathon.
"When you're on-site at these kinds of events, what you really look for is people's body language and how they're talking to each other," says Karen. "At our event, you could feel the energy in the room. There was just a good energy and lots of enthusiasm around the event. You could tell that the guests really got into it."
When the event was all said and done, Karen rated her experience a "10/10" and nothing but great things to say about it.
"We sent out a survey following the event and we received nothing but positive feedback," Karen says. "And while it's challenging to quantify, what I can say is that it was very valuable. We wouldn't do an event like this CEO Summit without some sort of activity like this one."
---

Looking for Creative Employee Engagement Solutions?
Learn more about team building, training, and consulting solutions available for your organization.
Subscribe To Our Newsletter
And Stay Updated