CASE STUDY: How Foresters Financial and National Agents Alliance Combined Their Volunteer Work with Team Building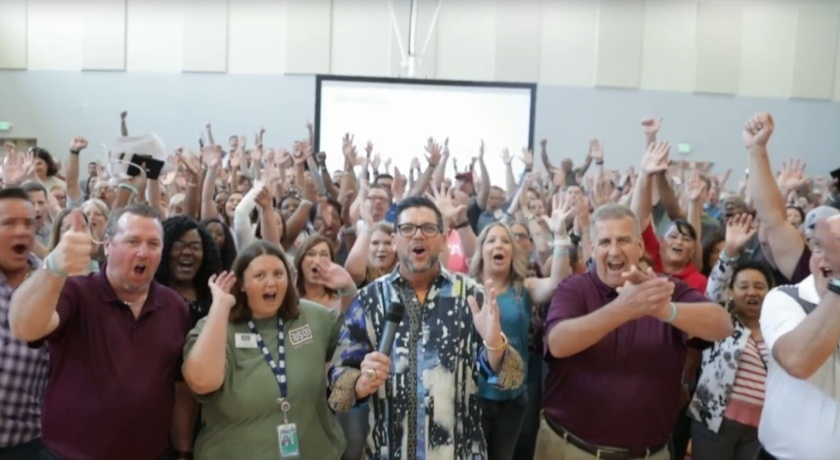 Looking for a new way to give back with your team? Check out how a large group in Burlington, North Carolina made a difference with the Military Support Mission charity team building activity.

"We had some really positive feedback from the people participating. In the past, participants would be very focused on the task at hand, producing large quantities of kits for donation or completing assigned projects in small teams. This time, they were given challenges that allowed them the opportunity to get to know each other, work together and meet new people. The activity served double-duty."
– Diane Matthews, Specialist, Sales Engagement, Foresters Financial
THE CHALLENGE – Two Organizations That Do a Lot of Volunteer Work Look for a New Way to Give Back
---
QUICK FACTS:
Large group of 300 volunteers looking for a unique way to give back
Wanted something that would be fun, but still make an impact
---
When it comes to giving back to the community, Foresters Financial™ takes their work very seriously. They are a fraternal benefit society, which means volunteering and charity work is baked right into everything they do.
"Really, our focus is to enhance the lives of our members and their communities through our member benefits programs and national partnerships," says Diane Matthews, Sales Engagement Specialist. "Which is why we do the types of philanthropic events that we do. It's our purpose. It's who we are."
The Alliance's motto is to "Have Fun, Make Money and Make a Difference." The Alliance President and CEO Andy Albright said this event was another way to achieve the "Make a Difference" part of the company's motto.
Over the years, Foresters Financial has given back in a variety of different ways. Working with one of their distribution partners, National Agents Alliance, they have volunteered to renovate children's facilities, package food for shelters and communities both locally and abroad, and assembled emergency supply kits for a local housing co-op.
But this year, partnering with The Alliance in Burlington, North Carolina…they wanted to try something new.
"Working with our colleagues at the Alliance, we were looking for a different way to give back," says Diane. "Our group size was large, over 300 people, thanks to an overwhelming response from Alliance agents from all over the country eager to volunteer. We needed to find a meaningful way to give back and to have fun doing it."
Diane says that they explored a few different options, but there were some roadblocks.
"We were looking for a local charitable organization that could support a project of this scale. We thought maybe we could do a kit assembly," says Diane. "But again, we knew our group would produce a large number of kits and we would need to find a charity or multiple charities to accept a donation of that size.
THE SOLUTION – Combining Volunteering with Team Building
---
QUICK FACTS:
---
Diane reached out to Outback Team Building & Training for a free consultation to see if they could help.
"It was important for this group that the team building portion integrated well with the volunteer activity," explains Diane. "All of the volunteers are part of the same organization, National Agents Alliance. They truly are a team so including team building into the activity made sense."
Diane spoke with Michael Culp, her Employee Engagement Consultant, and having discussed with their partners, decided to go with Military Support Mission for the event. In this philanthropic program, teams work together to earn the products to assemble care packages for troops serving abroad.
"Outback was able to work with us to prepare a program in a short period of time," says Diane. "I had been speaking with your team, and you seemed really open to making changes to the Outback program to suit our needs and our program requirements for this annual volunteer event. We needed to be able to run the two events simultaneously and seamlessly."
Michael assured Diane that the activity would work for her large group size, and helped to answer any questions that she had leading up to event day.
"If I needed your team, they were always there," praises Diane. "They were very supportive, and they integrated the team building portion into our volunteer activity very well. I didn't feel like I was on my own at any point."
THE RESULTS – A Positive Team Building Experience that Helped to Make a Difference
---
QUICK FACTS:
50 military care packs customized and delivered to troops abroad
Outside of the activity, the group went above and beyond by preparing an additional 300 hygiene kits
---
The activity was a hit with the volunteers, but Diane says they ended up giving back even more as a group.
"At the end of the day, not only did the group put together the 50 backpacks for the Military Support Mission," Diane says. "But they also assembled and donated an additional 300 hygiene kits and put together a large in-kind donation of daily operational supplies for the local USO. These additional elements, which also included postage for the backpacks and phone cards, gave it more of an impact."
At the end of the day, Diane heard from several people about how much fun they had.
"We had some really positive feedback from the people participating," says Diane. "They really enjoyed having the opportunity to meet and work with new people that they wouldn't normally see on a day-to-day basis. The activity served double-duty."
For this group, Diane says the Military Support Mission was the right fit. It helped them to give back, but it also brought them closer together.
"There were many first time attendees at this event, many attending on their own," Diane observed. "One in particular was very quiet at the beginning. As the afternoon went on he got to know people, and he started interacting with them. In the end, he walked away with six new friends."
All in all, Diane says the event was a success. Now, she is happy to recommend Outback Team Building & Training to others in the organization looking for a team building event that also has a philanthropic outcome to support our purpose.
Combine Your Charity Work with Team Building
Learn more about philanthropic team building activities that are available anywhere, for any group size.
Subscribe To Our Newsletter
And Stay Updated