71 Incredibly Fun Summer Team Building Ideas
The summer months are the perfect time to get outside, enjoy some beautiful weather, and have fun with your colleagues, so you'll love these summer team building activity ideas for your workgroup.  
Updated: May 3, 2022
It's that time of year again! Hot weather is here, our moods are at an all-time high, and we all feel the overwhelming urge to get out of the office, have some fun, and stock up on Vitamin D.
And here's some even better news: you can turn workdays into miniature summer holidays by getting your colleagues together for some amazing summer team building activities.
If you're looking for some inspiration for your next work event, we've got 71 suggestions we think you'll love. 
Check them out.
14 Adventurous Summer Team Building Activities
These activities are perfect if you have a group of thrill-seekers who would like to get out of the office and get their adrenaline pumping.
Hiking Trip 
Make the trek along a local hiking trail as a group. Ensure everyone has plenty of water and snacks before you begin.
Water Balloon Toss
This classic spring team building activity is perfect for teams who are up for a challenge and aren't afraid of getting soaked.
If the weather is warm enough to allow it, break your team into pairs and give each pair a water balloon.
The goal of the game is to play catch with the water balloon without it breaking. For each successful catch, teams will take one step back from one another.
Whichever team is able to make the most successful catches wins!
Go Orienteering
There's nothing quite like getting lost to help a team come together, solve problems, build bonds, and tackle challenges.
And while you probably don't want to actually get your employees lost, you can simulate it with an orienteering-style spring team building activity.
Split your employees into groups, give them a map, compass, and series of clues to follow, then send them on their way to see if they reach their destination correctly. Have each group start from a different place, but with the same final destination. Traditionally this takes place in areas like forests, but it can work equally well in cities.
Bungee Jumping 
Take the plunge with your team! If your colleagues are a bunch of daredevils, this may be the best summer activity option for you.
Paddling Excursion
Choose from kayaks, canoes, or row boats before heading out on the water for some team bonding and a bit of a workout.
If you're not up for renting a boat, you might love a hands-on activity like  Cardboard Boat Building Challenge where you and your team will build your own boats—and then put them to the test in a real body of water.
Corn Maze 
These giant mazes are often associated with the fall, but the corn stalks are actually at their peak height in August. See if your group can make it out. Not sure where to find one? Don't worry. There's a website that shows you every corn maze in America!
Paintballing 
This activity is an outdoor alternative to the always-popular laser tag. Get strategic with your coworkers as you try to come out as the winning team. But get ready for a bruise or two! By the way, if you like this kind of activity, you might want to check out our list of 45 outdoor team building activities for other ideas like this.
Go-Karting or Derby Racing 
Get ready to start your engines! Head out to your local go-kart track for some high-speed, competitive fun with your colleagues.
Fishing 
Head to a nearby body of water and see who can catch the biggest fish! Remember to catch-and-release if you don't have your fishing license. 
Rafting Adventure 
Head out on a whitewater rafting trip with your team, but don't try this one on your own. Find a professional tour company near you.
Camping Trip 
Plan an overnight outing in the wilderness with your coworkers. And don't forget to pick up some marshmallows and roasting sticks beforehand!
Ziplining 
Get ready to fly high in the air as a team! Employees are likely to bond over this unique, exciting, and memorable experience.
Amusement Park 
If you're looking for an exciting outing for your group that's in the city, take advantage of the fun and exhilarating rides at your local amusement park.
8 City-Based Summer Team Building Activities
If you don't have the time or budget to travel too far, these outings are convenient, available in most city locations, and offer a breath of fresh air.
Boat Cruise 
All aboard! A boat cruise is a fun and classy way to spend an afternoon or evening with your team. Hop on a boat, offer some food, and get to know your colleagues while cruising around.
Scavenger Hunt 
When it comes time to get outside and enjoy the warm weather, scavenger hunt team building activities are one of the funnest, most high-energy ways to do so.
In this scavenger hunt activity, your team can get out of the office and explore your city in a whole new way. Together, your team will need to think outside the box, bond as a group, and venture outside into the community in order to complete a series of fun and unique photo and video challenges.
You'll need to tackle a list of challenges, including:
Snap a photo of your team standing next to a large public clock that reads EXACTLY 22 minutes past the hour

Search for a business that is open 24 hours 7 days a week and snap a photo of a team member with the sign showing the business' hours

Snap a photo of a teammate next to a vehicle that has an "antique" or "collectible" license plate

Head to a nearby playground and take a photo of your entire team balanced on a seesaw. Here's the catch: everyone's feet must be off the ground while balanced!

Find a hopscotch course or use a piece of chalk to create your own on a sidewalk. Record a 5-second video of a teammate hopping and completing it

Stage a martial arts battle with another team in a nearby park. Record a 5-second video of both teams facing each other (with plenty of space between you) and doing the famous crane kick
The team with the most points when time runs out will be named the winners!
Much like Wild Goose Chase, this scavenger hunt team building activity will have you embark on the ultimate urban adventure with your colleagues.
This entire activity is centered around city-themed challenges that will get you out and enjoying your neck of the woods from a whole new perspective. It's also a great option for teams who are out of town for conferences, annual retreats, or multi-day meetings.
For even more ideas, check out our list of scavenger hunt team building activity ideas for workgroups.
Do a City Cleanup
Believe it or not, discarded masks have become a serious form of litter in the wake of the pandemic. So, if you're up for the task, you can head out into the city with your colleagues to help clean up garbage and do your part for the community.
Charity Work 
Bond with your group over a shared philanthropic experience. For example, your team can volunteer at a soup kitchen or do a charitable team building activity.
Feel like getting out and spreading some kindness? We recommend it! Doing good in the world is good for you. In fact, it actually builds team morale. Random Acts of Kindness fuses the scavenger hunt concept with a philanthropic twist. This team building activity gets teams racing against one another to try and complete as many good deeds as possible before time runs out.
Split into teams to build, decorate, and put together an advertising campaign for children's bicycles. After each group has presented their bike, you get to donate them all to a charity of your choice!
Organize a Charity Walk or Run
Another great way to give back to those in need is to create a charity walk or run. Your team can collect donations for your pledge to walk or run a certain distance—whether it's five or ten kilometers, or even longer if you want!
Water Park 
Not located close to any natural bodies of water? You and your team can still stay cool during the hot days of summer with an outing to a local water park.
Farmers' Market 
Support local businesses and pick up fresh produce with your colleagues at a farmers' market. Stock your organization's fridge with what you buy.
Cook-Off 
Challenge your team to an outdoor cook-off, or simply set up an afternoon or evening of BBQing at a nearby park or beach.
Racetrack 
Head to your city's local track and spend a day or afternoon at the races. Let employees know beforehand that gambling and fancy hats are optional!
7 Nature-Focused Summer Team Building Activities
Your team can get in touch with the great outdoors by participating in any of the below activities that involve supporting, enjoying, or being surrounded by nature.
Beach Day 
If your office is close to a beach, whether the ocean or a lake, make your way there for some beach games, swimming, and fun.
Water Tubing 
Head to a lazy river and spend an afternoon floating downstream. Don't forget to arrange transport from your endpoint back to where you started.
Gardening 
Help your colleagues get in touch with nature while cultivating a company garden. This activity can be done throughout the season, helping employees relax while getting fresh air.
Tree Planting 
Although more of a day-long commitment than gardening, tree planting can be very rewarding. This is also a great option if your team is looking to break a sweat!
Explore a National Park 
If your office is located near a national park, take your group there for a day of exploration.
Snorkeling 
Explore the underwater marine life at your local beach. Challenge employees to see who can spot the most underwater creatures.
We love a good picnic, chock-full of food, drinks, and activities. So, you can't go wrong hosting one as an off-site team building activity and supercharging it with Picnic Party games.
This activity has teams complete as many goofy photo and video challenges as possible before time runs out.
Some examples of challenges you can do in this activity include:
Catapult Cuisine: Use a utensil to launch a bite-sized food item into another person's mouth from 10 feet away.

Tree Hugger: Snap a photo of someone hugging a tree trunk like a koala bear. Legs and arms must be completely off the ground!

Spoon Relay: Participate in a relay race while balancing a small rock on a spoon.
These games can be done all at once or spread out throughout the day.
20 Athletic Summer Team Building Activities
For active groups looking to burn off energy and run around, our team recommends trying any of these sports-themed outing ideas.
Head to a Pool
Find a local outdoor pool in your area and take your team there to hang out for the day. This is a fun, social way to help colleagues build bonds together.
Lawn Bowling 
If your group loves to bowl, this is a great outdoor option. While you can go to a neighborhood lawn bowling club, your team can also set this activity up almost anywhere!
Outdoor Yoga 
Help employees rejuvenate with an outdoor yoga session. Set this activity up practically anywhere, such as in an office courtyard, on a rooftop patio, or at a nearby park. You can either hire a pro to help or try a free, DIY, app-based option like Yoga.
Kickball 
If your group loves athletics but each employee excels at a different sport, kickball can be the perfect compromise. It's fun, easy to learn, and participants are sure to get moving!
Cycling 
Go for a casual bike ride around your neighborhood or take on a challenging mountain trail! Either way, make sure you map out your route before taking off.
Horseback Riding 
If you have a bunch of animal lovers at your company, horseback riding is a great activity option. Employees can bond with the horses while adventuring along local trails.
Frisbee Game 
Depending on what your team's in the mood for, you can either set up an Ultimate Frisbee tournament at a sports field or head to a Disc Golf course.
Rock Climbing 
Outdoor rock climbing can be an exhilarating and fun experience to share with your coworkers. That said, our team recommends partnering with professional climbers.
Driving Range or Mini Putt
Head to your local driving range or mini putt course for golf options that keep your group together and allow for a range of skill levels. 
Circuit Training
Coordinate different workout stations and set them up at any close by green space. Break employees up and have them rotate through each station.
Company Olympics 
Split employees into groups and challenge them to a day of track and field activities, sports matches, and more!
Batting Cage 
Burn off some steam with this fun and inclusive outing. Try booking a couple of batting cages at a time, so employees get more than one opportunity to step up to the plate.
Tennis Tournament
Find some local tennis courts and set up a tournament for your colleagues. We recommend playing doubles so that everyone gets a turn. It also reduces the amount of running around each player has to do.
Spikeball
This game has become insanely popular, and for good reason! Pick up a few Spikeball nets and head out with your colleagues to have some fun and get a sweat on.
Cornhole
Simple but incredibly fun, this classic summer game involves throwing beanbags at a raised platform with a hole in the far end. For every beanbag a team sinks into the hole, they get a point. You can either buy your own board or bag, or DIY it if you're feeling craft!
Sporting Event 
Attend or watch a live broadcast of a sporting event, such as the FIFA World Cup, a Minor League Baseball game, a pro tennis match, or NHL playoffs.
Softball Tournament
If you're feeling ambitious, you can gather some bats, balls, gloves, and helmets and divide your colleagues into teams for a softball tournament. We recommend following it with some snacks and cold drinks!
Beach Volleyball
There is no shortage of beach volleyball courts out there, so gather your team, grab some volleyballs, and head out into the sun for a fun and sandy day at the beach.
Archery Tag
This unique sport combines elements of combat-type games like dodgeball with archery. Players take aim at each other with (non-lethal) arrows to score points or eliminate opposing team members. Participants can earn points by shooting an opponent, knocking out a target at the opposing teams base, or catching an opponent's arrow midflight.
Badminton
If you're in search of a low-intensity sports activity that everyone can play, badminton is a great bet. And best of all, nets, birdies, and rackets can be acquired inexpensively.
15 Creative and Entertainment-Based Summer Team Building Activities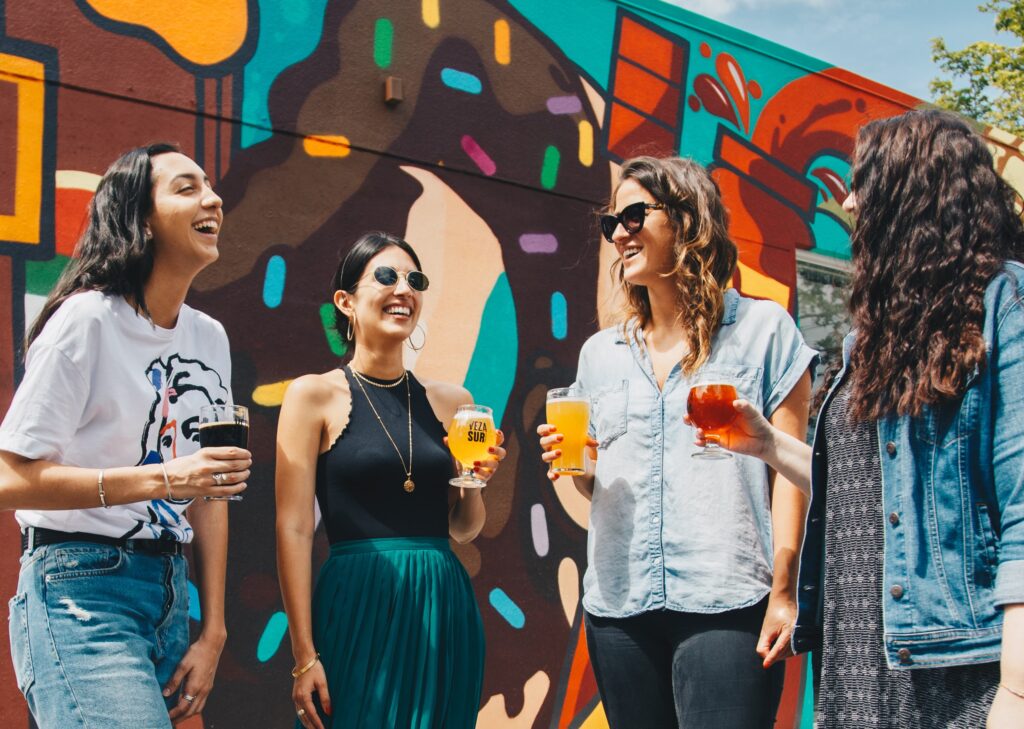 Bond with your colleagues over shared interests by taking part in activities that involve art, music, hobbies, and more.
Corporate Mural 
Paint a corporate-themed mural on your building or create artwork that's a little less permanent using chalk.
If your group is musically inclined, why not head to the park for a jam session?
Using tools, parts, and hardware, your group will need to collaborate in order to create musical harmony. Together you'll collect household items, rehearse, and put on your very own concert before donating everything to charity.
And if you'd like to learn about even more ways to give back, check out this list of creative volunteer ideas for work teams.
Outdoor Clubs 
Find a common interest you and your coworkers share and form a club! For example, you could try running, music, or food clubs and hold your meetings outdoors. 
Ready to get creative and collaborative? In this fun-filled mystery, you'll get a good dose of both!
In this activity, a famous actress is found murdered. So, you'll need to put your problem-solving skills to the test as you share theories, collaborate, and think outside the box with your fellow investigators.
Together, you'll review case files and evidence including police reports, coroners' reports, photo evidence, tabloids, interrogations, and phone calls as you determine the motive, method, and murderer and bring justice for the victim.
With Jeoparty Social, your team will get to step into their very own Jeopardy-style game show experience – equipped with a buzzer, a professional actor as your host, and an immersive game show platform. Between each round of Jeopardy, your team will participate in social mixer challenges.
Get ready to test your trivia knowledge, hit that buzzer as fast as you can, stack up points for your team before time runs out, and wager a little bit (or a lot) in a round of Final Jeoparty to wrap it all up.
Arts and Crafts 
Set up picnic tables with craft activities and let the creativity flow! Try making company-inspired artwork like tie-dye t-shirts using your organization's brand colors.
Movie in the Park 
Most major cities offer movie in the park events that your group can join, or you can set up your own viewing party with a portable projector screen.
Outdoor Concert 
Bond with your coworkers over your shared love of a local band or musician by attending an outdoor concert featuring one of your favorite acts.
Gotcha 
This is an entertaining game that you can play in any outdoor location! Participants must try to trick each other into saying secret code words.
Break the Ice
Looking for a low-impact activity that can help your team get to know each other better? Then try getting together and chatting through some icebreaker questions.
From "would you rather" questions to debatable ones and themed questions covering everything from pop culture to travel, food, and more, these are a great way to discover new things about your colleagues. If you're looking for inspiration, check out our list of 310 incredible team building icebreaker questions.
Theme Party
Gather your colleagues for a fun summer theme party. This can be anything from a tropical theme to an under-the-sea theme. The options are endless!
Visit Wineries or Breweries
Sometimes team building can be as simple as socializing outside the context of work. And for a fun, laid-back social experience, nothing beats a winery or brewery tour.
Ever wondered how your team would handle being stranded on a deserted island together? Well, now you can find out!
Get together with your team for a  Corporate Castaways event where you'll take on the role of tribemates and work through challenges inspired by the "Survivor" TV show! 
Staff Retreat 
Head to a resort town or remote location to unplug and reflect on your business. Not sure where to start? Check out our free guide on everything you need to know about planning company retreats.
Bond with your colleagues over shared interests by taking part in activities that involve art, music, hobbies, and more.
7 Virtual Summer Team Building Activities for Remote Teams
Just because your team works remotely doesn't mean you can't enjoy the summer together! Check out these fun virtual team building activities that go great with the summer months.
If you've ever wanted to take part in your own Family Feud-style competition, this is your chance! With Virtual Friendly Feud Social, you and your colleagues will break out into teams to compete through survey questions focused on culture and human nature.
And, as an added social element within the game, each round of questions will be followed by a guided social mixer where you'll have the chance to take part in a group discussion and more deeply explore the survey questions from the previous round.
In this virtual escape room experience, your team will be transported into a pyramid cursed by a restless mummy. You'll have to work together to uncover clues and solve complex challenges to lift the ancient curse.
Coffee Breaks and Happy Hours
One of the most enjoyable things about working in an office environment is the social aspect – walking to a nearby coffee shop or going for after-work drinks with colleagues. These are likely the little things that you're missing.
So, why not plan virtual coffee breaks or happy hours with your team? Using any of the available online video tools like Zoom, Skype, or Google Hangouts, you can easily establish a remote version of these social activities.
For example, you can schedule 15-minute meetups for coffee once or twice a week and set aside an hour after work once a month for virtual happy hour.
Don't plan an agenda and try to avoid talking about work. This should be a purely social activity to help employees feel connected and engaged with one another.
In one of our most popular app-based team building activities, groups connect virtually using the video communications platform, like Zoom, and the proprietary Outback app. From there, coworkers break out into teams to solve who had the means, motive, and opportunity to commit a deadly crime.
Choose to work through the case on your own or have one of our event coordinators virtually host it for you.
Step into the Outback Time Machine and take a trip through time, from the pre-pandemic 21st century through the decades all the way to the 60s.
This exciting, fast-paced virtual trivia game, packed with nostalgia and good vibes, is guaranteed to produce big laughs, friendly competition, and maybe even some chair-dancing.
Your virtual game show host will warm up guests with a couple of "tablehopper rounds" (breakout room mixers) and split you out into teams. Within minutes, your home office will be transformed into a game show stage with your very own game show buzzers!
And if you're team is a bunch of trivia lovers, you might want to check out our list of the best virtual trivia games for work.
Summer Recipe Swap
Everyone's got to eat, so why not incorporate a little bit of team building into your weekly cooking regime? Start off by asking each person on your team to share their favorite summertime recipe. It could be breakfast, dinner, dessert – the choice is up to you!
Once everyone has submitted their recipe, challenge your colleagues to try one out each week. The entire group can tackle the same one, or you can all try your hand at something different.
Ask your team members to make the recipe before the end of the week and then block off some time to share how it went with each other on a Friday.
Being indoors doesn't mean you can't feel sunny day vibes. And luckily, Captain Furling has room for you and your colleagues on his virtually chartered yacht. Come aboard and transport to your "inner Cancun" for a tropical online team building adventure.
The summertime is all about getting outside, enjoying the fresh air, and having fun. So, you might as well make the most of it—and create unforgettable experiences for your colleagues while you're at it.
What's your favorite summer team building activity? Let us know in the comments section below!
---
Learn More About Summer Team Building Activities for Your Workgroup
If you've got questions about how to host incredible summer team building activities for your colleagues, reach out to an Employee Engagement Consultant. 
Subscribe To Our Newsletter
And Stay Updated