118 Check-In Questions for Meetings with Teammates
If you want to get the most out of every meeting and get a gauge on your team's engagement and well-being, incorporate these check-in questions into the conversation.
Meetings aren't just a time for casual chit-chat. They're also an opportunity to have an intentional, purpose-driven touch-base—and that's why asking the right check-in questions will help you get to the core of what you're discussing.
Whether it's a catch-up to gauge team morale or a meeting to discuss an ongoing project, asking the right catch-up questions helps you to get the answers you're looking for.
But they also offer bigger benefits than that, including:
Increasing meeting participation
Creating a stronger sense of camaraderie between you and your team member
Preventing miscommunication
Keeping things on track
Not sure where to start? Don't worry. We've got you covered with our list of 118 check-in questions for meetings of all kinds.
15 Check-In Questions for Daily Meetings
For daily huddles with individual employees or your team as a whole, these check-in questions will help you get up to speed with where everyone stands.
What is the biggest change since yesterday?
What is the priority for today?
What is your goal for today?
What do you hope to be doing in one month's time? Three months? One year?
What do you plan to accomplish today?
What is a goal or self-improvement plan you have set?
How will you end today better than you started?
Who can help you today?
What would brighten up your day today?
What obstacles do you foresee today?
What's the challenge of the day?
What are three skills you can practice today?
What's your intention for today?
What resources or tools will you need today?
What's your most pressing question of the day?
13 Check-In Questions for One-on-One Meetings
Your one-on-one meetings with employees are incredible opportunities for much-needed facetime. They allow you to truly get a sense of how your team is doing, where they're exceling, if and where they're struggling, and how you and your organization can better support their success.
What have you been working on since we last met?
What topic do you feel confident in giving an impromptu presentation on?
What's been taking up most of your time?
If you had a time machine, what would you change about this past week/month/quarter?
If you were suddenly the president of a company, what is a change you would implement immediately?
What milestones have you hit?
What obstacles/blockers are you facing in your work?
What are your goals between now and our next meeting?
What could be improved about your role?
Which teammate do you communicate with most often?
Who is a teammate you would like to work with more?
How is work at the company aligning with your career goals?
How can I better support your work?
9 Check-In Questions for Team Meetings
When it comes to catching up with your team as a whole, such as in quarterly meetings or at company retreats, these check-in questions will give you valuable high-level insights to key business functions and team performance.
What planned milestones did we meet in the last sprint, week, month, or quarter?
How can we improve how we're approaching (insert specific launch/project/etc.)?
Which tasks are taking up most of your time?
What are the biggest time wasters for you each week?
As a team, is there anything we should START/STOP doing?
Are there any blockers slowing down our progress?
What additional support can I provide to help us reach our team goals?
Who knocked it out of the park this week on the team?
Anything else you would like to share?
11 Check-In Questions for Projects
There's a lot going on in the midst of a project, with a lot of balls in the at any one time and a number of different people overseeing multiple moving parts. So, to efficiently and effectively get a gauge on progress and status, these check-in questions can help you get the answers you're looking for.
How will you measure success for your part of the project?
Do you foresee any obstacles to producing your deliverables?
What concerns do you have about the project?
What excites you about this project?
What do you need from me as a project manager in order to successfully complete this project?
What is working as expected? What is not?
Is there anything we should not do, stop doing, or change?
What are you doing that wasn't planned? How does that affect your workload?
How are changes you've implemented affecting the overall strategy?
What can we do differently next time we have a project like this?
What do you need to ensure this project's continued success?
Wondering how you can make every project even more successful? Check out our list of the 20 most important project management skills in the modern professional landscape.
41 Check-In Questions for Team Wellbeing
Beyond project statuses and business results, one of the most critical factors in creating a successful organization is to ensure your team is happy, engaged, and fulfilled. These check-in questions will help you get an honest gauge on how your team is doing.
What are you going to do today to take care of yourself?
How are you feeling about your job overall?
What is your biggest obstacle?
How would you describe your current mindset?
What time of the day are you most alert?
What time of the day are you least alert?
On a scale of 1 to 10, how is your mental health at the moment?
What makes you hopeful?
How is your work-life balance this week?
What is something that made you proud lately?
What tools might help you focus better?
What is your biggest or most common distraction?
How in-sync do you feel with your teammates?
What's bringing you the most stress right now?
What's something that you do to relieve stress?
What brings you the most joy at work?
Do you feel challenged enough at work?
How are you feeling about your current career trajectory?
If you could spend one workday a week working on whatever you wanted, what would it be?
Do you feel that you have room to grow in this position?
How often do you feel lonely when working from home?
When, if ever, do you feel ignored at work?
What tasks are you most comfortable performing?
How many hours a day are you fully focused?
When do you achieve the best workflow?
What tasks take you outside of your comfort zone?
How confident are you in your ability to do your job?
What is your main concern at the moment?
What are you feeling anxious about?
What idea is overwhelming you?
What is confusing you?
What is exciting you?
What is making you angry?
What frustrates you?
What excites you about your work? What has you worried?
How does your work here align with your career goals?
How do you feel about your team?
Do you have time to get the rest you need?
Do you feel supported by leadership?
What is causing you doubt?
What is making you hesitate?
If you want to do something to improve team morale, team building activities can do wonders for your employees.
Here are a few options you can consider.
An up-and-coming actress has been found dead in her hotel room the morning after an awards show. Now, you and your team need to channel your inner detectives as you review the evidence, assess potential suspects, and determine the method, motive, and murderer in the crime.
In this scavenger hunt activity, your team can get out of the office and explore your city in a whole new way. Together, your team will need to think outside the box, bond as a group, and venture outside into the community in order to complete a series of fun and unique photo and video challenges. The team with the most points when time runs out will be named the winners!
And if this type of activity resonates with your team, check out our list of 11 other scavenger hunt team building activity ideas.
With Jeoparty Social, your team will get to step into their very own Jeopardy-style game show experience – equipped with a buzzer, a professional actor as your host, and an immersive game show platform. Between each round of Jeopardy, your team will participate in social mixer challenges.
If your team works remotely, you can also enlist virtual team building activities.
In this virtual escape room experience, your team will be transported into a pyramid cursed by a restless mummy. You'll have to work together to uncover clues and solve complex challenges to lift the ancient curse.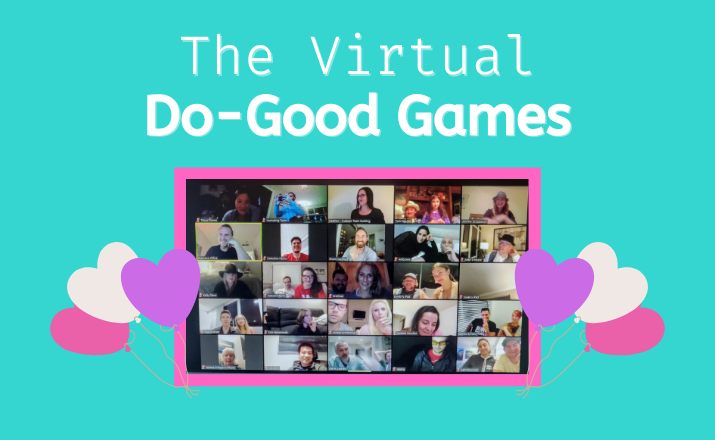 Team up with your colleagues to do some good in the world and give back to those in need, while having a blast. The Do-Good Games is a morale-boosting virtual team building activity that transforms friendly competition into charitable donations.
Solve online puzzles, riddles, and trivia with your remote colleagues in this brain-boggling virtual team building competition.
29 Fun Icebreaker Questions for Casual Check-Ins
For something a little more light-hearted to get people comfortable and feeling engaged, you can also use fun icebreaker questions and jokes to break the tension.
What was the worst injury you ever had?
Tell me an embarrassing story about yourself.
When did you last cry in front of another person? By yourself?
If you could add a word to the dictionary what would you add and what would it mean?
The zombie apocalypse is coming. Who are three people you want on your team?
If you could choose your age forever, what age would you choose and why?
Teleportation or flying?
If you could be any supernatural creature, what would you be and why?
If you were a vegetable, what vegetable would you be and why?
If you had to lose all your memories, which one would want to lose last?
What are your biggest phobias?
If you were left on a deserted island with either your worst enemy or no one, which would you choose? Why?
What would be the most surprising scientific discovery imaginable?
If you could add anyone to Mount Rushmore who would it be and why?
If someone offered you a million dollars to give up your smartphone forever, would you do it?
What's your cellphone or computer wallpaper?
If you could have an unlimited supply of one thing for the rest of your life, what would it be any why?
If you were forced to participate in a flash dance, what song would you perform to and why?
What's your favorite plant?
If you had to be transformed into one household item, what would it be and why?
If you could bring back any fashion trend what would it be?
If you could get rid of any current trend, what would it be and why?
What's one frequently used word that you can't stand?
What was the first thing you thought about when you woke up this morning?
If you were a fridge, what item would you hate to hold? What item would you love to hold?
If you had to eat a crayon, what color would you choose? Why?
Would you show everyone in this meeting your browser history?
What's the most embarrassing thing you ever accidentally messaged to somebody?
Have you ever pretended you didn't see somebody to avoid talking to them?
If you want even more inspiration, check out our list of 370+ other team building icebreaker questions spanning everything from food to history, pop culture, and more.
Your team is busy and so are you. That's why it's important to make sure your meetings are intentional and that you're getting everything you need out of them. And to achieve that goal, there's no better approach than to use targeted and thoughtful check-in questions.
Does your organization have a go-to list of check-in questions for meetings? If so, let us know what they are in the comments section below!
Learn about team building activities to help boost employee morale and engagement.
If you've got questions about team building activities that can help your team connect, recharge, and have fun, reach out to an Employee Engagement Consultant.
Subscribe To Our Newsletter
And Stay Updated