ONLINE GUIDE: Top 50 Indoor Team Building Activities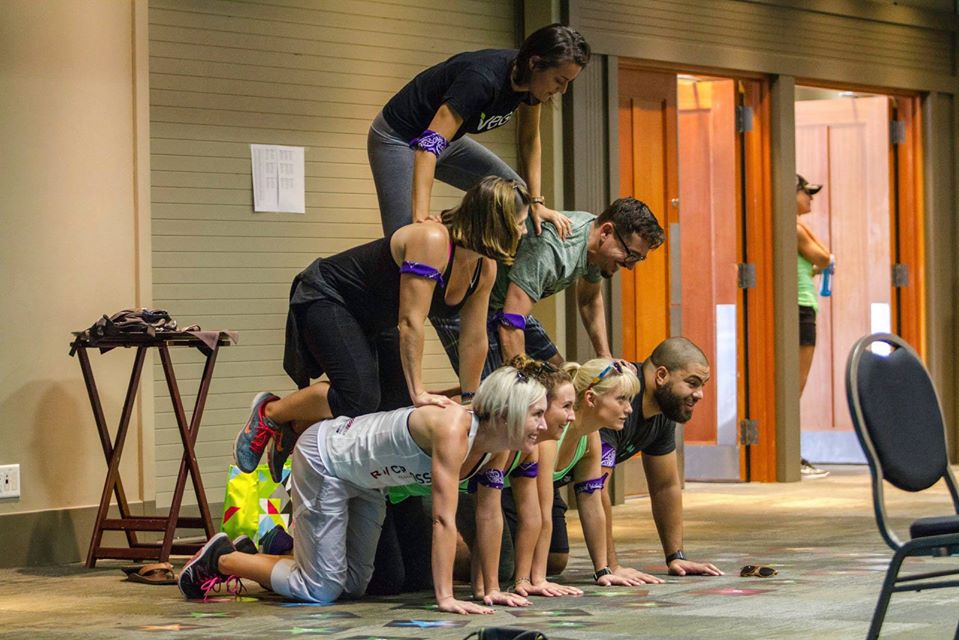 Indoor team building activities offer the perfect solution to help your group strengthen their bonds, rain or shine, at almost any venue. Discover 50 fun and exciting options that your colleagues will love.
When it comes to planning a memorable event for your work group, you may not immediately think of indoor team building activities. Traditionally, these are somewhat "boring" games that you can do with your coworkers in your boardroom, which usually result in employees rolling their eyes, watching the clock, and heading for the door.
A few examples that come to mind, include:
Trust falls
Egg drop
Memory game
Considering this, you may assume that a confined indoor space can't provide an exciting and memorable team building experience. But with the right activity, you can offer your group a fun and energizing event from almost any indoor venue that employees won't soon forget.
To learn more, you can read the guide below or download it for free in an all-in-one PDF.
---

Table of Contents
Part One: Popular Occasions for Indoor Team Building
3 Indoor Events that Make Great Team Building Opportunities

Try indoor team building to start or end your company retreat with a bang
Break up a long day of meetings or a multi-day kick-off with an activity
Use team building to liven up a corporate celebration or staff lunch



Part Two: 50 Indoor Team Building Activities
5 Categories of Exciting Team Building Activities You Can Do Inside

Charity activities to help your team give back right from your office or indoor venue
Game show-inspired activities for groups who thrive on time limits and trivia
Collaborative team building activities that bring groups together for a common goal
Indoor mystery activities that put your employees in the detective's seat
Problem-solving team building activities to challenge your group's code cracking skills



Part Three: Benefits of Indoor Team Building Activities
4 Great Reasons to Choose Indoor Team Building for Your Event

Rain or shine, you and your group won't have to worry about the weather
Indoor team building can be done at your office, a hotel, or almost any other venue
Available year-round, you can plan your event for any month or season
No need to overcomplicate your activity with off-site travel, expenses, and logistics

---

Part One: Popular Occasions for Indoor Team Building
3 Indoor Events that Make Great Team Building Opportunities
These corporate events, which are typically held inside, offer a great chance to add an exciting indoor activity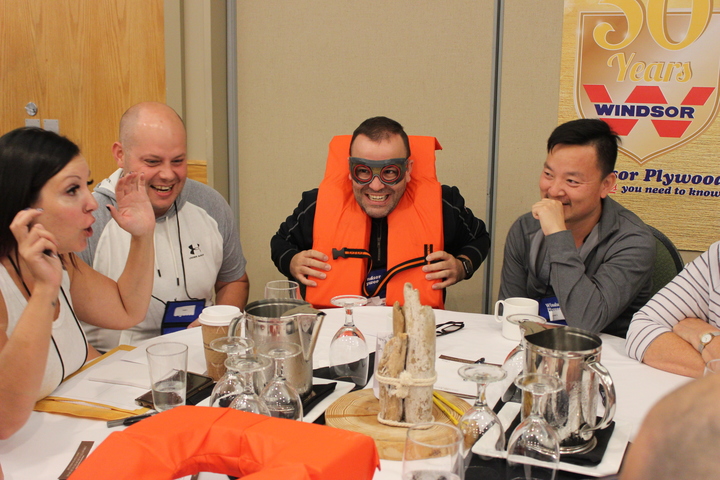 Although indoor team building can be done just for the fun of it on any day of the week, you may be looking for a more momentous occasion for your activity.
Here are the top three corporate events that you can easily add indoor team building to.
1. Corporate Retreats
Corporate retreats. Company retreats. Staff retreats. Whatever your organization calls it, this typically annual event is usually a favorite among employees. A fact that can put quite a bit of pressure on the retreat planner to ensure that it's a smoothly-run, successful event.
If you've been tasked with organizing this year's corporate retreat, you may be in search of ways to make it stand out. Indoor team building activities are an ideal solution. They're fun and exciting, and no additional transportation or logistics are required.
Find out How Kickstart Seed Fund Engaged 110 CEOs with the Right Team Building Event with this case study about their Annual CEO Summit retreat.
An indoor team building activity can help improve employees' experiences at your company retreat by:
Bringing energy to the room
Encouraging collaboration
Breaking up info-heavy sessions
Strengthening working relationships
Planning this large-scale event can seem like a lot of work – but it doesn't have to be. Read our ONLINE GUIDE: Everything You Need to Know About Planning the Ultimate Company Retreat for more expert tips on how to put your event together. You may also be interested in learning about The Top 20 Destinations in North America for Company Retreats.
2. Kick-Off or Multi-Day Meetings
If you've got an upcoming kick-off or multi-day meeting, adding an indoor team building activity can offer many of the same benefits as mentioned for retreats. Even more importantly though, breaking up several solid days of meetings with a fun activity can help to keep employees engaged.
Kick-offs and multi-day meetings are usually packed with lots of data and presentations. And unlike a retreat, which typically balances heavier info sessions with lighter ones, these meetings that span a couple days can be quite draining on your team.
With a mid-day indoor team building activity you can help prevent your attendees from burning out. You can even consider scheduling one for each day of meetings.
Find out how an Engineering Firm "Burns Off Steam" After Two Full Days of Meetings in this case study.
You can also check out An Event Planner's Guide to Epic Company Kick-Off Meetings for more advice on how to organize your meeting with ease.
3. Celebration Events
From holiday gift exchanges to employee recognition lunches, company celebrations are a great reason to organize indoor team building activities.
Adding one to your celebration can help:
Give the event a purpose
Prevent boredom
Encourage engagement
Add extra excitement
Whatever the occasion may be, stay right in your office or lunch venue and let the team bonding begin!
Try Indoor Team Building Any Time
While the above events are great opportunities to do an indoor team building activity with your group, don't forget that you never need a reason! Many of our indoor activities are available round the clock, seven days a week, and can be incorporated into any part of your workday or weekend.
---

Part Two: 50 Indoor Team Building Activities
5 Categories of Exciting Team Building Activities You Can Do Inside
Here is a comprehensive list of 50 fun and memorable indoor team building activities you can do with your colleagues

1. Indoor Charity Activities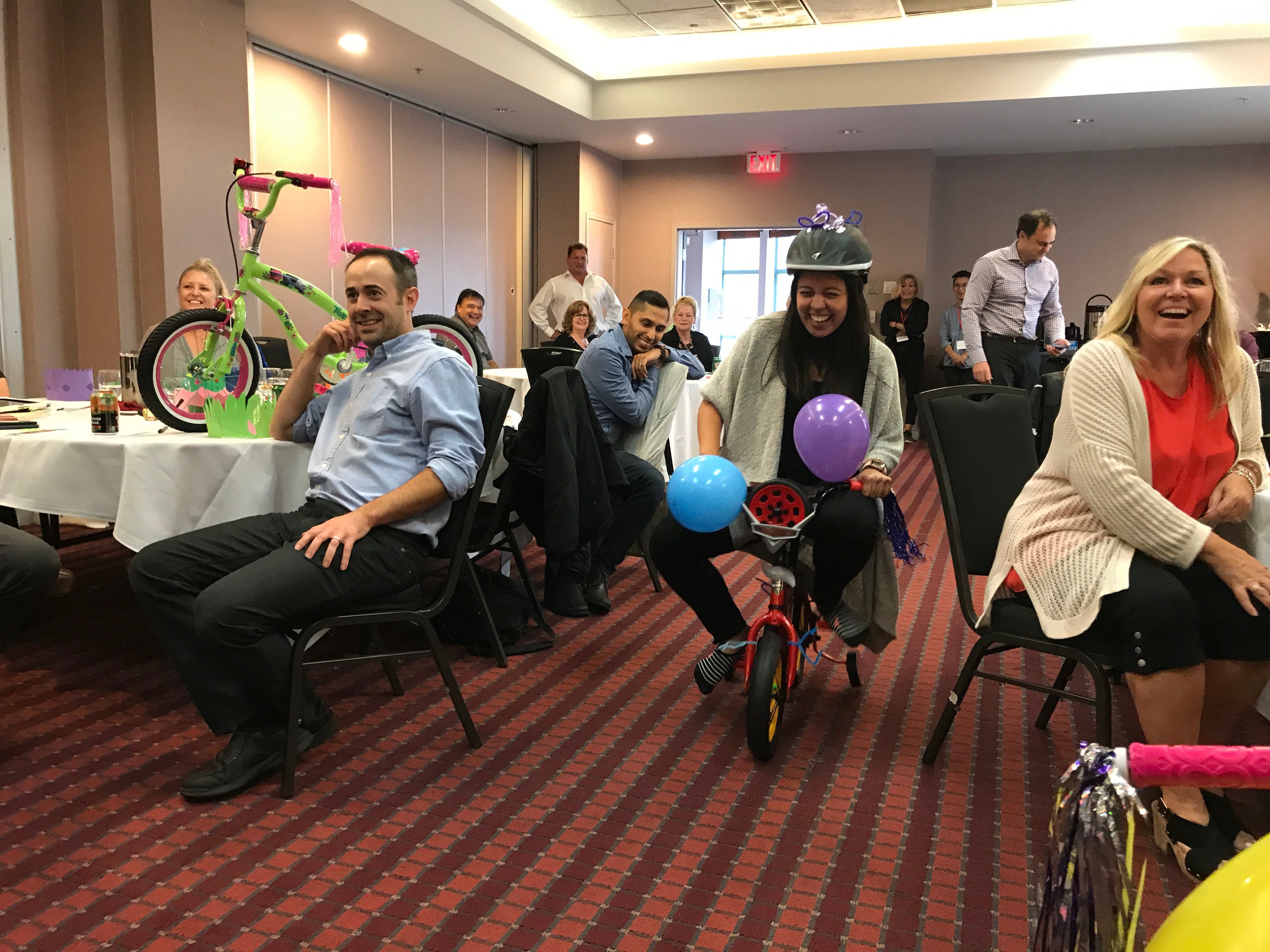 If you and your team would like to give back but would prefer to stay indoors, look no further than these memorable philanthropic team building activities.
Charity Bike Buildathon – Split into teams to build, decorate, and put together an advertising campaign for children's bicycles. After each group has presented their bike, you get to donate them all to a charity of your choice!


Clothing Drive – Head to a local women's center, church, or non-profit like Covenant House to help sort incoming clothing donations, assist with merchandising, or stock shelves during a clothing or donation drive.


Wheelchairs for Charity – In groups, collaborate with your coworkers to build and test real wheelchairs. After each chair passes a functionality course, your team gets to donate them all to a local charity that you will have selected beforehand.


Soup Kitchen – Prepare and serve meals side-by-side with your colleagues at a nearby soup kitchen or food bank during the holidays or whenever they are accepting volunteers. You can find one close to your office using resources such as Feeding America.


School Supply Scramble – Through competing in a series of challenges, teams earn school supplies and bags to put together the ultimate backpack donations. Once assembly is finished, your group sends the bags to local children in need.


Holiday Hampers – Try this heart-warming activity at a company holiday lunch, celebration, or annual winter retreat. Break out into groups and task each team with putting together a decorated hamper for a family in need.


Bookworm Builders – Show off your creative flare and do good at the same time with this philanthropic activity that tasks teams with building and decorating children's bookshelves. Make a difference at the end by donating all of your creations to a local charity.


Assist Those in Need – This is one of the most basic ways to give back. Simply head to a hospital, school, or senior center and volunteer alongside your colleagues. This activity can help you bond with your peers as you take part in an exercise of pure empathy and compassion.


Hardware Harmony – Using tools, parts, and hardware, your group will need to collaborate in order to create musical harmony. Together you'll collect household items, rehearse, and put on your very own concert before donating everything to charity.


End-Hunger Games – In small groups, work through teamwork challenges that are centered around non-perishable food. In the end, whoever builds the most impressive structure out of their items wins – with everything eventually going to a food bank of your choice.
2. Indoor Game Show Activities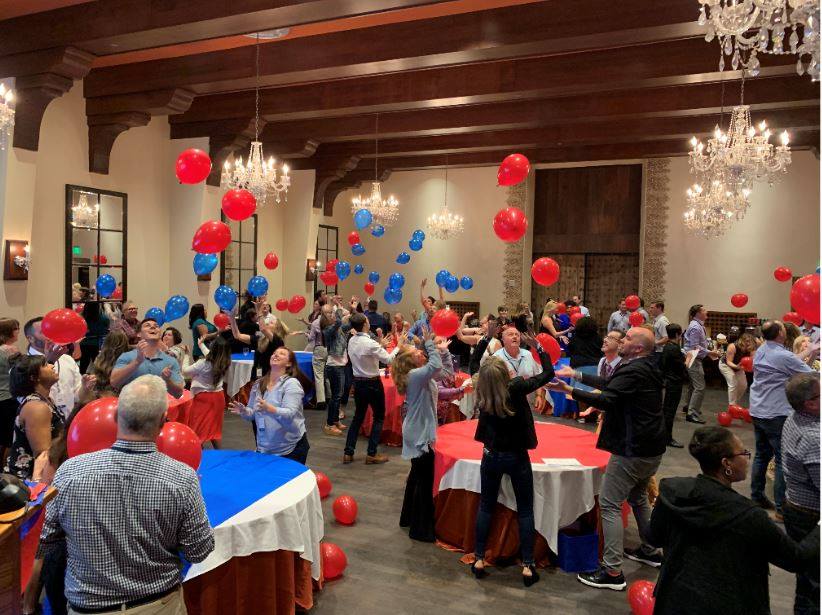 For indoor team building that's full of energy and excitement, try activities that are inspired by popular television game shows.
Game Show Extravaganza – Show off your trivia knowledge in this fun game show-style competition! Split into teams and face off against other groups in five rounds of photo and trivia challenges that cover everything from pop culture to politics.


Office Jeopardy – This activity can be as simple as creating questions for three teams in the style of the popular TV show. But if you feel like really getting into it, Career Trend offers step-by-step instructions on how to put together a Jeopardy game for your office.


Pictionary – Let out your inner artist as you bond with your team over a game or two of Pictionary. Ask each participant to contribute a word for artists to pick from when it's their turn to draw, or purchase any ready-made version of the game, such as this one from Mattel.


Heads Up! – A game popularized on The Ellen DeGeneres show, you can play Heads Up! on your smartphone by downloading the app, which provides lists of words. Choose someone to hold the phone to their forehead, while the rest of the group gives clues without saying the word onscreen. Try to get as many right as you can!


Minute to Win It – In this activity, based on the popular TV show, groups are challenged to tackle fun 60-second tasks before time runs out. Groups will need to work together, communicate, and cheer each other on in order to be successful.


Wheel of Fortune – Using PowerPoint, you can easily put together your own version of this exciting game show. An article from Techwalla shares in-depth instructions on how you can customize your presentation for your group.


Whose Line Is It Anyway? – Take some inspiration from this always-entertaining improv show and let the laughter begin! Ask employees to write down imaginary scenes that actors can choose from – without looking – when they go up to perform.


The Price Is Right – If you and your team are looking to show off your consumer knowledge, try setting up a few different games inspired by The Price Is Right! Our Pastimes offers easy ideas on how to do just that by making use of day-old newspaper advertisements.


Lip Sync Battle – Whether you form a group or perform a solo number, this activity is pure, energetic fun! Ask employees to choose and memorize a song ahead of time and then let them lip sync their hearts out in an epic battle between colleagues.


Family Feud – You can play a free online version of this popular game via MSN Games. Get it up on a big screen or projector, split your colleagues into teams, and see if you can guess the most popular answers to quirky survey questions!
3. Indoor Collaborative Activities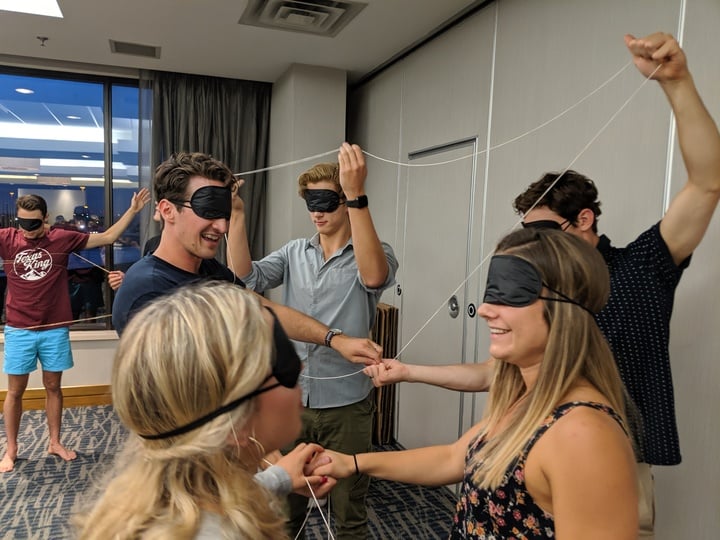 The below 10 activities offer team building options that are solely focused on working together and strengthening employee bonds.
Domino Effect Challenge – Together as a group, see if you and your colleagues can build a gigantic "chain-reaction" machine that really works! In smaller groups, participants create sections of the machine, and at the end, you'll get to connect it all together to put it in motion.


Company Crest – Provide your team with sheets of paper or canvases and art supplies for this creative group activity in which employees create a crest to represent your company. You can choose to break out into smaller groups, or task everyone to work together on one big crest.


Cook a Meal – For your next company event, why not cook the food yourself? Task each department with preparing a portion, such as appetizers, sides, and desserts, or work on the entire meal together. Don't have an office kitchen? Head out for a group cooking class instead!


Getting to Know You – Break the ice with this fun and easy-to-run group activity. Using your smartphone, complete social challenges through Outback's app that will help you learn even more about your colleagues.


Dance Routine – Head to a nearby studio for a dance class and get in rhythm with your colleagues! Or if you have a team member who loves to dance, ask them to put together a sequence to teach the rest of your group. Offer the chance to learn the routine, before doing a final number for other departments during a company lunch or event.


Minefield – Set up an obstacle course in any open space at your office and ask for volunteers who would like to navigate the "minefield" while blindfolded. The remaining participants will be responsible for guiding their colleagues through the course, using only their voices.


Colleague Connections – A free icebreaker game created by Outback's leadership team, Colleague Connections gets employees to spend five-minute, one-on-one intervals with their coworkers, as they ask questions designed to help them learn more about each other.


Business Challenge – Either as one big "think tank" or in smaller groups, ask your team to try to solve an issue that your organization is actually facing. Tell them that money and resources aren't a factor and see what solutions they come up with!


Meditate – Head to a local yoga class or ask a member of your team who's passionate about meditation to lead a lunchtime session. This activity is a great way to bring your colleagues together, recharge, and find your inner Zen as a group before tackling the rest of your workday.


Desert Island – If your entire company or department was stranded on a desert island, what would you do? Challenge your team to determine the top 10 things they would absolutely need to survive and safely get home. Everyone must agree on the final list and solution!
4. Indoor Mystery Activities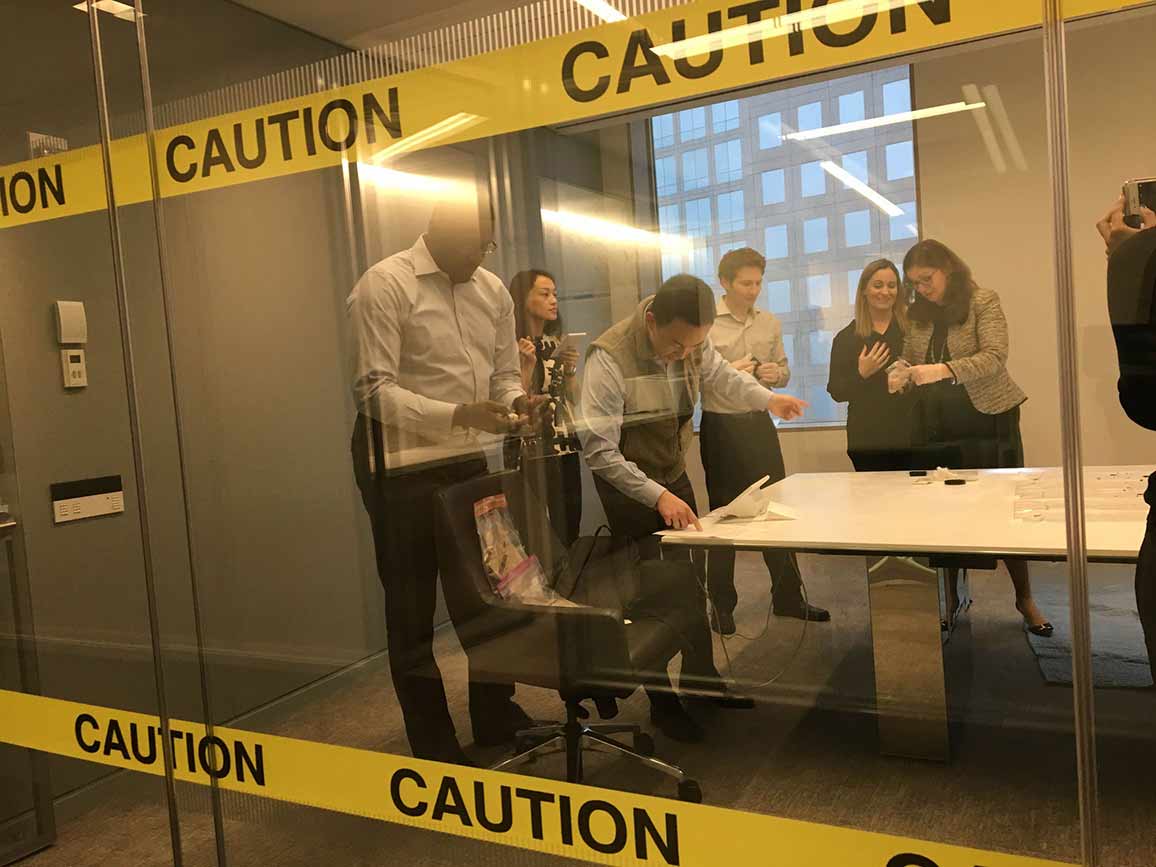 Do you have a team who enjoys discussing conspiracy theories, solving mysteries, and tackling the unknown? You can bring an air of intrigue to your office or venue with any of the below options.
Clue Murder Mystery – You and your coworkers will have to put your heads together to solve who had the means, motive, and opportunity to commit a deadly crime. Using the Outback app, teams will attempt to piece together the case by correctly answering the most questions.


What Could It Be? – Using any object of your choice, ask each person in your group to give a silent demonstration of that item. The rest of your team will have to guess what their colleague is doing until someone gets it right. The object could be anything from a desk phone to your colleague's water bottle.


Numbered Mystery – Start this activity by providing each employee with a different numbered clue. Participates will have to tackle hints in order if they want to correctly unravel the mystery, which can be something simple and relevant to your group like where and when your team's lunch will take place!


CI: The Crime Investigators – Groups will have to use their detective skills to find evidence, uncover clues, and solve a murder. Our team will come to you to transform any venue, such as your office, hotel, or conference room, into your very own crime scene.


Blind Buy – Break your group out into teams and ask them to prepare a sales pitch for a product of your choosing. The twist? Teams won't know that the panel of judges who they'll be pitching to will be blindfolded during the presentations.


Murder Mystery Luncheon – Host an office party where each attendee plays a different role in a murder mystery reenactment! You can assign roles beforehand, or randomly hand out a card with details to your coworkers as they arrive at your event.


Sounds of Silence – Give your team a series of challenges to do together – all in silence. See if they can build a human pyramid, put together a desk, or coordinate a group jumping photo without talking to one another. Add an element of confusion by purposefully giving one or two participants a different list of challenges.


Gotcha! – Each participant receives three secret "codewords" and three names of other people playing – their "targets." Whenever a player tricks one of their targets into saying a codewords, they shout "Gotcha!" and steal a name and phrase. Whoever has the most targets at the end wins.


Board Games – If your team loves a good thriller narrative and enjoys playing board games, there are plenty of great options that combine the two! Try games like Clue, Spyfall, or Codenames to add a little excitement to any indoor event.


Descriptive Artist – Pair employees up and provide each group with a picture, paper, and pencil. Sitting back-to-back, one person will describe the image and the other will attempt to recreate the picture using only their partner's description. At the end, the artist will try to guess what their masterpiece is of.
5. Indoor Problem-Solving Activities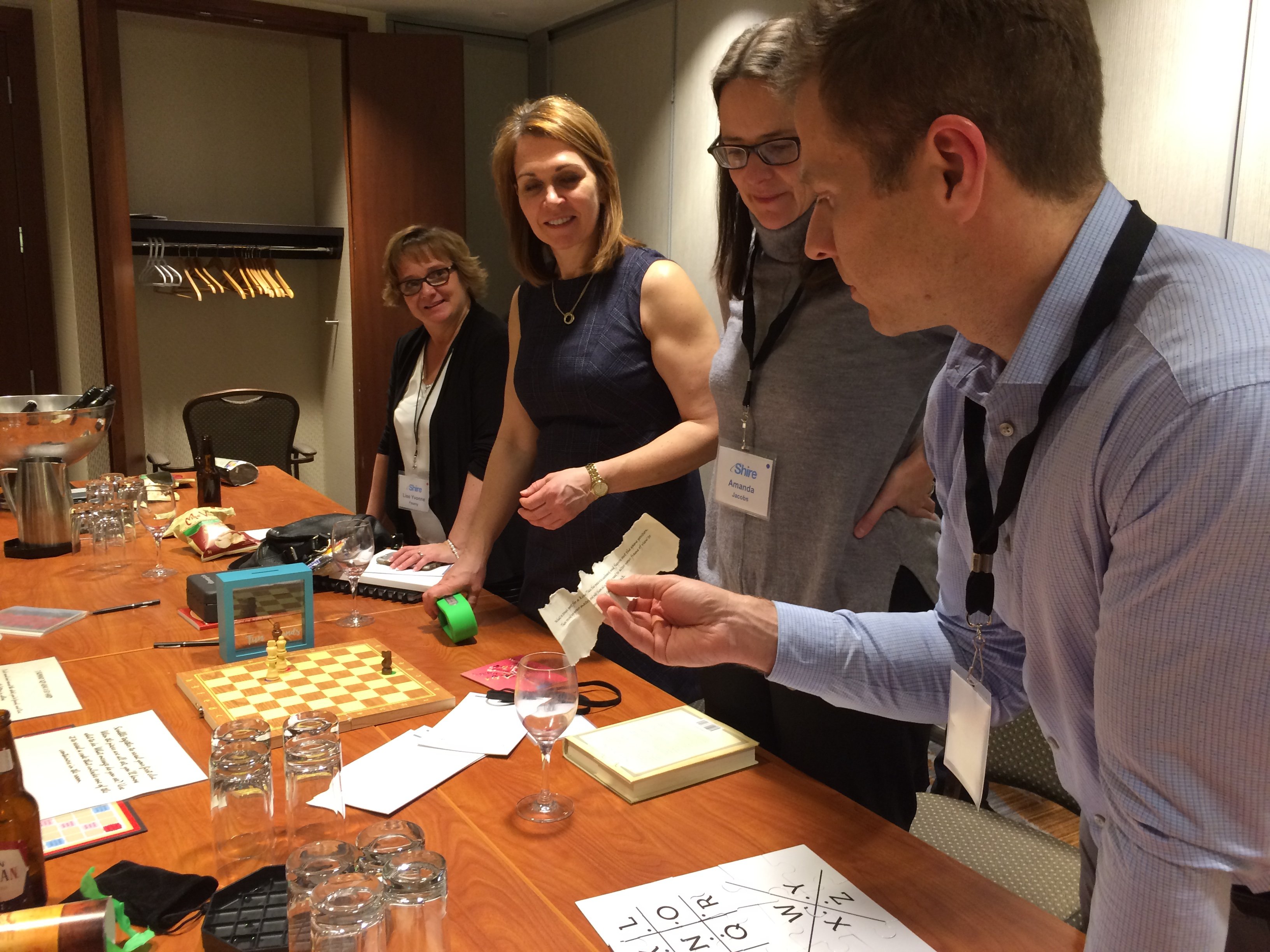 Not every group thrives off of "rah-rah" team activities. If your group is a bit more low-key, try one of these cognitive-based options instead.
Corporate Escape Rooms – In this activity, our team brings the escape room experience right to your meeting space or office. Choose from Jewel Heist or The Mummy's Curse, and start searching for hidden puzzles and clues to solve all the challenges before time runs out!
 

Sudoku Tournament – Using a free online version of this popular pastime, such as Sudoku.com, challenge employees to see who can solve the puzzles the fastest. Break your group out into teams to promote collaborative thinking and effective communication.
 

Code Break – Using Outback's app, split up into small groups and put your heads together to solve a variety of puzzles, riddles, and trivia. The team who has completed the most challenges when time is up, wins!
 

Paper Towers – In this activity, every employee is given a single sheet of paper and a piece of masking tape. Within a given time limit – say five minutes – participants must try to build the tallest paper tower possible. 
 

Riddle Me This – Either as one big group or in smaller teams, provide your colleagues with a list of challenging riddles and brainteasers. You can find inspiration from a variety of online resources, such as Forbes' 10 Brainteasers to Stretch Your Brain.
 

Office Builders – This activity makes use of everyday office supplies. Tell participants to bring three items from their desk and then split them up into teams. Using only the supplies that they brought with them, groups must build a structure of their choice like a mini bridge or small car.
 

The Barter Puzzle – Break out into teams and give each group a unique puzzle. The main goal is to see who can complete their puzzle first. The catch? Some pieces from every puzzle have ended up with another team, and they'll have to negotiate to get them back.
 

Hang Man Competition – Everyone knows this popular game where one person spells out a word or phrase using blank spaces and others try to guess what it is. Make it a bit more challenging with no clues and a limited number of guesses!
 

Team Pursuit – Play to your team's strengths as you take on four different types of challenges that range from mental, physical, skill, and mystery. Whichever group completes the most challenges when time is up will be crowned the winners!
 

Crossword Contest – Grab a free crossword puzzle from Dictionary.com or a news publication like The Washington Post, split employees out into teams, and provide each group with the same puzzle. The winner will be the team who completes it first. 
---

Part Three: Benefits of Indoor Team Building Activities
4 Great Reasons to Choose Indoor Team Building for Your Event
Indoor team building often has a reputation for being somewhat restrictive and boring but here are four benefits of choosing to stay inside for your event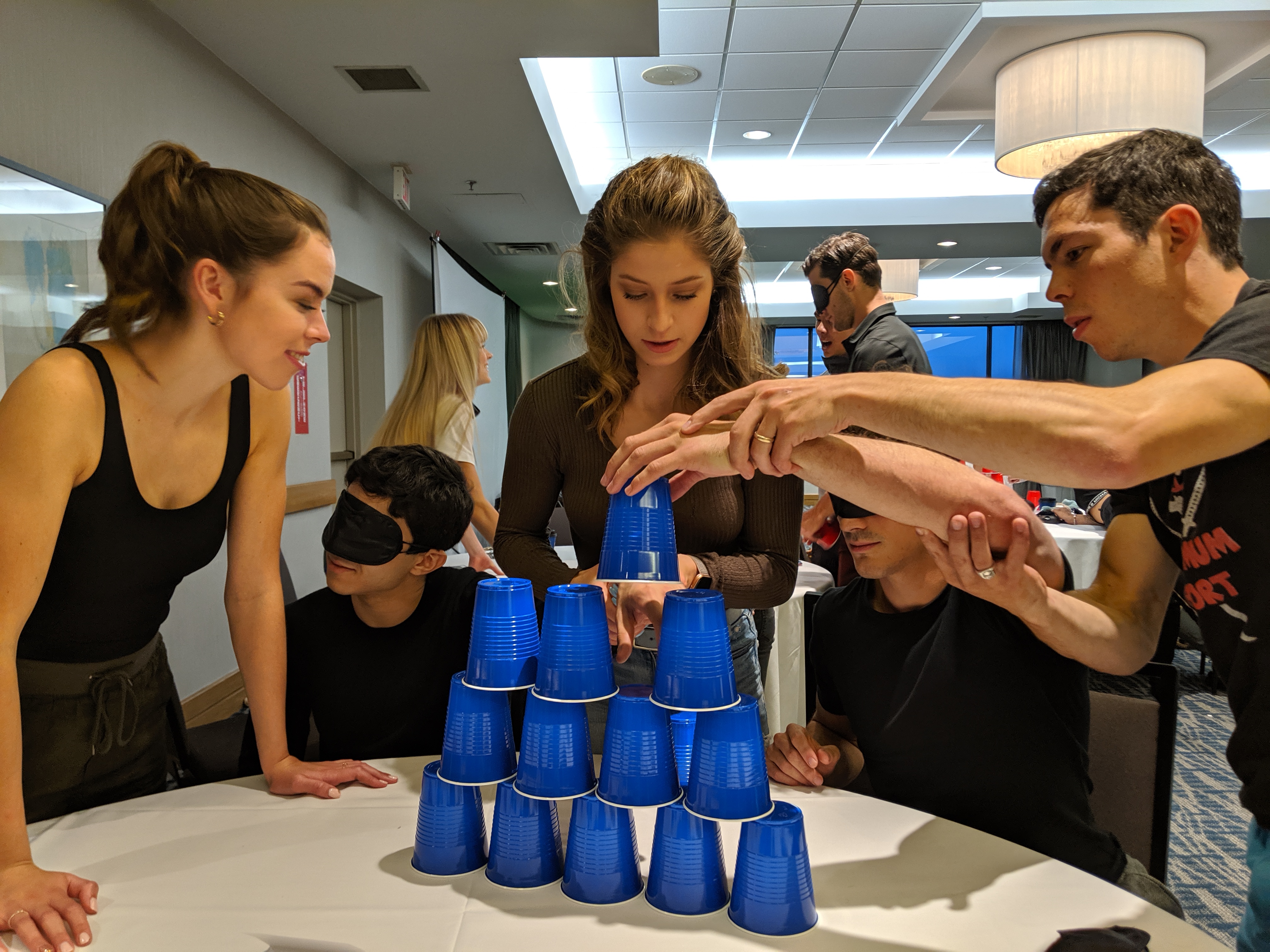 1. Weather Is Never an Issue
Regardless of what the conditions are outside, your team building activity can move ahead as planned. This gives you the flexibility to plan your event months in advance.
Freak snowfall or sudden rainstorm? Your team building activity won't be affected at all.
That said, for groups who do choose to take part in one of our outdoor activities, Outback offers a Peace of Mind Plan. This means that if the weather is poor on the day of your event, you can substitute your outdoor experience for one of our select indoor activities.
2. Flexible Location
Choosing to do your team building activity indoors means that you have the option of staying at the office or traveling a little further afield. Below are just a few of the options you have when your activity is inside:
Boardroom
Meeting room
Bullpen
Hotel
Conference center
Library
Community center
If you need help finding the best location for your event, check out our article: How to Pick the Perfect Venue for Your Indoor Team Building Activity.
3. Available Year-Round
From January to December, indoor team building activities rarely have restrictions on when you can schedule them. This makes them the perfect solution for the colder months of the year, or during the "off-season" of some outdoor event options.
4. Simplified Logistics
With indoor team building, you and your group won't have to account for any extra logistical expenses for your event, such as:
Traveling far distances
Pricy venues
Lost time
You can simply set your activity up in your office or a nearby location whenever you'd like.
Retreats, multi-day meetings, company celebrations, or even employee lunches are just a few great reasons to organize an indoor team building activity for your group. With 50 exciting options to choose from, in five different categories, you and your colleagues can create lasting memories together – without having to leave your office!
Whether you decide to take part in a charity, game show, collaborative, mystery, or problem-solving activity, your group won't have to worry about bad weather or overcomplicated logistics. And you can plan to do your event at any time of year in almost any indoor venue of your choice.
Have you participated in an indoor team building activity with your company? Share your experience with us in the comments below. 
---

Learn More About Indoor Team Building for Your Group
If you'd like to learn more about our indoor team building activities for your group, just get in touch with our knowledgeable Employee Engagement Consultants.
Subscribe To Our Newsletter
And Stay Updated