How to Encourage Your Team to Survive and Thrive in a Hybrid Environment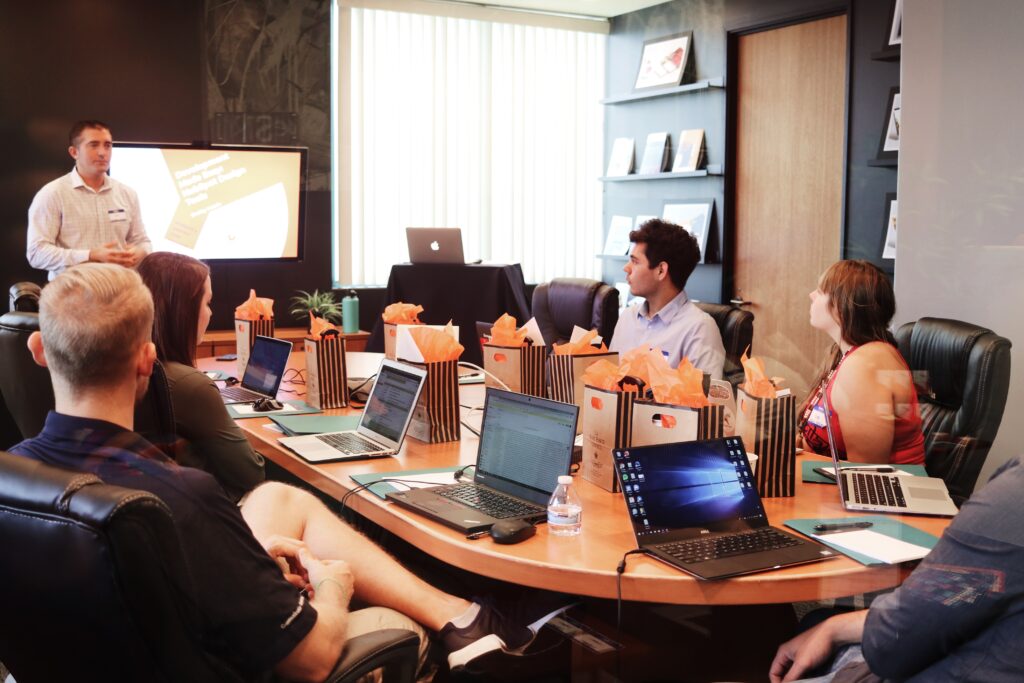 As employers work to bring employees back to the office, the idea of a hybrid work environment seems more and more realistic. In this guest post from Tracy Ring, you'll learn what you can do to help ensure your team thrives in the workplace of the future.
As COVID-19 case numbers drop, companies are brainstorming and testing ways to bring their employees back to the workplace. As such, managers and supervisors are now faced with the tough task of figuring out what the future of work looks like.
According to Microsoft's Work Trends Index, 66 percent of leaders are considering redesigning the office for hybrid work while 73 percent of employees want remote work options.
If the future of the American workplace is hybrid, what do employees need to survive? Beyond that, how can managers help them thrive?
Here are a few best practices as teams move forward in 2021.
Create a Dedicated Hybrid Work Policy
You wouldn't hire a new team member without onboarding and sharing a company handbook or manual, so why let your team take on new work styles without any guidelines?
To start the switch to hybrid, work with your HR department to create dedicated remote work policies.
First, decide what needs to be a company-wide policy and what should be addressed on a department and team level. For example, you might require employees to attend all-hands meetings in person while allowing teams to decide how to conduct weekly check-ins.
Next, determine what policies you need to protect your team legally. You may need to create technology requirements (more on that next) or specific rules to prevent discrimination or abuse.
Don't forget to involve your team members in the process! Have a meeting or send out an email to ask them what's worked and what hasn't in the past year while WFH. Taking their insights into consideration will bolster trust and provide an environment where your team thrives rather than just existing in the new status quo.
If this is new territory for your organization, don't worry. You don't need to reinvent the wheel. The beauty of the hybrid work revolution is there are many free templates and resources available. For instance, Employment Hero created a comprehensive guide that you can model your policies and procedures after.
Evaluate the State of Your Equipment
When the pandemic started, how did your team handle equipment and tech? Since most of us had no clue how long the pandemic would last, it was likely a case of "figure it out and make it work."
But it's time to create established plans that aren't just bandaids.
If your company plans to move forward with hybrid work, you need an equipment policy for your team.
Consider including the following elements:
Add barcodes to your company's devices to track who they're issued to 
Invest in device tracking and monitoring software so you can wipe stolen devices of sensitive information 
Ask employees to follow dedicated security protocols on personal devices. 
Offer corporate protection services for personal devices 
Train your employees frequently on how to spot phishing attacks 
These steps can protect your company from hackers while also reducing the chances of cybersecurity issues. In addition, equipment and tech policies can help your employees feel more secure in an ever-changing environment.
Provide a Safe and Clean Office Space
Before the initial lockdowns back in Spring 2020, office managers significantly increased the frequency with which they cleaned their workspaces. According to a survey by SERVPRO, 83 percent of businesses invested more in cleaning, upping the cleaning schedule to at least daily (34 percent) or several times per day (63 percent).
However, this updated cleaning policy shouldn't stop as you welcome back hybrid workers.
If anything, you want them to feel even more safe and secure when they come into the workplace.
Share your new cleaning and sanitation procedures moving forward. That same survey found that 16 percent of managers planned to keep up new cleaning protocols indefinitely.
Even if you can loosen certain restrictions as the pandemic subsides, keep up with measures that provide a safer space, i.e., limit the spread of germs, keep sick or ill workers at home, promote better hygiene, etc.
Establish Employee Feedback Channels
Provide open channels for feedback and communication, allowing your team members to share what they feel they need to make the hybrid model work.
Creating an open environment where your team members are comfortable offering opinions can be tricky. According to The State of Employee Ideas by Sideways6, a third of employees feel like their ideas are ignored, and more than half of employees say their company fails to act on good ideas. Don't fall into the same trap! Especially when you're transitioning between in-office and remote work, you need to prioritize feedback and collaboration as a leader.
Consider how your employees can share ideas in a way they feel heard. Not every idea will work, but you want your team to keep brainstorming ways to increase productivity and improve operations. Moreover, if a certain workflow or policy isn't working, you'll want to pivot quickly.
Feedback policies could include new options like a Slack channel, regular pulse surveys, or meetings specifically focused on open dialogue. Test what works for your organization and people, but ensure it allows for honest and transparent conversations that you actually listen to.
To learn more, check out Outback's guide to effective communication in the workplace. And if you're ready to level up the communication within your organization, you might benefit from a skills training program like Clear Communication.
Flexibility: The Key to Success in the Hybrid Ecosystem
A year ago, the hybrid work model wasn't nearly as popular. Today, two-thirds of managers are considering adopting this new way of work. Each company will experience its own hurdles and roadblocks as they transition. However, if you're willing to learn and your employees trust that you have their best interests at heart, you'll see better success rates.
If all goes well, 2021 will be easier than 2020. However, you'll still experience growing pains as the pandemic forces companies of all sizes and industries to evolve.
---
Learn More About How Team Building, Training, and Coaching Solutions Can Make Your Return to the Office Even Easier
For more information about how virtual team building, training, or coaching solutions can help enhance your team's return to the office, reach out to our Employee Engagement Consultants.
---
Author Bio:
Tracy Ring
Tracy Ring is a long-time remote worker, freelance writer, and content marketer. She loves to write about the intersection of mental health and workplace trends. Tracy brings a real-life perspective to her writing from 10+ years of diverse experience including, HR, project management, customer and client relations, and admin roles. Connect with her on LinkedIn or Twitter.   
Subscribe To Our Newsletter
And Stay Updated