How to Build the Corporate Culture Your Employees Really Want
Want to know what employees are actually looking for when it comes to your corporate culture? Hint: it's not a pool table or a beer fridge. Find out the top eight things employees shared with Outback that they value most.
A thriving corporate culture isn't just a nice to have – it's a must have for successful businesses. According to HubSpot, companies with strong workplace cultures experienced almost four times more revenue growth than those without.
---
In this article, you'll learn about:
---

Deloitte reports that 94% of executives believe a distinct workplace culture is important to a business' success. So, how can you create a corporate culture that really resonates with your employees? Perhaps your mind goes to perks such as:
Higher salary and bonuses
Fancy office coffee machines
Ping pong and pool tables
A company beer fridge
And while many employees do enjoy the above benefits, we found out first-hand that these aren't the things that draw most people to a company.
We reached out to our online community to discover what employees truly value most in a workplace culture. Read on to meet our panel of contributors and find out what they had to say.
---

Outback's Panel of Contributors
Employees from a range of industries and roles share what they look for in a company and its culture. Meet our panel of contributors below.
Name: Nina Krol
Position: Outreach Marketing Specialist
Company: Zety
What Nina Values Most: "A company based on values, a real community, and impactful work."
Name: Angela Ash
Position: Content Writer
Company: Flow SEO
What Angela Values Most: "One of the most important things to so many is that there's an open-door policy, with less of a divider between management and the worker bees."
Name: Robert Zlatkin
Position: Attorney
Company: Smith & Eulo Law Firm
What Robert Values Most: "I value the opportunity to learn and grow within my company the most."
Name: Emily Brown
Position: Email Marketing Designer
Company: Trinity
What Emily Values Most: "I believe that everyone just wants to feel like a person rather than a machine."
Name: Jessica Ruane
Position: Content Writer
Company: Beekeeper
What Jessica Values Most: "The best cultures will welcome impromptu brainstorming and even a little disruption, as it creates a unified feeling of teamwork."
Name: John Frigo
Position: Digital Marketing Lead
Company: My Supplement Store
What John Values Most: "I think ultimately what most of it comes down to is a company who cares about their employees, has a work-life balance, has some perks for employees that are outside of the norm, and companies which try to make an impact on their community and/or the world."

Name: Abby MacKinnon
Position: Copywriter
Company: Hoot Design Company
What Abby Values Most: "When it comes to companies and their cultures, I value freedom the most."
Name: Kerianne Vianden
Position: Website Content Writer
Company: Hotels4Teams
What Kerianne Values Most: "For me, I think it's important for a company to understand a good work-life balance."
Name: Darcy Cudmore
Position: PR Expert
Company: Coffee-Works
What Darcy Values Most: "Communication is everything and I look for a company that has excellent communication lines in place."
---

8 Ideas to Improve Company Culture
After hearing from our panel, eight common themes of a desirable corporate culture began to emerge. Keep reading to find out more.
1. Establish a Sense of Community
Nobody wants to feel like just another cog in the wheel. According to our panel, employees are looking to make connections with their colleagues and be valued for who they are as part of a wider community.
As Emily Brown of Trinity puts it, "I believe that everyone just wants to feel like a person, rather than a machine, which is why I think our culture is so attractive. Because we have such an established family value, it makes me proud to call our office, 'my work family.'"
Nina Krol of Zety agrees. "It's no secret that at least for some, company culture should be an extension of employees' social life," she says. "If we are to be motivated and productive, a well-integrated, healthy-functioning community is a must."
"I would consider the people I collaborate with to be some of my best friends," continues Brown. "We don't have to downplay our struggles, and we get to celebrate even our smallest accomplishments – whether at the company, or within our personal lives."
Darcy Cudmore of Coffee-Works shares, "I've worked with companies that keep everyone at a distance and it hurts productivity, discourages company morale, and doesn't allow you to really enjoy the experience." He continues, "I like a company that has a closeness among coworkers and peers. It helps you get a feel for what success is and really flourish as an employee."
"A really important thing to me is that a staff feels more like a family," concludes Kerianne Vianden of Hotels4Teams.
2. Offer Growth Opportunities
"A company culture is attractive when it is evident that your employer wants you to grow within the company," says Robert Zlatkin of Smith & Eulo Law Firm.
He explains that without the opportunity to challenge yourself and advance within an organization, other more surface-level perks don't hold much value.
"Companies can mimic the appearance of a great culture with couches and a pool table in the lobby, but if you have no chance of furthering your career and growing as a professional, you will eventually find these things meaningless," Robert concludes.
3. Have an Open-Door Policy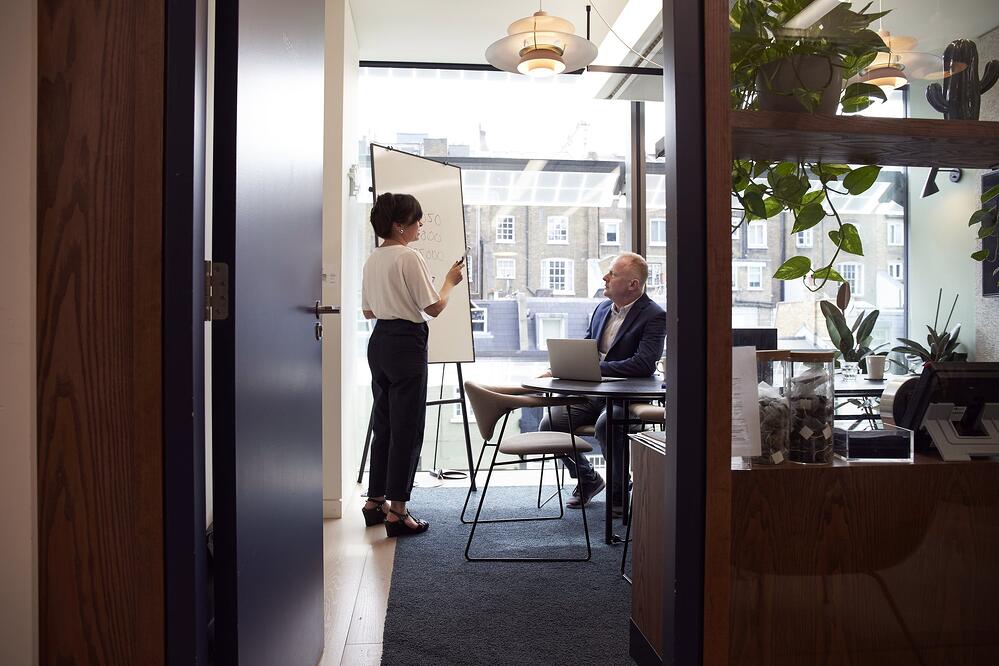 "When it comes to a company culture, one of the most important things to so many is that there's an open-door policy, with less of a divider between management and the worker bees," says Angela Ash of Flow SEO.
"Situations come up almost daily in a busy environment that might require an answer to a question or even just a second opinion," she continues. "When team members feel as if they can't go to their superiors without worrying about how they might appear, that's when things tend to go awry."
Cudmore agrees that employees should be given every opportunity to connect and collaborate.
"Communication is everything and I look for a company that has excellent communication lines in place. This should include regular meetings if there is an office location where the company works out of," says Cudmore.
He goes on to suggest how important this can be, especially for colleagues who may not work in the same location: "If the company is remote (like the company I work for), then there needs to be programs that encourage communication between coworkers and allow us to stay in touch, brainstorm, collaborate, and get to know each other."
4. Show the Impact of Your Team's Work
People want to know that their work is making a difference for someone, whether it's for a colleague, the company as a whole, or a client.
"Providing employees with a clear vision and letting them feel they are a part of the evolving company and appreciated for their work should be a part of culture building," suggests Krol.
However, it's not always easy for employees to see how their work is making a difference. John Frigo of My Supplement Store shares how challenging this can be for certain roles and industries.
"Among younger employees, i.e. Millennials and Gen Z, they seem to want to have meaning in their job or career. This is easy and obvious for careers like nursing or teaching where you have a direct impact and see that impact on the people you work with," says John. "For someone who works on Microsoft Excel all day, this is much tougher."
John goes on to recommend how a company can help by offering employees opportunities to go out and volunteer: "I think it's great when companies have programs where employees can volunteer on the clock, a day a month or a day a quarter."
Like John's recommendation? Check out this list of 15 volunteer ideas to help your team make a difference.
5. Provide Flexibility and Freedom
"I think what most employees are looking for these days is a more modern take on the workplace, i.e. flex work schedules, remote work, less working hours, etc.," says Frigo.
He continues, "I feel like most people don't dislike their work, they just dislike how much of their life their work occupies, for the typical worker five days a week, eight hours or more a day … I think people would prefer a better work-life balance to be able to enjoy life more and do more outside of work."

Abby MacKinnon of Hoot Design Company agrees. "It's important to feel comfortable and valued at work, and a company culture that values flexibility and individuality makes me feel the most at home," she says.

In addition to flexibility MacKinnon also cites freedom within a role as a top priority for her as an employee. She explains, "When it comes to companies and their cultures, I value freedom the most. I need the freedom to express my own thoughts and opinions, set a schedule that works for me, and take ownership of my work. Freedom makes me feel trusted, and when a company trusts me, it gets my trust in return."
Vianden has a similar viewpoint: "For me, I think it's important for a company to understand a good work-life balance."
She explains, "At Hotels4Teams, we have … a couple of events a month that make you excited to come to work … It's great here because everyone works really hard, but we also have fun."
Frigo shares a final thought on the matter: "I also think the idea that people need to be at a building eight hours or more a day is kind of crazy," he says. "What if I do more in four hours than someone else gets done in eight hours? Yet we're both expected to sit here for eight hours."
"This is a tough sell to employers and companies, however," he acknowledges, "as you're basically asking them to pay the same amount of money for less time. And, as a society, time is very connected to value."
6. Plan Group Outings and Activities
With events outside of the office, such as team building activities, employees can strengthen relationships with their colleagues and leaders alike. This can create a more collaborative and motivated team.
"You spend at least eight hours a day, 40 hours a week with people, and you should want to feel connected to them in some way," begins Vianden. "That's why I think group activities are so important – they bond people over it."
Vianden continues, "I think it's also important for your boss to not just be someone sitting in their office but someone who makes an effort to talk to his or her employees occasionally or go to an event."
Krol expands on this: "Comfortable office space, social outings, a dog-friendly vibe, birthday celebrations, and one-to-one chats with team leads over a bowl of good food is what creates bonds and a company culture that professionals seek."
7. Encourage Respect and Innovation
"Our company's leadership team makes each of us feel highly valued, which means I have never been afraid to share an idea, thought, or opinion with anyone in the office," says Brown.
She explains that at Trinity they have committees dedicated to making sure individuals feel welcome, are recognized for their hard work, and take breaks for some fun. "I can't imagine a more unified and driven environment," she shares.
Jessica Ruane of Beekeeper suggests that teams who evolve and are open to their colleagues' ideas, even if it deviates from the status quote, all contribute to a desirable corporate culture.
"In today's business environment, companies who welcome innovation and don't mind a little disruption have the foundation that is needed when a quick pivot is required on a project, or even during those unfortunate situations when everyone has to go back to the drawing board," says Ruane.
Ruane and Ash both agree that being open and respecting team members' ideas can lead to a culture that frequently engages in high quality brainstorming sessions.
"The best cultures will welcome impromptu brainstorming and even a little disruption, as it creates a unified feeling of teamwork," suggests Ruane.
Ash concludes, "Establishing from the beginning that there truly is no such thing as a 'stupid question' can go a long way. Plus, it can lead to all sorts of brainstorming opportunities!"
8. Create a Set of Company Core Values
Having established core values for your company can help you attract candidates that will be a good fit for your team, while also providing direction for your current employees in their everyday tasks.
For example, here at Outback, we're guided by our six company core values:
We will always put our customers first
We will always be self-accountable
We will always take action
We will always pay great attention to detail
We will always be open and honest
We will always be improving
Krol agrees with the need for an organization to build out values that align with their business, sharing that she looks for this when considering a new position.
"When choosing a company to work for, I looked for one that represented values I could relate to," she says. "Without shared values, you end up with a bunch of random people that believe in different things. Let it be communication, impact, commitment, teamwork, or anything dear to you – the values supply a company with a unique DNA and give its employees a compass they go by."
Companies looking to launch or refresh their core values should consider reading this article: How to Launch Your Core Values and Make Them Stick.
---

Employee Engagement Survey Template
Looking for ideas to improve your corporate culture in a way that would really resonate with your team? Try offering an employee engagement survey. With a questionnaire like this, you can remove any guesswork and zero in on what's most important to your team.
To learn more, read our recent blog post: Employee Engagement Survey Questions, Template, and Tips. You can also download a free Employee Engagement Survey Template.

For more insight on the topic, check out this recent article from ProSky: How to Engage Your Employees This Year.
---

Team Building Activities to Support a Strong Company Culture
Help your group build memorable experiences together and contribute to a strong corporate culture by taking part in any of these top-recommended activities:
Game Show Extravaganza: Inject some energy into your workplace with your very own game show-style competition. Teams will need to work together to tackle photo and trivia challenges that cover everything from pop culture to politics.

Charity Bike Buildathon: Bond with your colleagues over giving back to your community. In this activity, groups build, decorate, and present children's bicycles before ultimately donating them all to a charity of your choice.

Wild Goose Chase: Head outside with your coworkers for a fun and exciting smartphone scavenger hunt! Experience your city like never before as a team with intellectual riddles, physical challenges, and entertainment for all.
In today's modern workforce, a strong company culture is important for an organization's success, as well as the well-being of your employees. According to our panel, a corporate culture that people value the most includes a sense of community, growth opportunities, strong communication, meaningful work, job flexibility, group activities, innovation, and an established set of values.
What draws you to a company and its culture? Share your thoughts with us in the comments below.

---

Learn More About Team Building for Your Group
For more information about how team building activities can benefit your group, reach out to our Employee Engagement Consultants.
Subscribe To Our Newsletter
And Stay Updated